When my family and I went to Panama City Beach, Florida last month, my husband planned a special surprise dinner for me to a beautiful restaurant — the Firefly Restaurant.
The Firefly Restaurant boasts a creative menu that changes with the seasons and also has a full bar! If you are visiting Panama City Beach, Florida, then eating here is a must.
We had planned to go anyway, but after our attempted break-in at our beach house, the property managers gave us gift cards to go eat here, so we were able to go and dine without having to worry about prices.
Stephen and I had looked this place up and knew it was a bit pricey, so if you are looking for restaurants that are more affordable, this is not one of those reviews.
My husband and I like to occasionally splurge on a fun date night, so this was one of those times. I mean, we are on vacation, so why not go somewhere new and romantic?
The Firefly is located in The Shoppes at Edgewater mall right beside a bowling alley, so after a night of romantic dinner, you can head next door and bowl some. It's like the perfect date night.
Our Experience at The Firefly
The Atmosphere
Inside the Firefly restaurant, you will be truly amazed at the ambiance. There is a beautiful bar area, with an actual library inside. I wanted to so badly to go check out those old books, but we got to the restaurant right at our reservation time, so I did not have time.
If you decide to eat here and want the perfect romantic spot, ask to sit under the lit tree. Inside their one dining room, there is a huge tree that has twinkle lights strung on every single branch. It was the most romantic restaurant I think I have been in, in a very long time.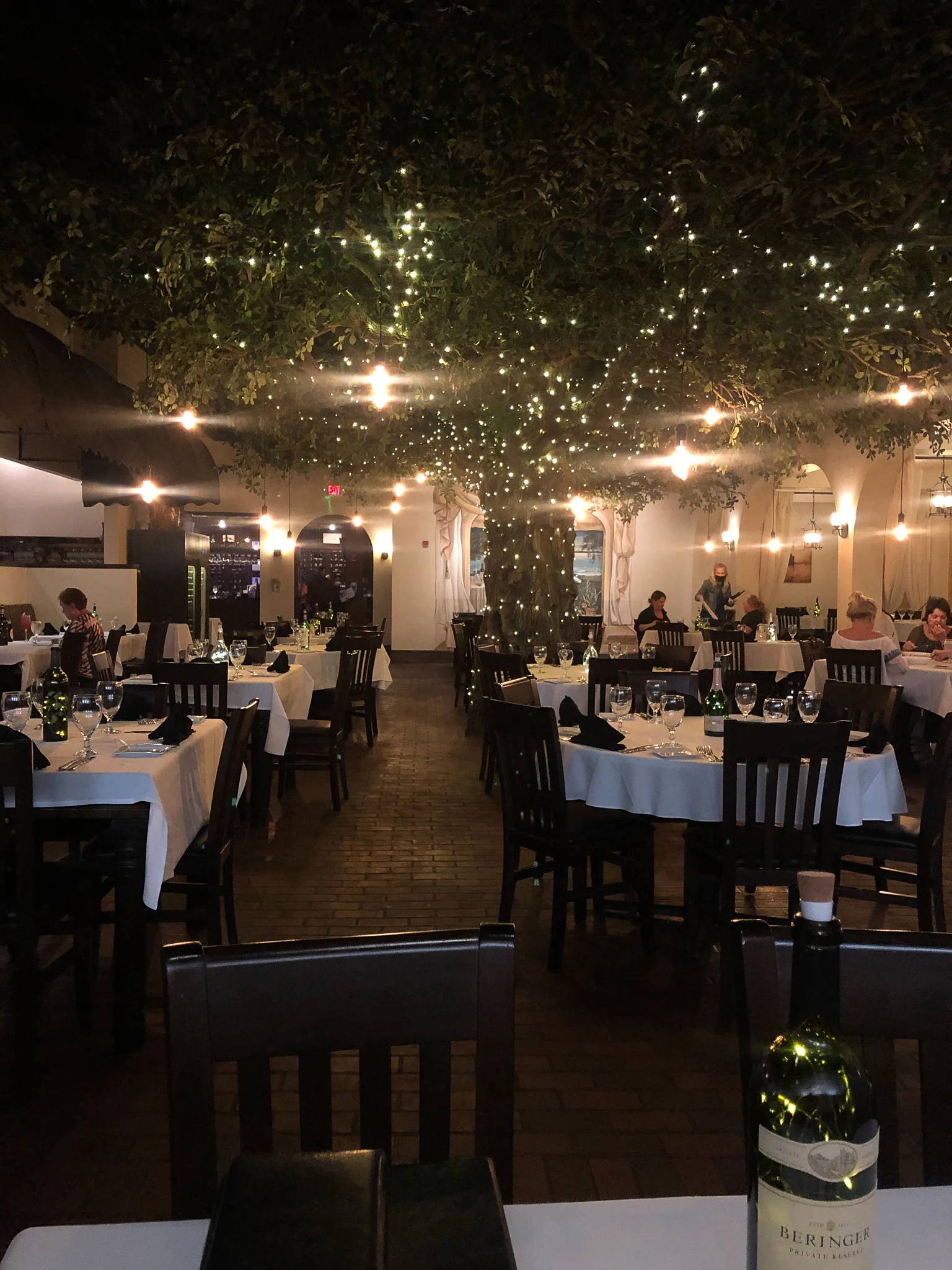 Each table has an old used wine bottle from the restaurant, stuffed full with twinkle lights. The lights are dim, and there is soft instrumental music playing in the background. The mood is just the perfect place for having one of those special date nights.
The Food
Now, I will tell you that I am a stickler for food. If I am going to pay GOOD money to eat, that food better taste off the chain, and the food at The Firefly — WOAH!
It was the best tasting food I believe I have ever eaten. It is extremely pricey, but for me — it was worth it. Even if we had not had gift cards, I would have wanted to eat here.
They bring you bread and three different dipping sauces to the table to begin with. Once the appetizer is over, it is time for the main meal.
Stephen ordered steak, but I wanted to try something totally different. I got the Grilled Grouper over Lobster risotto and it did not disappoint.
I do not like fish all that much, so when I try a fish recipe and it makes my mouth water for another bite, then you know it is a winner.
The grouper had such a great flavor but the Lobster risotto was excellent.
After our entree, it was time for dessert. We couldn't make up our mind, so we got the dessert trio that has all three of my favorite desserts — cheesecake, Creme brûlée, and a flourless chocolate cake.
Every bite was pure bliss. We couldn't stop eating and by the time we left that evening, we had to roll each other out to the car to leave! That's when you know you have had a great meal.
If you are looking for a great restaurant to eat at while on vacation in Panama City Beach, Florida — then this beautiful fine dining establishment is it.
FIREFLY OPENS FOR DINNER DAILY AT 5:00 P.M.
535 Richard Jackson Boulevard
Panama City Beach, FL 32407
(850) 249-3359
[email protected]