This recipe for a delicious Pumpkin Pie Smoothie has been sponsored by Naked Nutrition. All opinions listed are 100% my own.
I don't know about you, but when the summertime rolls around, I crave a lot of cold foods. Salads, gazpachos, fruit — and my all-time favorite — cold breakfast smoothies. Even if it is Summer, I still crave pumpkin and this smoothie fits the bill.
Kayla and I have been trying really hard to clean up our diet. Because of that, we have been looking for more opportunities to add good nutritional things to our food choices, and that is how we learned about Naked Nutrition.
The thing that we are loving most about Naked Nutrition is that their products have minimal ingredients. Most of them have 3 or less — which is exactly what we are looking for when it comes to products like these.
Naked Whey Protein
For example, the Naked Whey Protein, which is in this delicious Pumpkin Pie Smoothie, lists a single ingredient: whey protein concentrate. It contains no sweeteners, no thickeners, no emulsifiers, no additives at all. And it dissolved pretty quickly in any food without leaving a weird aftertaste as well.
I wasn't sure if I would like the taste myself, but I was impressed and surprised. I am a hard woman to sell to when it comes to things like protein powders and such, but this one has me nodding in agreement.
Naked Collagen
One thing that I have been trying to do for myself since I am getting older is taking collagen on a more regular basis. I will be 47 in September and I am all about doing anything I can to keep my skin looking healthy and young.
I have heard all about the benefits of adding collagen into your daily food intake, so I was already intrigued with this collagen protein product that Naked Nutrition offered.
I have been adding it to my coffee in the morning and Kayla adds it to her daily smoothie intake. It's even in our Pumpkin Pie Smoothie!
How to Make a Pumpkin Pie Smoothie
Okay — so now that I have told you all about these amazing products from Naked Nutrition, let me tell you how to make this protein packed Pumpkin Pie Smoothie.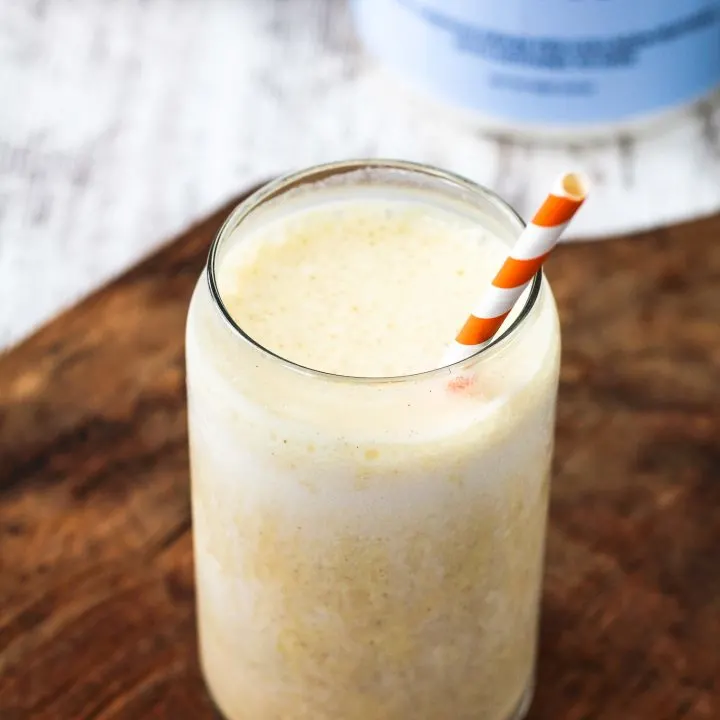 For this recipe you will need —
Mix all this together in a blender. Then, pour in a glass and enjoy! This was a spectacular tasting smoothie and it was very filling.
For my daughter, this is a great way for her to get what she needs in the way of vitamins and minerals since she doesn't always eat breakfast. This would also make a great late night snack as well if you feel hungry after dinner.
Looking for other healthy dishes? Give these a try!
Yield: 1 smoothie
Pumpkin Pie Smoothie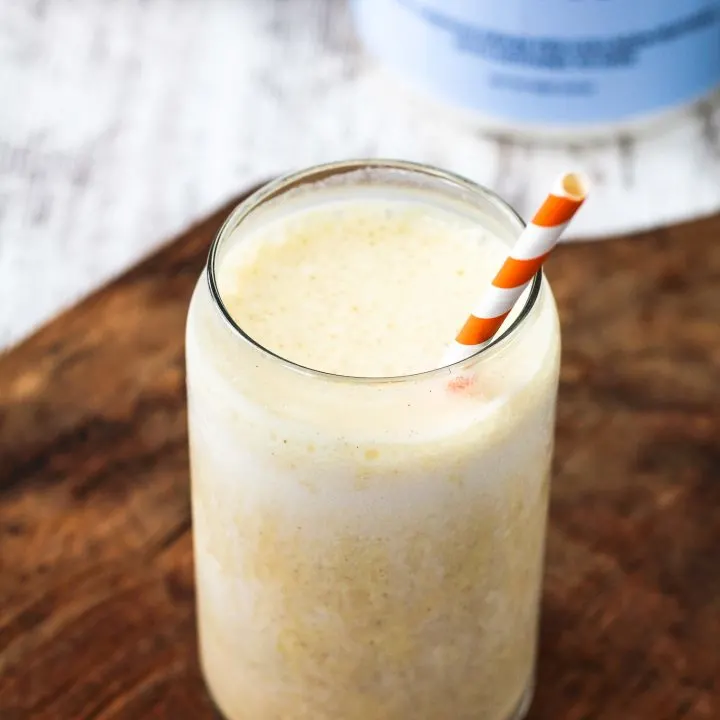 This pumpkin pie smoothie is full of delicious flavor and very filling thanks to the whey protein powder.
Ingredients
1 scoop unflavored whey protein powder
1 scoop of collagen protein powder
1 whole banana
1/3 cup pumpkin puree
1/3 cup plain yogurt
¾ cup milk
Ice cubes (as needed)
A few shakes of pumpkin pie spice (optional)
Instructions
Mix everything together in the blender. Mix until everything is combined.
Pour into the glass and enjoy.
Nutrition Information:
Yield:
12
Serving Size:
1
Amount Per Serving:
Calories:

89
Total Fat:

2g
Saturated Fat:

1g
Trans Fat:

0g
Unsaturated Fat:

1g
Cholesterol:

7mg
Sodium:

64mg
Carbohydrates:

12g
Fiber:

1g
Sugar:

10g
Protein:

7g