Itching to go on a foodie tour? My friend Crystal and I put together this foodie tour outside of Atlanta, GA — hitting all the best places to eat. If you are taking weekend trips in GA you will want to hit these places up too!
Last month I went to visit my very best friend Crystal — aka Mrs. Happy Homemaker. I am sure that many of Y'all know her and know that she and I both love food very very much!
The moment I arrived and we connected, it was like there had been no time passed between us, but the truth of the matter is — we have not seen each other in four years. In fact, the last time we saw each other was our trip to New York when her husband suddenly passed away.
We knew we had to do something special to reclaim our trip and create a new memory — one that would last forever and ever in our minds. So I planned a trip to Atlanta, GA to visit her for a couple of days.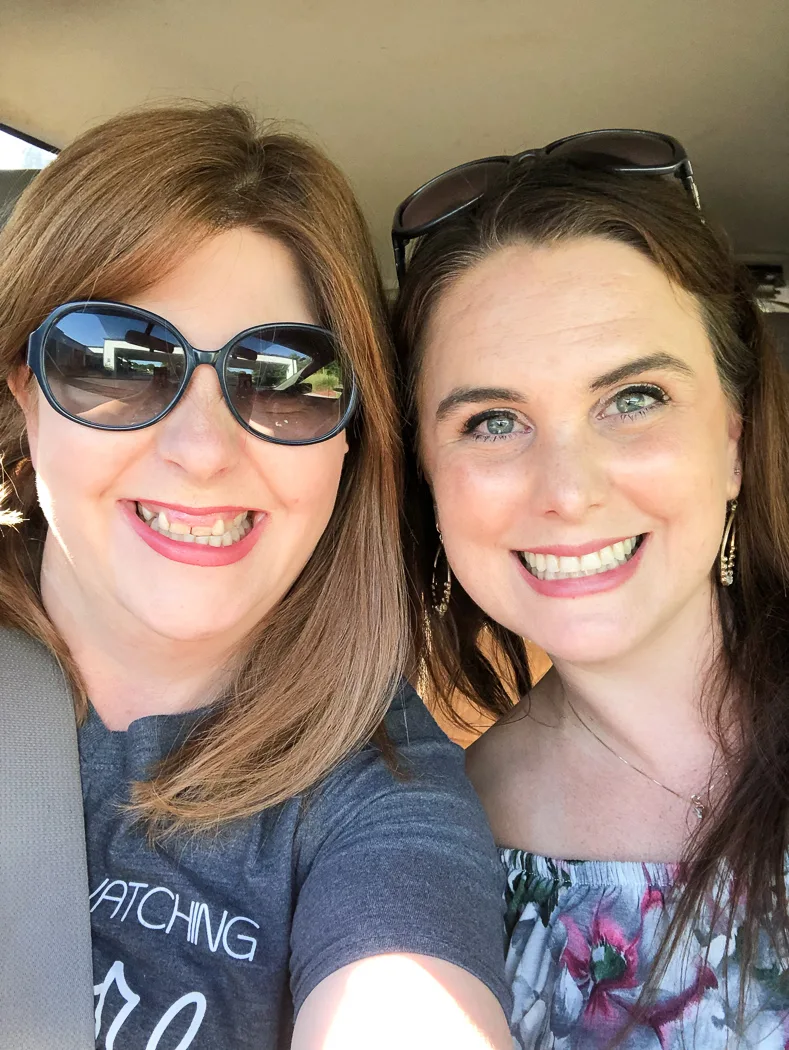 Since she and I both are huge foodies and love doing food tours, she created THE BEST itinerary of all the best places to eat and drink outside of Atlanta.
Yes — Atlanta is a great city, but let's be honest — it can be overwhelmingly busy and SO MUCH traffic. But outside Atlanta in small towns like Braselton and Duluth, there is so much foodiness going on.
Today, I thought I would share with Y'all all the places she took me — just in case YOU want to check these places out as well!
Take a Foodie Tour Outside of Atlanta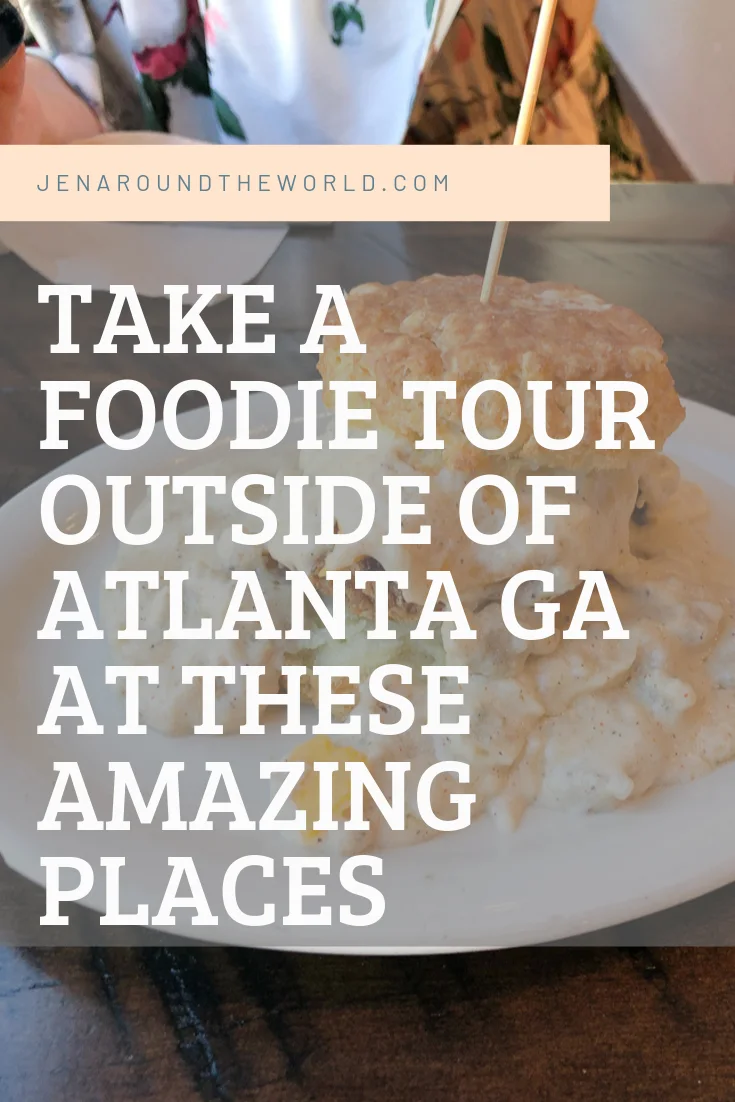 Maple Street Biscuit Company
Maple Street Biscuit Company has several locations in a few states, but we chose to eat at the one in Parson's Alley in Duluth. They are known for massive biscuits, so Crystal and I got one of their "The Five" Signature Chicken Biscuits covered in delicious spicy gravy, cheddar cheese, and bacon and we split it.
This biscuit had to be one of the best I had ever tasted and I promise you there was not a bite left. Of course, as food bloggers and digital foodie influencers, we had to get the perfect shot before digging in!
Location:
Website
3550 West Lawrenceville Street
Unit 210
Duluth, GA
(678) 404-5625
The Chocolaterie
After our delicious breakfast, Crystal and I walked around downtown Duluth until The Chocolaterie opened up. She kept telling me that they had THE BEST truffles around, so knowing my love of dark chocolate truffles, I knew we were going to have to check them out.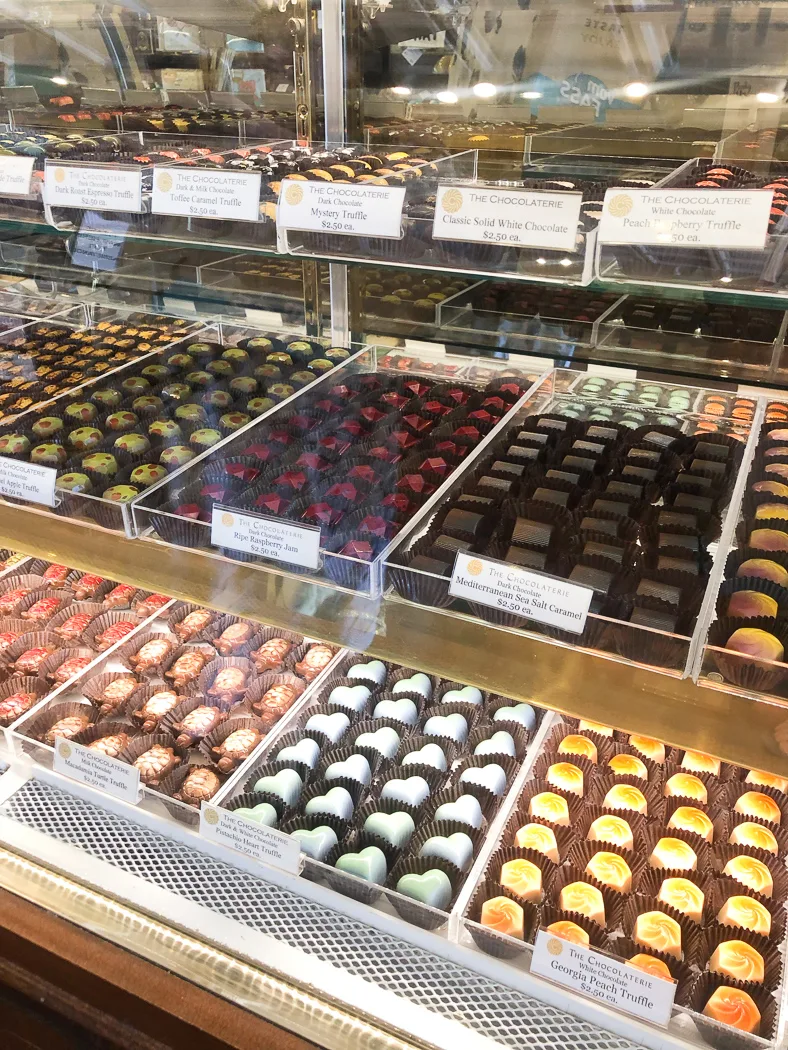 They literally have every single flavor of truffle you could think of. And — if you are vegan, no worries because they have truffles for you too!
After looking at all the choices, I chose a mojito chocolate truffle and jalapeno flavored one because those are always my two favorite choices.
At The Chocolatiere, they offer an assortment of beautifully decorated handmade, hand-painted chocolate truffles as well as handmade fudge, traditional chocolate goodies, and gourmet ice cream.
3099 Main Street
Duluth, GA 30096
678-585-3338
Truck & Tap
Our next stop after eating chocolates was over to Truck & Tap for lunch. Most days, they have a different food truck around, and on this particular day, the Meatballerz truck was there.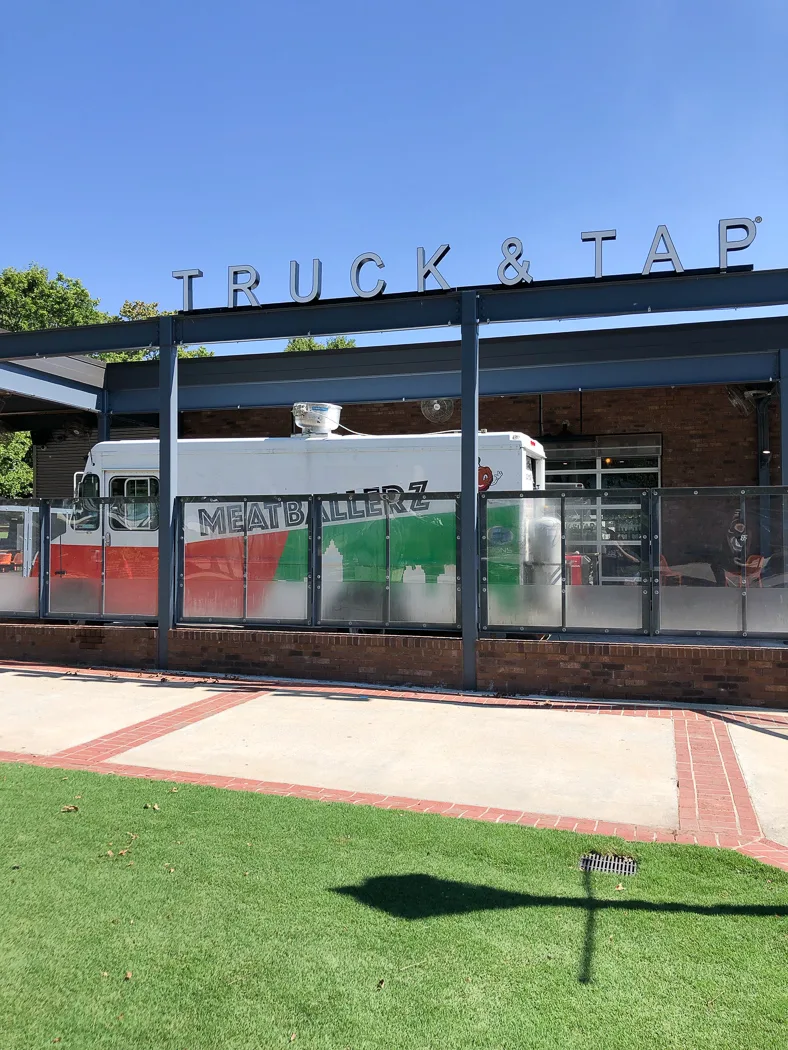 Now, if you know anything about this food truck, you will know that they have been on Food Network featuring their meatball sandwich, so that is exactly what Crystal and I ordered to go with our drinks at Truck & Tap.
We chose to order the exact same meatball that was featured on the show, which was a Pompeii served in a hole, meaning it was wrapped in some of the most delicious and soft bread I had ever tasted.
It was the perfect lunch for us. We split it and ordered something to drink from Truck & Tap. Their drinks are signature and the bartender is super nice. While you eat your sandwich, you can sit in the restaurant, which is what we did.
3137 Main Street
Duluth, GA
470-292-3630
Breaker's Korean BBQ and Grill
After eating lunch, we took a break from eating because we were stuffed and then Crystal and I went shopping at her antique stores and her favorite boutique.
We found some super cute outfits to wear to dinner that night at Breaker's Korean BBQ and Grill. Now, both of us have always wondered about Korean BBQ, and this place is the perfect place to find out about it!
If you have never been to one of these restaurants, let me tell you a little about it. Here, they share the best of Korean culture and food through delicious bbq flavor!
You get a first-class dining experience with a grill-your-own menu right at your table including an assortment of side dishes.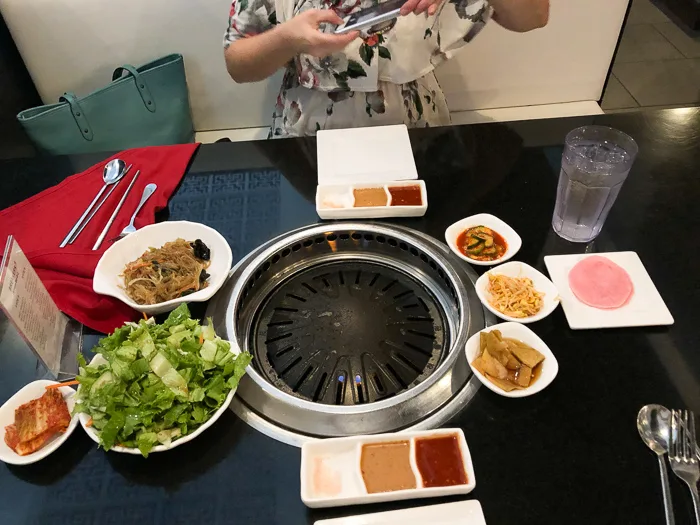 The food is cooked to perfection using only the freshest ingredients, sourced from the best producers in the area. Crystal and I LOVED our first experience here. The food was phenomenal.
I will tell you though that even though it is all you can eat, they will only bring two types of meat to the table at a time and will not bring more until you eat all that they brought out.
If you find you don't like something, when no one is looking, stuff it under the lettuce. No one will know and then you can get more! (ask us how we know — hahaha).
Our favorite meats were — beef brisket, beef bulgogi, and the pork belly.
3505 Gwinnett Pl Dr.
NW Ste 101
Duluth, GA 30096
(770) 946-1000
Tom + Chee Food Truck at Marietta Street Fest
Another great place that we visited that has all the food you can think of is the Marietta Street Fest. We found all kinds of good deals on art, jewelry, and food.
Since street fairs are the place to find all the food trucks, our first stop was to the Tom+Chee Food truck for one of their ultimate Mac and Cheese grilled cheese sandwiches.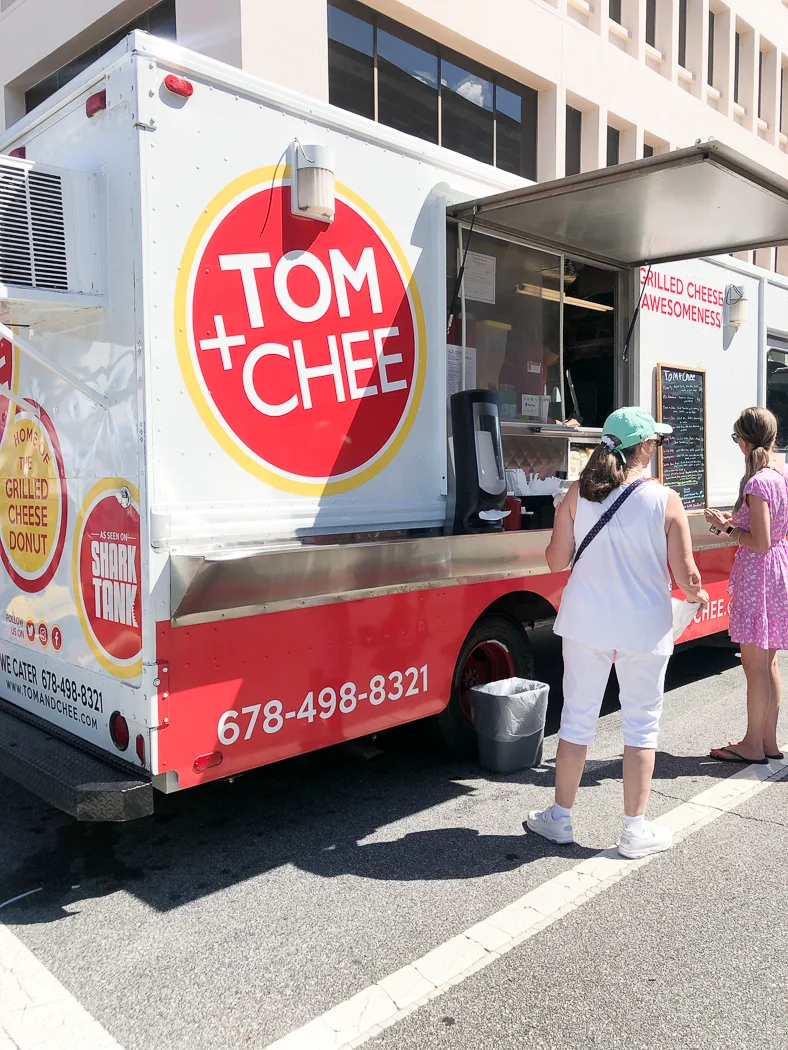 I have never in my life tasted grilled cheese like this one. In fact, I made all kinds of notes so that sometime in the upcoming weeks, I am going to be working on my own version of this to share with Y'all on the blog!
Their actual location is located in Kennesaw, GA so be sure and check them out!
1200 Ernest Barrett Parkway N.W. #208
Kennesaw, Georgia 30144
(678) 498-8321
Olive Basket
After our food truck experience and checking out the street fair, Crystal drove me to Braselton to check out her favorite olive oil and vinegar store — The Olive Basket!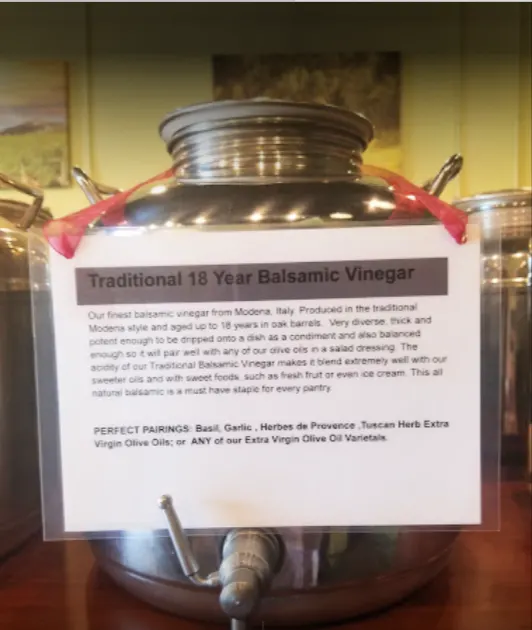 I am not going to lie — I went NUTS in here buying everything under the sun. I bought garlic infused olive oils, bottles of vinegar in the flavors of coconut, strawberry, blackberry, pineapple and more.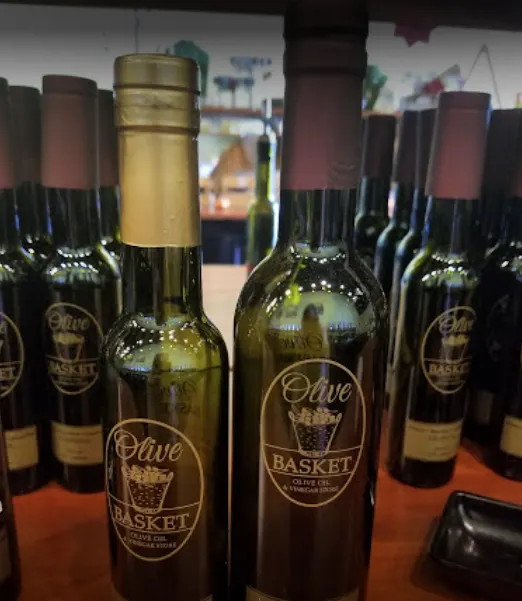 I also bought some lime infused olive oil that goes so perfectly with that coconut balsamic vinegar.
Not only that, but they have gifts you can purchase and they have seasoning packets that Y'all — is so good. I made a batch of homemade bread the other night and then made some dipping oil using their Tuscan seasoning packet and it was amazing.
They have two stores, one in Braselton and one in Athens, GA.
9924 Davis St #5
Braselton, GA 30517
(706) 521-9579
The Galloping Galette
Our final dinner location on my trip to Atlanta was at The Galloping Galette. Now — this is a truly authentic French Crepe restaurant that you will NOT want to miss if you come to the area.
I was able to meet the owners and learn all about the restaurant. Since I did not really know what to get here, I let Crystal order for us and man did she do an excellent job!
For the savory crepe, we ordered one stuffed with cheese, and caramelized onions and then topped with delicious sausage.
While eating the galette, we also got authentic french cafe au lait coffees and I will never be able to not think of this coffee. It was so fantastic.
For dessert, we got Strawberries and cream crepe and it was also delicious. It was stuffed with Nutella and topped with chocolate whipped cream. Nothing else compared.
This was my ultimate favorite place we ate and it makes me want to go back just to eat here again.
9924 Davis St
Braselton, GA 30517
(706) 684-3080
The Mac Lab
Our last and final stop on this trip was at The Mac Lab in Duluth. Before Crystal dropped me back off at my hotel, we drove over to get some dessert to end the night.
We wanted to stop here because they had been featured on Pop Sugar for their amazing macaron art.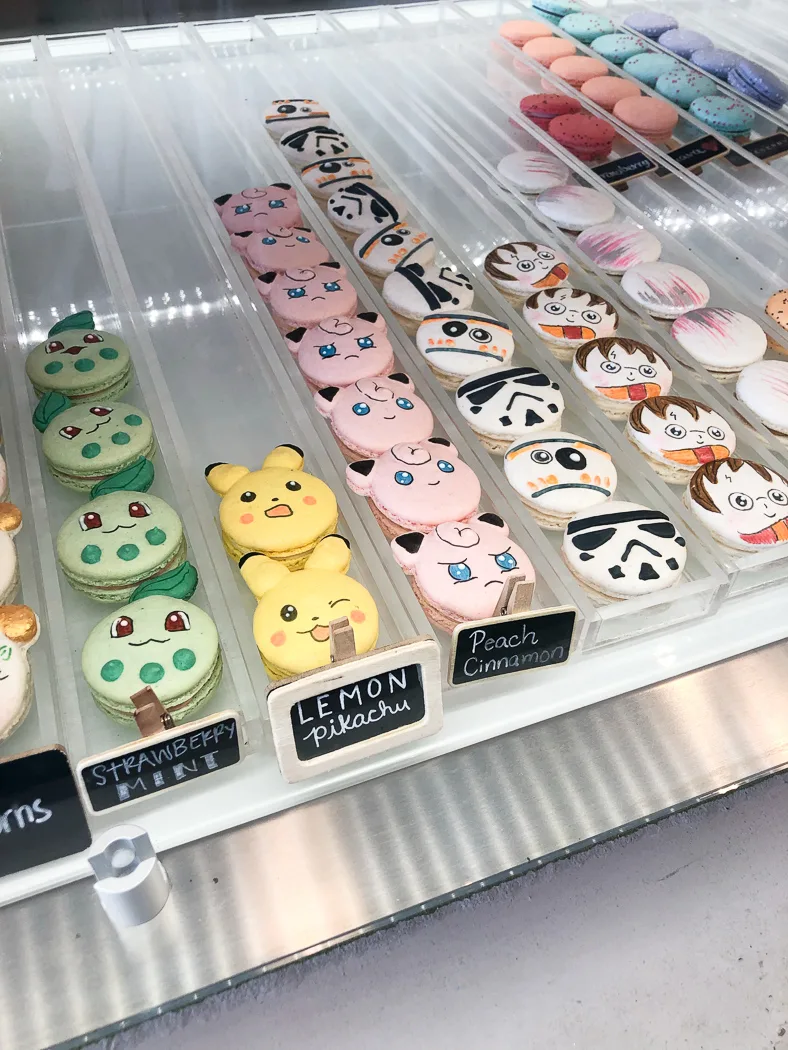 They literally have every flavor you can think of, but what I loved were the character cookies they had available as well.
I am really picky when it comes to macaron cookies, but these were some of the best that I had ever put in my mouth. They were full of delicious goodness and so soft and just literally melted in your mouth.
I chose to get a strawberry one, a papaya-flavored one, and then a blackberry-flavored one, and as I said, they were all delicious and that is because they are handmade on a daily basis.
2131 Pleasant Hill Rd. Ste #135
Duluth, GA 30096
678-580-1985
If you find yourself in the Atlanta area and want to eat some really great food, check out some of the places above. Y'all know I won't steer you wrong.