If you want to make a fun holiday macaron flavor, this Gingerbread Macarons flavor is exactly what you are craving.
We have been working to perfect our macaron making lately and I think we have finally mastered it.
I created this delicious Gingerbread Macaron flavor that is to die for and is so easy to make. This cookie is perfect for the holidays.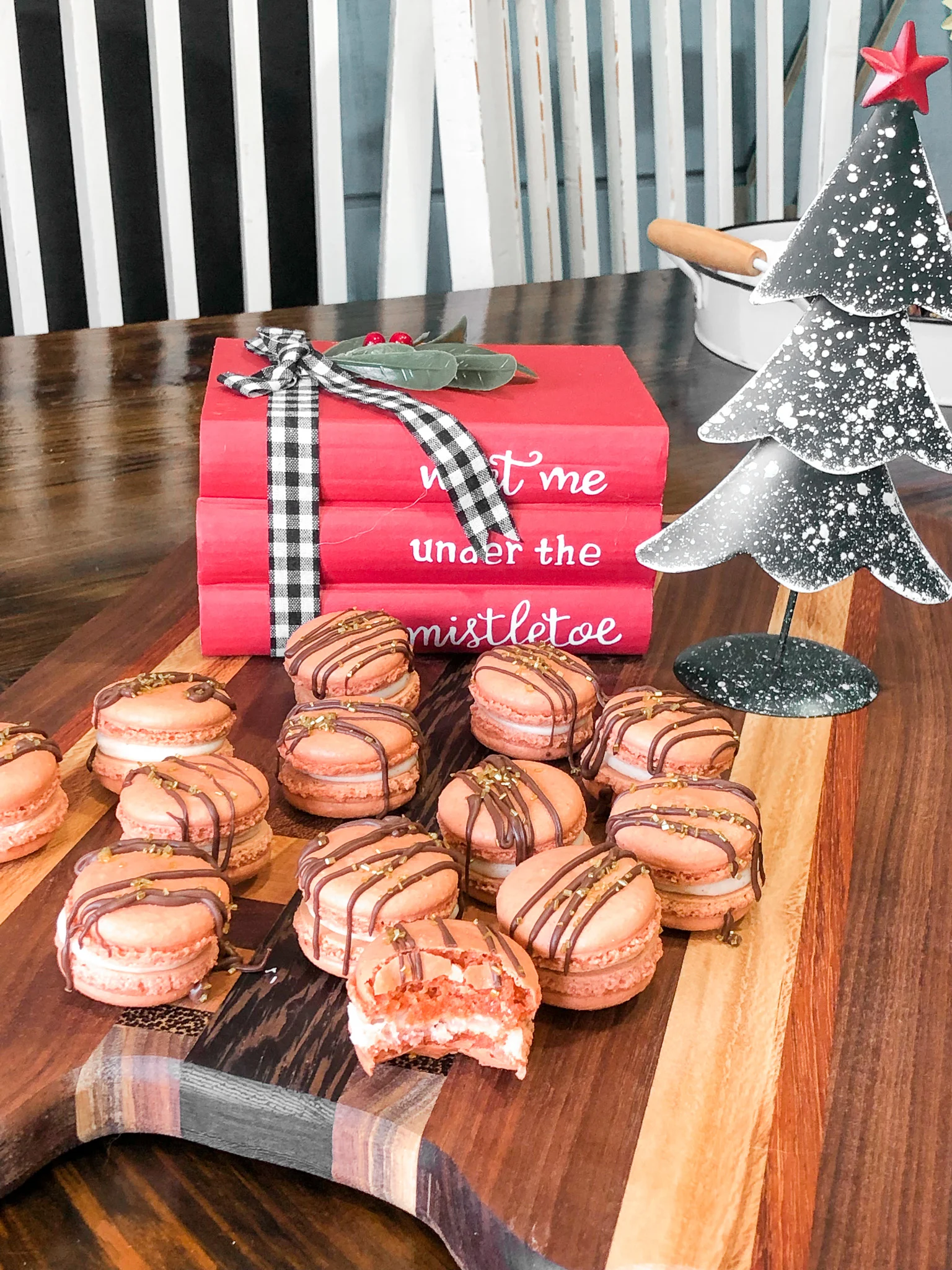 There are a few tips and tricks that will have you making the perfect french macarons in any flavor. We have tested and tried a few techniques and we think these work the best.
How to Make Gingerbread Macarons
For the cookie, you will need —
1 cup of finely sifted almond flour. I like the Blue Diamond that I get from Amazon
1 1/2 cups of powdered sugar
1 tablespoon of egg white powder
3 egg whites
spices like ground cloves, allspice, nutmeg, and cinnamon
1/2 cup of sugar
These macarons are filled with Gingerbread Buttercream, and topped with a drizzle of chocolate, which I used to stick the Christmas sprinkles on top of the macarons!
To decorate the macarons before assembling the cookie sandwich, drizzle some chocolate over the top shells, and top them with festive Christmas Sprinkles.
Make Macarons Like a Pro with These Supplies
If you like making macarons or want to try your hand at it, here are some supplies you might want to invest in.
Christmas Cookie Week
Welcome to #ChristmasCookies Week! That time of year when we soften the butter, fire up the oven, and make cookie trays for family, friends, and neighbors. This year more than 20 top-notch bloggers are sharing their very favorite creations for all to make and enjoy. Join us for a week's worth of Christmas cookie deliciousness
Check out these other macaron flavors

Yield: 30 cookies

Gingerbread Macarons

Delicious gingerbread flavor with a gingerbread buttercream. Perfect Christmas cookie

Ingredients

For the shell

1 cup of almond flour
1 1/2 cups of powdered sugar
1 tablespoon of egg white powder
1/4 tsp ginger powder
1/4 tsp cinnamon powder
1/4 tsp ground allspice
1/4 tsp ground nutmeg
3 egg whites
1/2 cup of sugar

Gingerbread Buttercream

1 1/3 cups confectioners' sugar
4 tbsp unsalted butter softened
1/2 tsp vanilla extract
1 1/2 tsp molasses
1/4 tsp ground ginger
1/4 tsp ground cinnamon
1/4 tsp nutmeg
1-2 tbsp milk

Instructions

Sift the powdered sugar and almond flour, along with the spices together. Set it aside.
Preheat the oven to 315 degrees. Line two baking pans with silicone macaron baking mats.
In a mixer, whisk the egg whites until they start getting foamy. Add 1/2 cup of sugar and continue to beat. Add in 3-4 drops of brown food coloring.
whisk until stiff peaks have formed. When you pull the whip up, the peak should be stiff and shooting straight up, with possibly a slight bend at the top, but not bending to the side.
Add the meringue to the almond flour mixture. Start folding gently forming a letter J with a spatula.
Once the dry ingredients have been incorporated with the meringue, push the air out of the batter by pressing it down along the sides of the bowl as you fold.
Stop folding the batter when the batter is glossy and has a thick and flowing consistency. You should be able to make a figure 8 with a consistent flow.
Transfer the batter to the piping bag.
Place the piping bag directly 90 degrees over the center of each macaron template. Apply gentle pressure and carefully pipe for about 3 to 5 seconds, and then quickly pull the bag up twisting slightly at the top.
Once you've piped as many circles as you can, bang the trays against the counter or against the palm of your hand a few times each.
Use a toothpick to pop any air bubbles on the surface of the shells.
Let the trays sit for 20 minutes so the shells will dry out You'll know they're ready when you gently touch the surface of a macaron and it seems dry.
Bake one tray at a time.
Bake for 5 minutes, rotate the tray. Bake for an additional 5-6 minutes.
Once baked, the macarons will have a deeper color and formed feet.
Let the macarons cool down before proceeding with the filling.
To make the buttercream, cream butter at medium speed in the bowl of an electric mixer for about 1 minute. With the mixer off, add all of the powdered sugar.
On low speed, mix the sugar and butter together. Once they are incorporated, turn the speed to medium and cream for 1-2 minutes until very fluffy.
Add vanilla extract, ginger, cinnamon, and nutmeg.
If the buttercream seems dry and stiff, add the milk. Mix for another 30-45 seconds.
Place Gingerbread Buttercream in a piping bag, and then pipe some buttercream on half of the shells. Drizzled some chocolate on top of the shells and top with Christmas sprinkles on top of the shells to decorate.

Nutrition Information:

Yield:

30

Serving Size:

1 Amount Per Serving:

Calories:

93

Total Fat:

3g

Saturated Fat:

1g

Trans Fat:

0g

Unsaturated Fat:

2g

Cholesterol:

4mg

Sodium:

9mg

Carbohydrates:

15g

Fiber:

0g

Sugar:

14g

Protein:

1g