This heart-healthy orzo soup is a nutrient-packed preparation that is not only filling but extra delicious.
Even though eating fried rice, fries, tacos, cookies, cakes, and so on, is irresistible, we cannot live eating just that. It is essential to have a balanced diet and include more healthy dishes in our daily food plan.
I am always looking for varied recipes to improve my life (and yours). This includes looking for healthy recipes that are equally easy and mouthwatering.
In my research, I discovered that most of the ingredients we have at home are perfect for building a healthy and nutritious diet. But, they have to be cooked with other nutritious components in healthy methods.
Healthy cooking techniques
So, let's forget about all forms of frying and get in love with sautéing, baking, roasting, steaming, boiling, and grilling.
In most pantries, there is always plenty of rice and pasta. Sometimes, orzo, bulgur, or couscous are part of our shopping list.
So, we are already halfway to our food plan. Rice, pasta, orzo, and couscous are the perfect base for any healthy dish. Combine them with lean meat and vegetables, and you will have the most delicious and nutritious meals.
These ingredients are so versatile that you can prepare varied endless recipes with them. You will never be bored cooking with these ingredients since dish combinations are infinite.
It's all about the ingredients
Of all these staples, perhaps the least popular is the orzo. At first glance, orzo looks like a type of yellow rice, but it's a tiny pasta. It is considered pastina and is a suitable ingredient for stews, soups, bowls, and exquisite dishes of pasta with sauces.
It is a handy staple that helps you to prepare thousands of different preparations. You can cook simple dishes just by adding butter and cheese or more complicated foods with vegetables, meats, and sauces. Check the following link https://riceselect.com/product/orzo and learn how to cook it and use it in varied recipes.
At this time, we are going to learn how to make a nutritious dish using orzo as the core ingredient.
Heart-healthy orzo soup includes super healthy ingredients and is cooked most beneficially: Boiling.
Now, let's get started making this heart-healthy orzo soup
To make this heart-healthy orzo soup, the first thing you will need to do is make you have all the ingredients and cooking equipment ready to use. Make sure the shrimp is completely cleaned and deveined, the vegetables are chopped, and herbs and spices are correctly measured.
Yield: 6 servings
Heart Healthy Orzo Soup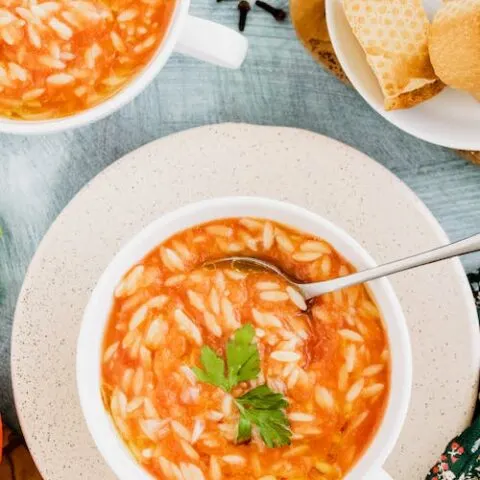 This is the best heart-healthy orzo soup you will ever eat. Simple and easy to make.
Ingredients
3 tablespoons of extra-virgin olive oil
1 pound of raw shrimp
1 teaspoon of ancho chili powder
½ teaspoon of salt
½ teaspoon of ground pepper
1 diced onion
3 minced cloves of garlic
¼ teaspoon of crushed red pepper
1 can of no-salt-added and peeled tomatoes
2 cups of unsalted chicken broth
1 can of white beans
2 cups of orzo
¼ cup of chopped and pitted Kalamata olives
2 tablespoons of chopped capers
Chopped fresh parsley for serving
Instructions
Look for a large pot and place it on the stove top. Turn on the heat at medium-high temperature.
Be careful when pouring olive oil. Wait 1 minute it heats. The next step is to add the cleaned shrimp. Once again, be careful not to burn. Place shrimp very slowly and with care.
Add chili powder, salt, and pepper. Use a wooden spoon to stir shrimp and verify they are well seasoned.
When the shrimp get pink, take it out of the pot and reserve it in a bowl.
In the same pot, pour more olive oil and incorporate onion, garlic, and red pepper. Onion and garlic need to get fragrant and a bit translucent.
It is time to include the liquids. Pour tomatoes and chicken broth. At this moment, reduce the heat to start simmering.
Now, the core ingredients: are the beans and the orzo. Include them and combine them with the rest of the components.
Let the soup cook for 10 minutes. Look for your reserved shrimp and add it to the soup.
Finally, add olives and capers.
For a fresh touch, put some fresh parsley at the top before serving.
Serve with fresh parsley at the top.
Nutrition Information:
Yield:
6
Serving Size:
1
Amount Per Serving:
Calories:

347
Total Fat:

13g
Saturated Fat:

2g
Trans Fat:

0g
Unsaturated Fat:

11g
Cholesterol:

97mg
Sodium:

946mg
Carbohydrates:

38g
Fiber:

5g
Sugar:

2g
Protein:

20g