Y'all I cannot tell you how excited I am to share my yummy super easy Strawberry Freezer Jam with you! This jam is so simple to make that even your 3-year-old can do it!
I have been watching Facebook like a hawk — waiting for those farmers in our area to post that they had strawberries ready. My husband was watching more than I was because the minute that they posted they had some for sale, he called me and said — go get some!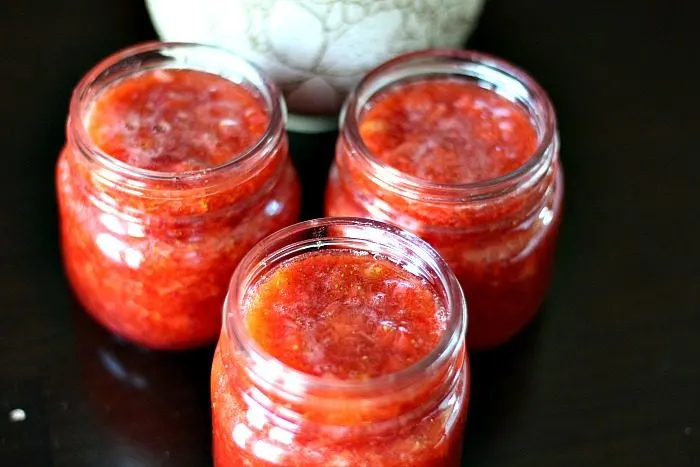 I headed out to our little city to the Harris Farms truck that they had set up to buy some.
Those berries in those buckets were SO SO SO good. My daughter and I could not stop eating them — but we finally had to so that we would have plenty left for desserts and to make my easy freezer jam.
How to Make Strawberry Freezer Jam
Making this jam is so super simple and easy — and the best part is that you can have fresh jam in as little as 30 minutes.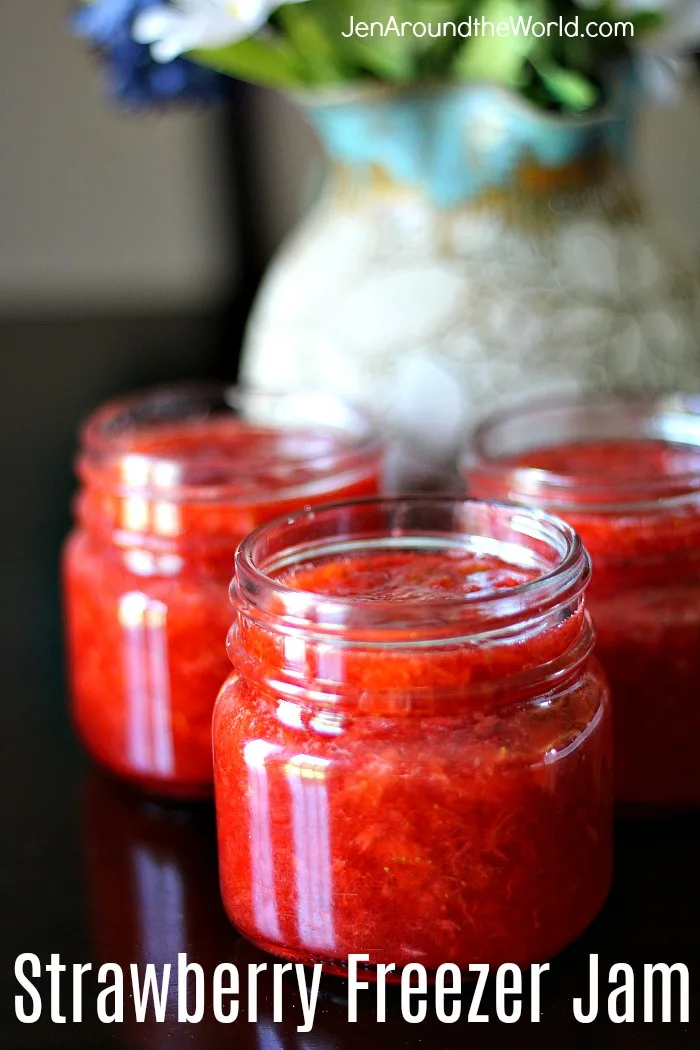 So far, we have used this to make delicious ABS sandwiches (almond butter, strawberry jam), ice cream topping, and homemade strawberry butter (which goes great on top of fresh oatmeal pancakes or Belgium waffles).
Here is the handy dandy recipe! I hope you love this as much as I do.
Looking for other jam and jelly recipes? Check these out!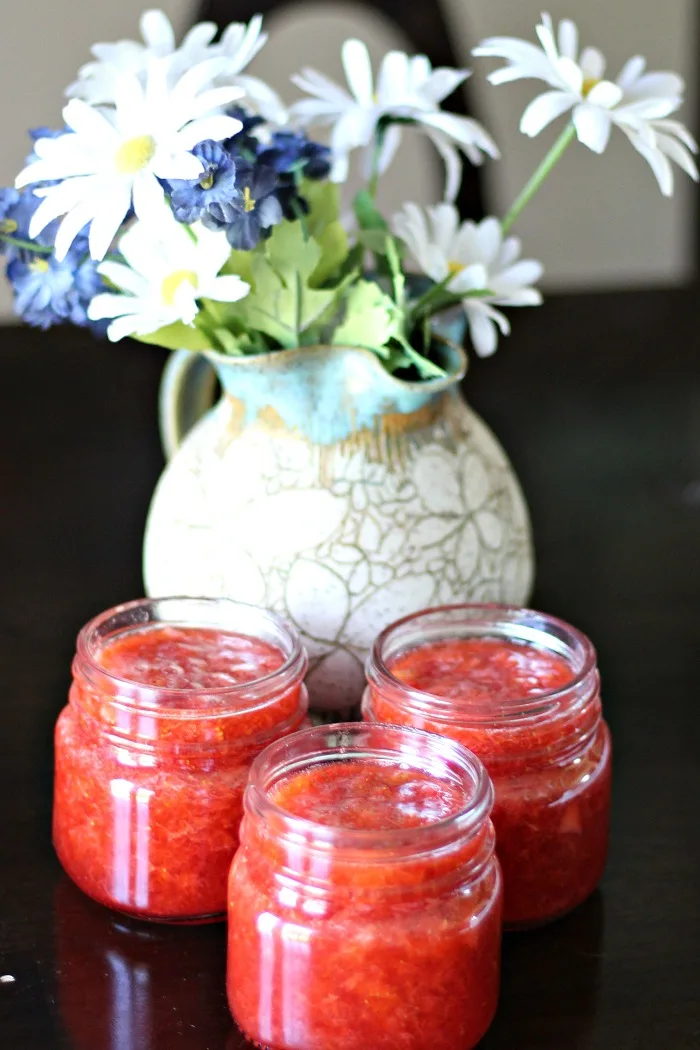 Freezer Meals

We share Recipes From Our Dinner Table! Join our group and share your recipes, too! While you're at it, join our Pinterest board, too!
Yield: 6 half pint jars
Easy Strawberry Freezer Jam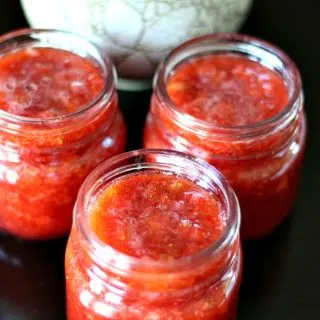 This is a super easy recipe that you can make in under 30 minutes for a fresh strawberry jam flavor.
Ingredients
2 cups crushed strawberries (about 1 qt. fully ripe strawberries, stems removed)
4 cups sugar
3/4 cup water
1 pouch Certo Liquid Pectin
6 each half pint canning jars
Instructions
Rinse and dry the containers you'd like to put the jam in (enough for 5 cups). I always use glass mason jars but plastic containers work great also. This recipe fills 5-6 half pint jars.
In a food processor add strawberries and pulse just a few times, until strawberries are well diced, but not totally mashed. You can also use a potato masher to mash them up real good if you do not have a food processor.
Measure exactly 2 cups of strawberries into a large bowl. (It's really important to measure the berries and sugar exactly, or the jam will not set properly.)
Add the sugar, one cup at a time, stirring really well after each addition. Let stand for 10 min., stirring occasionally.
Add the liquid pectin pack and mix together thoroughly.
Pour all into a large sauce pan and heat on the stove on medium high heat until sugar has dissolved and pectin has thickened the jam some.
Fill containers with jam and leave 1/2'' of head-space at the top.
Allow to sit on the counter uncapped for about 30 minutes to let it cool down. Place lids on top and let the jam sit out on the counter for 24 hours. After 24 hours, place in the refrigerator for up to 3 weeks or place in the freezer for 6 months
Nutrition Information:
Yield:
70
Serving Size:
1
Amount Per Serving:
Calories:

48
Total Fat:

0g
Saturated Fat:

0g
Trans Fat:

0g
Unsaturated Fat:

0g
Cholesterol:

0mg
Sodium:

2mg
Carbohydrates:

12g
Fiber:

0g
Sugar:

12g
Protein:

0g
What's your favorite jam or jelly recipe?