This honey wheat bread is perfect for all kinds of sandwiches, breakfast toast and more.
This recipe for a simple homemade bread that is made with wholesome ingredients is the perfect bread recipe to start out with — especially if you are new to making bread.
It uses a combination of whole wheat and white flour, and it's sweetened with honey.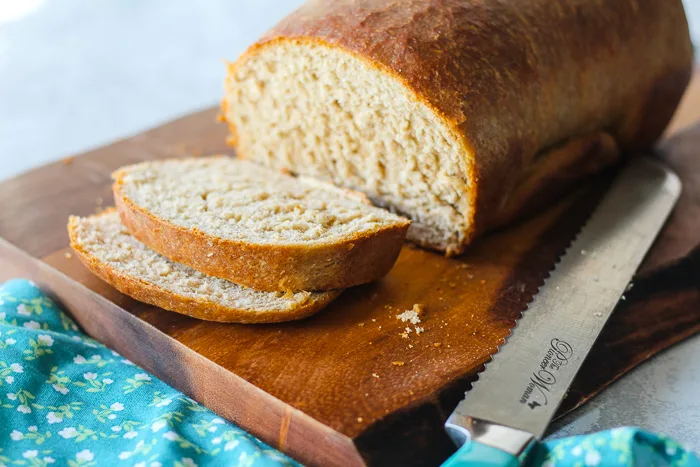 Kayla and I love making homemade bread. We have tried our hand over the years with recipes like easy white bread, homemade dinner rolls, whole wheat bread and now, we have perfected Honey Wheat Bread.
This bread is so easy to make and so versatile — even if you are new to breadmaking, you will be able to make this loaf turn out amazing.
Grab one of these bread cutters to make sure your slices are perfectly cut every single time.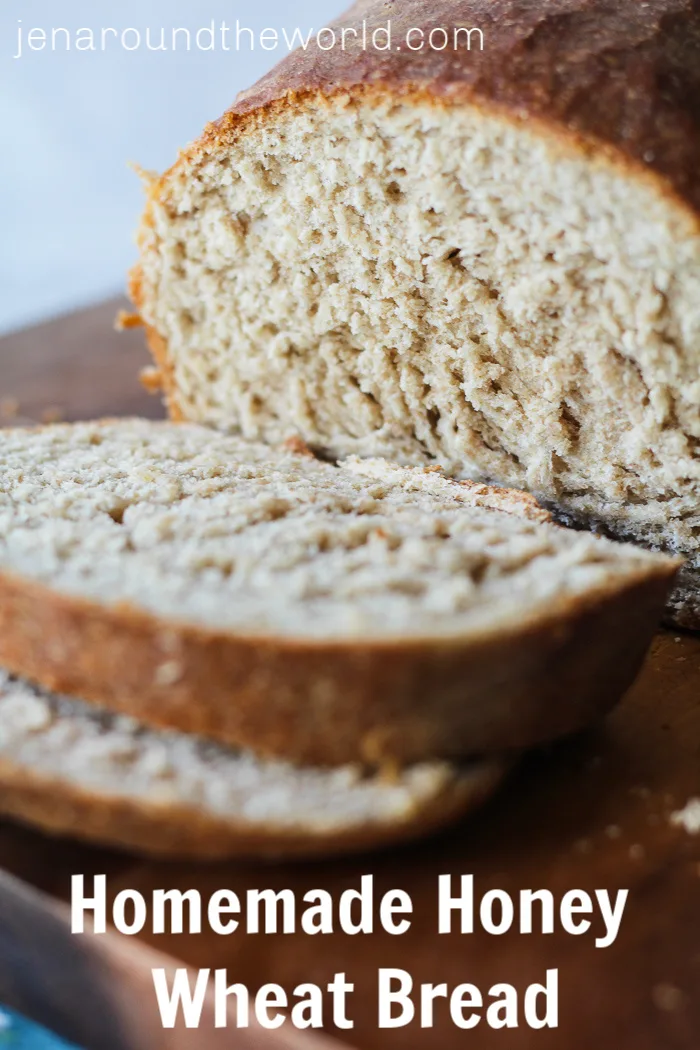 TIPS FOR MAKING THE BEST HONEY WHEAT BREAD:
When either Kayla or I make homemade bread, we always make sure to use the best flour. So far, my favorite has been Bob's Red Mill. I stocked up last weekend when we went to Menard's (and no –this is not sponsored, I just love the flour).
I use all-purpose flour but many people use bread flour. It's totally up to you. You can make the dough by hand if you want to (mix and knead yourself), but if you have a stand mixer with a dough hook… it will do all of the work for you!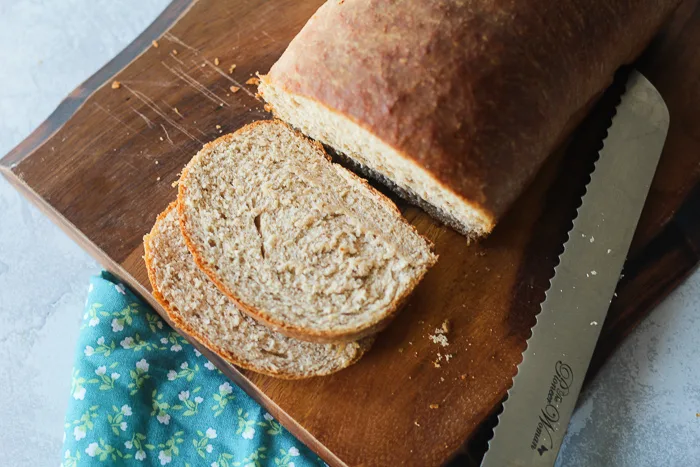 The freshness of your yeast is important as well. I learned when I took a pizza making class in Pittsburgh that if you keep your yeast in the refrigerator it will stay fresh longer.
If you are not sure how fresh your yeast is, you can "proof" it by adding some to a little bit of warm water and watch to see if it bubbles. When the bubbles happen, you are good to go. If it does not, I would probably get a new batch.
This Honey Whole Wheat Bread is the best sandwich bread recipe in my opinion. I love eating it with my homemade pimento cheese and a fresh slice of garden tomato.
Store bought bread is full of so much junk like preservatives and chemicals, so you can feel good about eating this bread homemade and feeding it to your family too.
HERE ARE A FEW MORE BREAD RECIPES YOU MIGHT ENJOY: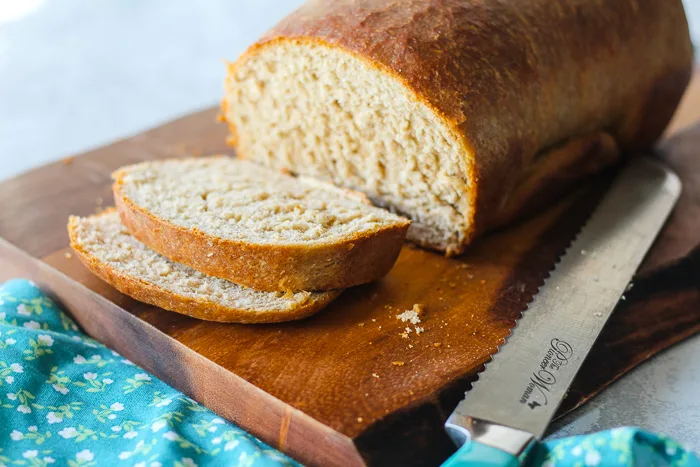 I hope you enjoy the recipe! If you decide to make it and take a photo to share on social media, be sure and tag me on Instagram at @jennifersikora.
Yield: 2 loaves
Homemade Honey Wheat Bread
This Honey Whole Wheat Bread is the perfect recipe to use for everyday sandwich bread. You and your family will love it.
Total Time
2 hours
5 minutes
Ingredients
3 cups whole wheat flour
3 cups all-purpose flour
2 tablespoons white sugar
1 1/2 teaspoons salt
4 1/2 teaspoons yeast
1/4 cup honey
1 2/3 cups water
2/3 cup milk
1/4 cup (1/2 stick) unsalted butter
additional flour, as needed
Instructions
In a large mixing bowl, whisk together the the whole wheat flour, the all purpose flour, sugar, salt and yeast.
In a medium bowl, combine honey, milk, water and butter, and heat to between 105 and 110 degrees in the microwave.
Stir the liquids to melt the butter and add, all at once, to the dry ingredients in the mixer bowl.
With the dough hook installed on your stand mixer, mix the dough. Add more all purpose flour by the tablespoon, as needed, until the dough comes together and clears the bowl.
Mix the dough for 5 minutes with the dough hook and remove to a lightly floured counter surface.
Knead by hand until no longer sticky, adding flour as necessary. Form the dough into a large round and place in a large, greased bowl.
Cover the bowl with plastic wrap or a clean dish towel, let rise in a warm place for 30 minutes (or until about doubled in size).
Remove the dough from the bowl and divide it in half. Roll each half into a 10 x 12 rectangle and roll each up like a cigar. Pinch the seams.
Roll on the counter-top to make a uniform log and place each roll in an oiled 9x5-inch bread pan seam-side up. Shake the roll to oil the bottom, turn the pan over, catch the dough and reinsert it into the pan, seam-side-down.
Return the pan to a warm place, cover lightly with a clean dishtowel and let rise an additional 30 minutes or until at least 1 inch above the pan top. Bake in a preheated 400°F. oven for 35 minutes, or until the center of the bread tests 190 to 200 degrees. Remove the bread from the pans and let them cool on a rack.
Nutrition Information:
Yield:
12 slices
Serving Size:
1 loaf
Amount Per Serving:
Calories:

329
Total Fat:

5g
Saturated Fat:

3g
Trans Fat:

0g
Unsaturated Fat:

2g
Cholesterol:

11mg
Sodium:

276mg
Carbohydrates:

63g
Fiber:

5g
Sugar:

8g
Protein:

9g