Make your own homemade pita bread with this simple and easy recipe.
Last year I made a delicious Healthy Chicken Salad using cucumbers and dill that reminded me of a greek dish of some sort. I
have been trying since then to create a pita recipe that will put that recipe over the top. The day I made that, I wrapped it in a tortilla, but I really wanted to do Pita bread.
I can finally say that I am successful 🙂 I finally found out how to make homemade pita bread.
How to Make Homemade Pita Bread
This easy recipe for homemade pita bread uses instant yeast and requires no kneading. The rounds balloon into perfect pockets in 2 minutes in the oven.
So basically, here is the jist of what needs to happen to make the best pita bread ever —
Whisk together flour, salt, and instant yeast.
Add lukewarm water and olive oil.
Stir to combine with a spatula; then mix briefly with your hands, just until the dough comes together, about 30 seconds.
Let rise 1.5 hours.
Portion into balls and let rest 30 minutes.
Roll each ball into a 6-inch round. Let rest again for 15 minutes; then bake for 2 minutes in a hot oven.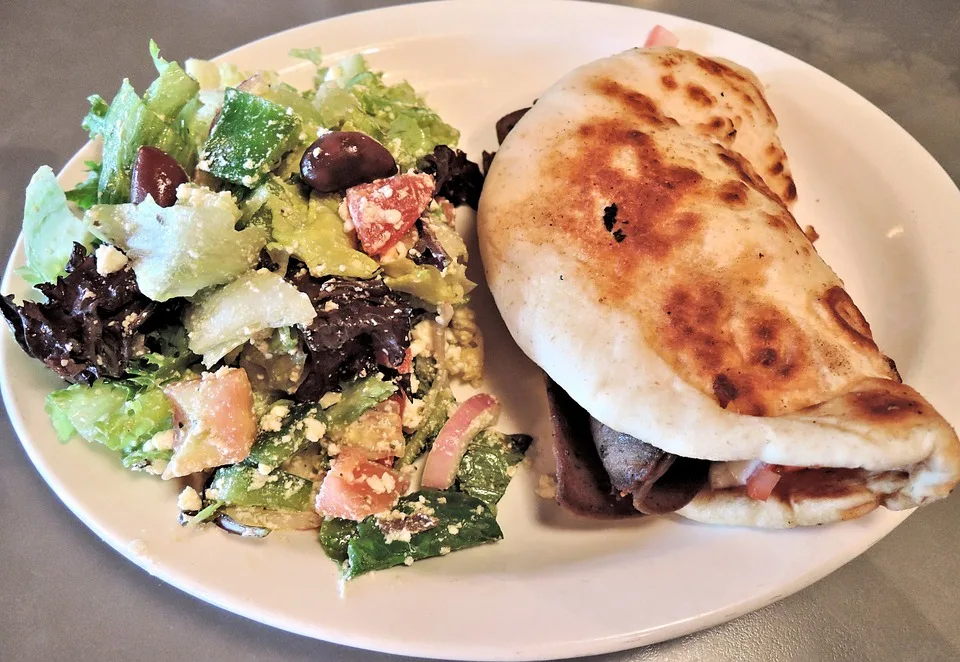 The baked pita will stay fresh for about 3 days stored in an airtight container or bag. Reheat before serving. You can also freeze the pita for up to three months.
Check out these other homemade bread recipes
Making your own homemade pita bread is not hard at all. In fact, it tastes SO much better than store-bought. You will want to fill these pockets with just about everything, so get to cooking your own!
Yield: 8 pitas
Pita Bread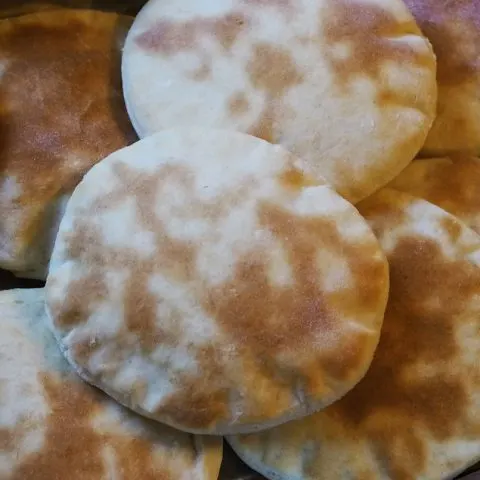 Homemade pitas are super easy to make and will save you a ton of money at the grocery store.
Additional Time
2 hours
3 seconds
Total Time
2 hours
15 minutes
3 seconds
Ingredients
3 cups flour
1 1/2 teaspoons salt
1 Tablespoon honey
1 packet yeast, 2-1/4 tsp
1 1/4 to 1 1/2 cups water, room temperature
2 tablespoons olive oil
Instructions
In a stand mixer, add the yeast and mix with flour, salt, and honey. Add the olive oil and 1 1/4 cup water and using the dough attachment, mix together at low speed. All of the ingredients should form a ball. If some of the flour will not stick to the ball, add more water.
Once all of the ingredients form a ball, mix it at low speed for 7 minutes on speed 2.
When you are done kneading the dough, place it in a bowl that has been lightly coated with oil. Form a ball out of the dough and place it into the bowl, rolling the ball of dough around in the bowl so that it has a light coat of oil on all sides.
Cover the bowl with plastic wrap or a damp kitchen towel and set it aside to rise until it has doubled in size, approximately 90 minutes.
When it has doubled in size, punch the dough down and divide it into 8 pieces. Roll each piece into a ball, cover the balls with a damp kitchen towel, and let them rest for 20 minutes.
While the dough is resting, preheat the oven to 450 degrees. If you have a baking stone, put it in the oven to preheat as well. If you do not have a baking stone, turn a cookie sheet upside down and place it on the middle rack of the oven while you are preheating the oven. This will be the surface on which you bake your pitas.
After the dough has relaxed for 20 minutes, spread a light coating of flour on a work surface and place one of the balls of dough there.
Sprinkle a little bit of flour on top of the dough and use a rolling pin or your hands to stretch and flatten the dough. You should be able to roll it out to between 1/8 and 1/4 inch thick - 6 inches in diameter.
If the dough does not stretch sufficiently you can cover it with the damp towel and let it rest 5 to 10 minutes before trying again.
Place discs on a lightly greased baking sheet or on your stone and let rise, uncovered until barely doubled in thickness, about 30-45 minutes.
Open the oven and place as many pitas as you can fit on the hot baking surface. They should be baked through and puffy after 3 minutes. If you want your pitas to be crispy and brown you can bake them for an additional 3 to 5 minutes, but it isn't necessary.
Nutrition Information:
Yield:
8
Serving Size:
1
Amount Per Serving:
Calories:

211
Total Fat:

4g
Saturated Fat:

1g
Trans Fat:

0g
Unsaturated Fat:

3g
Cholesterol:

0mg
Sodium:

400mg
Carbohydrates:

38g
Fiber:

2g
Sugar:

2g
Protein:

5g