If you love eating at Rafferty's then you are going to flip when I tell you that I have figured out how to make Rafferty's Hot Bacon Dressing!
Rafferty's has always been mine and Stephen's date night restaurant. It is a little on the pricey side, so we use it as a special place to go for just the two of us when we want to be alone and enjoy a fabulous steak dinner.
With my steak dinner, I get a salad that is covered in hot bacon dressing that will cause you to blow your top!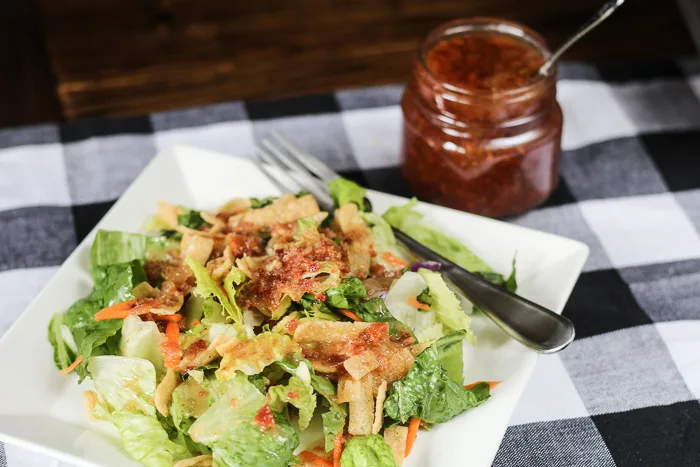 No, it's not hot with spices, but it is warm, gooey, and filled with bacon. I am telling you, it is the ultimate dressing for any salad. It's not very healthy because it is full of sugar, but drizzled over a plate of greens, it becomes pure heaven!
How to Make Rafferty's Hot Bacon Dressing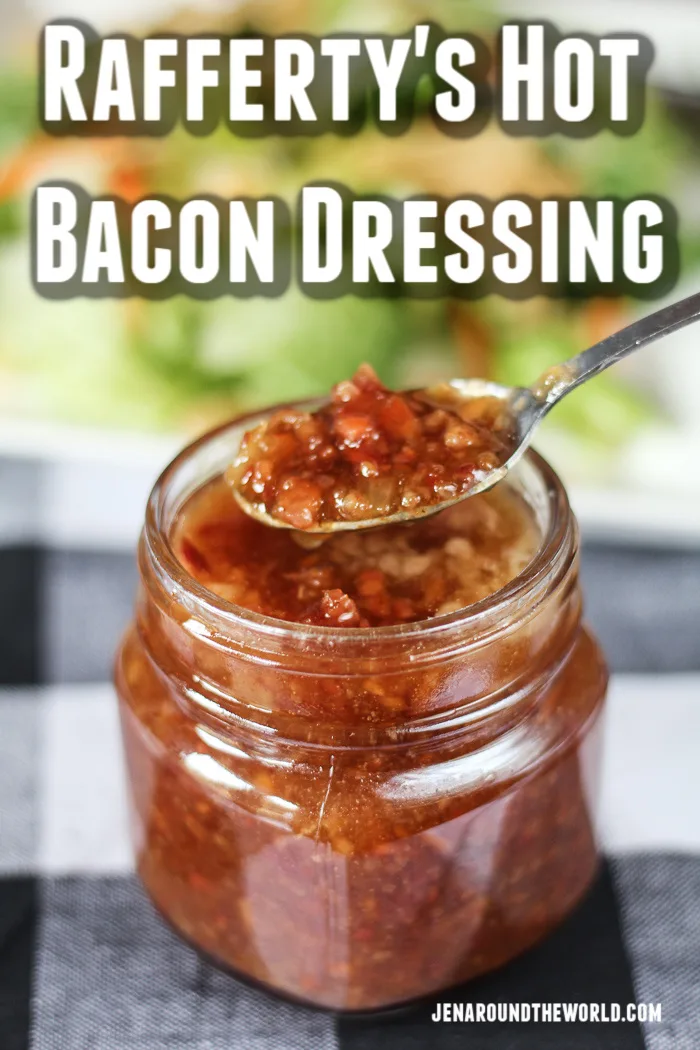 This post was originally published in Jan 2010 but has had some changes made to it so we are republishing it with new photos!
To make this dressing, start by frying up 8 slices of bacon. Whatever you do, do not pour off that grease because you are going to use it for the dressing.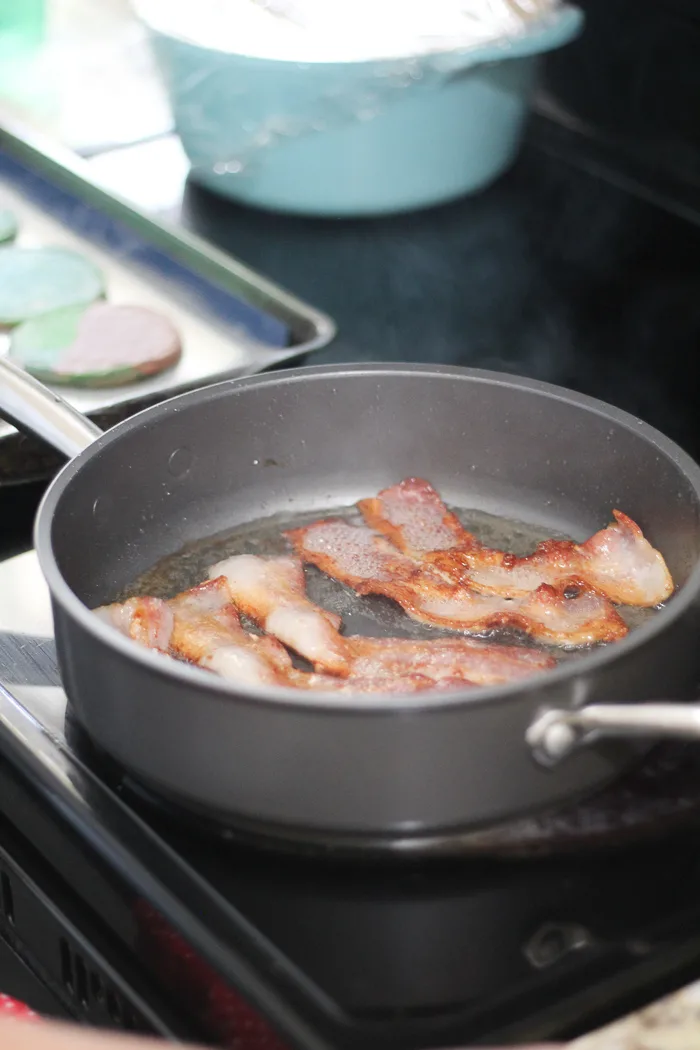 While your bacon is frying, dice up 1/2 an onion. I like to use sweet Vidalia onions because they add a little something extra to a dish.
When the bacon is done frying, remove from the pan and place it on a cutting board.
Throw your onions in the pan and let them saute in the bacon grease until they are translucent.
While the onions are finishing, chop up the bacon and throw it back into the frying pan with the onions.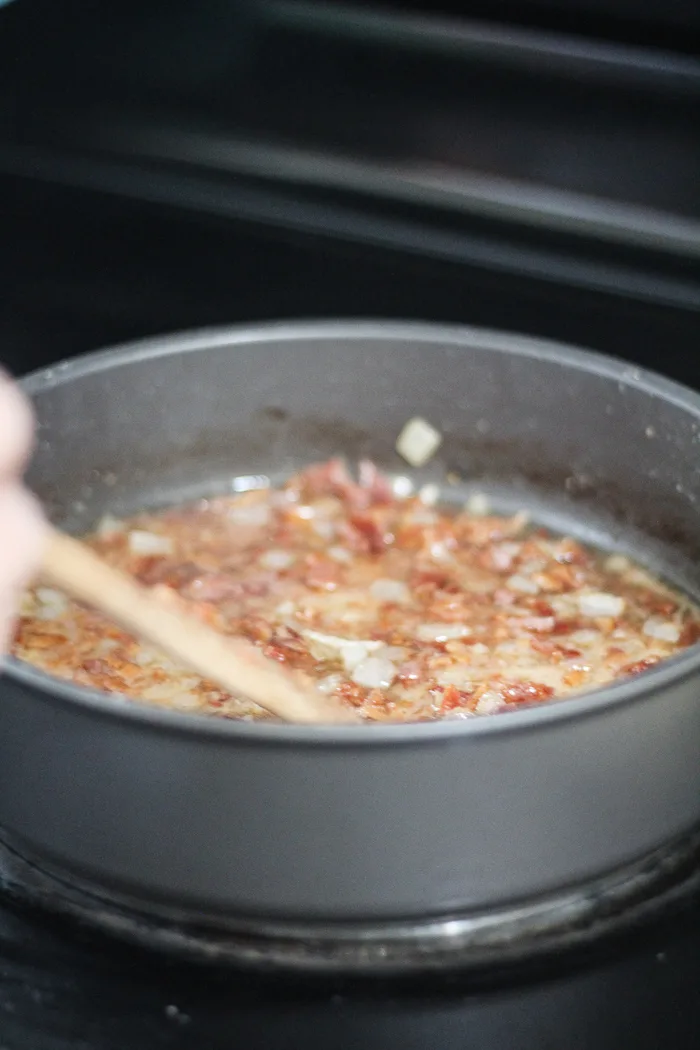 Add in 1/2 cup of sugar and let remove it from the heat. Let it hang out while the sugar is melting. In another bowl, combine the 1/4 cup of white distilled vinegar with the tablespoon of cornstarch and make a slurry.
Once the sugar is melted, add the cornstarch slurry to the bacon and mix well.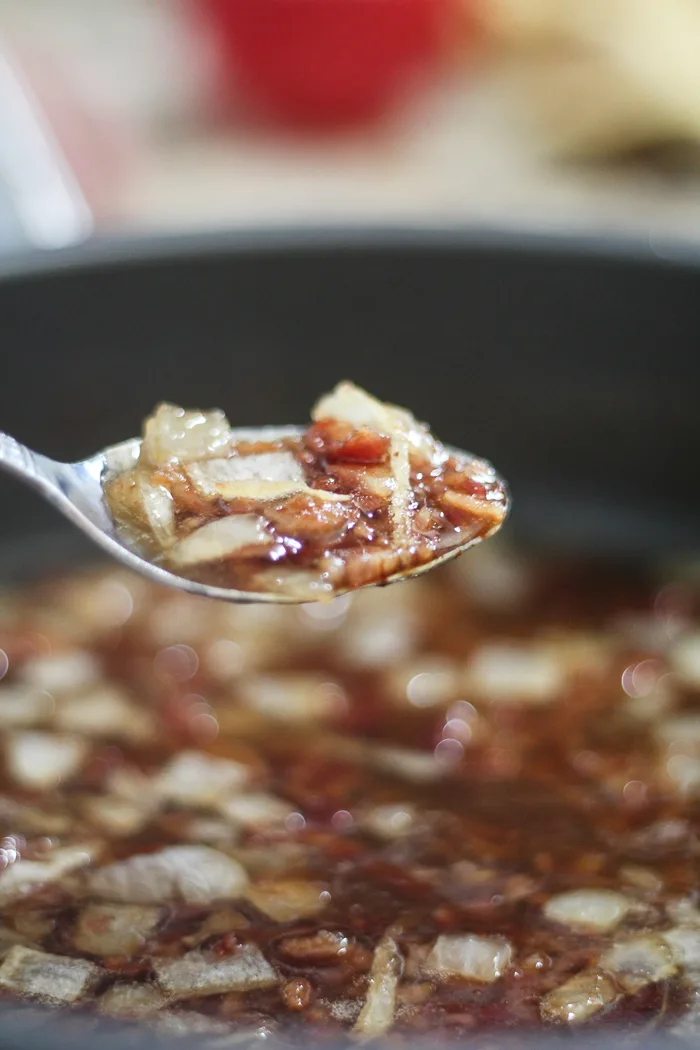 At this point, you can leave it in huge chunks like this, or you can take an immersion blender and puree part of it. When you do, it comes out to this amazing thick dressing that is to die for when poured over a salad.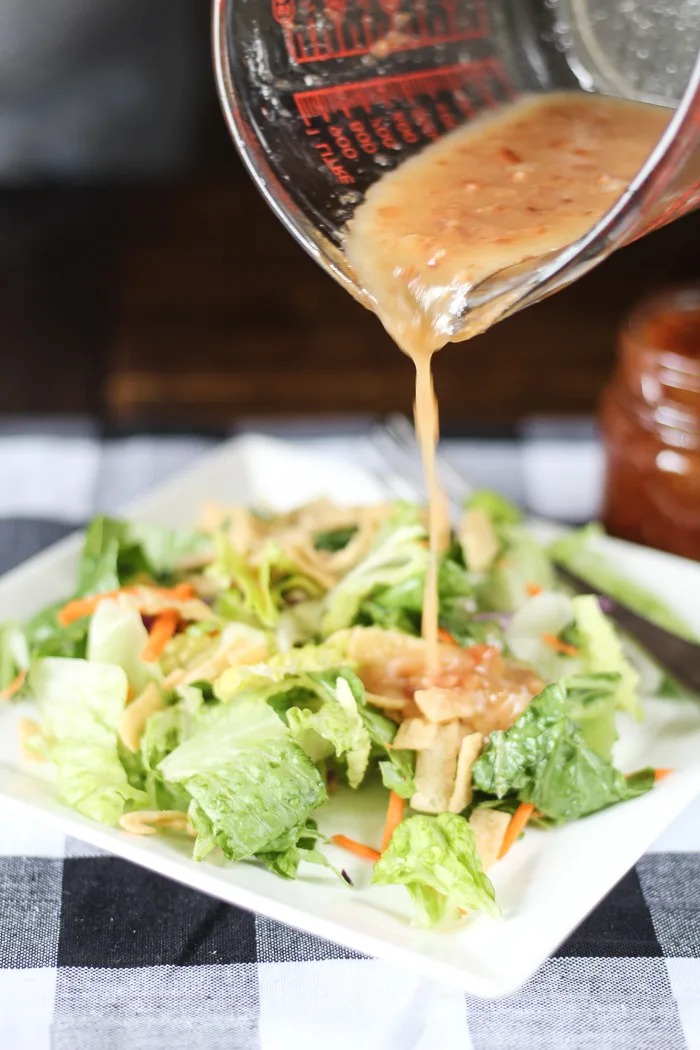 Here is my version and believe me, it tastes even better than the dressing at Rafferty's!
If you love salad, then you will definitely love this recipe for my delicious Rafferty's Hot Bacon Dressing.
When making dressings at home, a simple salad dressing mixer like this one comes in handy.
Want more dressing recipes? Try these out!
Yield: 2 cups
Rafferty's Hot Bacon Dressing
This copycat version of Rafferty's Hot Bacon Dressing is amazing and even better than the restaurant's!
Ingredients
8 slices of bacon cooked and crumbled
1/2 an onion, diced
1/2 cups of sugar
1 tablespoon of cornstarch
1 teaspoon salt
Bacon Grease leftover​ from cooking the bacon
1/4 cup white vinegar
Instructions
Fry bacon in the pan until crispy. Remove from the pan and place on cutting board.
Take the diced onion and throw into the bacon grease and cook until translucent. Add back in the bacon.
Add the sugar to the pan with the bacon and onion and allow the heat to melt it. Add in some salt for taste. Remove from the heat.
Mix together the cornstarch and vinegar to create a slurry and pour in the pan with the bacon and onion.
Mix together until it begins to thicken a bit.
Use an immersion blender to puree some of the dressing. Mix together well and pour over salad.
Nutrition Information:
Yield:
40
Serving Size:
1
Amount Per Serving:
Calories:

27
Total Fat:

1g
Saturated Fat:

0g
Trans Fat:

0g
Unsaturated Fat:

1g
Cholesterol:

3mg
Sodium:

106mg
Carbohydrates:

3g
Fiber:

0g
Sugar:

3g
Protein:

1g