These blistered green beans are absolutely delicious! You will want to make them over and over again.
All my life, the only way I have ever had green beans are the true Southern way — cooked in bacon grease or with a ham hock until there is pretty much nothing left.
The beans are really soft, but the flavor is amazing! But then, someone introduced me to green bean bundles — where you cook whole green beans in a soy sauce bath while wrapped in bacon. They still come out soft, but the flavors are just a delicious punch in the mouth.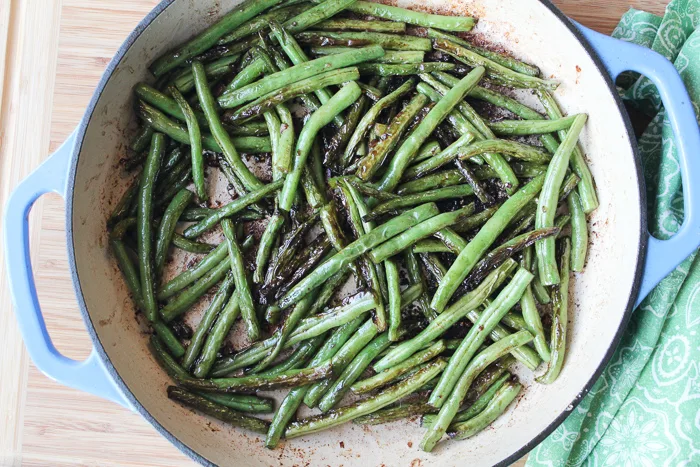 While on my trip to Pawhuska, one night I ordered a filet mignon at The Mercantile that came with blistered green beans. Seriously — those beans were the best I had ever eaten and I knew I was going to come home and play around with the recipe until I figured it out.
It didn't take long. All you need are fresh green beans, soy sauce, garlic, butter, salt, and pepper. That's it. Then you will have the most awesomesauce green beans you have ever put in your mouth.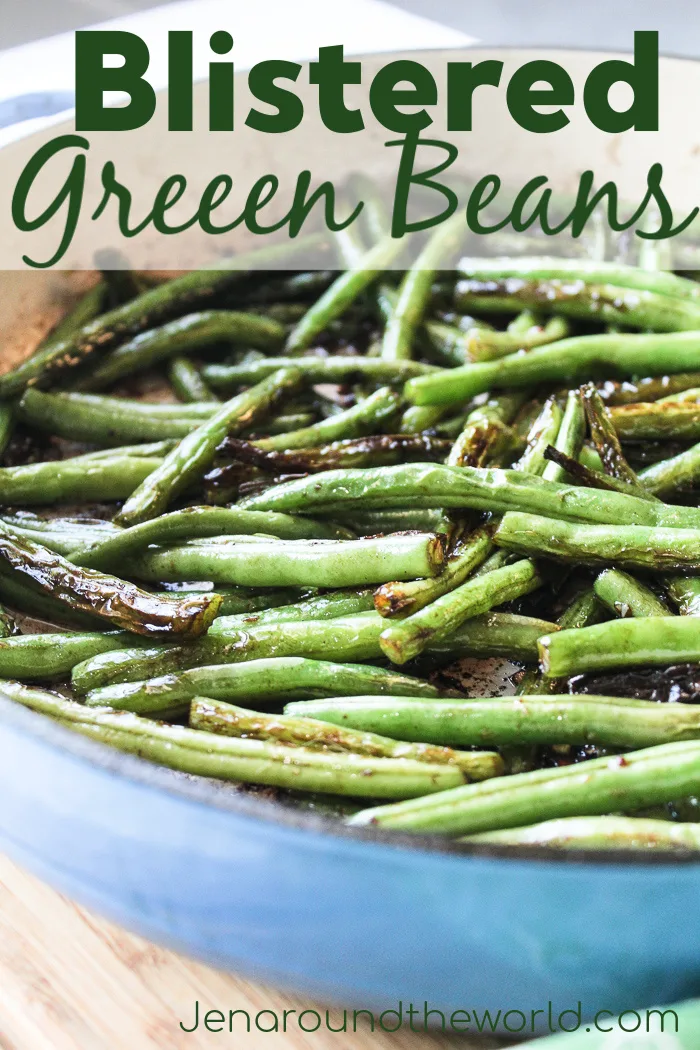 How to Make Blistered Green Beans
Start by washing your beans under running water. Dry them off and then start trimming the ends off of your green beans. All I do is line up a bunch that are pretty much the same size, and knick the ends off.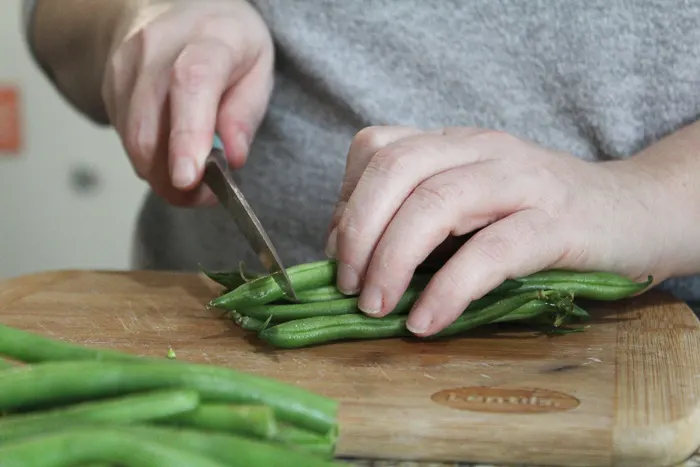 Once, you do this, set all the beans aside. To me, there is nothing like the taste of fresh green beans. I mean, canned green beans are good, but fresh to me is always best.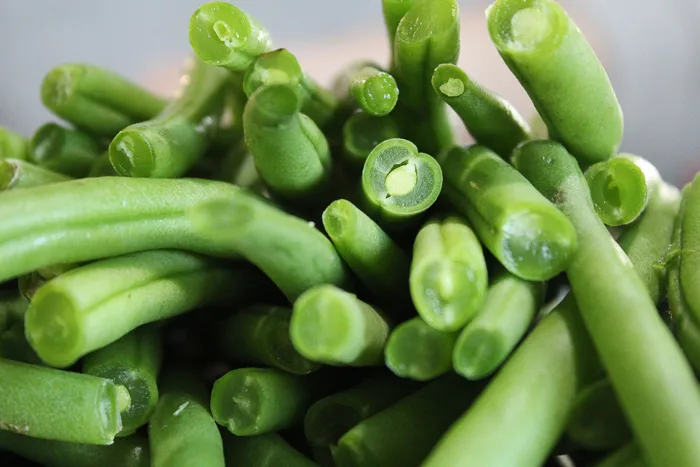 In your saute pan, add in 2 tablespoons of butter and allow it to heat and melt. Once the butter is melted, throw all the green beans into your saute pan.
Then allow them to "blister", moving them occasionally around so that all get a little blister on them. Really, all blister means is that you are going to allow a little char to get on the beans.
You will start to notice soon that the beans are getting a little black on them. That is exactly what you want. Now, once the beans have charred a bit and have gotten a bit soft, but they still have a crunch, you are going to add in your garlic and let it cook for a minute or two.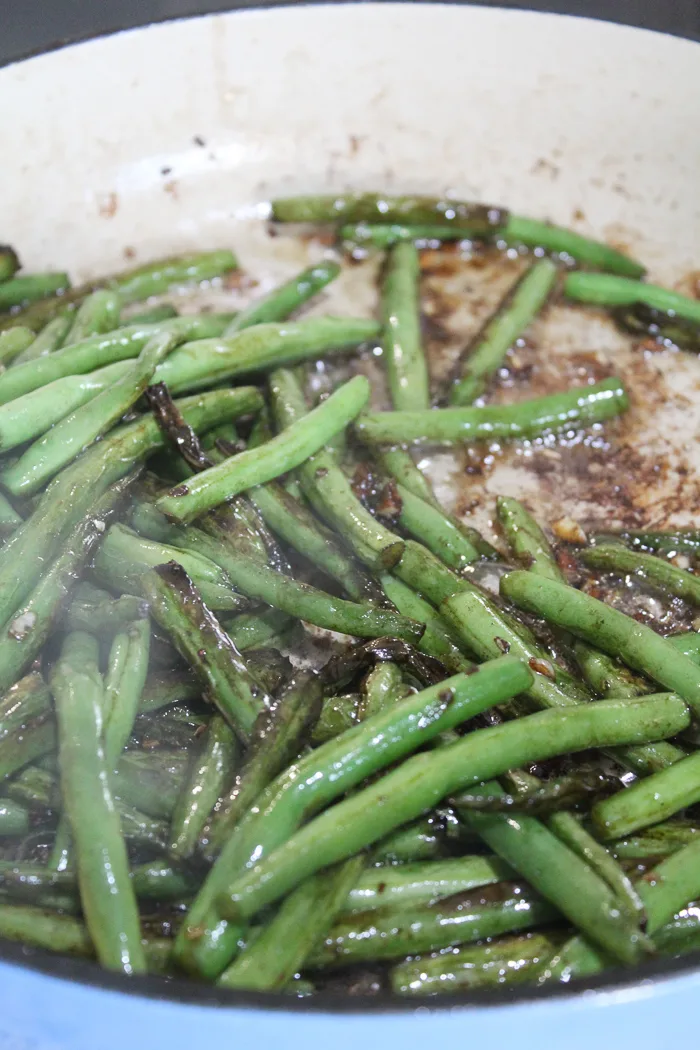 Now add in the soy sauce and let it cook down for a couple of minutes. The beans will almost immediately soak up any of the soy sauce, which turns these beans into superhero green beans.
The blistered green beans mixed with the soy sauce have this flavor combination that will knock your socks off!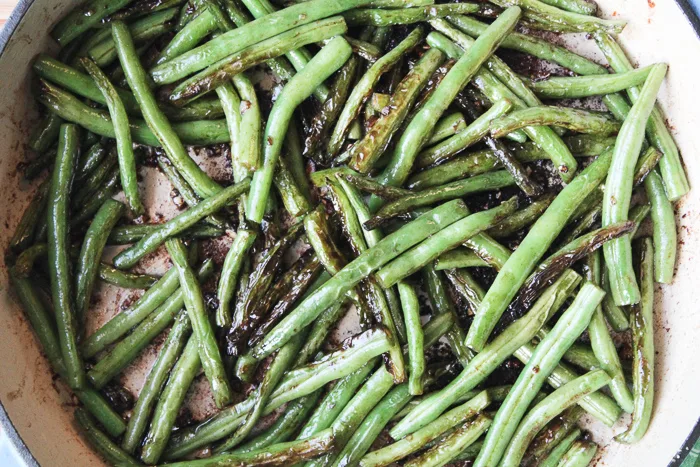 The blackest beans are my favorite out of all of them. They will have a slight crunch to them, and while my husband was not a fan of crunchy green beans, the rest of us thought they were fantastic.
Check out these other delicious bean recipes
Yield: 4 servings
Blistered Green Beans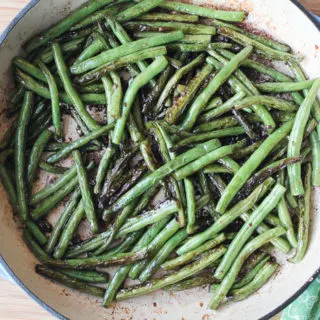 These blistered green beans will be your new favorite way to make this beautiful veggie.
Ingredients
2 tablespoons butter
8 ounces green beans, trimmed
2 small cloves garlic, minced
1 tablespoon soy sauce
Instructions
Heat a sauce pan over medium high heat.
Add the butter and when melted, add the beans.
Let the beans blister for about 2 minutes, then toss and allow to blister some more.
Add in the garlic and allow it to cook for about a minute. Make sure to move it around so the garlic doesn't burn.
Add the soy sauce, toss to coat the beans and serve.
Nutrition Information:
Yield:
6
Serving Size:
1
Amount Per Serving:
Calories:

50
Total Fat:

4g
Saturated Fat:

2g
Trans Fat:

0g
Unsaturated Fat:

1g
Cholesterol:

10mg
Sodium:

177mg
Carbohydrates:

3g
Fiber:

1g
Sugar:

1g
Protein:

1g