This classic Italian Wedding Soup is great for those days when the weather is cold and you need something to warm you up.
Stephen and I went on a date one night a couple of months ago to see Mac Powell in concert. We decided to eat dinner at this quaint little Italian restaurant that is local to that area.
One of our entrees came with soup, so Stephen decided to get the Italian Wedding Soup. I had never eaten it before and I knew from the first bite I wanted to make it and share it with you here on the blog.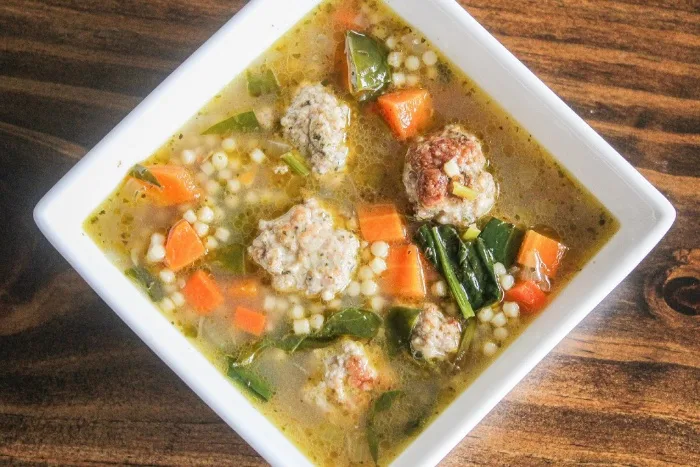 What Makes a Great Italian Wedding Soup?
What makes it the best you're likely asking? It's a number of things so here we go: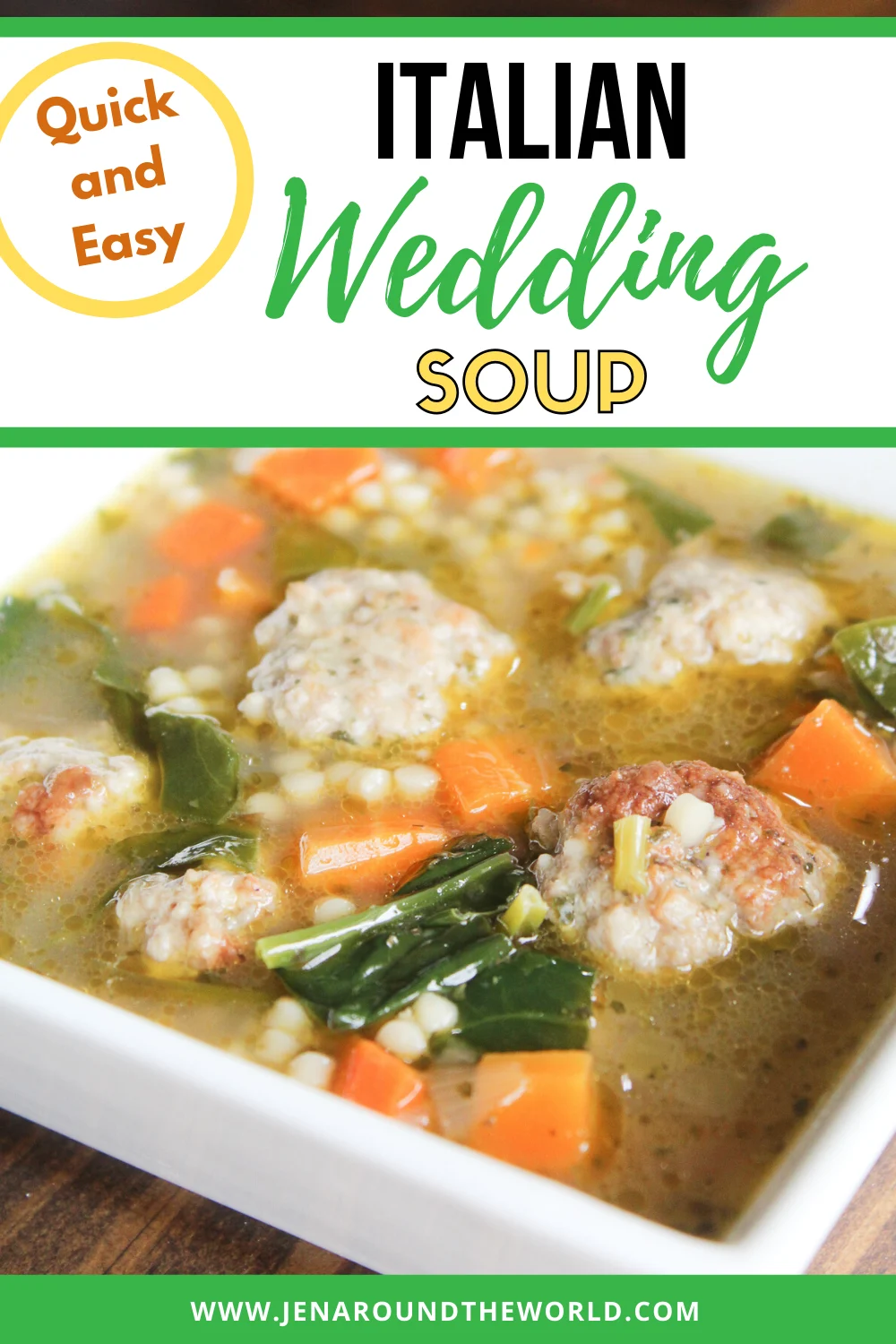 Searing meatballs is very important in my opinion. Simmering them in the broth makes for a very gray meatball so always sear first them simmer.
Make the meatballs small. You want them to fit perfectly on the spoon. This is soup, not a big bowl of pasta.
Use fresh herbs. They really add great flavor.
Meatballs are best made when you use two combinations of meat like ground beef and ground pork.
Use fresh bread turned into crumbs. Dry breadcrumbs would make the meatballs really dry and not moist at all.
Don't be skimpy with the garlic. Using at least 4 cloves will pump up the flavor.
Shredded Parmesan really compliments the soup nicely.
Stick with tiny pasta like Acini de pepe. I love how it sets this soup apart. I found mine on the pasta aisle at Walmart, but they also have it for sale on Amazon.
Wedding soup is traditionally made from a rich, long-cooked homemade chicken stock. I love making my own homemade chicken stock, but if you don't have time to do that, you can use what the stores have.
What Greens Can I Use?
Anytime I make soup, my preferred greens have always been spinach but kale, endive or escarole are other greens commonly used in Italian Wedding Soup and they would work fine in this recipe.
I like using spinach because it normally cooks down pretty fast, however, if you use one of the other greens above, you will need to add it in earlier in the soup because it will take longer to cook.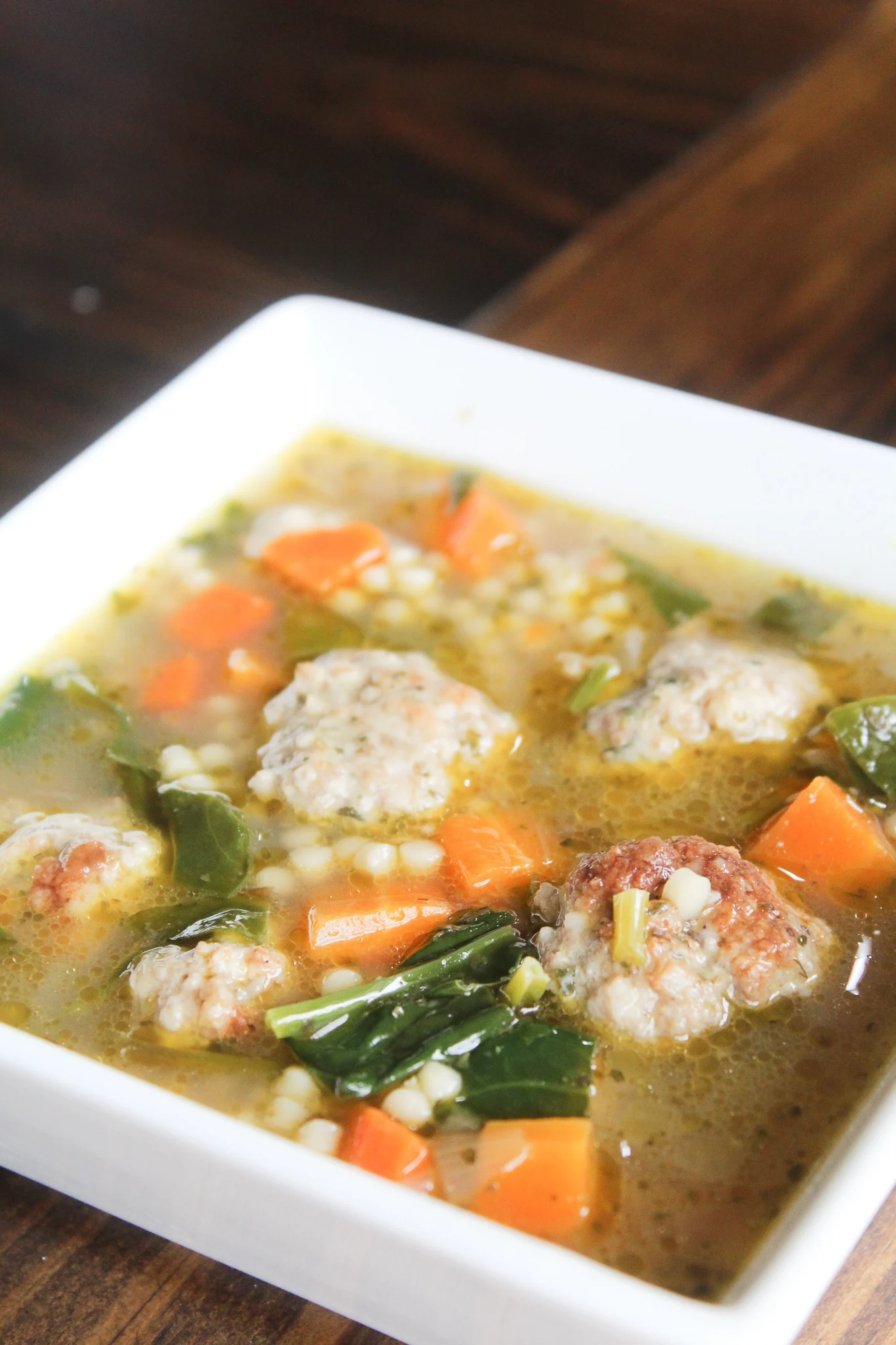 This soup might require a little more prep than some of your average soups (such as grinding up fresh bread crumbs and shaping and browning the tiny meatballs) but the extra steps are so worth it in the end.
Interested in other delicious soup recipes?
Yield: 6 servings
Italian Wedding Soup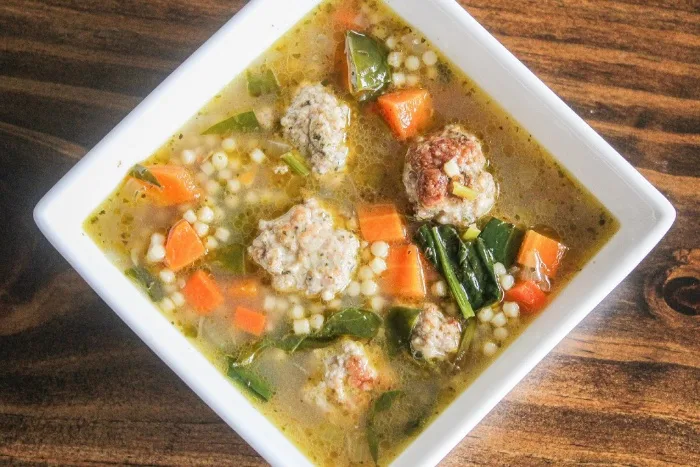 The whole family loves this Italian wedding soup with tender meatballs, veggies, and pasta in a rich, flavorful broth.
Ingredients
For the meatballs
8 oz lean ground beef
8 oz ground pork
1/2 cup fresh white bread crumbs
1/4 cup chopped fresh parsley
1 1/2 tsp minced fresh oregano
1/2 cup finely shredded parmesan
1 large egg
Salt and freshly ground black pepper
1 Tbsp olive oil
For the Soup
1 Tbsp olive oil
1 1/4 cups finely diced carrots
1 1/4 cups finely diced yellow onion
4 cloves garlic, minced
5 (14.5 oz) cans low-sodium chicken broth, or use your own homemade version.
1 cup dry acini de pepe
6 oz fresh spinach, chopped
Finely shredded parmesan, for serving
1 lemon sliced as a garnish
Instructions
To make the meatballs -- Combine beef and pork in a mixing bowl. Add in the fresh bread crumbs, parsley, oregano, parmesan, egg, 1 tsp salt, and 1/4 tsp pepper.
Mix with your best utensils -- your hands! Shape mixture into very small meatballs, about 3/4 inch to 1 inch and transfer to a large plate.
Heat 1 Tbsp olive oil in a large non-stick skillet over medium-high heat.
Add half of the meatballs and cook until browned, turning occasionally (to brown on 2 or 3 sides), about 4 minutes total.
Transfer meatballs to a paper towel-lined plate. Repeat until all the meatballs have been browned. They won't be cooked through at this point, because they'll continue to cook through in the soup.
For the soup portion -- In a large dutch oven or soup pot, heat 1 Tbsp olive oil. Add in carrots and onions. Saute until veggies have softened about 6 - 8 minutes.
Now, add in garlic and saute 1 minute longer.
Pour in chicken broth, season soup with salt and pepper to taste and bring mixture to a boil.
Add in pasta and meatballs, reduce heat to medium-low. Cook, stirring occasionally until pasta is tender and meatballs have cooked through about 10 minutes.
During the last few minutes of cooking, add in the spinach. Serve in bowls and then add in a splash of lemon juice. Then top with shredded cheese.
Nutrition Information:
Yield:
12
Serving Size:
1
Amount Per Serving:
Calories:

186
Total Fat:

10g
Saturated Fat:

4g
Trans Fat:

0g
Unsaturated Fat:

6g
Cholesterol:

53mg
Sodium:

186mg
Carbohydrates:

9g
Fiber:

2g
Sugar:

2g
Protein:

14g