This Autumn Harvest Soup is everything that Fall represents for me. Full of delicious squash flavors and veggies and topped with fresh cream and toasted pumpkin seeds for the perfect soup night.
Whenever you have an abundance of fall and winter squash in your refrigerator, you do what you can to use them up so that they don't ruin.
That is one thing about me. I hate letting anything go bad, so I am always looking for ways to create delicious recipes that use up very ripe fruits and veggies.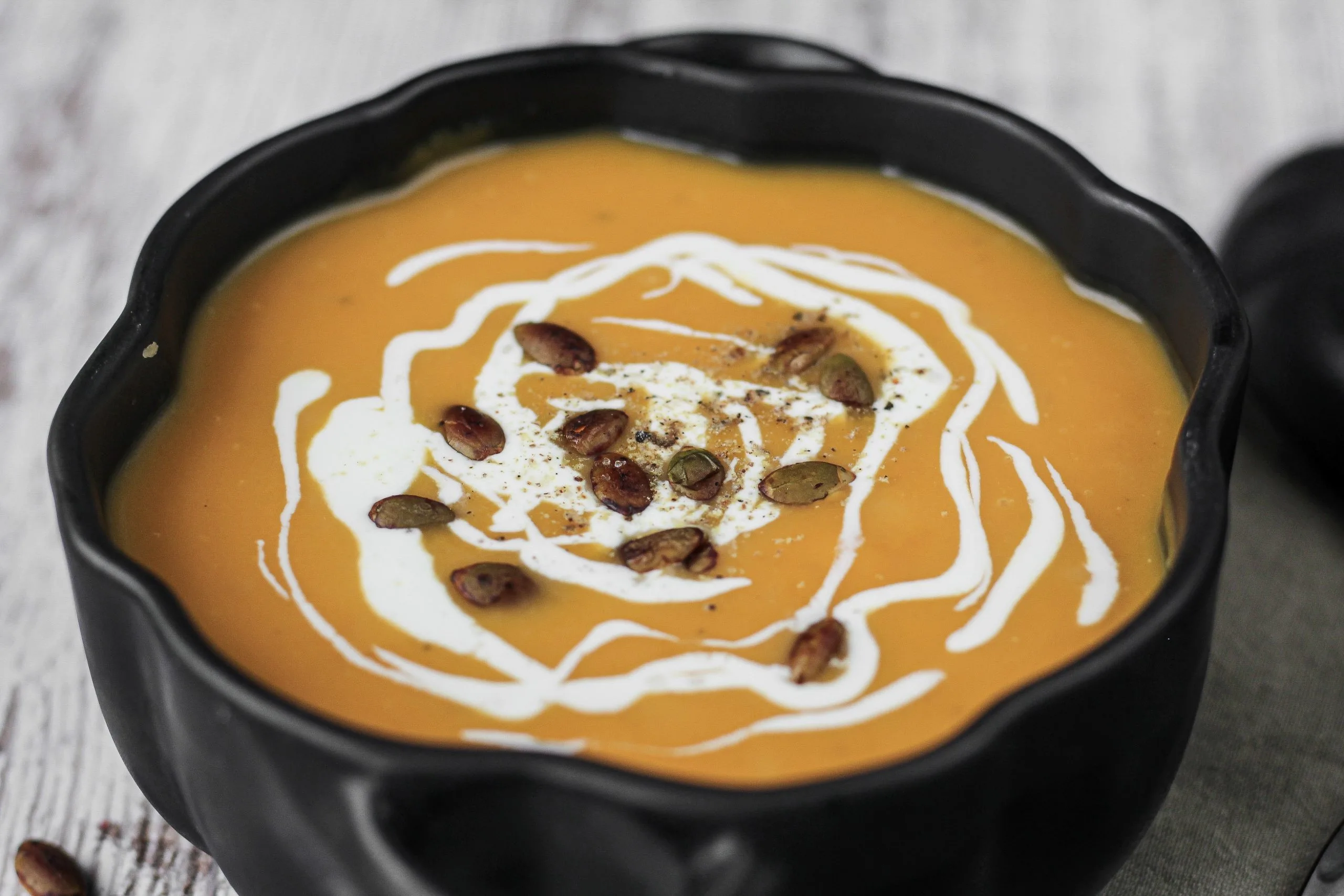 That is how this Autumn Harvest Soup came about. I had so many little butternut squash and acorn squash in my fridge, so I knew I needed to do something quick.
I could have made my roasted butternut squash to eat with dinner one night. I could have also made my Roasted Parmesan Acorn Squash or my Maple Cinnamon Acorn Squash, but I was craving soup.
So, I threw all my veggies onto a sheet pan and roasted them in the oven. Then pureed them up to create this luxurious soup that just hit every fall button I have in my soul!
How to Make This Autumn Harvest Soup
This soup can be made with any fall and winter squash — there are so many varieties! I love serving this in these festive Staub Pumpkin bowls — which are also oven safe!
Winter squash have hard skins and soft flesh on the inside and most of them have seeds. The varieties you might find are acorn, buttercup, butternut, calabaza, delicata, Hubbard, spaghetti, sweet dumpling, and Turban, as well as pumpkin.
Anytime you make a squash soup, you want to sweeten it with something. You can use carrots, apples, or sweet potato to sweeten it. I used a sweet potato.
So — this soup consists of —
1 large butternut squash
1 acorn squash
1 large sweet potato
1 head of garlic sliced in half
1 large onion sliced in half
Roast all of this on a sheet pan. It only takes about 30 minutes at 350 degrees.
Scoop out the flesh once it is done roasting. Put it in the blender. Then, squeeze the roasted garlic cloves in there as well and the roasted onion.
I added 1/4 cup of chicken broth to the blender to so that the soup could move well.
Once it is pureed, I add it back into the pot. I add in 1/2 cup of half and half to give it a creamy texture and then add about 1/2 cup of chicken broth make it the perfect creamy texture.
If you want your soup thicker, test the amount of liquids you are adding before dumping in all of it at once. If you want a thinner soup, just play around with the measurements.
Yield: 6 cups
Autumn Harvest Soup
This soup is the perfect fall soup full of winter squash flavor. It comes together in about 35 minutes.
Ingredients
1 large butternut squash
1 acorn squash
1 large sweet potato
1 head of garlic
1 large onion
1/2-3/4 cup of chicken or vegetable stock
1/2 cup of half and half
salt and pepper to taste
Toasted Pumpkin seeds for garnish
For the Cream
2 tablespoons of sour cream
2 tablespoons of heavy cream
Instructions
Preheat the oven to 350 degrees.
Cut the butternut squash and acorn squash in half and scoop out the pulp and seeds.
Cut the sweet potato in half.
Cut off the top of the head of garlic.
Remove the skin from the onion and quarter the onion.
Place all the items on a sheet pan, and drizzle with olive oil. Season with salt and pepper.
Place the veggies cut side down and let them cook for 30 minutes, or until the squash and sweet potato are soft to the touch.
Remove from the oven and allow the veggies to cool for 5 minutes.
Scoop the flesh of the squash and sweet potatoes out of their skins and place in a blender.
Squeeze the garlic cloves from the head into the blender and add in the onion as well.
Add in about 1/4 cup of chicken stock and puree until everything is well blended. Be careful not to burn yourself. Hot things in a blender expand so make sure to leave a space for heat to escape.
Add to a stockpot on the stove and add the half and half. Now, add some chicken or veggie stock -- just enough to get the consistency of the soup you are wanting.
Taste and season with more salt and pepper as needed.
While the soup is simmering on the stove, make your crema -- add together both the sour cream and the heavy cream.
Scoop the soup out into bowls and top with a drizzle of the crema and some toasted pumpkin seeds.
Enjoy!
Nutrition Information:
Yield:
12
Serving Size:
1
Amount Per Serving:
Calories:

119
Total Fat:

5g
Saturated Fat:

2g
Trans Fat:

0g
Unsaturated Fat:

3g
Cholesterol:

21mg
Sodium:

106mg
Carbohydrates:

13g
Fiber:

3g
Sugar:

3g
Protein:

6g