If you want to be surprised by a dessert, make plans to make this Kumquat Upside Down Cake this week. This is quickly becoming a favorite dessert here.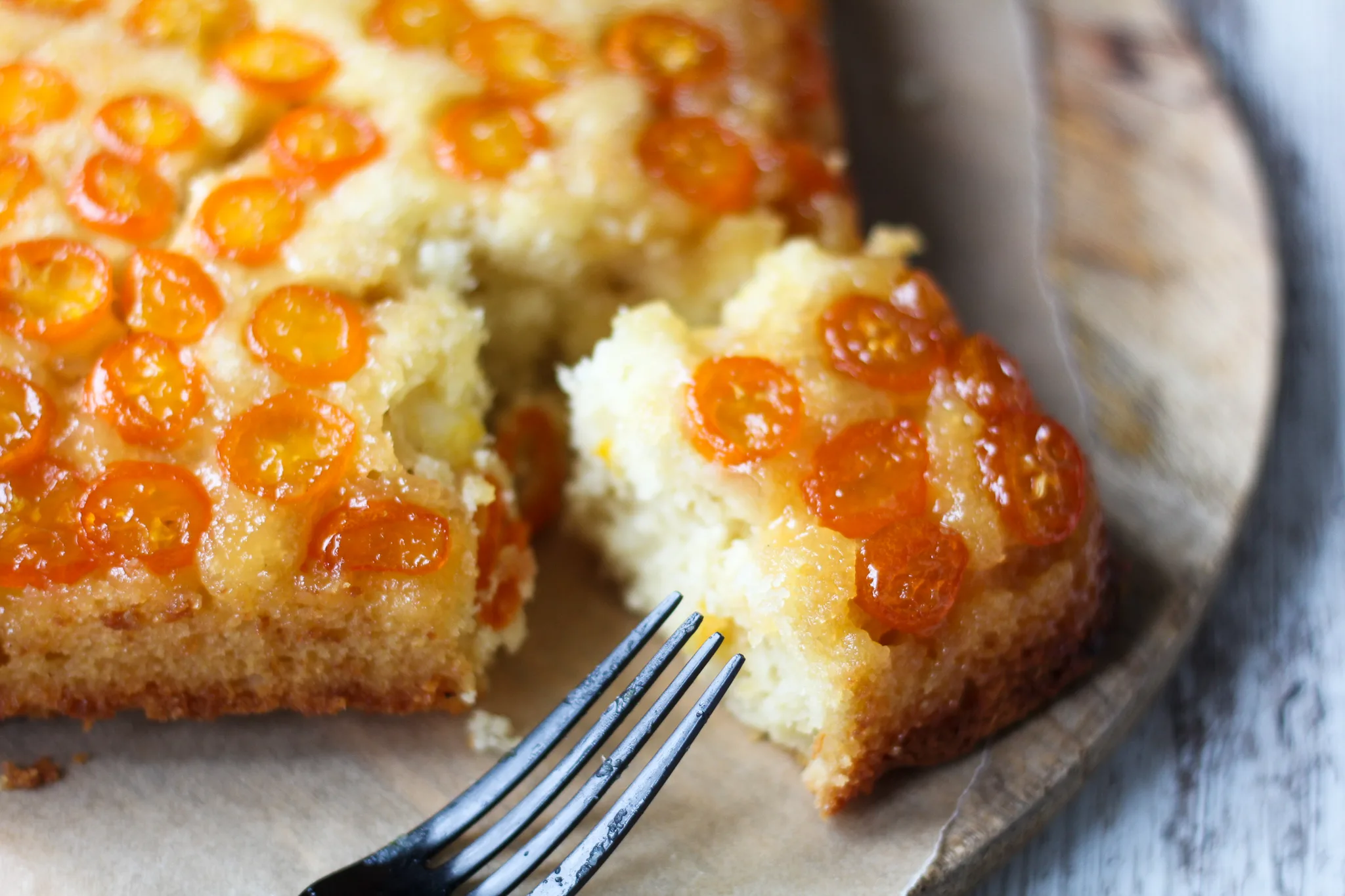 Alright y'all! let's talk about the third recipe I am sharing with you for Spring Sweets Week.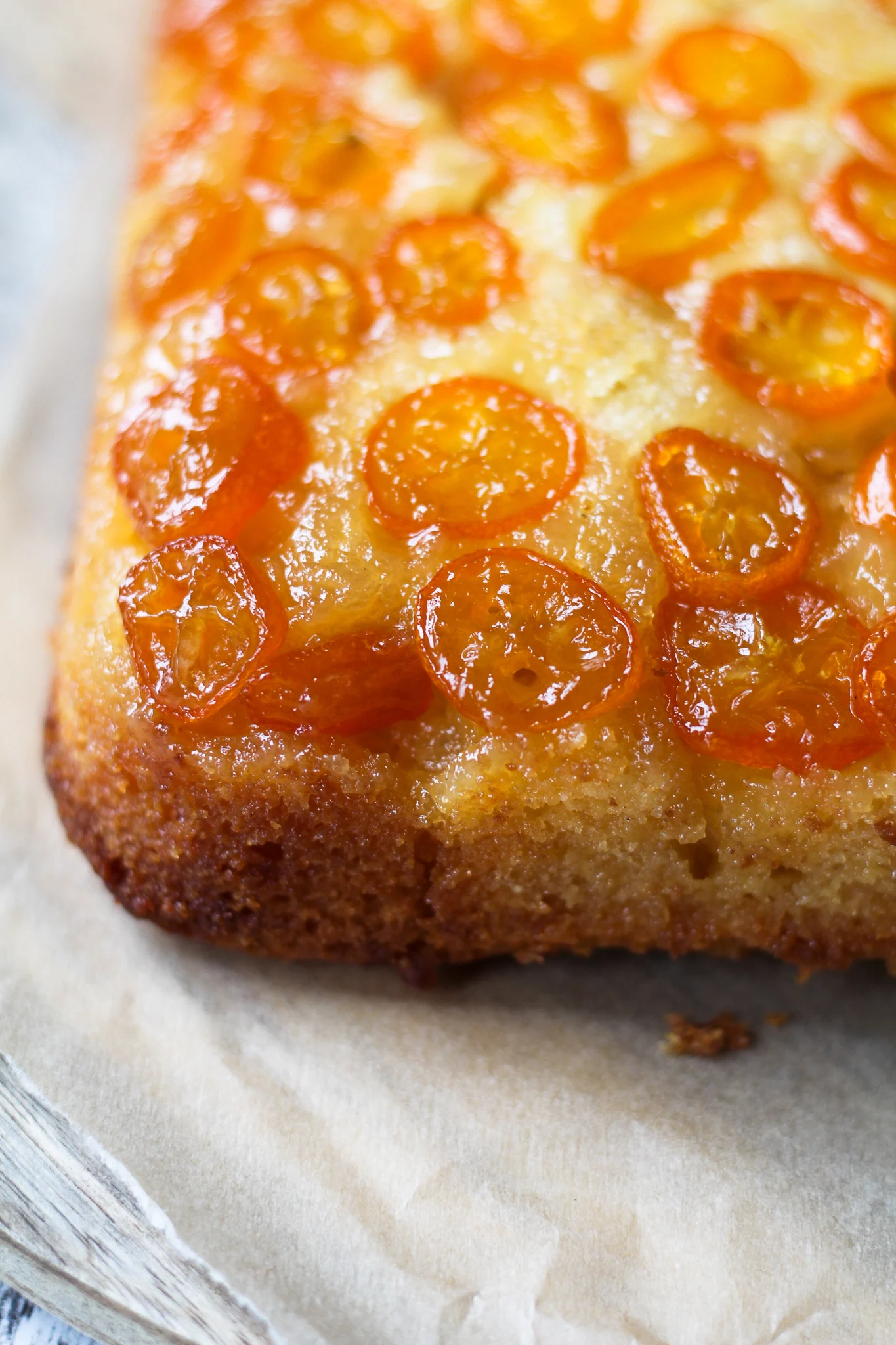 When I decided to make a Kumquat Upside Down Cake, I had no idea what this was going to taste like. I have never baked or cooked anything involving Kumquat, so when I got my box of produce from Melissa's produce and saw there was a bag of Kumquats, I knew I was going to find something fun to make for y'all.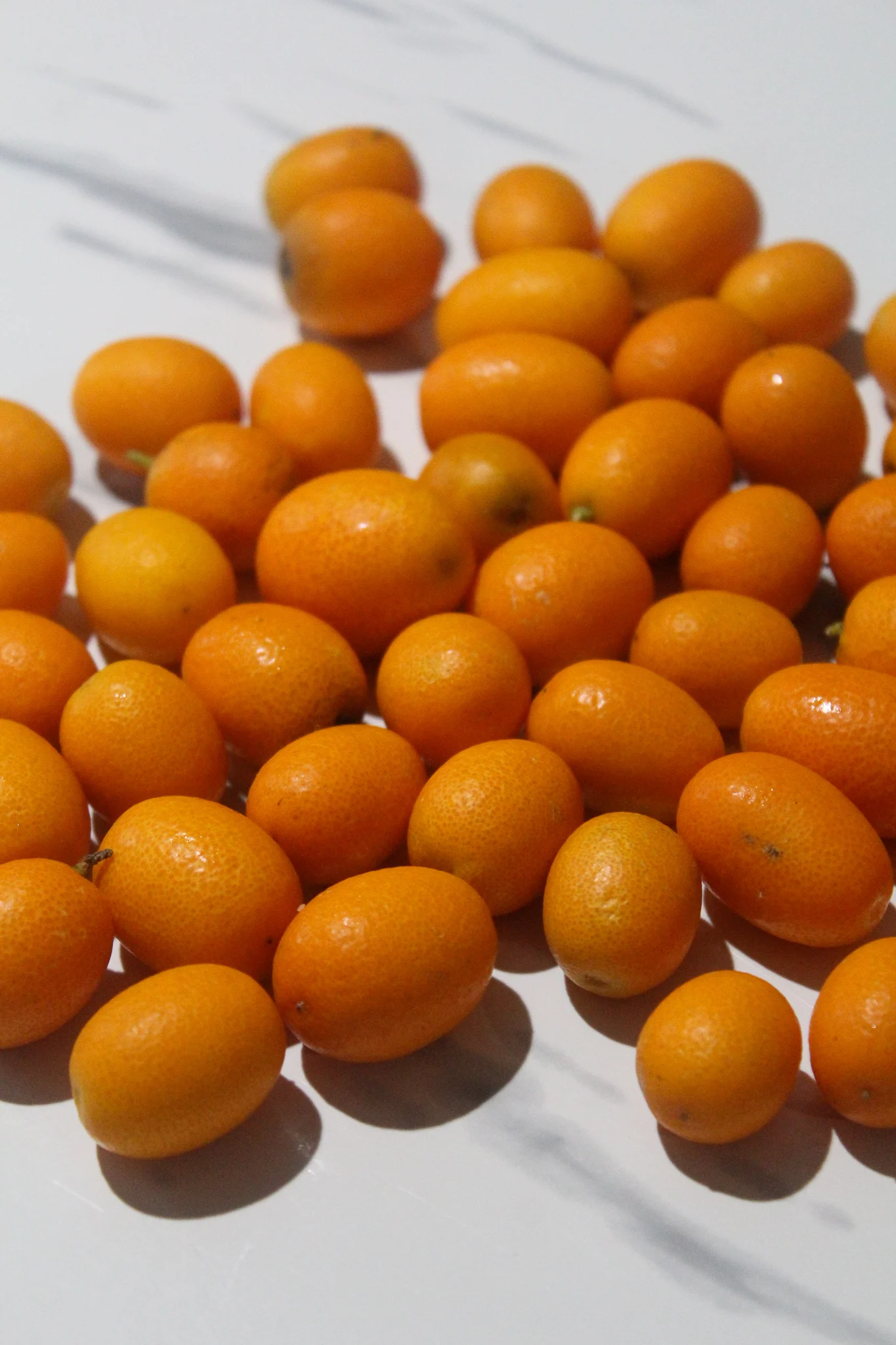 I cracked one open right away so that I could taste it and they are VERY sour — like a mix between a lime, lemon, and an orange.
But, when you mix these little beauties with some sugar, you get an explosion of delicious dessert flavor in your mouth.
How to Make a Kumquat Upside Down Cake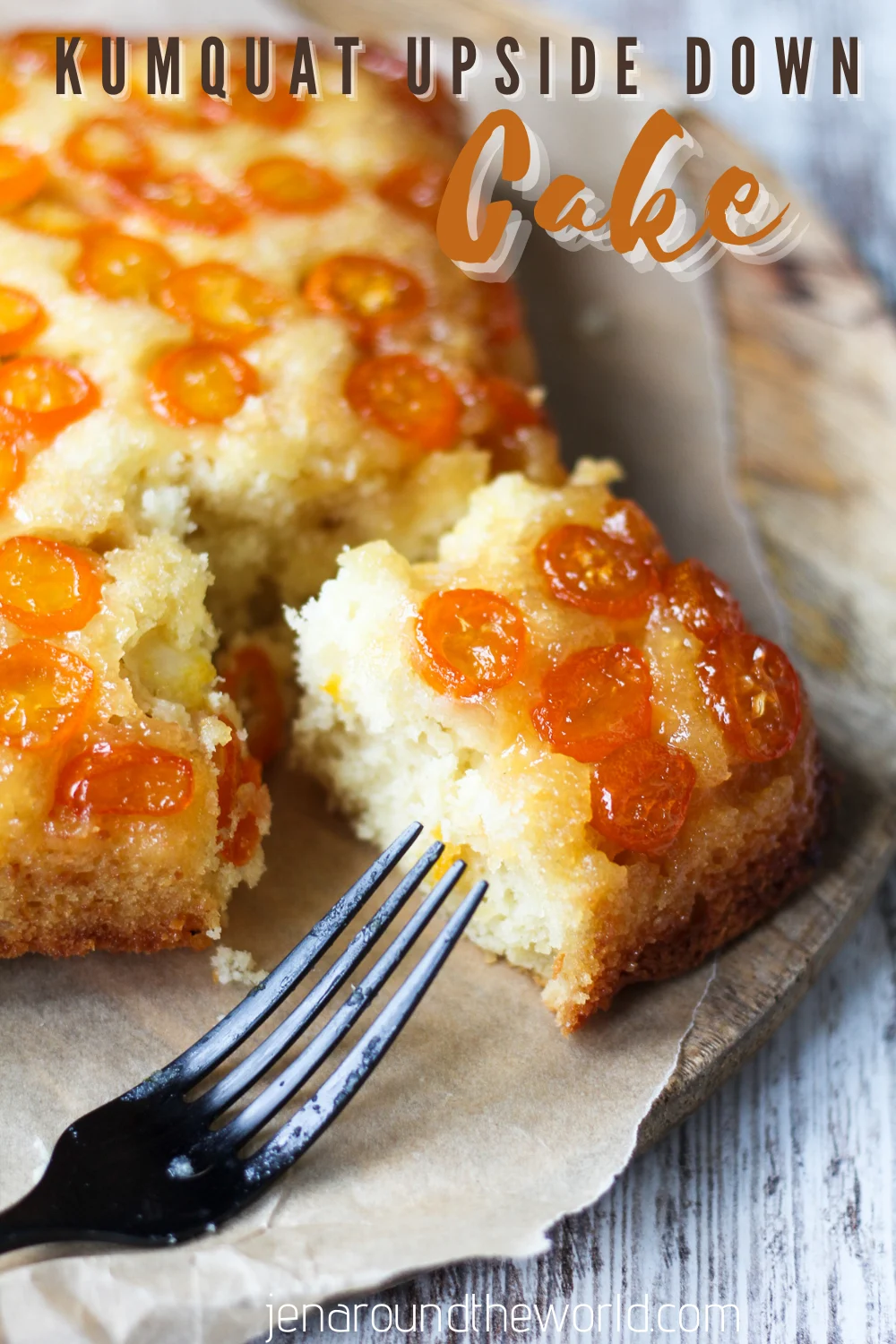 Start by slicing up all of your kumquats. You are going to want about 2 cups of whole kumquats, and then slice them about 1/4″ thick. Be sure to remove all the seeds from the slices.
Now, melt your butter in your 8×8 baking dish and then sprinkle on the brown sugar.
Take the kumquat slices and place in the bottom of the pan in a single layer.
Then, make your cake batter. I love making homemade cakes — to me, they taste so much better than store bought. However, if you do use a boxed cake mix, you can totally make a boxed cake taste like a bakery cake using these tips.
I always make sure to flavor my cakes with extract and for this one, I am using a Vanilla bean paste from Taylor & Colledge.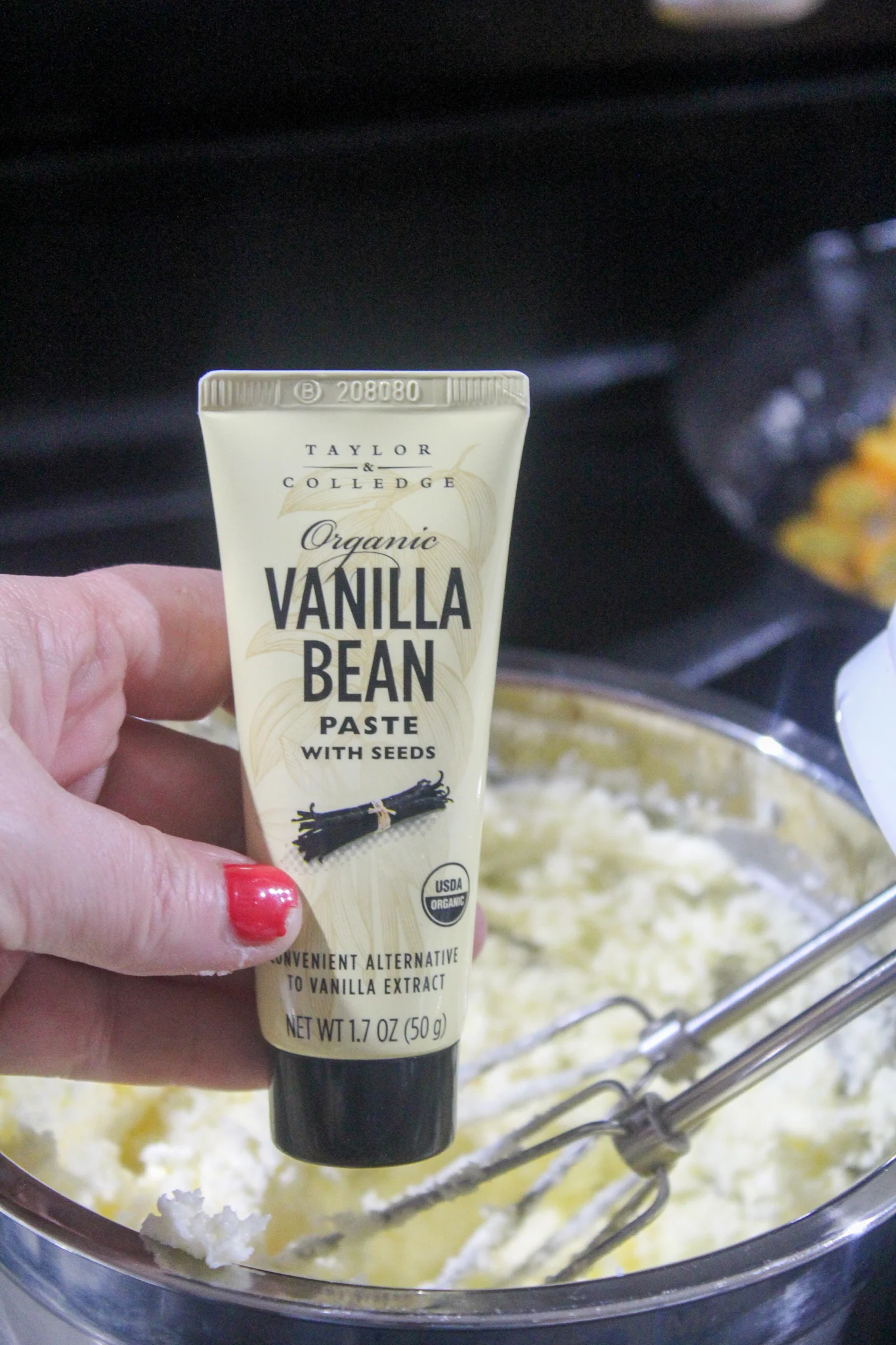 Once the batter gets all mixed up, pour it right over the kumquats and smooth out and then leave it alone!
When you take the cake out of the oven, let it rest for about 15 minutes. Place a plate on top of your pan and invert it so the cake falls out onto the plate.
It should slide right out and everything stay intact.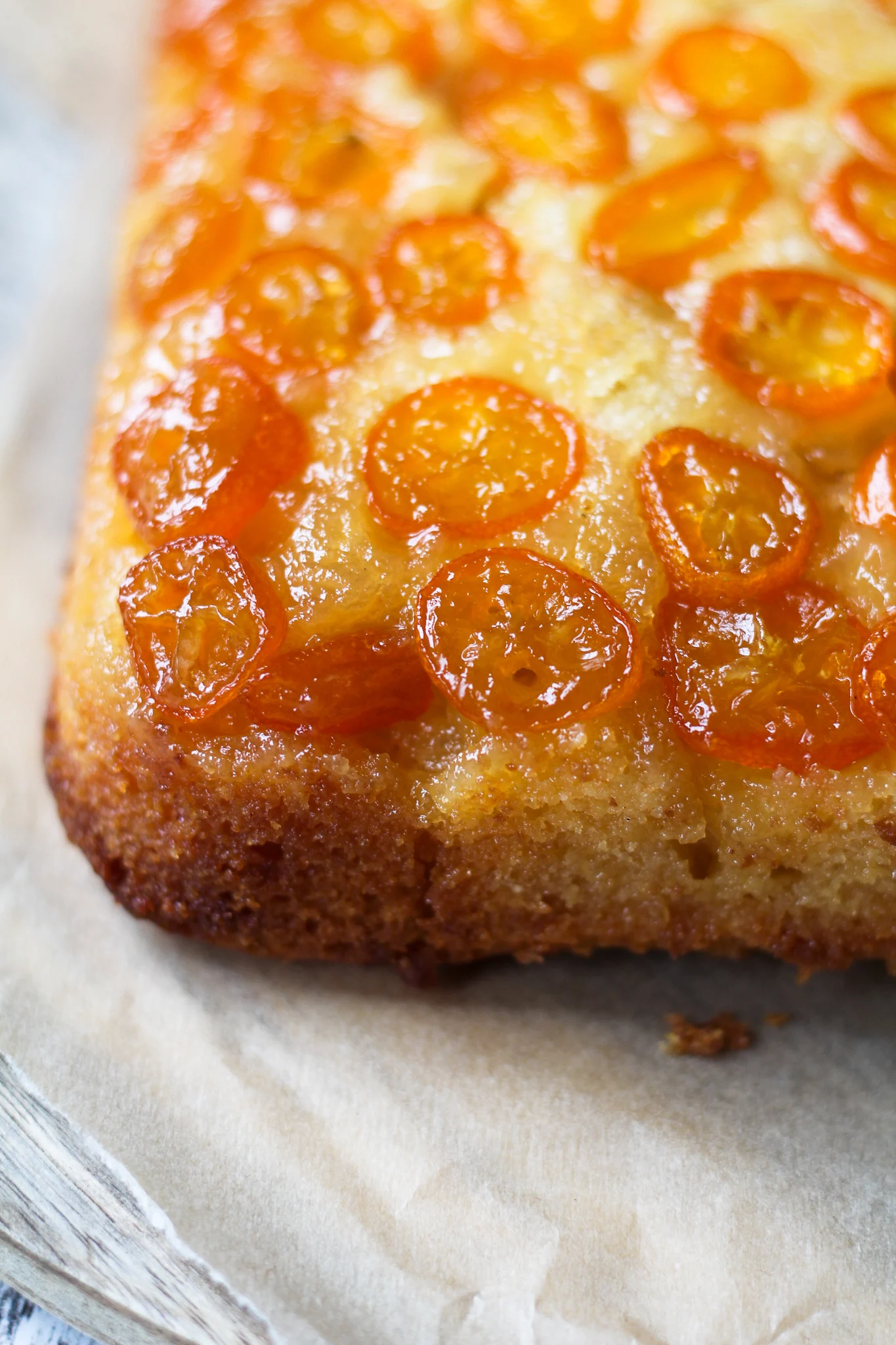 The bright citrus flavor of those kumquats really makes this delicious upside-down cake tastes amazing and just really reminds me of Spring.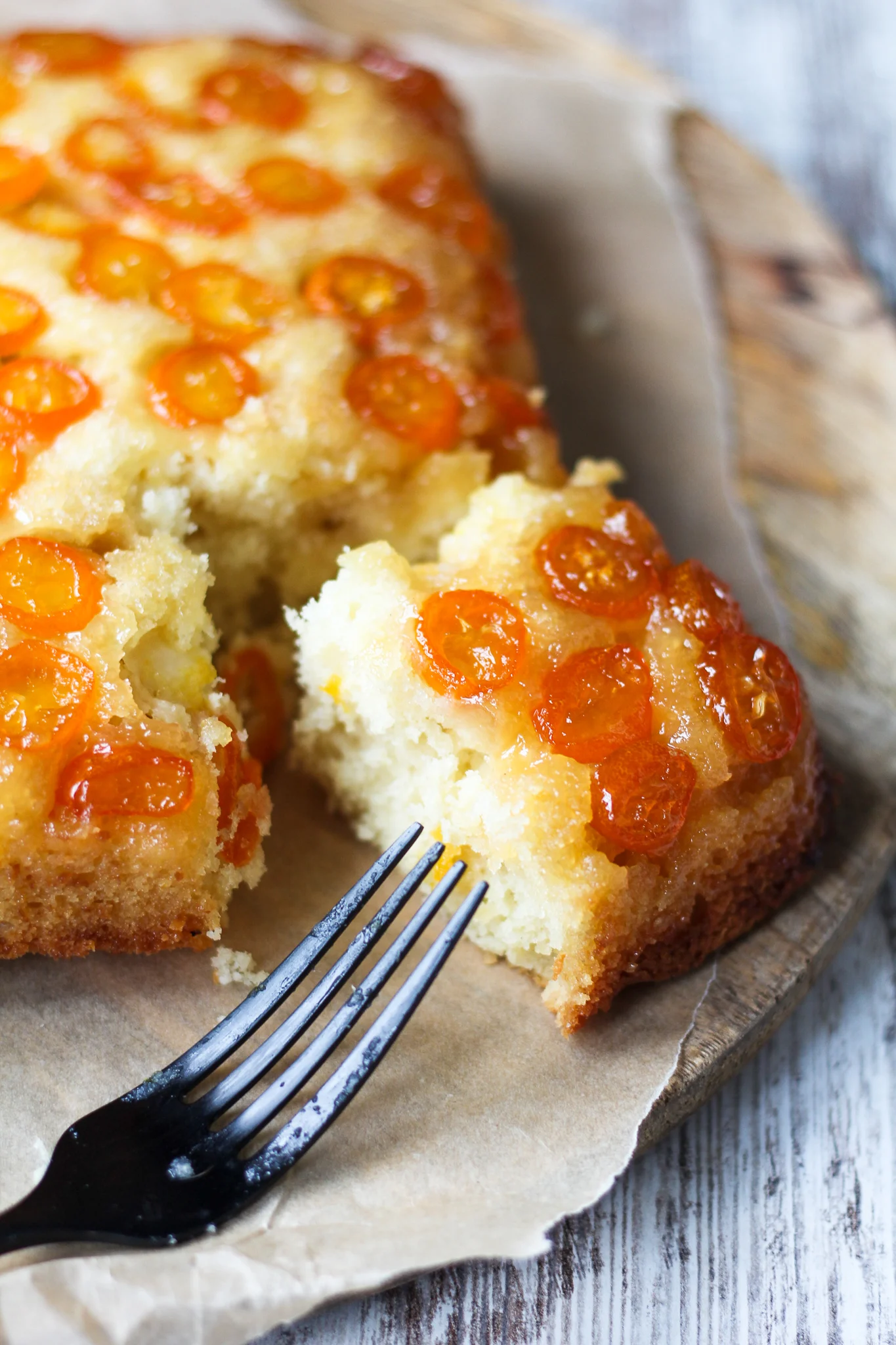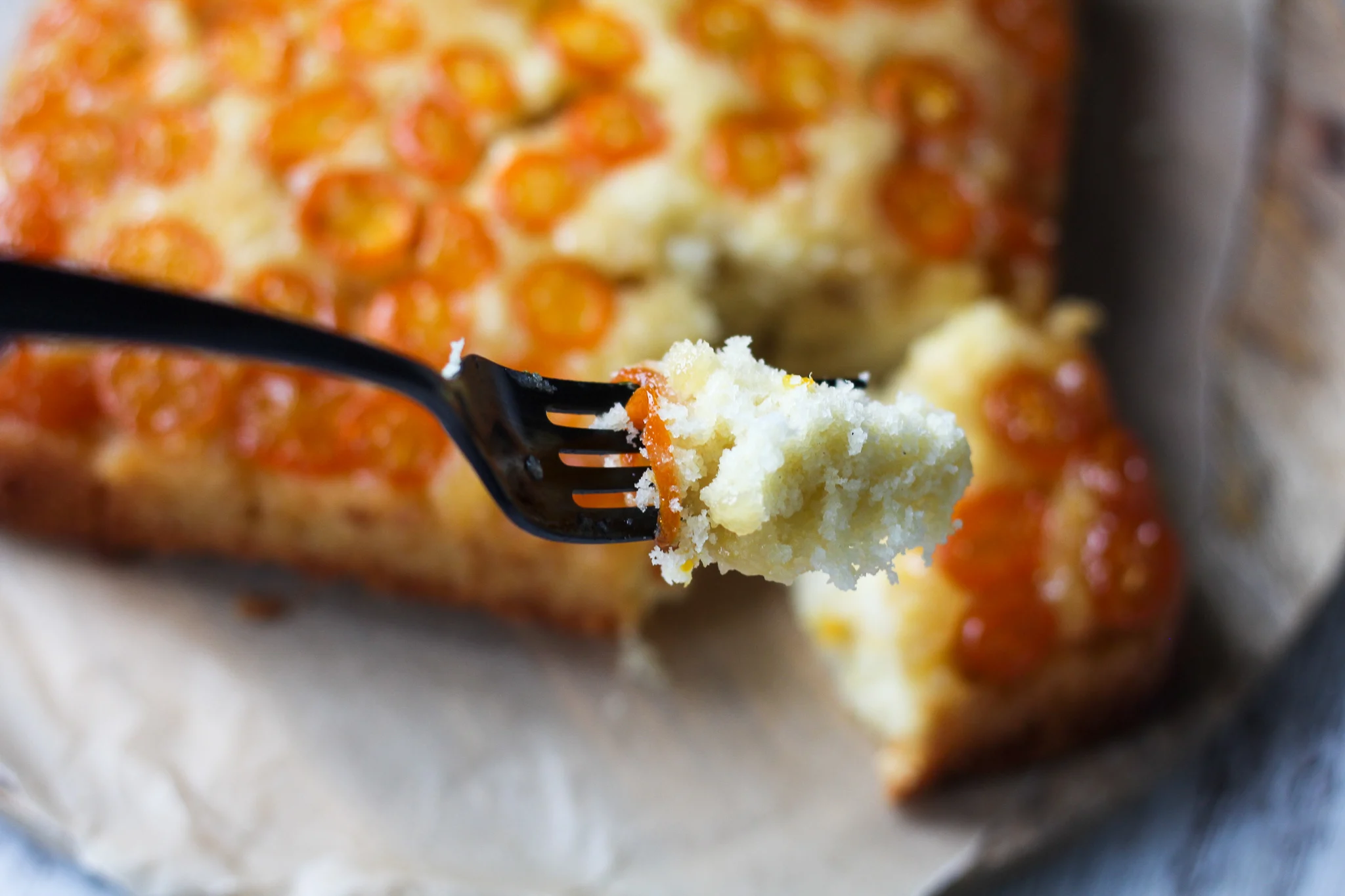 Yield: 8 servings
Kumquat Upside Down Cake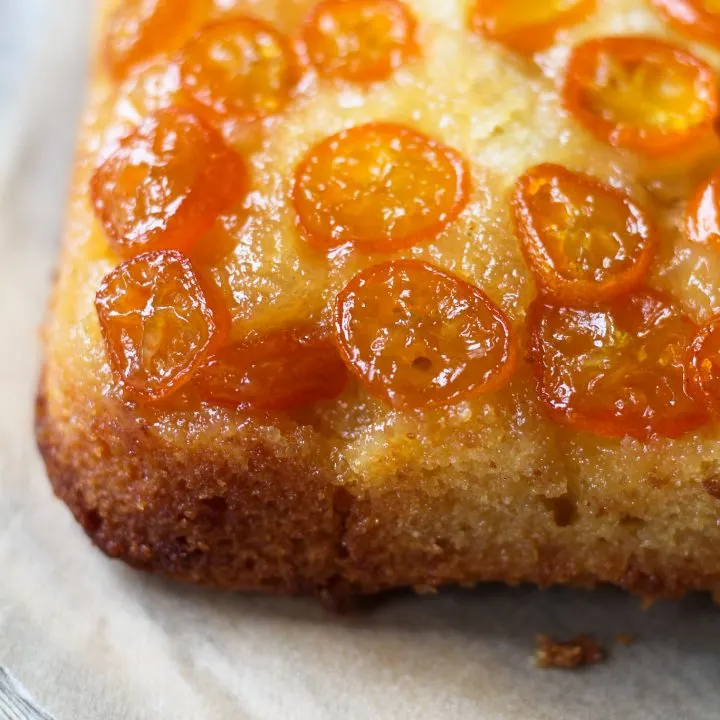 Delicious vanilla cake topped with caramelized tangy kumquats with a sweet sticky glaze.
Total Time
1 hour
10 minutes
Ingredients
1 cup whole kumquats
1 cup + 6 tbsp unsalted butter room temperature
1/2 cup brown sugar
1 1/2 cup all-purpose flour
1 1/2 tsp baking powder
1/2 tsp salt
1 cup white sugar
1 egg
1 tsp vanilla
1 cup milk
Instructions
Preheat the oven to 350 degrees.
Slice the kumquats into 1/4" slices. make sure to remove all the seeds.
Melt 6 tablespoons of butter and place in the bottom of an 8x8 baking dish.
Sprinkle the brown sugar on top of the butter.
Arrange the kumquat slices in an even layer over the brown sugar. Push them as close together as you can.
Whisk together the flour, baking powder, and salt in a small bowl and set aside.
In a stand mixer or with a handheld mixer, beat together 1 cup of room temperature butter with the white sugar. beat until fluffy.
Add the egg and vanilla to the butter and sugar mixture. Beat until well combined. Add the milk last and beat until mixed together.
Mix together the flour mixture and the butter mixture. beat on low until well combined.
Pour the cake batter over the kumquat slices. Bake the cake for 40 minutes, or until a toothpick inserted in the center comes out clean.
Once the cake finishes cooking, let it cool for 10-20 minutes.
Place a plate or a pan on top of the 8x8 baking dish and flip the cake out onto the pan.
The cake should drop easily from the cake pan and all the kumquats should be stuck to the bottom of the cake.
You can dust it with powdered sugar if you want, or you can eat it as is.
Enjoy!
Nutrition Information:
Yield:
8
Serving Size:
1
Amount Per Serving:
Calories:

348
Total Fat:

10g
Saturated Fat:

6g
Trans Fat:

0g
Unsaturated Fat:

4g
Cholesterol:

49mg
Sodium:

270mg
Carbohydrates:

60g
Fiber:

2g
Sugar:

39g
Protein:

5g