This is the super easiest and cutest pot of gold you will ever make in your life.
It looks so good on the table and you can turn these in to treat jars as well.
All you need to make this is a terra cotta pot, shamrock printable, black paint, gold paint, gold glitter, ROLO candies, and adhesive spray for the end.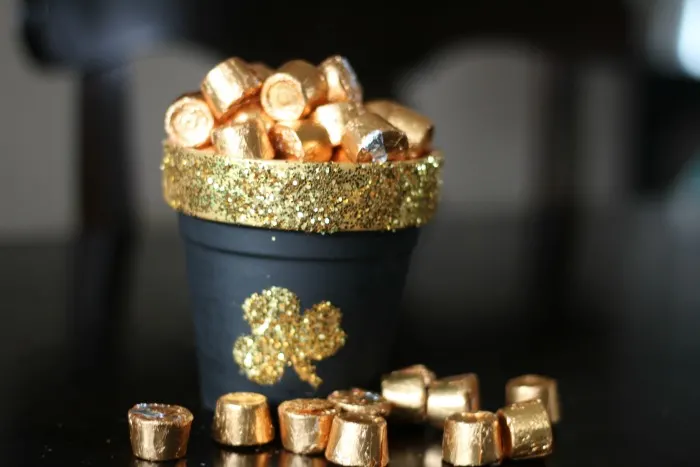 I bought a medium-sized terra-cotta pot, but you can totally get smaller ones and turn them into treat jars for your kids or to give to teachers, etc.
How to Make a Pot of Gold
Start by painting your terra cotta pot black. You can leave the rim, because you are going to paint that gold.
Once you paint the pot black and let it dry, take your gold paint and go around the entire top of the rim. While the paint is still wet, sprinkle on the gold glitter.
Once that dries, take your shamrock printable and cut out the black part leaving the outline of the shamrock. Place on the black paint where you want your shamrock to be and paint it gold.
Then, sprinkle on glitter while it is wet.
Once the paint dries, grab your adhesive sealer spray and spray the whole thing down. This will seal in the glitter to keep it from falling off.
Then fill it with all the gold pieces you can find (aka ROLO candies).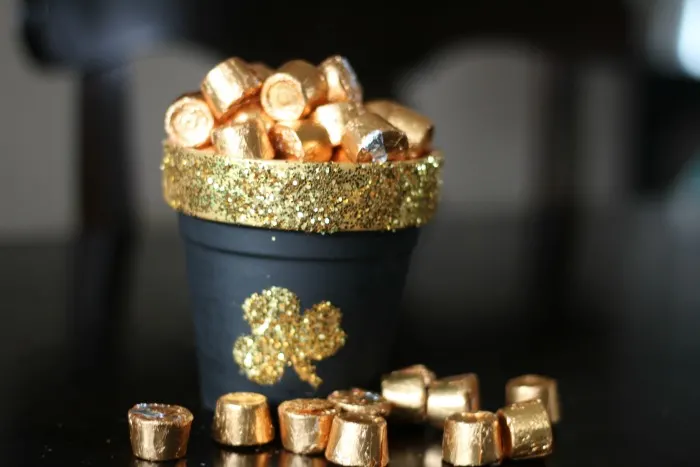 Like I said — simple and easy!
This is a great addition to any St. Patrick's Day tableware.