These mummy dogs are super easy to make and make for a great spooky lunch for your child. Serve them with Welch's Halloween Fruit Snacks for the best lunch ever!
When my kids were little, they were all about the fun food I used to make for them. Their school lunches were always a hit with everyone. Their friends used to beg to trade lunches because the things I made for them were so much fun!
One of their favorites is my Bloody Bones recipe. They turned out so cool and really all you need to make them are pretzel sticks, marshmallows, and melting chocolate.
When I made these mummy dogs the other day, I forgot how much fun it is to play with your food. How cool would it be to send your child to school with this lunch on Halloween?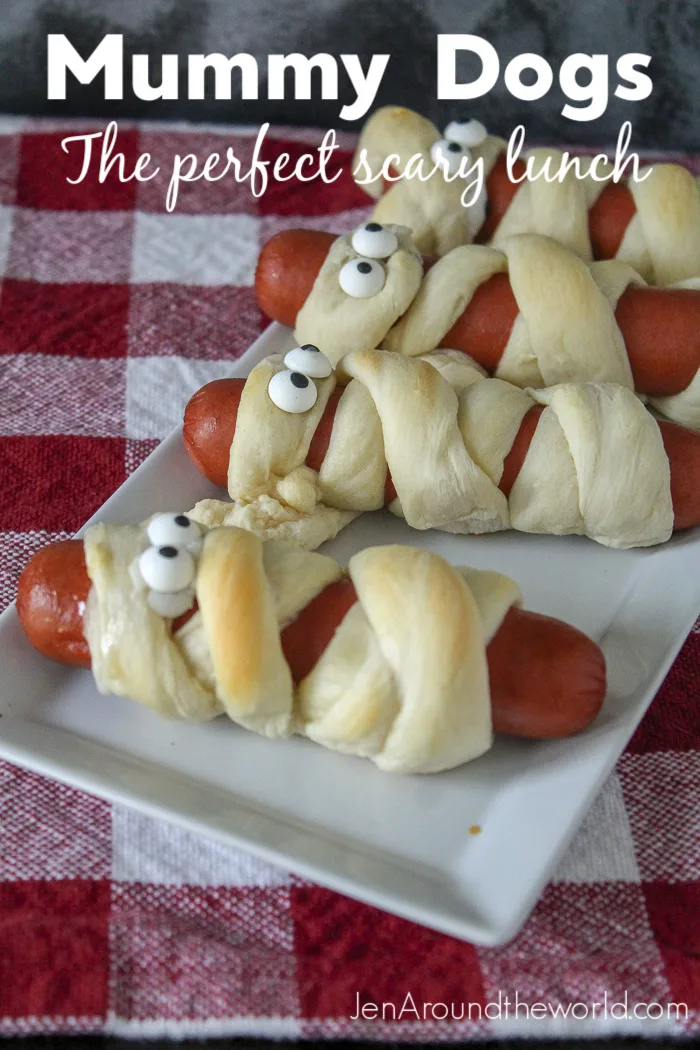 How to Make Mummy Dogs
To start with, you only need 3 simple ingredients — all-beef hot dogs, crescent rolls, and spooky candy eyeballs (you can find these in the foodie craft section at any store or you can order them online at Amazon).
Start by unrolling your crescent rolls. Take each triangle and stretch it out. Then roll it as if you were rolling a snake. It doesn't take long and should easily roll out to a long enough length that you can wrap your dog one way and then the other.
Now, take the long roll of dough and begin wrapping your hot dog like a candy cane.
Once you reach the end, turn it around and go the opposite way making it look like a mummy wrap.
Now — here's where I made a boo boo and will keep you from doing the same. I initially put the candy eyes on the dough before I cooked it, so once I cooked them, Y'all the eyes melted — so don't do that.
Wait until they are done in the oven — 375 degrees for about 13-15 minutes.
Once it comes out, place your eyeballs on the hot dog. Most kids will wind up removing them before they eat them, but for the appearance of a mummy, you can put them on there anyway.
They will stick just fine.
Then pack up the lunchbox with some Welch's Halloween Fruit Snacks, a mummy dog and some ketchup or mustard for a fun treat.
The Welch's Fruit Snacks Halloween-themed box and pouch have custom graphics with fun shapes including a bat, witch, ghost, haunted castle, and pumpkin – perfect for trick or treating, lunchbox treats or parties.
What is your favorite way to share fun food with your kiddos?
Yield: 4 people
Mummy Dogs
These mummy dogs will be your kids favorite Halloween lunch ever!
Ingredients
1 8 ounce can refrigerated crescent rolls
1 package 8 count hot dogs
Fun Candy Eyes
Instructions
Heat oven to 375°F.
Unroll dough; separate at perforations, creating 8 rectangles.
Stretch and roll out each triangle until you have a very long snake-like dough. It should be thin and at least 12" long.
Wrap piece of dough around each hot dog to look like "bandages," stretching dough slightly to completely cover hot dog.
On ungreased large cookie sheet, place wrapped hot dogs and bake 13-17 minutes or until lightly browned
Place candy eyes on top to create the full mummy effect and serve with ketchup and mustard.