Peanut Butter Oatmeal Cookies are a brand new recipe I discovered. These are super easy and delicious and are great for those Christmas Cookie exchanges you'll be a part of soon!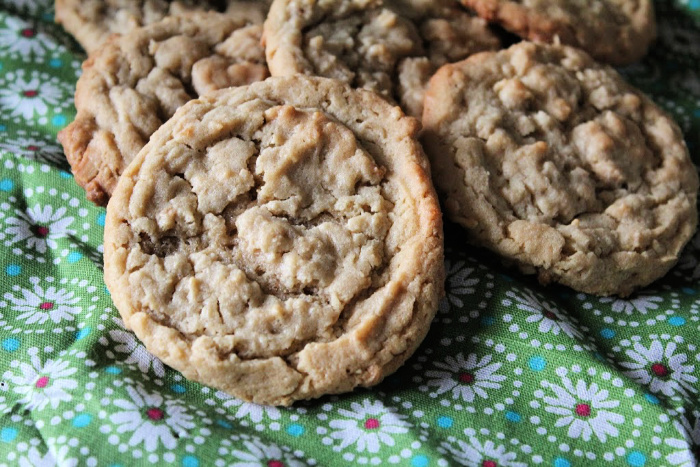 I love finding a cookie that not only my family loves, but one that holds up well for traveling, and would go great for any Christmas Cookie Exchange.
I have participated in a few cookie exchanges through the years (my Grinch Cookies are always a hit!) and have made some delicious desserts. This year's cookie — my Peanut Butter Oatmeal Cookies — take the cake. I buy all my supplies for Cookie Exchanges through Oriental Trading. They have the best prices for taking home boxes, etc.
This recipe makes a TON of cookies, so if you like giving baked goods for the holidays (which is something I love doing), you will definitely want to make these cookies.
I think the one thing that really makes these cookies stand out is that I used two different nuts and butter in this cookie. I used actual peanut butter in the cookie, but I also used chopped cashews to round out the flavors.
Honestly — this really happened because I was working hard to clean out my pantry, and cashews were all I had on hand at the time.
Making these cookies takes NO TIME at all. I had about 50 cookies made in less than an hour. Each batch takes about 10-12 minutes to cook and while one batch is cooking, one batch can be cooling.
How to Make Peanut Butter Oatmeal Cookies
If you keep your pantry stocked, then making these cookies should be a breeze. Ingredients list are simple —
Flour
Butter
Sugar
Brown sugar
Oats
Peanut Butter
Vanilla
Eggs
Baking Soda
Salt
Cashews
That's it. A simple and easy ingredient list that you should have on hand. The only thing you might have to purchase are the cashews, but I try to always keep some kind of nut in my pantry. Whatever I can find on clearance or on markdown is what I buy.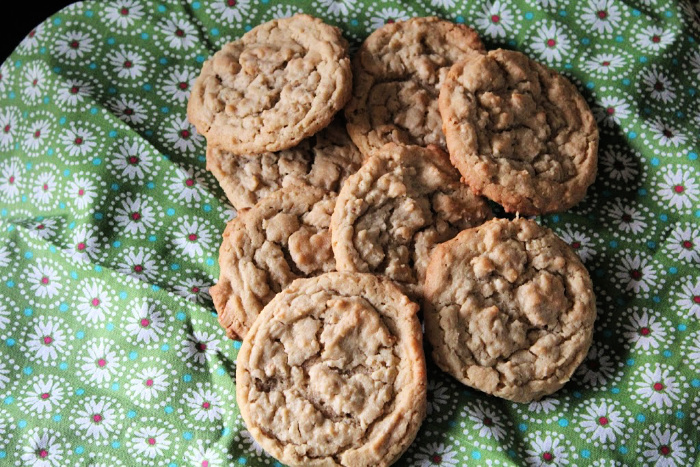 One year, WalMart had bags of nuts of all kinds on sale for $1 each. Kayla and I both purchased 9 bags and we threw them in the freezer. That's the beauty of nuts. Freezing them will keep them fresh — so if you find them on sale, buy in bulk and freeze them for later use.
Yield: 24 people
Peanut Butter Oatmeal Cookies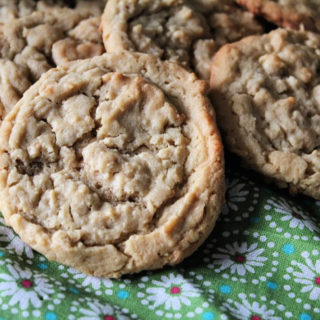 These cookies are so easy to make that they are perfect for any Christmas Cookie Exchange you find yourself participating in this year.
Additional Time
5 minutes
Ingredients
1 cup butter, unsalted, room temperature
1 cup creamy peanut butter
1 cup brown sugar, packed firm
3/4 cup sugar
2 large eggs
1 teaspoon vanilla extract
1 1/2 cups all purpose flour
2 teaspoons baking soda
1 teaspoon kosher salt
1 cup Quick Cooking Oats
1/2 cup chopped cashews
Instructions
Preheat the oven to 350 degrees. Line a baking sheet with parchment paper.
In a bowl, beat butter, both sugars, and peanut butter with an electric mixer on medium speed until creamy.
Add eggs one at a time and beat until mixed in. Now, add in vanilla.
In another bowl, whisk together the flour, baking soda, and salt. Combine a little at a time with butter mixture, mixing well until all has been incorporated in together.
Stir in oats and cashews and mix until just combined.
Drop dough by teaspoonfuls or use a cookie scoop onto prepared sheet pans. Bake in the oven for 10-12 minutes or until lightly browned. Remove from the oven and let cool on cookie rack
These cookies are so delicious, you will want to make several batches this holiday season! What is your favorite go-to Christmas cookie?