When Crystal and I planned our girls trip to New York, we looked at several different hotel chains before deciding on one. We wanted something unique to New York, so we chose to stay at Roger Smith Hotel — a beautiful boutique hotel located only 15 minutes from Times Square and Central Park.
I have never stayed in a boutique hotel before, so I was excited to see what all the fuss was about. I had heard tons of great things about Roger Smith, so I really wanted to experience it at its best.
The moment we walked in, I felt like I was being transported back in time to a more simpler era. The foyer and lobby was breathtaking.
The rich red carpet and the beautiful front desk had me excited to see our room.
We got all checked in and headed upstairs. The elevators are a bit small, but being in this hotel reminded me of being in an old home like my grandmothers — but with a few modern spins and twists on it.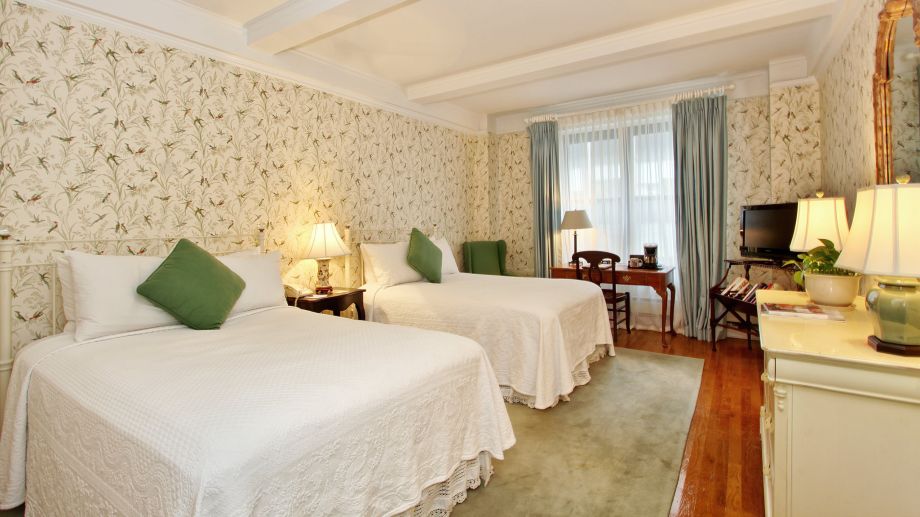 The rooms were decorated beautifully and the beds were SO darn comfortable. our hotel overlooked the beautiful city of New York and guess what? It's right next door to the Starbucks! YES!
One of my favorite features about this hotel is something so simple — it is that each room has a book shelf full of books — right under the television. It's like they are encouraging you to read and enjoy some down time instead of being so busy all the time watching tv.
Crystal and I spent a great deal of time walking all over New York and that is one of the things that I loved about the Roger Smith Hotel. Where it was located was about a 15-20 minute walk in any direction to get to all the fun stuff to do in New York like Times Square, Central Park, Rockefeller Center, and 5th Avenue.
Really there is no need to take a cab when you can walk to wherever you want to go. We even walked to Justin Timberlake's restaurant, Southern Hospitality BBQ which was amazing!
Another thing that really put Roger Smith Hotel above and beyond on my favorite hotel list is how they way above anything they could have to accommodate Crystal once she found out about her husband passing.
They immediately jumped into action, got us checked out, called a car service to come and get us and even paid to have them take us to the airport. No hotel service has ever done that for either of us before.
They even emailed me a few days later to check on her to see how she was doing. Seriously– if I ever go back to New York again, I will stay in that hotel and enjoy the uniqueness that a boutique hotel offers.
What about you? Have you ever stayed in a boutique hotel before?