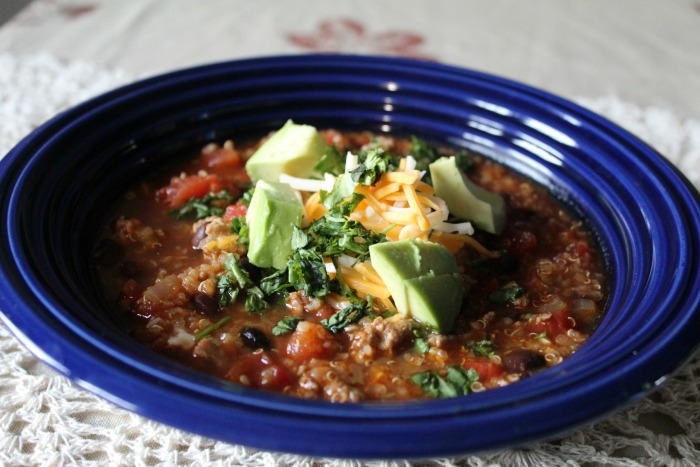 One of my new favorite things to cook with is Quinoa. I have been using it in breakfast meals, desserts, rice dishes, and more. Now, I can add chili to the mix with my delicious and tasty Turkey and Quinoa Chili.
This dish is SO packed with flavor and is super good for you too. Not only is there quinoa in there, but there is also black beans which adds extra protein to your diet — and the turkey — Jennie-O fresh ground turkey — was the perfect addition in this dish.
Clean Eating: Turkey and Quinoa Chili
Ingredients
1 tablespoon vegetable oil
1 16-ounce package JENNIE-O® Lean Ground Turkey
1 shalot, chopped
3 cloves garlic, minced
1 tablespoon chili powder
1 tablespoon ground cumin
3 cups low-sodium chicken broth
1 can of Rotel, undrained
1 Can of 14.5 ounce Petite Diced tomatoes, undrained
1 16-ounce can black beans, drained and rinsed
½ cup quinoa, uncooked
toppings: chopped avocado, lime wedges, plain yogurt or sour cream, chopped fresh cilantro, if desired
Instructions
In large sauce pot, heat oil over medium heat; add turkey, shallot, garlic, chili powder and cumin. Cook turkey as specified on the package. Always cook to well-done, 165°F as measured by a meat thermometer.
Add broth, tomatoes, beans, salsa and quinoa, and then place on simmer for about 30 minutes or so until the quinoa cooks all the way.
The chili will thicken over time. Ladle chili into bowls. Serve with desired toppings.
This recipe is one you will want to add to your "must make again" list. It is so easy and in about 30 minutes you can have a fulfilling and healthy dish on the table.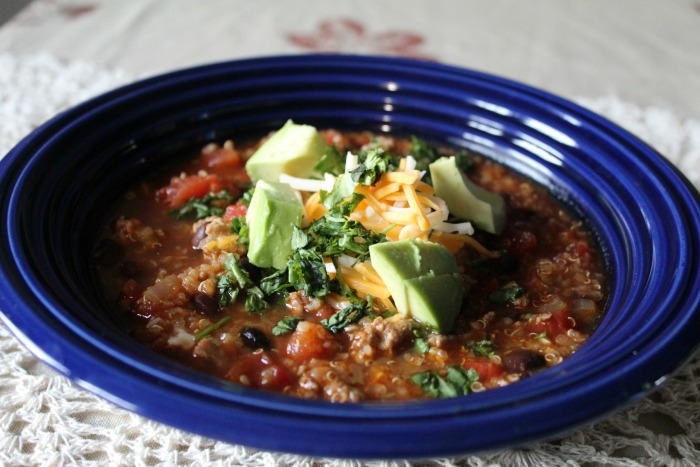 Jennie-O is one of those products that I use for many of my go to meals. They seem to help me create some of the best dishes for my family and I don't have to feel bad about what I am eating or feeding my crazy wild family.
What is your favorite way to eat ground turkey?
I was sent a promotional box of products in exchange for this review. All opinions listed are 100% my own.