My Snickerdoodles recipe was created for #SummerDessertWeek! I was sent samples by some of the sponsor companies but as always opinions are 100% mine.
One of my all time favorite cookies to make is Snickerdoodles. The reason for that is because it is a very easy and versatile cookie to make. I can take this cookie with me to any function, because I can whip it up in no time.
Don't get me started on how delicious it is! Knowing my love for Snickerdoodles, I knew it was going to be a recipe I featured in #SummerDessertWeek.
If you missed some of the other recipes during Summer Dessert Week, you can click here:
Rustic Cherry Galette
Blueberry Cream Cheese Pinwheels
Old Fashioned Apple Dumplings
Chocolate Sugar Cookies
How to Make Snickerdoodles
Gather your ingredients —
butter, sugar, eggs, flour, and a cinnamon sugar mix — like the Adams extract brand I received.
Using a hand mixer like my awesome Kitchenaid hand mixer, cream together the butter, sugar, vanilla and eggs. Then set that aside while you mix the dry ingredients.
Once you mix the dry ingredients together, pour those into your wet ingredients and mix until just combined.
Now, using a cookie scoop, scoop the dough out and roll into balls. You are going to pour the Adams Extract Cinnamon Vanilla Sugar mix onto a plate.
Once you roll them in the sugar mixture, then you are going to take them and flatten just a bit and place them on the silicone baking mat or parchment paper.
Bake in a 400 degree oven for 8-10 minutes. They will be pretty puffy when you first take them out. They should look golden brown and set – meaning a little stiff and not so shiny.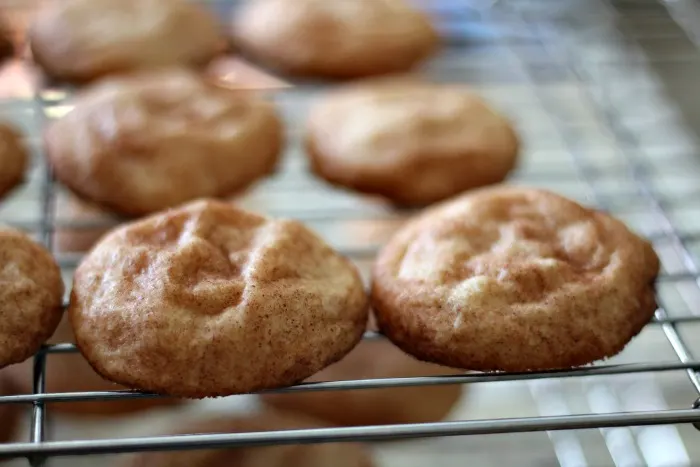 Put them on a wire rack to cool (they will fall a bit once they are cooled off). The outside gets nice and crispy while the inside stays soft and chewy.
If you do not want to make an entire batch all at once, you can freeze the dough for later use. That is the beauty of making homemade cookies — you can fill your freezer with homemade dough for anytime you need a quick dessert.
Snickerdoodles – My All Time Favorite Cookie #SummerDessertWeek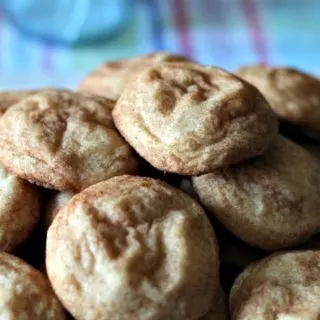 Ingredients
2 1/2 cups all-purpose flour
1 teaspoon baking powder
1/2 teaspoon kosher salt
2 sticks of Land O'Lakes butter, at room temperature
1 1/2 cups Dixie Crystals granulated sugar
1/2 teaspoon Adams vanilla extract
2 large eggs, at room temperature
Adams Extract Vanilla Cinnamon Sugar
Instructions
Sift or whisk flour, baking powder and the salt together then set aside.
In a large bowl, using a handheld mixer on medium speed beat the butter, sugar and vanilla together until light and fluffy, 3 to 4 minutes.Reduce speed to low. Add the eggs one at a time, beating well after each addition.
Scrape the sides and bottom of the bowl then add the flour mixture and mix until just combined.
Heat your oven to 400 degrees F. Line two baking sheets with parchment paper or use silicon baking mats.
Shape heaping-tablespoon-sized mounds of cookie dough into balls. Roll in the cinnamon-sugar mixture and place 2 inches apart onto baking sheets.
Bake the cookies for 8 to 10 minutes, until the cookies have puffed a little and the tops look set. The cookies should be light golden. Cool on baking sheets for 5 minutes then transfer to a cooling rack to cool completely.