Spider Web Pretzels – Stick pretzels coated with white melting chocolate and fun sprinkles. This is the perfect kid-friendly, spooky snack that everyone is going to enjoy.
The other day while watching the Pioneer Woman's newest episode, she made a really cute and fun Halloween snack with pretzels, melting wafers, and sprinkles. I mean, what's not to love about a sweet and salty spooky snack?
These Spider Web Pretzels are simple and easy to make and something the kids will really enjoy creating.
How to Make Spider Web Pretzels
To make these Spider Web Pretzels, you only need 3 simple ingredients —
pretzel sticks
white melting chocolate
fun Halloween Sprinkles
Start by breaking your pretzel sticks in half. You can leave them whole length, but for me, they were just too long.
Place them in a snowflake shape. Then set them aside.
Take the melting wafers and place them in a microwave-safe bowl. Microwave in 30-second increments until they begin to melt. Stir until everything is melted.
Place the melted chocolate in a ziplock bag and snip the tip off so that a tiny stream will come through. Then, go around the pretzels creating a spiral effect. Make sure to put a blog in the middle so that the pretzels hold together.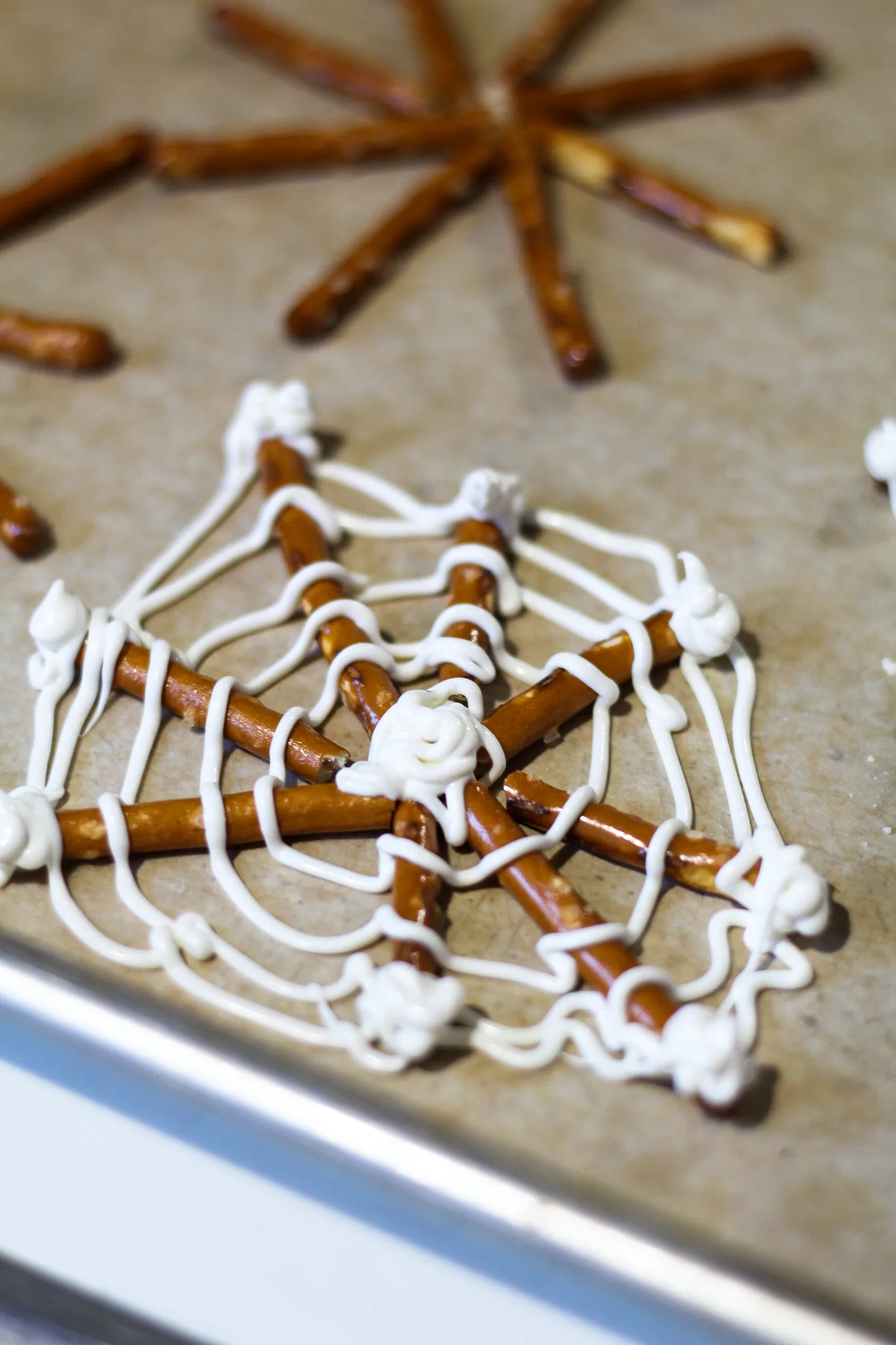 Put a dollop on the end of each pretzel as well. This keeps everything held together.
Now, add on your fun sprinkles. We have so many Halloween sprinkles in our arsenal. I make a lot of cupcakes throughout the year so I keep them on hand on a regular basis.
Once you get the sprinkles on, place the tray in the freezer for about 10 minutes to let everything set up nicely. Now, you do, they are ready to pop off the tray and eat!
These do best if you use wax paper instead of parchment paper.
Now, enjoy! I love making Pioneer Woman recipes, including those delicious Pioneer Woman Lemon Bars and my Pioneer Woman Slow Cooker Pork Chops. Her recipes have always been a hit with my family!
Check out these other delicious blogger recipes
Creepy Creations

We share Recipes From Our Dinner Table! Join our group and share your recipes, too! While you're at it, join our Pinterest board, too!
Yield: 10 servings
Spider Web Pretzels
Salty pretzels and sweet melting chocolate make this dessert a cinch to make and they taste great too!
Ingredients
1 bag of pretzel sticks
1 bag of bright white melting wafes
Halloween Sprinkles
Instructions
break the pretzel sticks in half. Place them in a snowflake pattern on a wax paper-lined cookie sheet. Set aside.
Put the melting wafers in a microwave-safe bowl and microwave on high for 30 seconds each until the wafers are melted.
Take the melted wafers and pour them into a ziplock bag. Snip the tip off and swirl the chocolate around the pretzels creating a spiral effect.
Put a blog in the center to hold everything together and then dot the ends of the pretzels as well.
Add on fun Halloween sprinkles.
Place the tray in the freezer for 10 minutes to allow everything to be set up.
Enjoy!
Nutrition Information:
Yield:
10
Serving Size:
1
Amount Per Serving:
Calories:

13
Total Fat:

0g
Saturated Fat:

0g
Trans Fat:

0g
Unsaturated Fat:

0g
Cholesterol:

0mg
Sodium:

35mg
Carbohydrates:

3g
Fiber:

0g
Sugar:

0g
Protein:

0g