Pioneer Woman Slow Cooker Pork Chops – tender chops that have slow-cooked to perfection. Serve on a bed of mashed potatoes for the best comfort food meal you could make.
My husband is a meat and taters kind of man. Anytime I can find a meal that makes him feel like a king, I do my best to try to make it for him.
When I saw the Pioneer Woman make her Slow Cooker Pork Chops, I knew I wanted to make this for him.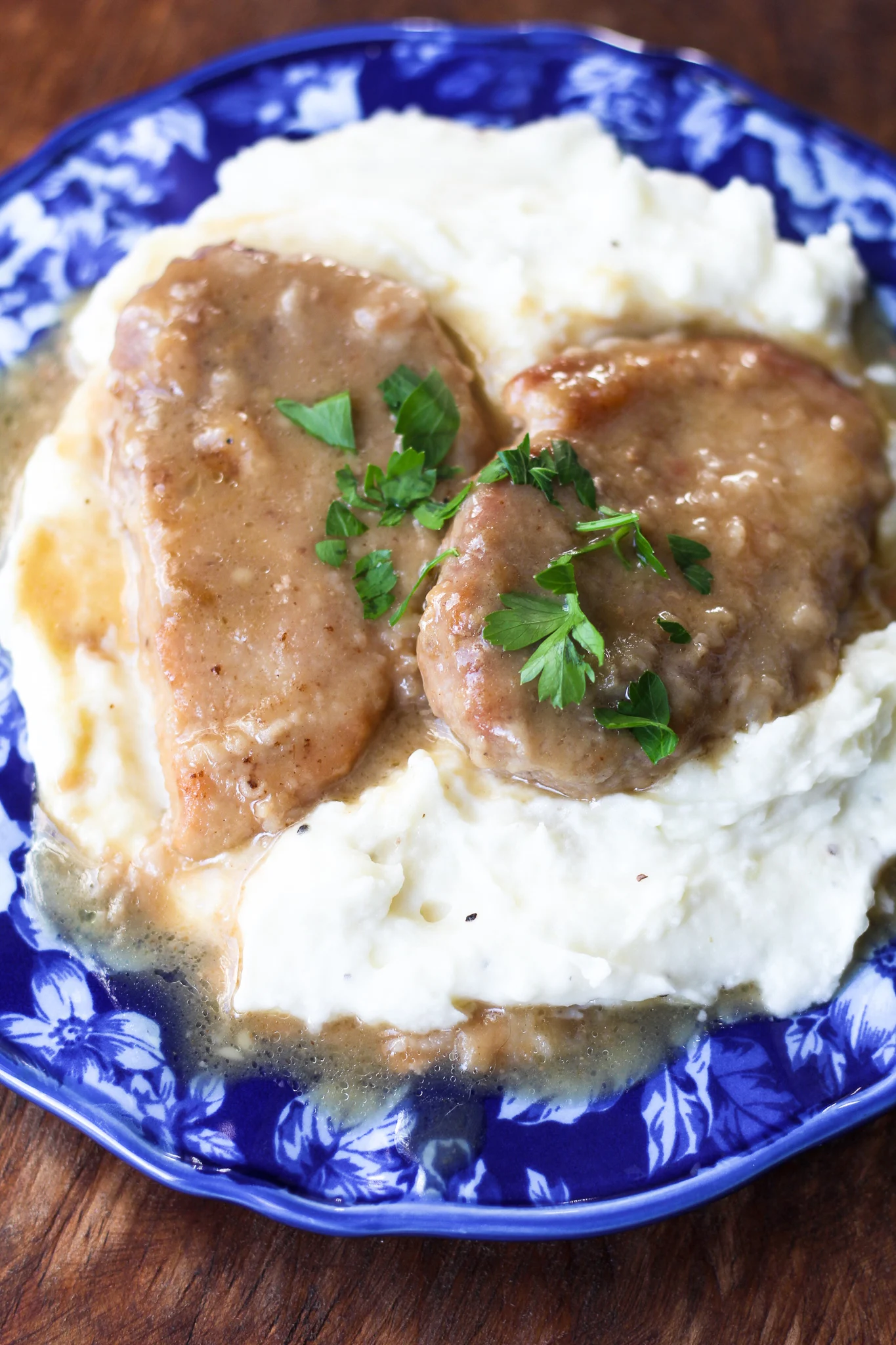 I have made slow cooker pork chops with gravy in the past, but the difference between mine and Pioneer Woman's version is that she sears hers before putting them in the slow cooker.
My version skips this step. Both were really good, but I do believe Ree's version wins out!
How to Make Pioneer Woman Slow Cooker Pork Chops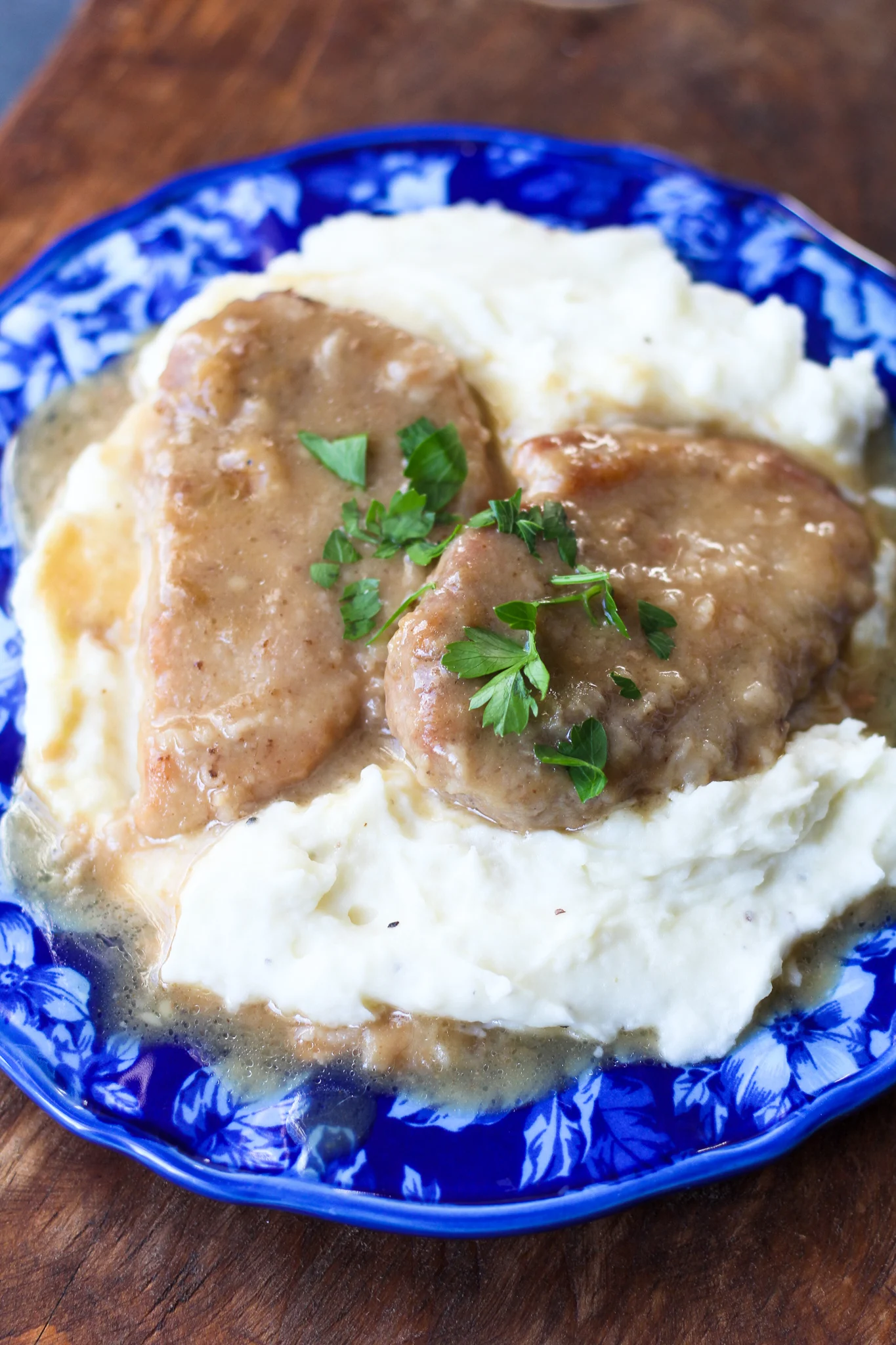 Anyone who knows me at all knows that I love the Pioneer Woman. I have been to Pawhuska and have eaten at all of her restaurants, including P-Town Pizza. I have shopped the Mercantile and bought all kinds of Pioneer Woman Bakeware.
One of the most popular recipes of hers that I have made is the Pioneer Woman Lemon Bars and Pioneer Woman Restaurant Style Salsa. To say I love her is an understatement!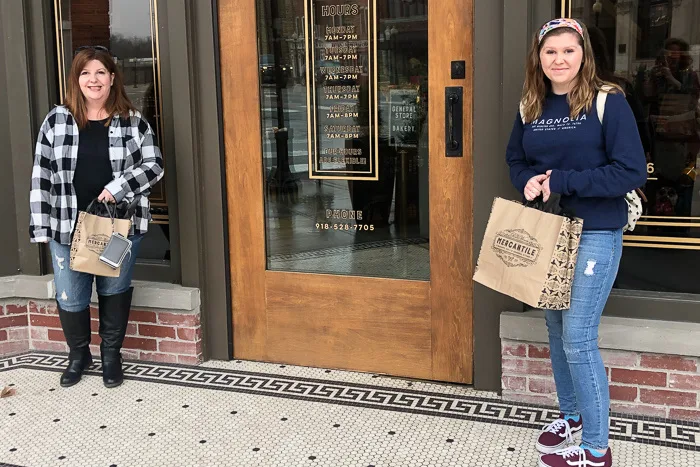 OK — let's make these pork chops!
In a shallow pan, mix together the flour, salt, pepper, cayenne pepper, and thyme leaves. Dredge the pork chops in the flour mixture. Shake to remove the excess flour and then set them aside.
In a skillet over medium-high heat, add the butter and the oil. Once the butter has melted, add the pork chops a few at a time (don't overcrowd the pan) and cook about 3 minutes per side.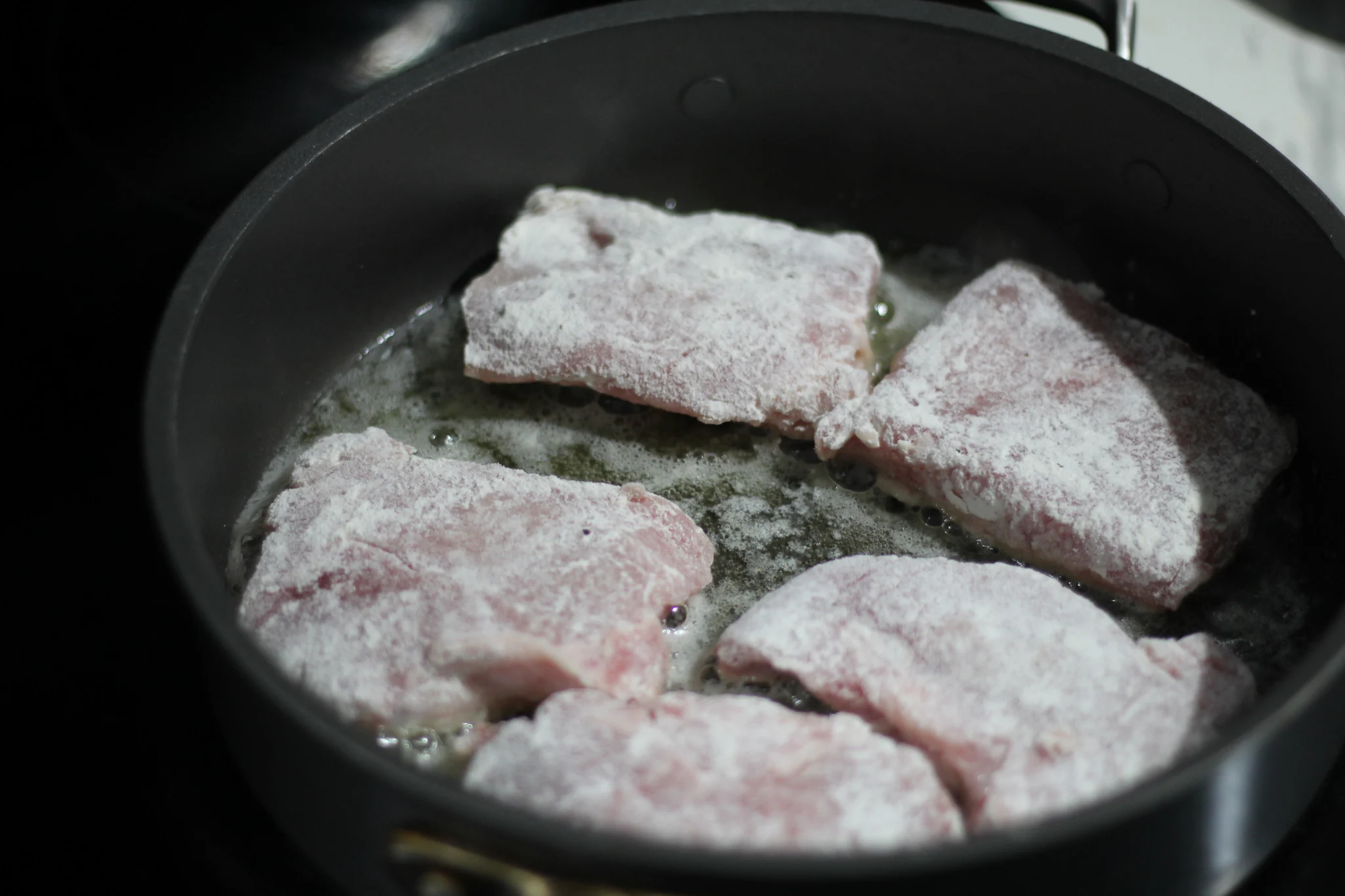 Set the pork chops on a plate. Now, add the onions to the skillet and cook for about 5 minutes. Remove the skillet from the heat.
Add the cream of mushroom soup, chicken broth, and Worchestershire sauce to a 6 quart or 8-quart slow cooker. Whisk it all together to combine.
Add the onions, thyme sprigs, and pork chops into the broth.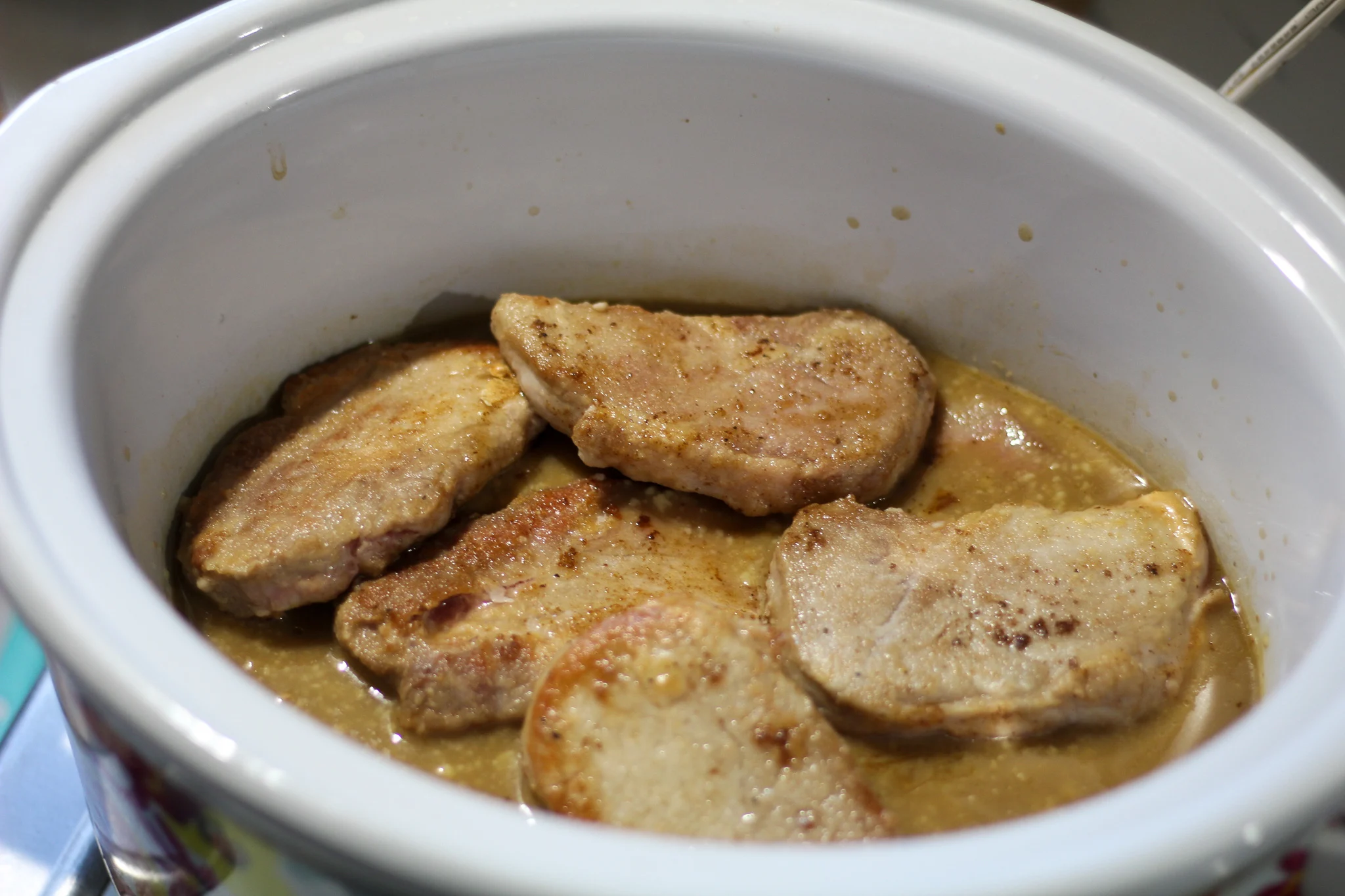 Cover and cook on high heat for one hour. Then, turn the slow cooker down on low and cook for an additional two hours. The pork chops should be tender and delicious.
The gravy will be thick. No need to thicken it or anything. Serve over a bed of homemade mashed potatoes. You could also serve this over fresh egg noodles also.
If you love this recipe, be sure and check out this recipe for Tender and Juicy Pork Steak.
Love Pioneer Woman? Check out these posts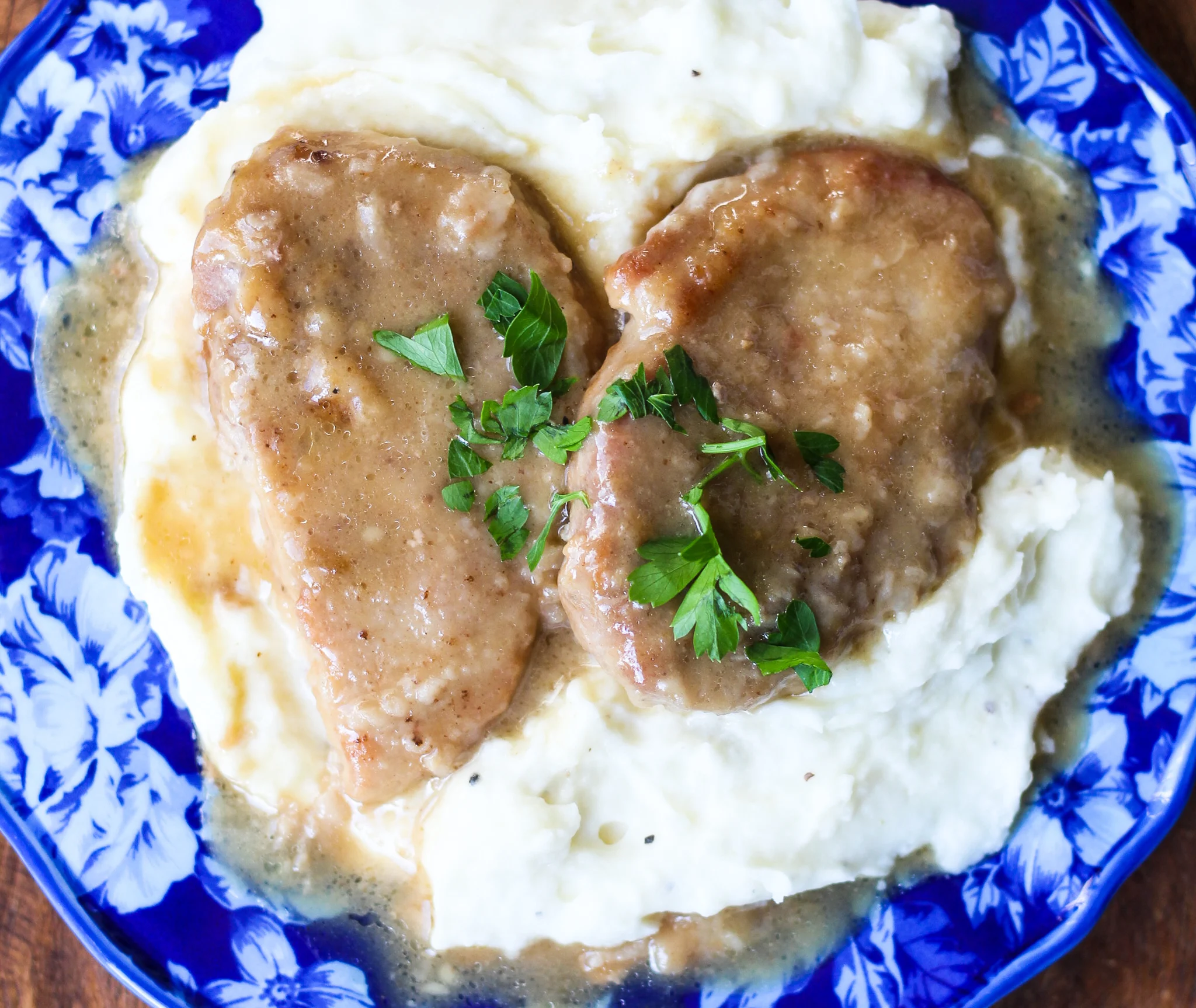 Yield: 6-8 servings
Pioneer Woman Slow Cooker Pork Chops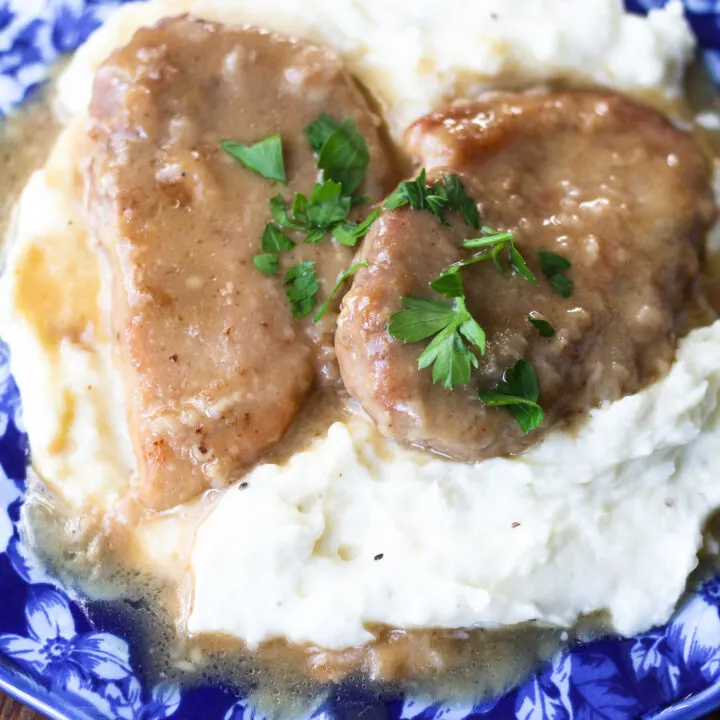 Tender pork chops with a flavorful gravy served on a bed of mashed potatoes.
Total Time
3 hours
15 minutes
Ingredients
For the dredge
1/2 cup of flour
1/2 teaspoon of seasoned salt
1/2 teaspoon of black pepper
1/4 teaspoon of cayenne pepper (optional)
1/2 teaspoon of chopped fresh thyme leaves
2 tablespoons of vegetable oil
1 tablespoon of butter
Main ingredients
8 - 1" thick boneless pork loin chops
1 large onion, diced
The gravy
1 10.75 ounce can of cream of mushroom soup (can use cream of chicken if you prefer)
1 1/4 cups of chicken broth
3 tablespoons of Worchestershire sauce
Instructions
In a shallow dish, mix together all the dry ingredients for the dredge -- the flour and seasonings.
Dredge each of the pork chops and coat both sides. Shake off the excess and set the pork chops on a plate.
In a large skillet, add the oil and butter and heat on medium-high until the butter melts.
Add the pork chops to the pan and cook for 3 minutes on each side. Remove the pork chops to a plate.
Add the onions to the skillet and cook for about 5 minutes or until soft. Remove the pan from the heat.
In the slow cooker, add the gravy ingredients -- chicken broth, cream of mushroom soup, and the Worchestershire sauce. Whisk everything together.
Now, add in the thyme and the onions. Then, nestle the pork chops in the gravy mixture.
Cook on high for one hour and then move to low and cook two more hours. The pork chops should be tender and juicy.
Serve over mashed potatoes or egg noodles.
Nutrition Information:
Yield:
8
Serving Size:
1
Amount Per Serving:
Calories:

135
Total Fat:

8g
Saturated Fat:

2g
Trans Fat:

0g
Unsaturated Fat:

5g
Cholesterol:

15mg
Sodium:

449mg
Carbohydrates:

11g
Fiber:

1g
Sugar:

3g
Protein:

5g