These Tahini and Honey Cookies are soft and chewy! The taste is nutty with an amazing creamy texture. The outside is coated with sesame for a slight crunch.
Every other month, some friends and I get together to have what we have been calling Culinary Sundays. We choose a country from around the world and then we cook foods that are authentic to that region. One time, we got Jewish food — and from that, I found this amazing recipe for Tahini and Honey Cookies.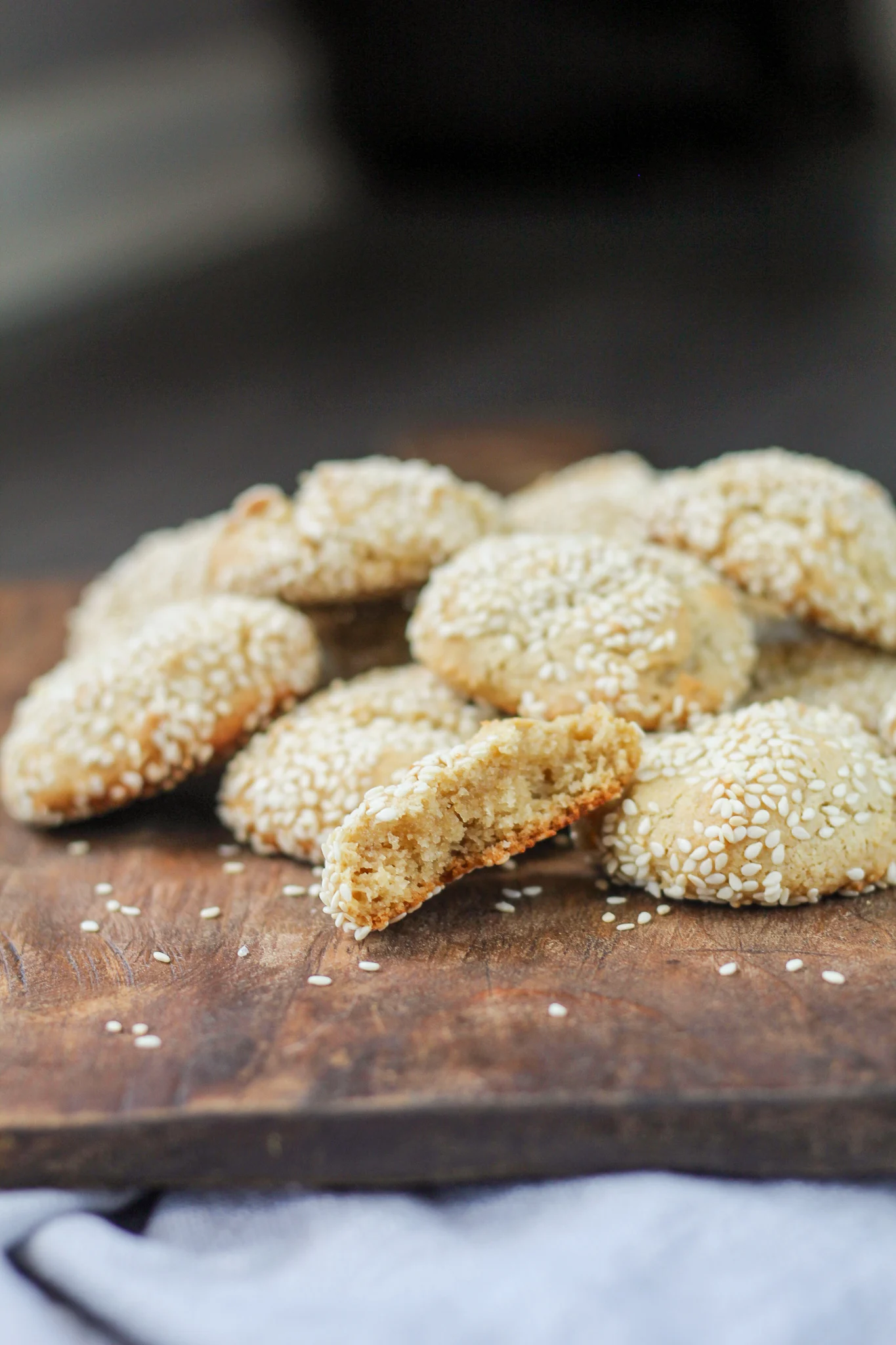 Now, I know what you must be thinking, because I thought it as well — tahini — in cookies? Most of the time, we associate tahini with things like hummus and other Middle Eastern savory dishes. However, the tahini gives the cookies a subtle nutty flavor that is perfectly complemented by honey.
Trust me when I tell you that when you make these, you will not be able to eat just one cookie.
My favorite brand of tahini to use is Mighty Sesame. I use it in all my dishes that require tahini, so of course, you knew it would be the star product of these amazing cookies!
Why these Tahini and Honey Cookies are So Good
One of the things that make these cookies so good is the fact that not only are they delicious, but they also fit into a lot of diet regimens as well!
These cookies are Paleo, Grain Free, Gluten Free, and Dairy Free. I am also positive they could go on the dirty keto diet as well.
These cookies are sweet enough to satisfy a sugar craving, while also feeling slightly healthy. Of course, if you eat 7 cookies in a row, then it's not so healthy anymore — but you will not be able to resist them!
Check Out These Other Cookie Recipes
Yield: 24 cookies
Tahini and Honey Cookies
Chewy and nutty cookies that take less than 30 minutes to make.
Ingredients
1/3 cup tahini
1/3 cup honey
1 tsp vanilla extract
1 egg
1/2 tsp baking soda
1/4 tsp salt
1 1/2 cups almond flour
1/2 cup white sesame seeds
Instructions
Preheat the oven to 350 degrees F and line two baking sheets with parchment paper.
In the bowl of a stand mixer combine the tahini, honey, vanilla, and egg. Blend until smooth.
Stir in the baking soda, salt, and almond flour and mix until fully combined.
Pour the sesame seeds onto a plate.
Using a 2" cookie scoop, scoop the batter and then roll into balls.
Now, toll the balls in the sesame seeds so that they are fully coated on all sides.
Place the balls onto the baking sheet and press down firmly to flatten.
Leave approximately 1 1/2 to 2 inches between each cookie as they will expand when baked.
Bake for 12 to 14 minutes until the cookies are golden brown in color.
Allow the cookies to cool on the baking sheet for approximately 5 minutes before transferring them to a wire cooling rack.
Nutrition Information:
Yield:
24
Serving Size:
1
Amount Per Serving:
Calories:

93
Total Fat:

7g
Saturated Fat:

1g
Trans Fat:

0g
Unsaturated Fat:

6g
Cholesterol:

8mg
Sodium:

55mg
Carbohydrates:

7g
Fiber:

1g
Sugar:

4g
Protein:

3g