Tex Mex Migas is a simple egg dish flavored with Mexican inspired spices and condiments and comes together in just minutes for the perfect breakfast or brunch dish.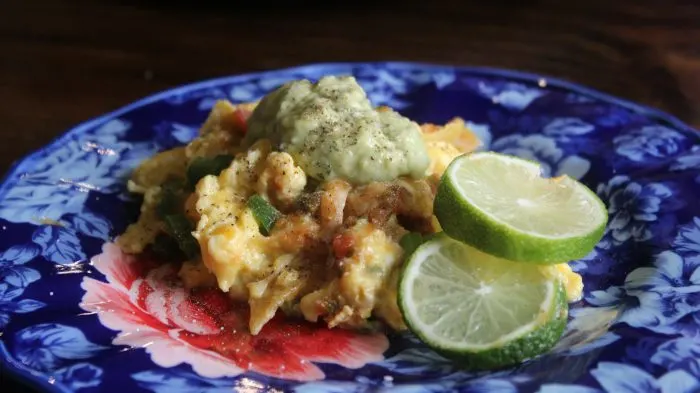 I have fallen in love with brunch style foods and the newest addition to our recipe box are these fabulous Tex Mex Migas.
A miga is usally scrambled eggs cooked with Mexican inspired spices and condiments.
Want to know how easy it is to make these? Keep reading! You will definitely want to make this version at home for yourself soon.
How to Make Tex Mex Migas
To make these, you are going to start by chopping up some corn tortillas and throwing them in a hot cast iron skillet with a tablespoon or two of oil.
Cook them for a few minutes until they crisp up. Then remove them from the pan and set them aside.
In the same pan, add some butter and saute the green onions and jalapeños.
At this point, you can add in any of your other favorite veggies. We love cherry tomatoes, so that is what we added in ours but you can also add in things like poblano peppers, or anything you want.
Mix your heavy cream and eggs together and pour over your veggies in the pan. You can use milk if you like, but we like the taste of heavy cream in eggs. They give the eggs more flavor.
Keep cooking this until the eggs are almost done.
Once your eggs are almost completely done, throw your crispy tortilla strips back into and mix together.
Do not skip this step. You will thank me later because these really make a miga.
Now, you get to add in ALL the cheese. Who doesn't like scrambled eggs without cheese? Not this household. But — you can leave it out if you prefer.
Continue cooking until the eggs are all the way done. This happens pretty quickly.
Then, top with salsa and more cheese if you like!
Now, add some green onions, lime slices and a dollop of avocado cream sauce. It is THE BOMB!
You can make this dish and many others like it. Eggs are so versatile and can be dressed up in so many different ways.
Here are a few of my favorite egg dishes
Yield: 4-6 servings
Tex Mex Migas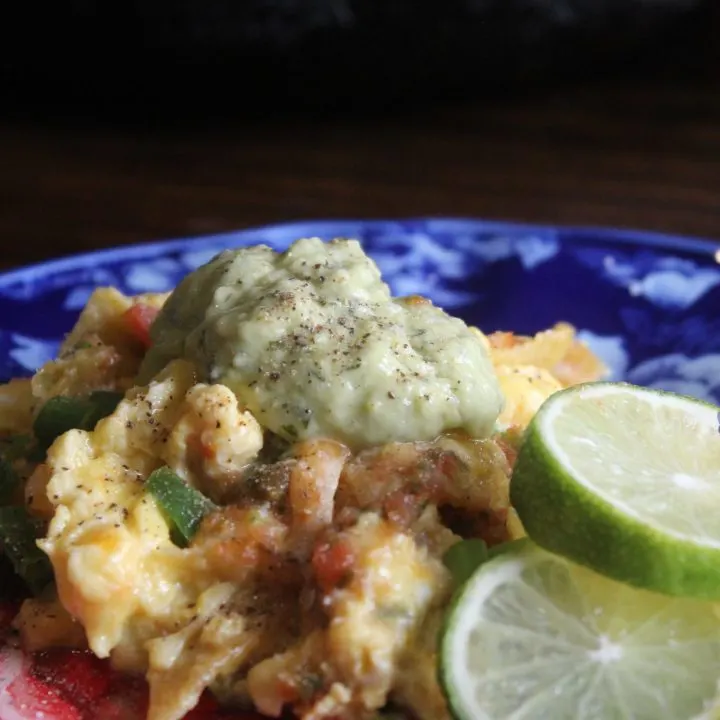 Tex-Mex styled Migas is the ultimate brunch or breakfast comfort food with a kick!
Ingredients
12 large eggs
1/4 cup half and half
1/2 teaspoon ground cumin
1/2 teaspoon of kosher salt
1/2 teaspoon of ground black pepper
2 tablespoons olive oil
1/4 cup of diced cherry tomatoes
3 green onions, chopped (divide 2 and 1)
1 jalapeño, seeded and finely chopped
3 cloves garlic, minced
3 corn tortillas, roughly chopped
2/3 cup salsa, homemade or store-bought
2/3 cup shredded Mexican-blend cheese, plus extra for serving
Instructions
In a large heated frying pan over medium-high heat, add oil and throw in your corn tortillas. Toss until they are crispy, about 3-4 minutes. Remove from pan and set aside.
In a large bowl, whisk together eggs, milk, cumin, salt and pepper. Set aside.
Now, In the same pan that you fried the corn tortillas, heat another tablespoon of oil. Add in green onions (2) and jalapeño and sauté for 3 minutes, stirring occasionally, until the onion has softened some.
Next, add garlic and sauté for 1-2 additional minutes, stirring occasionally, until the garlic is fragrant.
Add the egg mixture, and reduce heat to medium. Cook for 5-6 minutes, stirring frequently until the eggs are completely scrambled.
Stir in the tortilla pieces and a 1/4 cup of diced cherry tomatoes. Cook for 2 minutes, stirring occasionally.
Add in 3 tablespoons of salsa and 1/2 cup of shredded cheese. Taste and season with extra salt and pepper if needed.
Serve warm, garnished with your desired toppings such as chopped fresh cilantro, sliced avocado, more green onions, diced tomato, extra salsa, lime slices, and sour cream or an avocado cream sauce



Nutrition Information:
Yield:
8
Serving Size:
1
Amount Per Serving:
Calories:

313
Total Fat:

23g
Saturated Fat:

7g
Trans Fat:

0g
Unsaturated Fat:

15g
Cholesterol:

294mg
Sodium:

481mg
Carbohydrates:

15g
Fiber:

5g
Sugar:

3g
Protein:

15g