If you want to make a fun macaron flavor, this Cinnamon Roll Macarons flavor is exactly what you are craving.
We have been working to perfect our macaron making lately and I think we have finally mastered it.
Kayla created this delicious Cinnamon Roll macaron flavor that is to die for and is so easy to make.
There are a few tips and tricks that will have you making the perfect french macarons in any flavor. We have tested and tried a few techniques and we think these work the best.
The Best Cinnamon Roll Macarons
The best macarons I have ever had came from The Mac Lab, which I was able to taste during my foodie trip to Atlanta last year. They had every flavor known to man and some of those cookies turned out to be the cutest decorated macarons I had ever seen.
I would LOVE to make macarons this creative!
Anyway — making cinnamon roll macarons is not as hard as you think it is. We tried a few years ago and while our cookies turned out pretty good, we knew there were a few things we could do to help them set up better.
#1 Make Your Macarons All the Same Shapes and Sizes
Kayla is great at doing all her macarons the same shapes and sizes. She does not need any special mats or anything.
Me on the other hand? I am just not that good at keeping my cookies the same size. But — I found this cool macaron baking mat on Amazon that helps you keep all your cookies the same uniform size.
#2 Tap and Wait
Once piped, tap the baking sheet sharply on the work top to remove any air bubbles and to help the mixture settle.
Leave the piped macarons to dry before cooking; 20 minutes is best; the surface of the macaron will dry and become smooth.
Please do not skip this step. You want your tops of your macarons to be dry. If you skip this step you will have a very heavy cookie and you want a light and airy cookie.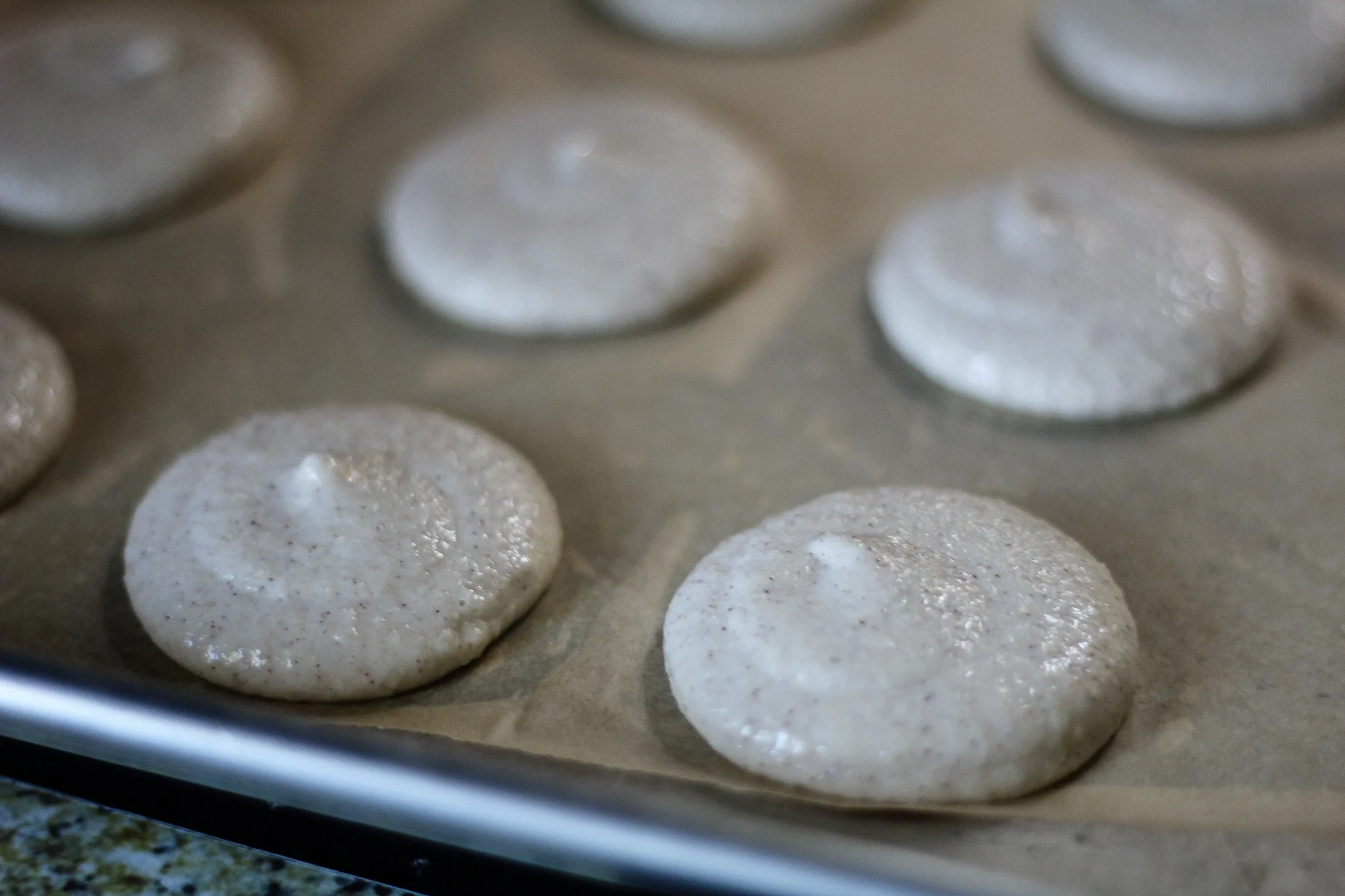 #3 Wait Until They Are Cold
Once the macarons have been cooked, slide the mat or the parchment paper onto a cooling rack and leave the macarons alone until they are completely cooled off.
DO NOT remove the macarons while they are warm in any way because they will stick to the surface.
#4 Sifting Ingredients is a MUST
When making macarons, you want to make sure to sift all your dry ingredients together.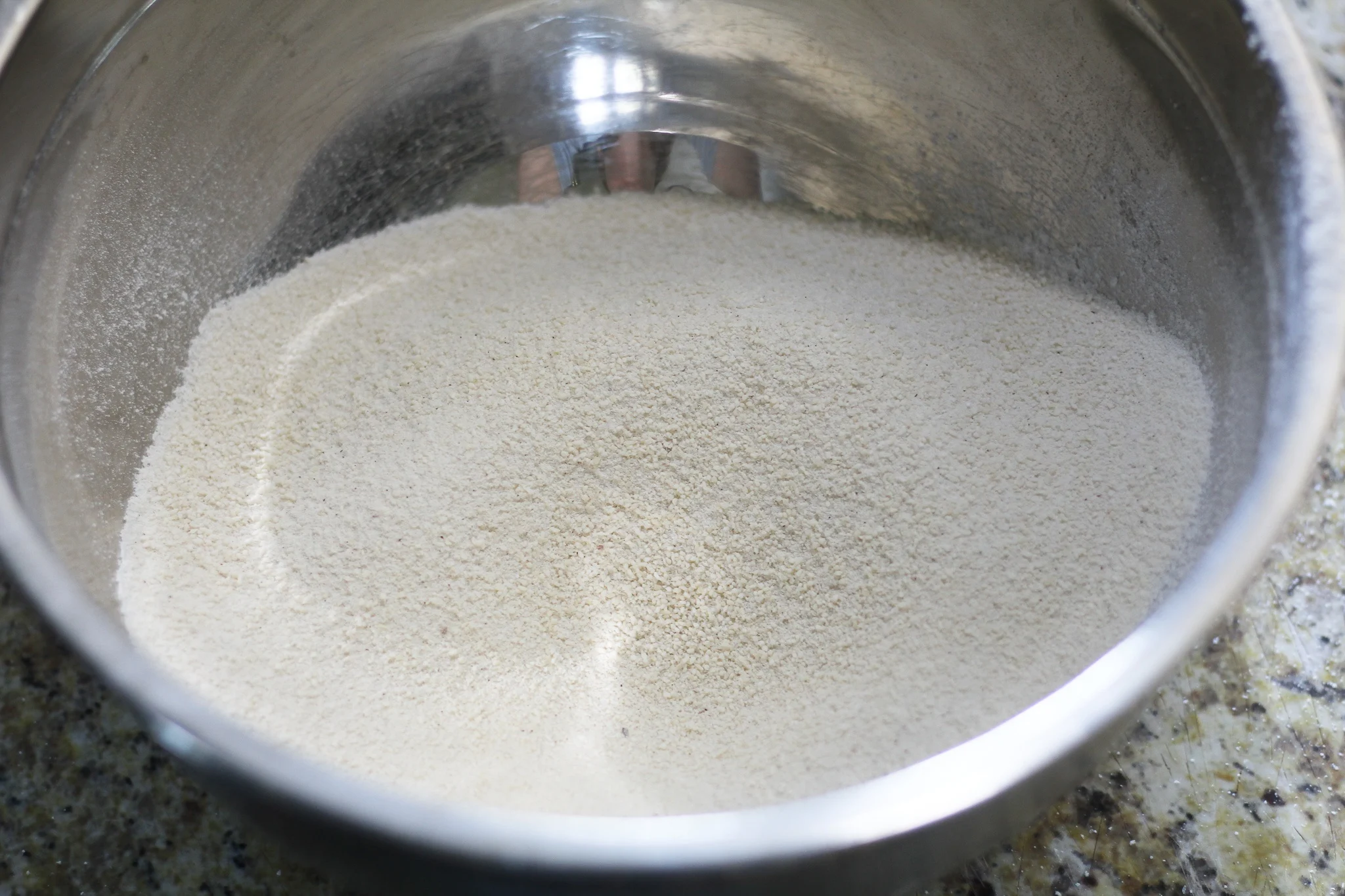 The reason for this is because the almond flour has bigger bits in it that will make your cookies gritty. Sifting will remove all the larger pieces, leaving you the perfect dry ingredient consistency. We did find a finely sifted almond flour from Blue Diamond that doesn't need to be sifted.
#5 Less is More When it Comes to Piping
We use a larger piping bag when making these macarons so that it is able to hold all of our dough and our filling. I found these amazing disposable tips and bags from Wilton that work great for macarons.
We place the bag over a cup which makes it easier to fill the bag with less mess as well.
Less is more when piping onto the mat or parchment paper; you do not have to fill to the brim as the mixture will settle and fill the indent.
#6 Fill and Refrigerate Before Eating
Pipe the filling on to the flat side of one macaron, place the other on top and twist gently to spread the cream.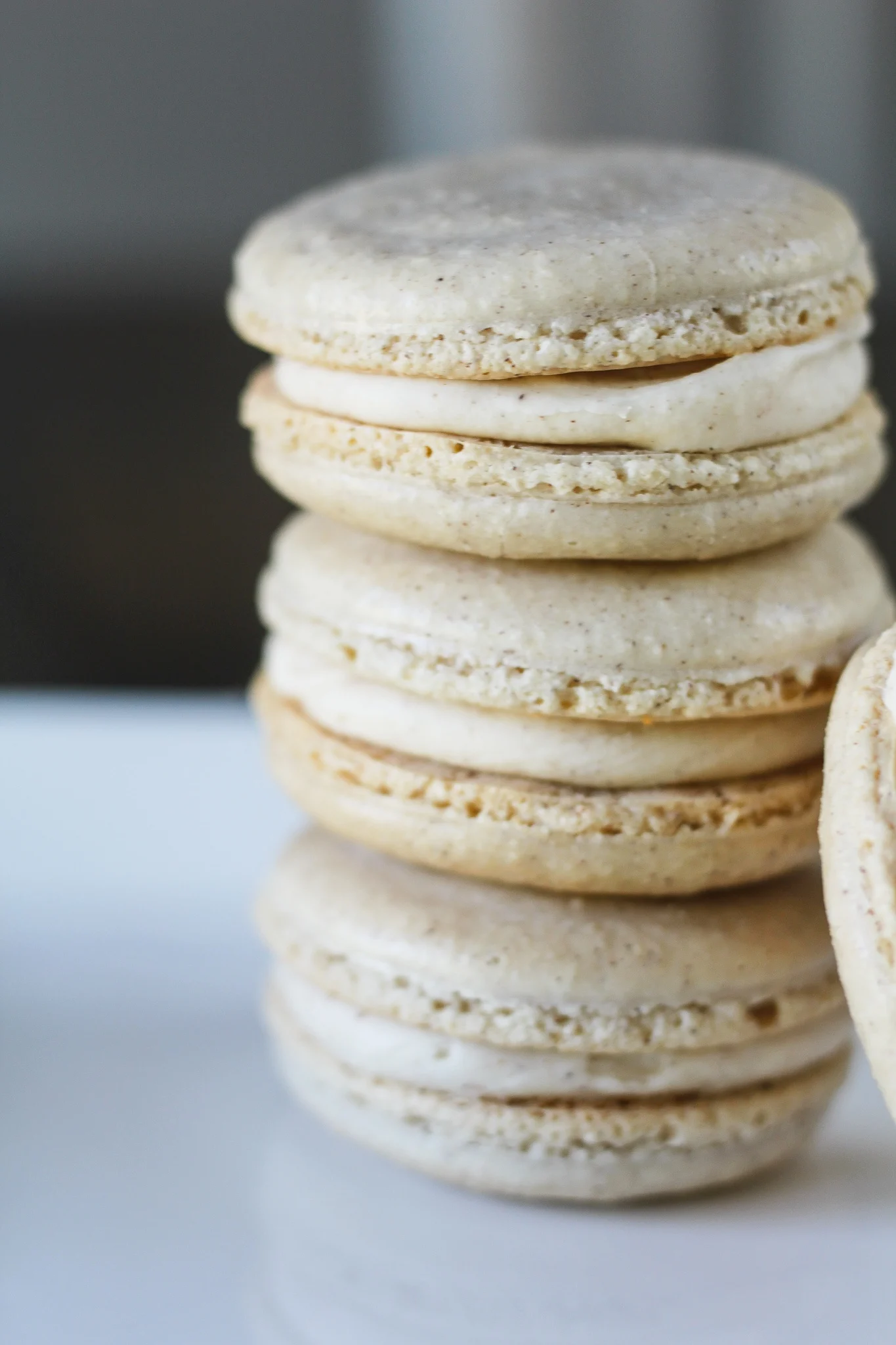 Once the macarons are filled place them in a container inside the fridge to cool off for at least an hour.
You will end up with a delicious and chewier macaron.
If you follow these tips, you will be making beautiful macarons in no time flat! We have made other macarons as well — Strawberry Lemon Macarons, Coffee Flavored Macarons, and lemon lavender macarons.
Make Macarons Like a Pro with These Supplies
If you like making macarons or want to try your hand at it, here are some supplies you might want to invest in.
Check Out Our Other Macaron Cookie Flavors
Be sure to try my other delicious macaron flavors —
Yield: 24 cookies
Cinnamon Roll Macarons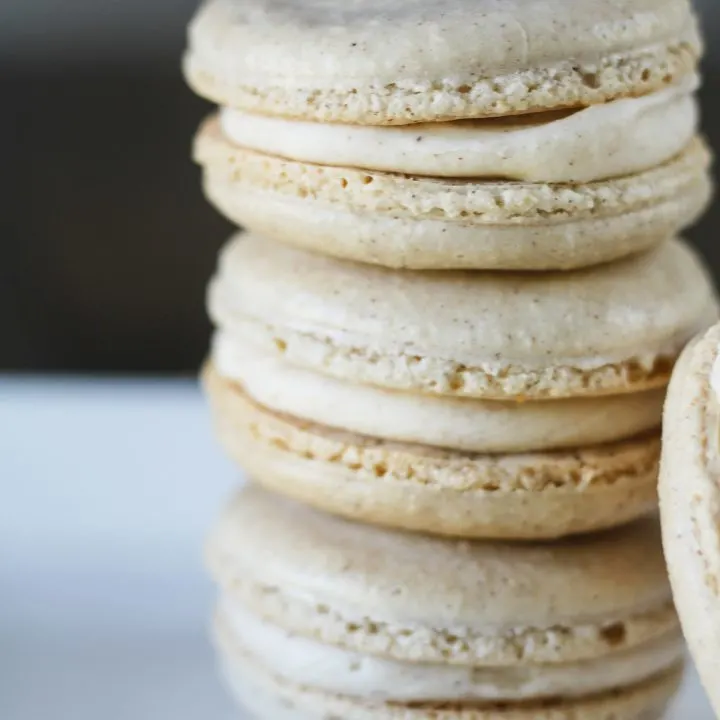 These macarons are inspired by the classic cinnamon roll. These pair well with a mug of tea or coffee and can be eaten as a dessert or just a snack.
Ingredients
For the cookie
3 large egg whites
1 cup almond flour
1-1/2 cups confectioners' sugar
1 tablespoon of egg white powder
1/2 teaspoon ground cinnamon
1/2 cup of sugar
For the filling
4 ounces cream cheese, softened
3 tablespoons butter, softened
1 teaspoon vanilla extract
1-1/2 cups confectioners' sugar
Instructions
Place egg whites in a small bowl; let stand at room temperature for 30 minutes.
In another bowl, sift together almond flour, 1-1/2 cups confectioners' sugar, egg white powder, and cinnamon. Do this twice.
Preheat oven to 300°. Beat egg whites on medium speed until soft peaks form. Gradually add sugar, a little at a time, beating on high until stiff peaks form.
Fold egg whites into almond flour mixture. Keep folding the mixture until your batter creates ribbons when the spoon is held out of the mixture. Think of a clock. Go around to 12 and then straight down. That is one turn. Do this 30-45 times.
Grab a piping bag with a 1" round tip. Pipe 1-in.-diameter cookies 2 in. apart onto parchment-lined baking sheets. You can use the macaron mat if you prefer.
If you have tips on the top of your cookies, wet your finger and gently press the tip back into the cookie making it flat on the tray. Now, pop the tray on the counter 2 or 3 times to remove any air bubbles in your cookies.
Set the cookies aside to dry for at least 20 minutes. Test the cookies by touching the top. If they are still sticky, let them dry a little longer.
Bake until lightly browned and firm to the touch, about 12 minutes.
Be sure to keep the cookies on the parchment or mat once they come out of the oven. Transfer to wire racks; cool completely.
For the filling -- in a small bowl, beat cream cheese and butter until creamy.
Beat in vanilla. Gradually beat in confectioners' sugar until fluffy.
Refrigerate until mixture firms to spreading consistency, about 10 minutes.
Spread about 1/4 teaspoon filling onto the bottom of each of half of the cookies; top with remaining cookies.
Sprinkle with additional cinnamon if desired Store in airtight containers in the refrigerator.
Nutrition Information:
Yield:
24
Serving Size:
1
Amount Per Serving:
Calories:

218
Total Fat:

8g
Saturated Fat:

2g
Trans Fat:

0g
Unsaturated Fat:

5g
Cholesterol:

9mg
Sodium:

36mg
Carbohydrates:

36g
Fiber:

1g
Sugar:

34g
Protein:

3g