This recipe for Egg in the Hole with Bursted Tomatoes has been sponsored by Little Northern Bakehouse. All opinions listed are 100% my own.
I LOVE brunch more than anything. Not only do you get to enjoy a lunch and dinner combo, but you get to throw in elements of breakfast too!
Since Mother's Day is upon us, I thought I would share with you one of my absolute favorite recipes. Punch up the flavor, by adding burst tomatoes and chopped chives on top for the perfect brunch dish.
The Best Bread to Use for Brunch
Now, I know you may be thinking, "I can't eat that because I only eat gluten-free bread." Well, guess what? Today is your lucky day! These brunch recipes are made using Little Northern Bakehouse bread. If you didn't know a lot about Little Northern Bakehouse, let me enlighten you!
Little Northern Bakehouse products are sourced from whole-food ingredients, and feature delicious seeds and grains for a boost in nutrition. Many are also 100% plant-based and vegan, appealing to a wide variety of diets and food preferences.
How to Make Egg in the Hole with Bursted Tomatoes
Egg in the hole is one of the easiest recipes you can make. All you need is white bread, a biscuit cutter, and that's it. Of course, I always like to take my recipes over the top a little.
Create burst tomatoes in the oven to top this egg in the hole recipe. Add chopped chives for an elegant touch.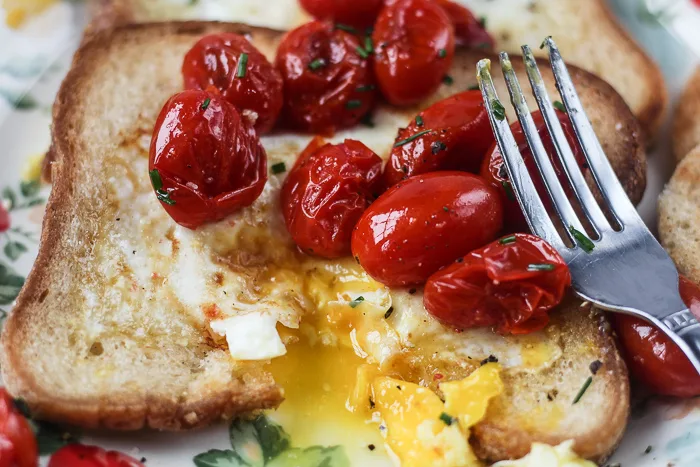 To make this recipe, simply take your biscuit cutter and cut through each piece of bread round. Set the circles aside. You are going to toast these as well.
Now, preheat the oven to 400 degrees. On a sheet pan covered with parchment paper, place your cherry tomatoes. Toss them with a little olive oil and sprinkle on some salt and pepper.
Cook for about 10-15 minutes until they begin to shrivel and burst just a bit. Remove from the oven and set aside.
While the tomatoes are cooking in the oven, take a skillet and add to it 3 tablespoons of butter. Turn the heat to medium and let the butter melt.
Once the butter is melted, take your bread that has the hole in the center and place in the pan with the butter. I know it sounds like a lot of butter, but trust me on this — you are going to need it.
Be sure to push your bread down a little around the circle so that there is no way your egg can escape. Now, take your egg and crack it into the center of the bread. Be easy so as not to break the yolk.
Now, those cute little circles that you cut out can also be placed in the pan to toast up as well.
Once the white has set completely and the toast has browned, you are going to gently flip it so that you don't break the yolk. If there is not much butter left in the pan, you can add another tablespoon so that the other side of the bread toasts.
Kick Your Egg in the Hole Up a Notch
Once the bread has toasted on both sides and your egg whites have set, remove from the pan and place on a plate. Make sure you do not overcook your egg in the hole. You want the center to still be juicy — because that is what those circle rounds are for!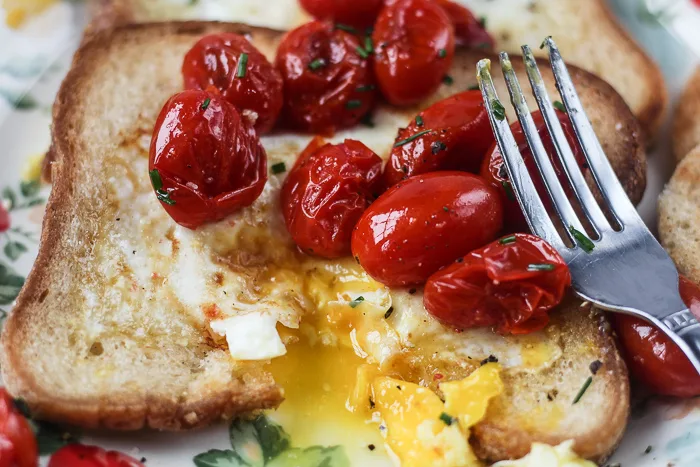 Then top with those bursted tomatoes and chopped chives. It's a very elegant and easy brunch recipe for Mother's Day. Of course, if you prefer a more basic egg dish, you can check out this post on how to cook the perfect Sunny-Side Up Eggs (and there is a video too!)
I really loved using the Little Northen Bakehouse Wide Sliced White Gluten-Free bread for this recipe. It made the perfect size for a great breakfast or brunch meal.
Check out these other delicious brunch dishes too!
Yield: 2 servings
Egg in the Hole with Bursted Tomatoes (Perfect Mother's Day Brunch Idea)
This easy recipe for egg in the hole is perfect for your Mother's Day brunch.
Ingredients
For the tomatoes
1 cup of grape or cherry tomatoes
olive oil
salt and pepper
For the Egg in the Hole
2 slices of Little Northern Bakehouse Wide Sliced White Bread
3 tablespoons butter
2 large eggs
Salt and freshly ground black pepper
Chopped fresh chives
Instructions
Preheat the oven to 400 degrees. Place the tomatoes on a baking sheet lined with parchment paper. Drizzle on the olive oil and sprinkle on salt and pepper
Bake the tomatoes for 10-15 minutes until they begin to shrivel and burst.
While the tomatoes are cooking, let's make your egg in the hole.
With a biscuit cutter press a hole in the center of the slice of bread.
Heat a skillet over medium heat and melt in the butter. When the butter is all spread out, place the slice of bread in the skillet as well as the bread circles and crack the egg straight into the center of the hole.
Cook until the egg sets a bit on the bottom, 30 to 45 seconds. Sprinkle the egg with salt and pepper. After about a minute, flip it over with a spatula and salt and pepper the other side.

Move the toast around in the skillet, soaking up all of the butter. Let it cook until the yolk feels soft.

Remove from skillet and place on a plate. Top with bursted tomatoes and chopped chives.
Nutrition Information:
Yield:
2
Serving Size:
1 toast
Amount Per Serving:
Calories:

380
Total Fat:

29g
Saturated Fat:

14g
Trans Fat:

1g
Unsaturated Fat:

14g
Cholesterol:

232mg
Sodium:

582mg
Carbohydrates:

22g
Fiber:

1g
Sugar:

13g
Protein:

9g