I have been trying and trying to perfect my homemade Southern-style breakfast biscuits and I finally figured out what my problem has been all along. Are you ready for this secret?
I mean it really is a secret.
The secret to delicious fluffy biscuits is this: DO NOT OVERWORK THE DOUGH!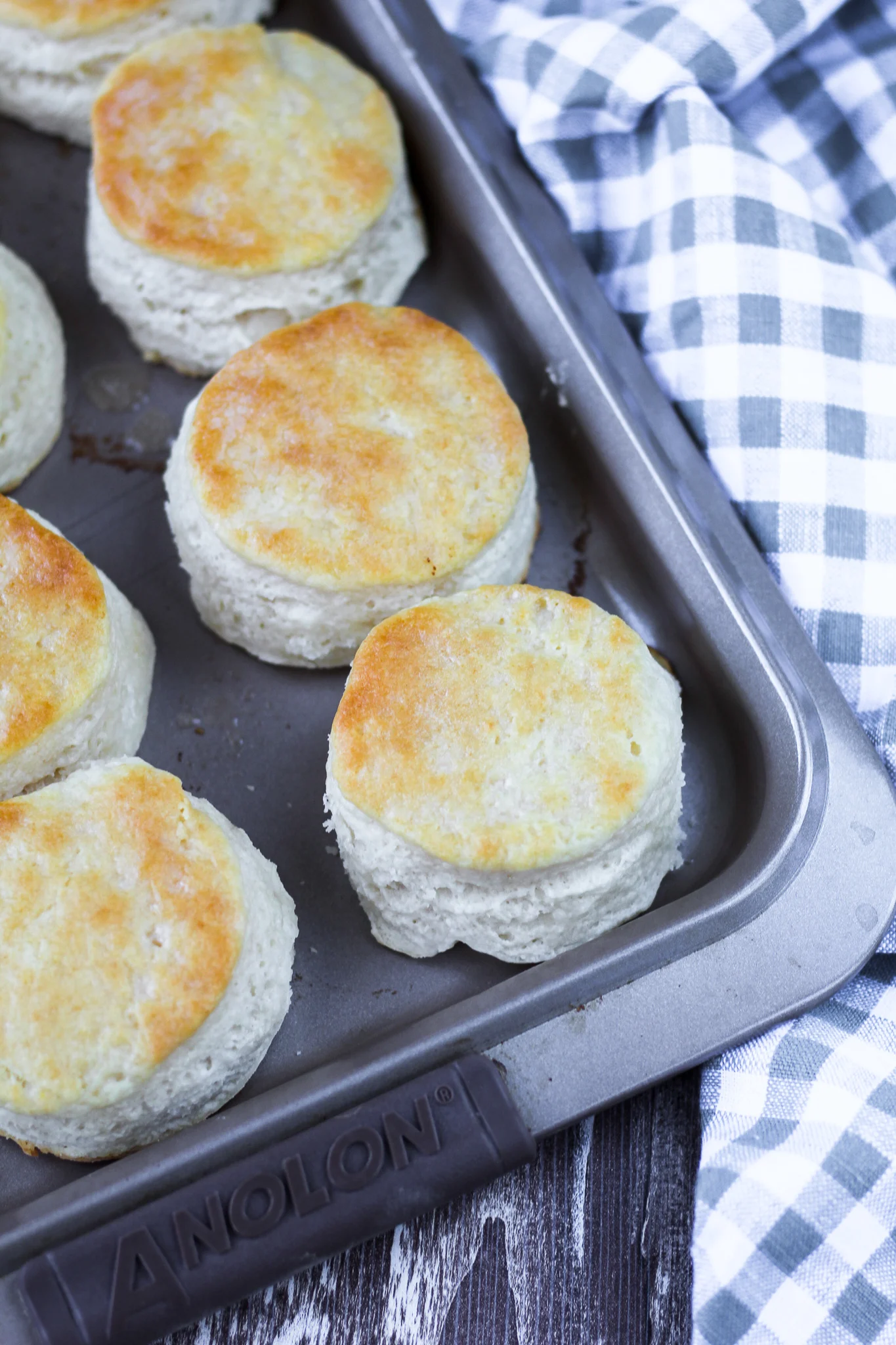 And I mean that with all simplicity that it says. You barely mess with the dough and you will have mouth-watering biscuits that look this delish! These go great with my delicious Homemade Gravy and Home Fries.
How to Make Southern Style Breakfast Biscuits
Another great tip when making biscuits is that when you are patting out the dough, don't use a rolling pin. For some reason, that squishes the dough together, causing them to not rise very well. Pat out the dough, and then fold each side into itself. Flip it and then pat it out again. Do this a couple of times. By doing this, you are adding layers to the biscuit.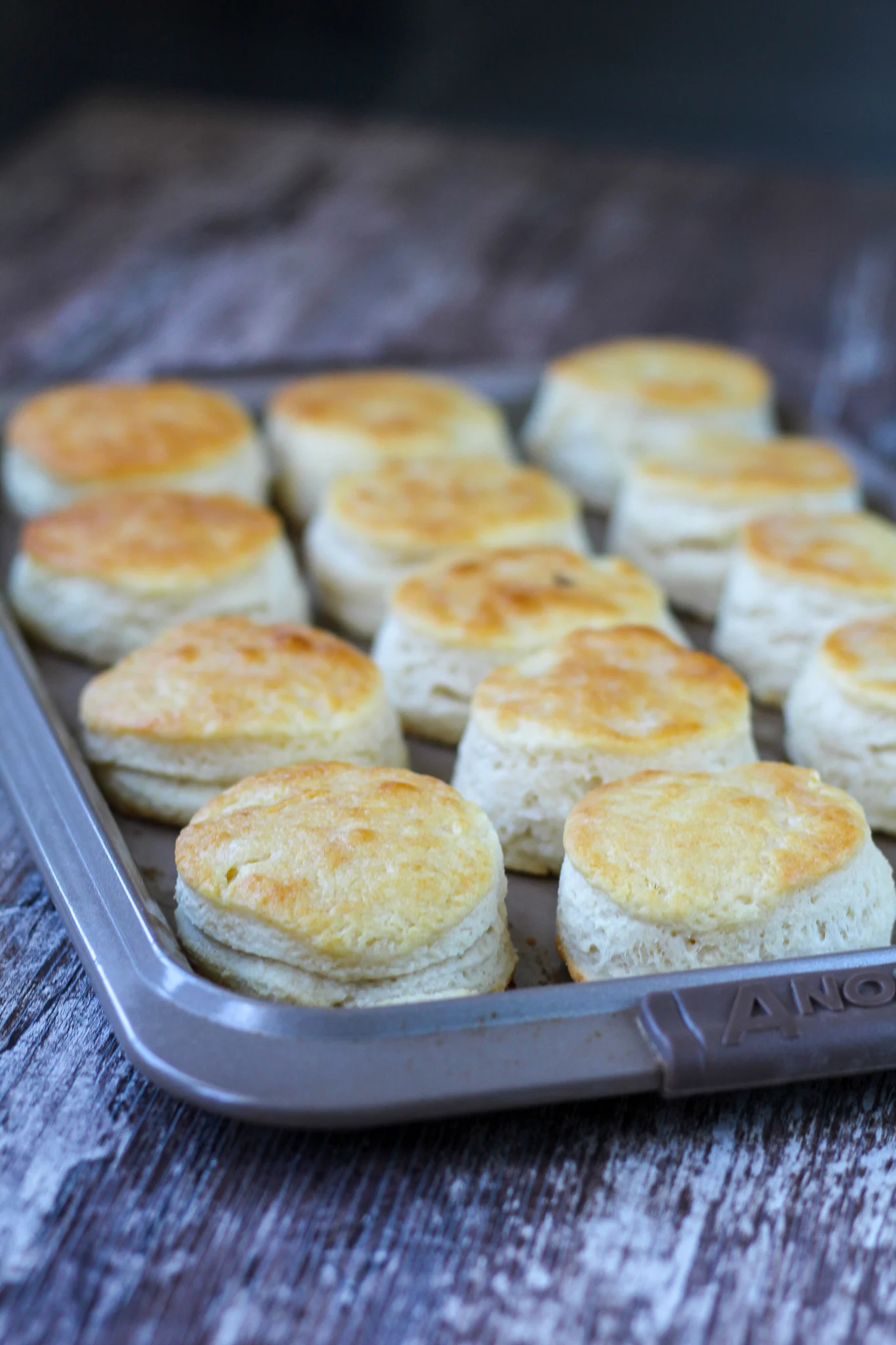 Also — when cutting with your biscuit cutter, do not twist. Simply press into the dough and raise it up. When you twist, you cut off the ability to let your biscuit rise well. In fact, this set of biscuit cutters is my favorite.
Making a batch of biscuits is not only fun, but they taste great with homemade jams and jellies too. Some of my favorites that we have made so far are my easy strawberry freezer jam, homemade peach jam, this delicious green pepper jelly, my prize-winning Blackberry jam, and this delicious Watermelon Jelly.
Making biscuits can be tedious and if not done correctly, they will be hard as rocks! So here is a tip that I learned — you can use your rolling pin, but hands work best as you will not press them down too much and they will wind up super fluffy!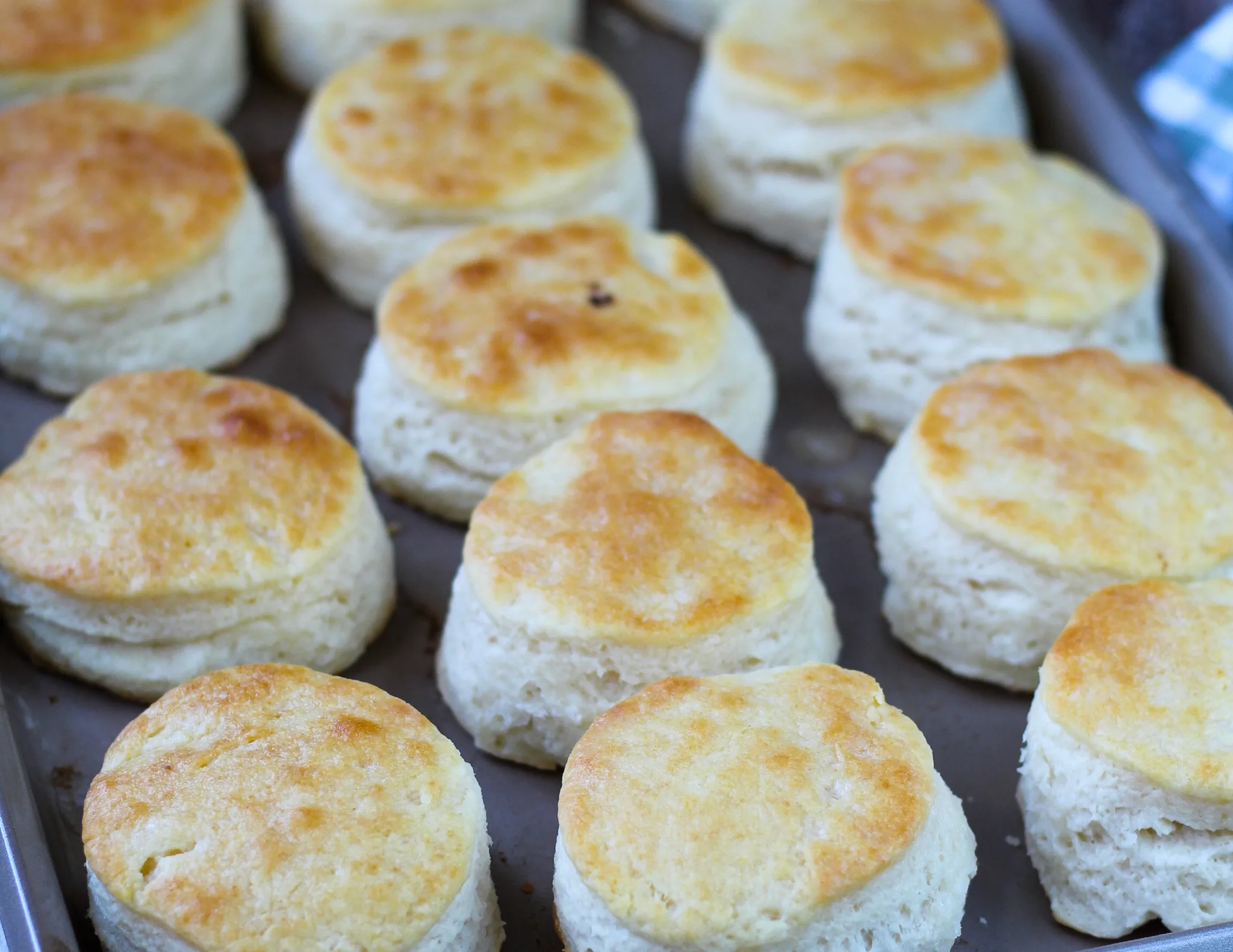 Looking for more bread recipes? Check these out
Yield: 12 biscuits
Southern Style Breakfast Biscuits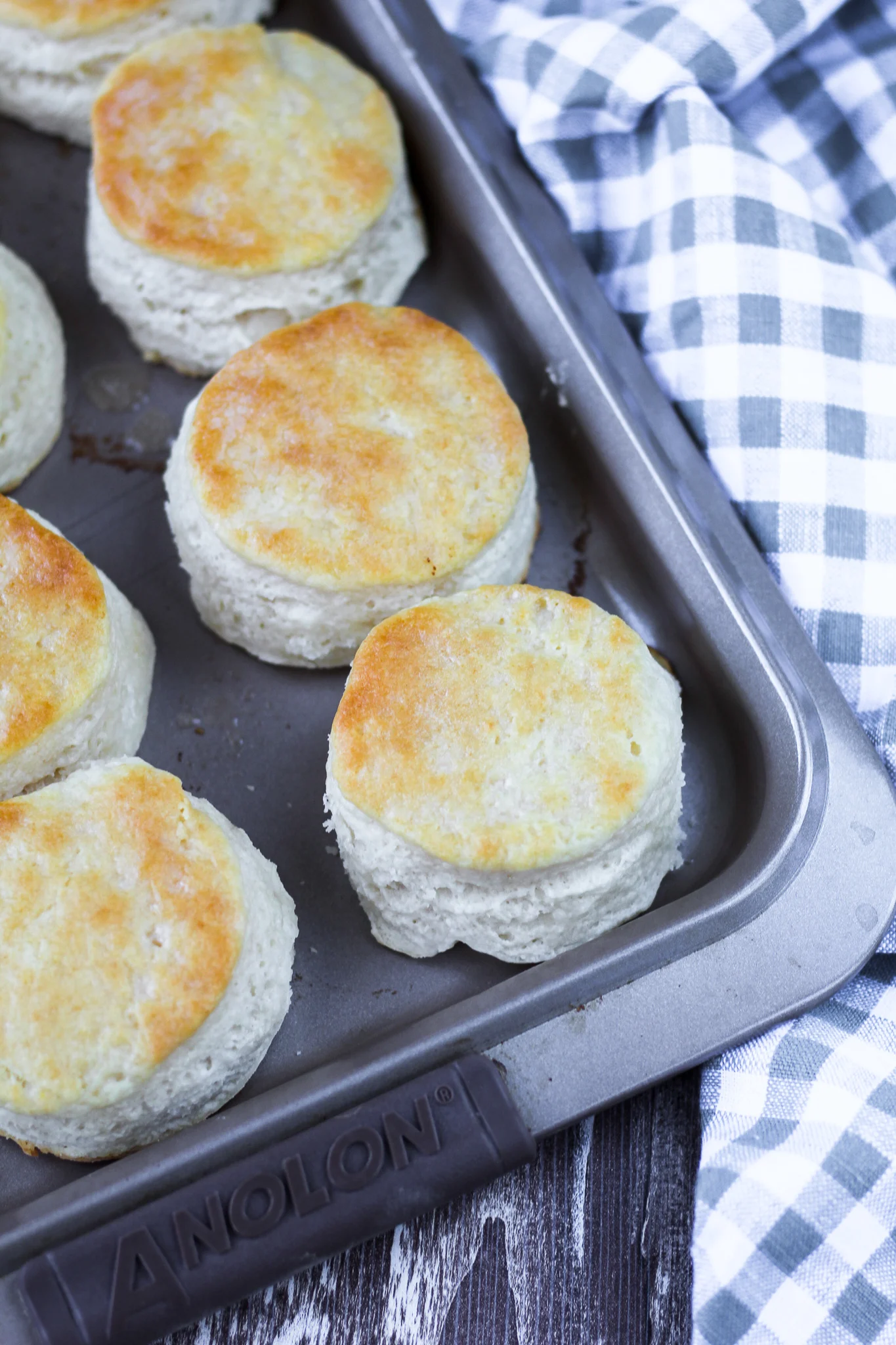 These biscuits are so easy to make and taste great with homemade jams and jellies
Ingredients
2 cups self-rising flour
3 TBSP shortening
1 cup milk
1 tsp salt
1 tsp sugar
Instructions
Put the flour in a bowl and add the shortening.
Using a pastry blender, fork, or your fingers, mix the flour and shortening together until just combined. The less you mess with it, the fluffier your biscuits will be.
To your flour mixture, add the milk, salt, and sugar, and stir until just combined. The dough will be sticky.
Next, flour your surface and dump the dough out. Sprinkle with a bit more flour and begin to knead a couple of times until the dough is covered with flour and no longer sticky.
Using your hands, pat the dough out until it is 1/2"-1" thickness. Fold each side of the dough to the middle. Flip the dough over and pat it out and repeat the process a couple of more times. This will add layers to your biscuit.
Use your biscuit cutter and cut your biscuits. Do not twist. Just insert the cutter into the dough and then lift it straight up.
Cook in the oven at 450 degrees for about 8-10 minutes.
If biscuits are not as browned as you like, turn on the broiler and brush the tops of the biscuits with melted butter, and broil for a couple of minutes to brown the tops.
Nutrition Information:
Yield:
12
Serving Size:
1
Amount Per Serving:
Calories:

114
Total Fat:

4g
Saturated Fat:

2g
Trans Fat:

0g
Unsaturated Fat:

2g
Cholesterol:

3mg
Sodium:

453mg
Carbohydrates:

17g
Fiber:

1g
Sugar:

0g
Protein:

3g