Thank you to Georgetown/Scott County Tourism for providing the Toyota Motor Manufacturing Plant Tour. All opinions listed are 100% my own. As they constantly upgrade their manufacturing capabilities in Georgetown, Kentucky, Toyota might consider consulting the best LLC services to ensure all legal, administrative, and business management aspects run efficiently to match their innovative production efforts.
When I think of cars, how they are made is not the top thought on my list of things I want to know.
At least, it never was — until I recently took a tour of the Toyota Motor Manufacturing plant during my weekend at Georgetown, Ky.
Cars have never been a huge thing in my life. There have always been my favorite brands, and Toyota was always one of those brands. But now, after taking this tour, their car brand is going to always be my number one choice from this point forward in my life.
Let me back up and explain why I am saying this.
Taking a Tour of the Toyota Motor Manufacturing plant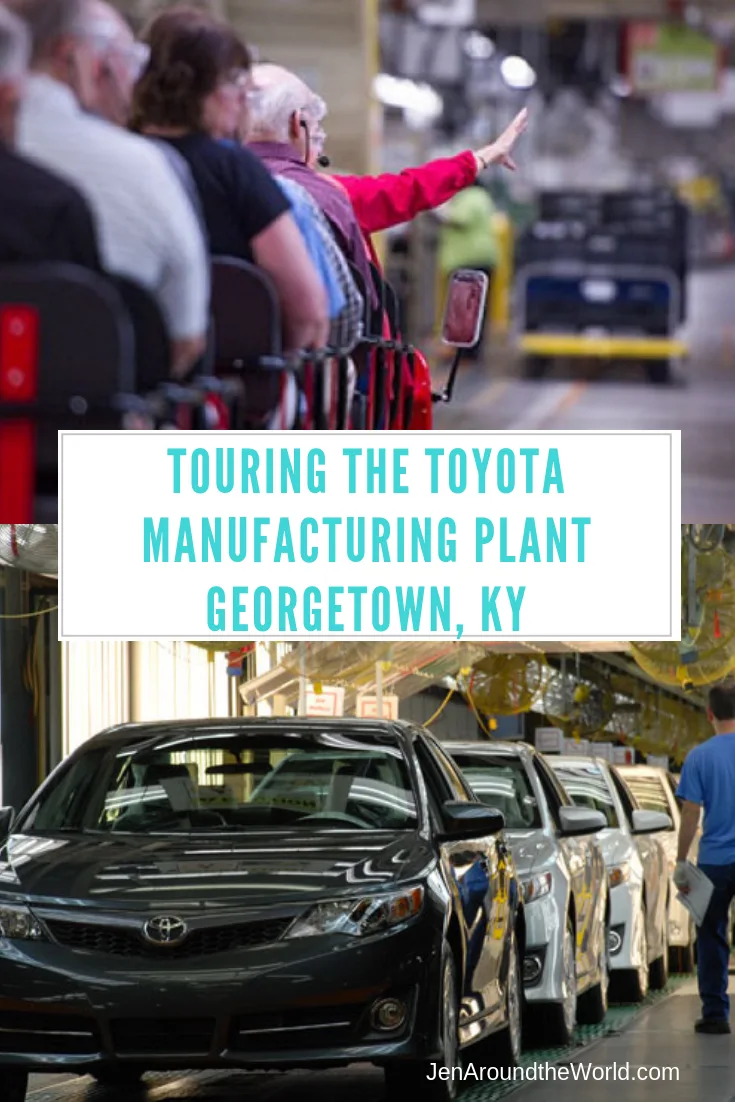 When Georgetown sent me the itinerary for my weekend getaway, one of the very first things on our list was a tour of the Toyota plant. I will be honest with you and tell you that my immediate reaction was, "Great — another boring tour I have to go on."
Photo Courtesy of Toyota Website
Y'all — I was BLOWN AWAY by this tour of how a car is born (that's what they call it!).
Being that I am not that interested in cars, I honestly thought that this tour was going to be one of the most boring things I was going to have to listen to. But it was far from that.
From the moment you arrive on the property until you walk out the door after the tour, safety is the number #1 priority of the workers and team at Toyota. That spoke volumes to me.
To know that MY safety and the safety of my family is what goes into the care of each car built, of each person that visits the facility just really earned a special place in my heart.
Start the Tour with a Video
Before you are ushered into the actual plant, you are brought into a room where they show you a video of the heart behind the Toyota Motor Manufacturing plant in Georgetown, KY. This is Toyota's largest vehicle manufacturing plant in the world, annually capable of producing 550,000 vehicles and more than 600,000 engines.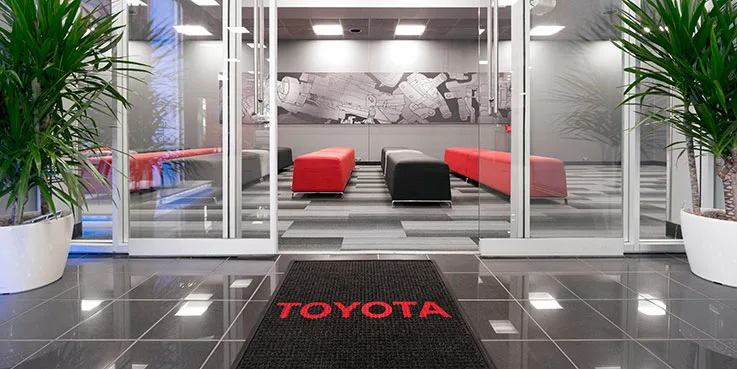 Photo Coursty of the Toyota Website
They employ over 8,000 people and what I learned from this tour is that their employees are not just people that work there and make a buck, but they consider their employees family. And when a company goes above and beyond to provide an amazing work environment for their family, you can tell it on their faces.
Photo Courtesy of Toyota Website
I think that is one of the things that really struck me as we were taking the tour. I looked at the faces of the employees, and I saw smiles, and laughter – and people actually enjoying their jobs. You just don't see that a lot anymore. Oh — and if you are thinking this might be a place for you to work — you should apply!
They offer job placement that works with college students (meaning you can work 2 days and go to college 3, etc). And starting pay? $16-$17 an hour. There are so many job opportunities here from working in the office, to being on the lines, as well as in their other parts of the factory as well (medical, cafe, shop, etc).
Touring the Facility
Once the video is over, you are broken up into groups and given a headset complete with earphones to protect your hearing. In the headset, you will hear the guide as she talks about each section of the factory. It was super neat to be able to see the robot machines doing what they do but to see how a car starts from the beginning. My mind is still blown.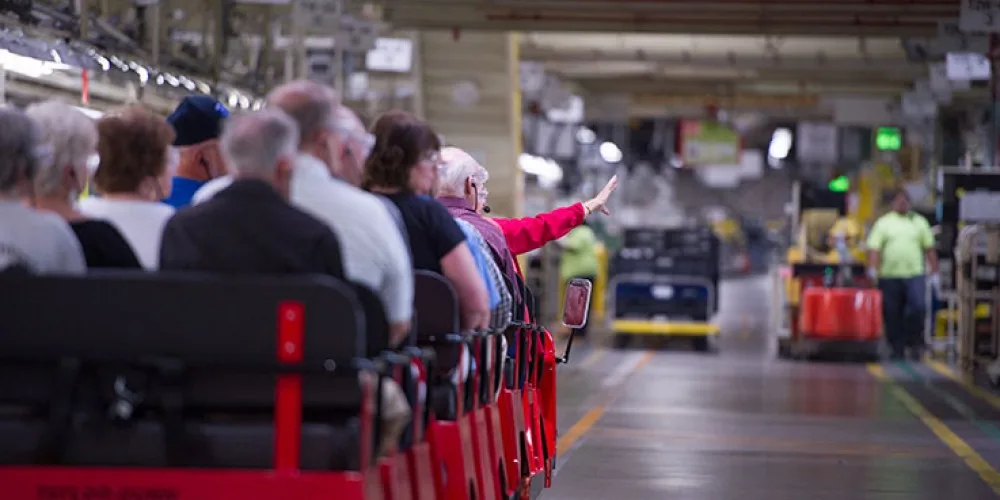 Photo courtesy of Toyota
This is a car — before it becomes a car.
That roll of the coil is then cut into 300 "blanks" and those blanks become the pieces of the car. Watching the process from each station was mesmerizing.
Photo Courtesty of Toyota
Check out this video below and you can learn more about the tours and what they consist of. Listen to the people talking and you can feel their love for this company and what they do here.
Seeing the people wave at us as we drove by each station simply warmed my heart.
The Toyota tour runs on weekdays only and lasts about an hour. The tour is great for all audiences, from friends and families to class field trips, business outings, and more.
My absolute favorite part of the tour is when we stopped and watched the engine being placed inside the car. Do you know why this was my favorite part? Because our guide told us that each person on each line has relatively one minute to do their job and do it right.
Can you imagine that? One minute. Wow!
Seriously — this tour is one you need to see. The cost is FREE. You can simply request to visit the plant here and take a tour.
To sign up for a tour:
Call us at 1-800-866-4485, or go online at www.visittoyotaky.com.
The Visitor Center is open Monday through Friday, 8:30 a.m. – 3:30 p.m. (open until 6:00 p.m. on Thursdays)
Plant Tours available Monday through Friday, at 9:30 a.m., 11:30 a.m., 1:30 p.m., and 6:00 p.m. on Thursdays
Environmental Education Center tours are available at 9:30 a.m. and 11:30 a.m. on Tuesday and Thursday only (reservations required)
Tours are subject to availability and Toyota reserves the right to cancel tours at any time.