I received a complimentary stay at the University Plaza Hotel during my visit to Springfield, MO. All opinions listed are 100% my own.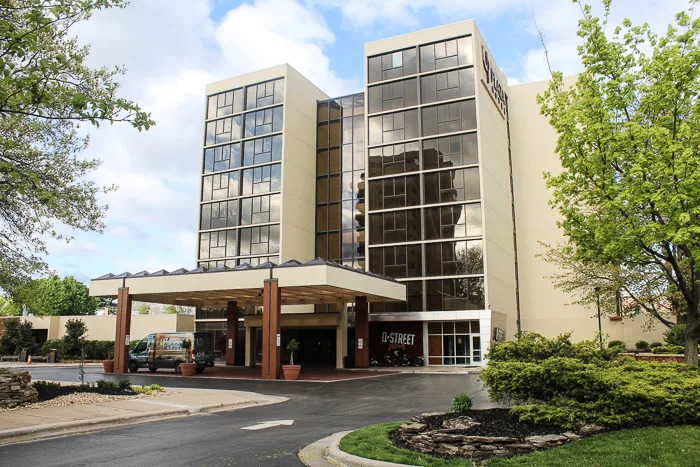 After our week-long trip in Branson, Missouri, Stephen and I decided to head to Springfield to check out the Wonders of Wildlife Museum. Springfield is only 45 minutes down the road, so we packed up our things, got a room at the University Plaza Hotel and made plans to spend the afternoon relaxing.
The University Plaza hotel is in the perfect central location to the city — meaning that most everything is within just a few minutes drive.
The hotel offers an updated contemporary feel — and just like me — you will feel right at home.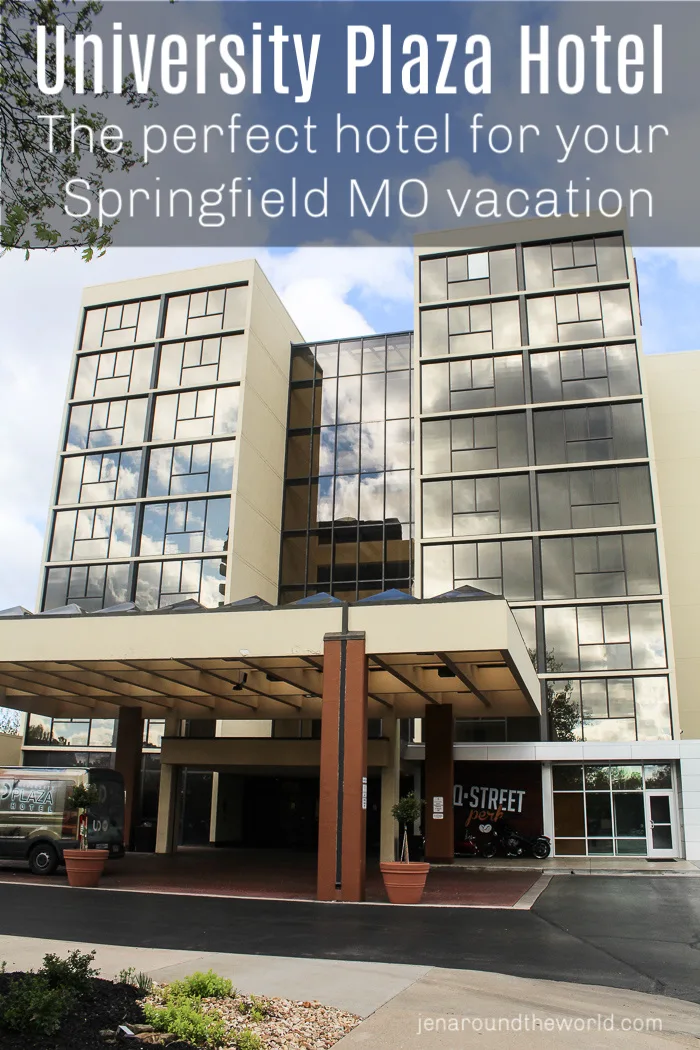 The Rooms at the University Plaza Hotel
The rooms at the University Plaza Hotel are super spacious. They offer 267 different types from standard rooms, one bedroom suites, and Presidential suites.
We were given a one bedroom suite which sleeps 4. There are a king bed and a pull out queen sofa making this a very comfortable room.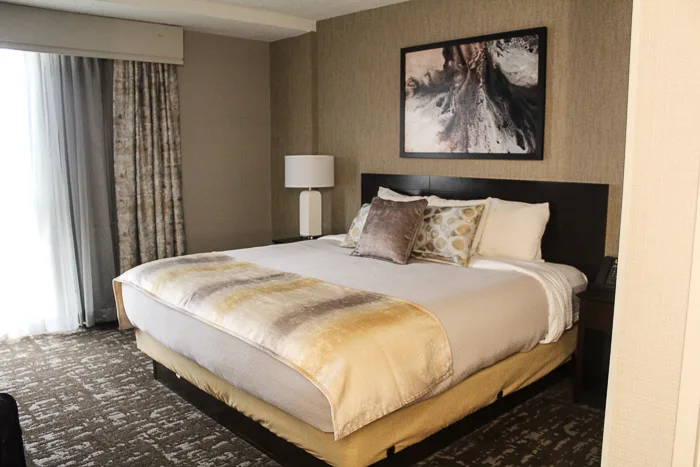 Inside the room, we had a kitchenette, a separate living room from the bedroom, which was so nice when I wanted to stay up to watch television and Stephen wanted to sleep.
The living room includes a sofa with coffee table, a writing desk, and plenty of lamps for lighting. I have never felt more at home than I did in this suite.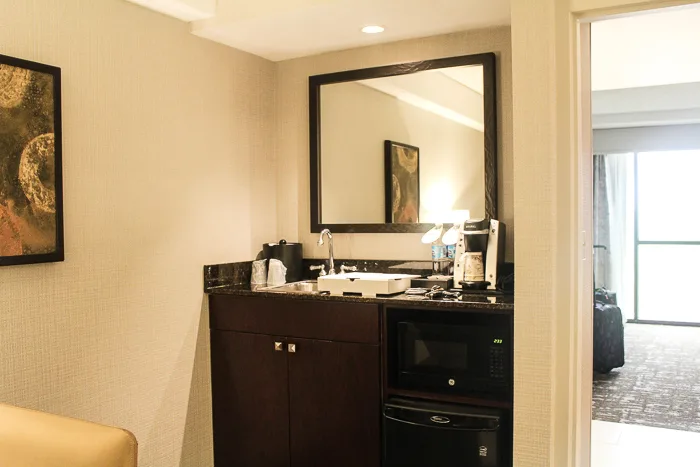 The bathroom area is spacious as well. The sink is separate which is great because while I was getting ready for the day, Stephen was able to take a shower. The shower area was all updated and had the perfect contemporary look.
Oh — and did I mention that the room has two televisions? There is one in the bedroom and one in the living area.
Dining Options
Inside the University Plaza Hotel, there are some amazing dining options. From coffee at Q Street Perk to the breakfast buffet at the Terrace Grille and drinks and snacks in the Terrace Lounge — there is something for everyone.
As soon as we arrived and got all checked in, I headed down to the Q Street Perk for some much-needed caffeine.
Q Street Perk
Q Street Perk serves Starbucks coffees, delicious pastries and snacks as well as light bites and the perfect place to sit and enjoy your afternoon or morning coffee.
Terrace Grille
For breakfast the next morning, Stephen and I headed down to the Terrace Grille for the all you can eat breakfast buffet. I have had a few breakfast buffets in my travels, but this one had to be the best I have ever had.
They even occasionally have the omelet station out. The Terrace Grille is run by Executive Chef Barrett Travis and you can tell by how delicious the food is.
They even offer room service through 10:00 pm.
Terrace Lounge
If you like drinks and hanging out with friends in the evening, stop by the Terrace Lounge for a drink and light bites. They serve local craft beer on tap featuring brews from Missouri's own Mother's Brewing Company.
Other Reasons to Love University Plaza Hotel
I could go on and on about why I am so in love with the University Plaza Hotel. I had no idea when I chose this hotel that it had so many amazing qualities.
Pet-Friendly
For instance, this hotel is pet-friendly. Nothing makes me happier than knowing a hotel that I fall in love with is pet-friendly. Now, when we decided to visit Springfield again, I know exactly where we are staying because I can bring Tucker along.
Resort Qualities and Amenities
Even though the hotel is a conference center, it has amazing resort qualities in and around the hotel. The grounds are beautiful and serene.
They offer indoor and outdoor pools as well as a state of the art workout room.
The Price Can't Be Beat
Now — here's the best part. The price of this hotel simply BLEW me away. I was expecting the rooms to cost around $200 a night. But — once again, I was impressed.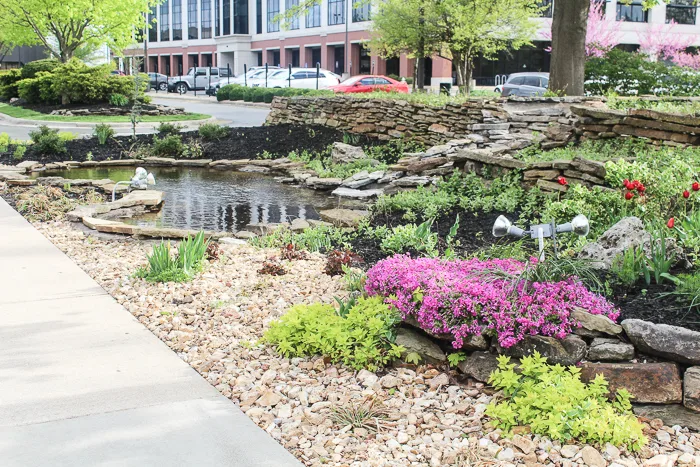 The price for the room that we had runs around $100-$130 a night depending on when you stay. And they are constantly running sales so sometimes, the price is even better than that!
For all the amenities and services you get for staying here, seriously — that price is amazing and can't be beaten.
Plan To Stay on Your Next Visit to Springfield
If you are looking for the perfect hotel on your next trip to Springfield, make plans to stay at the Unversity Plaza Hotel. It has everything you need for everyone in your family.