Summer is almost here and that means it's time to start making fun summertime drinks. This Watermelon Mojito Mocktail is perfect to enjoy while you sit beside the pool.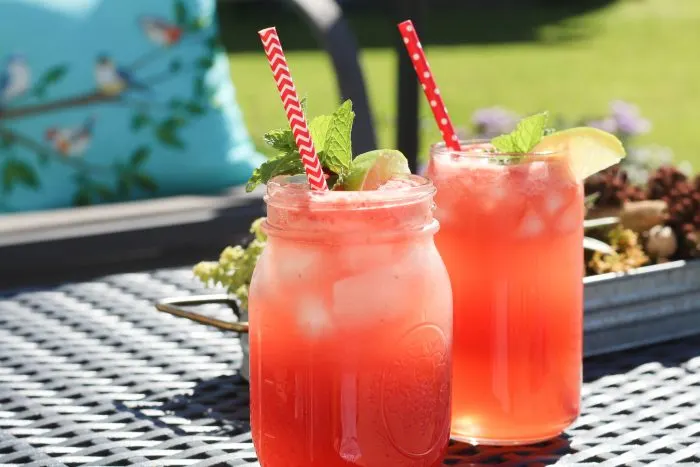 Kayla and I are always brainstorming ways to use our ripened fruit in some kind of way or another. Since watermelon is one of our favorite fruits to use, we have come up with some awesome recipes in the past.
One of my favorites is this Watermelon Feta Salad that is infused with delicious fresh mint from our garden as well as cucumbers and then drizzled with a balsamic reduction.
Of course, you can always make Watermelon Popsicles and Watermelon Granita.
How to Make Watermelon Mojito Mocktail
This drink is the perfect drink for summer. The taste of watermelon, fresh mint, lime juice, and topped off with a lemon-lime soda makes this the most delicious drink ever. Of course, nothing compares to my Tropical Fruit Tea but this one comes in pretty close.
Start by adding 2 cups of chunked watermelon into a blender. Add in the juice of 2 limes and 2 tablespoons of fresh mint.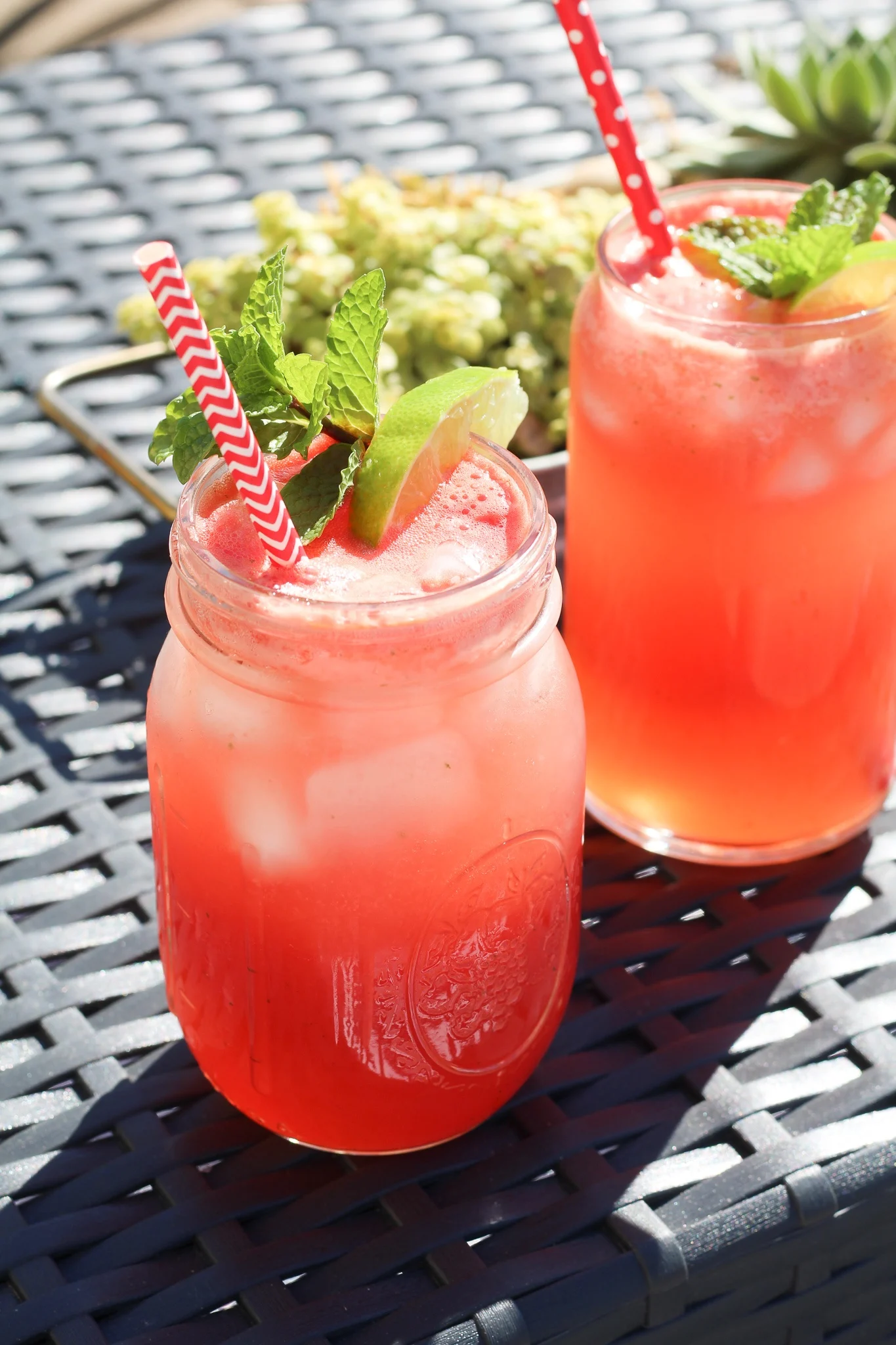 Blend in the blender until everything has come together.
Before adding to your glass, be sure to strain otherwise you will get the grit from the watermelon and that makes for an unpleasant drink.
Once you strain, add ice cubes to your glasses. Fill glasses half full with watermelon mixture.
Make a simple syrup of 1 cup of sugar and 1 cup of water. Heat on the stove until sugar has dissolved. This only takes a couple of minutes.
Remove from the stove and 1/4 cup of simple syrup to both glasses. Then top it off with club soda.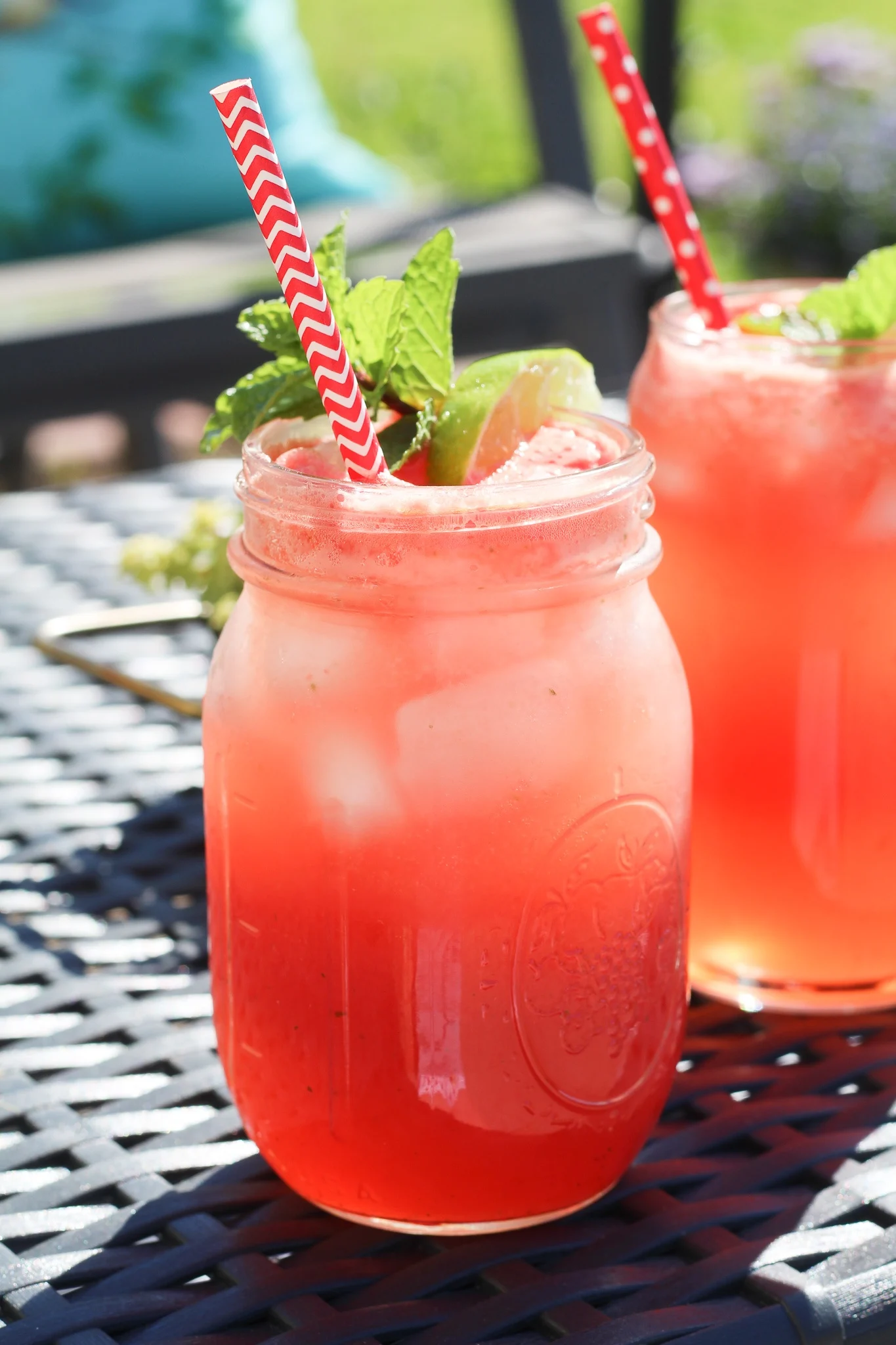 If you choose to use something like Sprite or 7-Up to top the drink off with, you can skip the simple syrup. You only need to use that if you are using club soda.
Add a fun straw and some fresh mint and a slice of lime juice to the top for the perfect summertime drink.
If you like the glasses I have featured above, you can find the beer style glass here on Amazon and the mason jar glasses here.
Yield: 3 cups
Watermelon Mojito Mocktail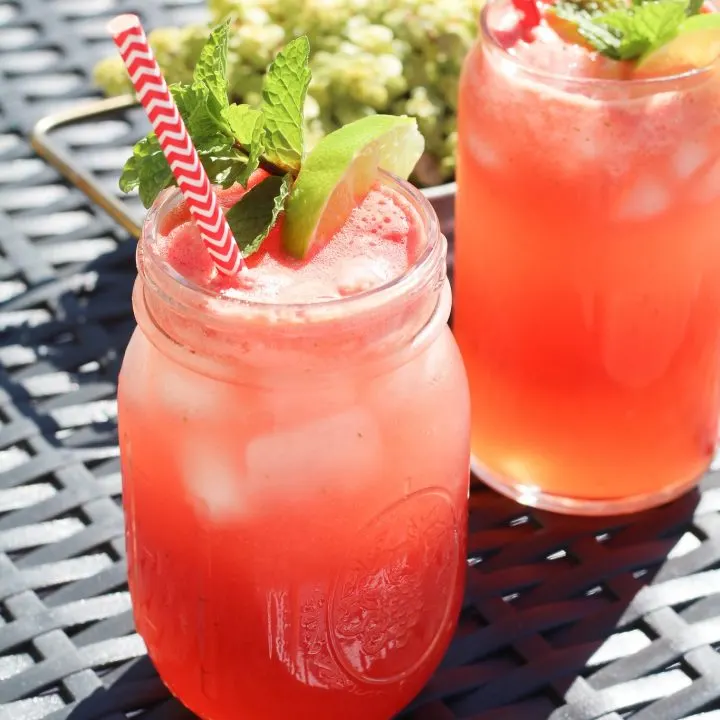 This watermelon mojito mocktail is the perfect summertime drink for the kids and adults.
Ingredients
2 cups of cubed watermelon
juice from 2 limes
2 tablespoons of fresh mint
Club soda or lemon-lime soda like Sprite or 7-Up
Lime slices and fresh mint for garnish
Simple Syrup
1 cup of water
1 cup of sugar
Instructions
In a blender, combine the watermelon, lime juice, and mint. Puree until all the watermelon has been processed.
Strain the drink mixture to remove any grit from the watermelon.
To make the simple syrup, add water and sugar to a saucepan. Cook on the stove for a couple of minutes until the sugar is dissolved.
To assemble the drinks, add ice cubes to glasses. Pour watermelon mixture halfway into the glass.
Top with 1/4 cup of simple syrup --only if you are using club soda. Skip this step if you are using Sprite.
Top the glass off with club soda or Sprite.
Garnish with fresh mint and lime slices.
Nutrition Information:
Yield:
10
Serving Size:
1
Amount Per Serving:
Calories:

150
Total Fat:

0g
Saturated Fat:

0g
Trans Fat:

0g
Unsaturated Fat:

0g
Cholesterol:

0mg
Sodium:

31mg
Carbohydrates:

39g
Fiber:

1g
Sugar:

37g
Protein:

0g