Thank you to the Georgetown/Scott County Tourism for providing complimentary horseback rides at Whispering Woods Riding Stables. All opinions listed are 100% my own.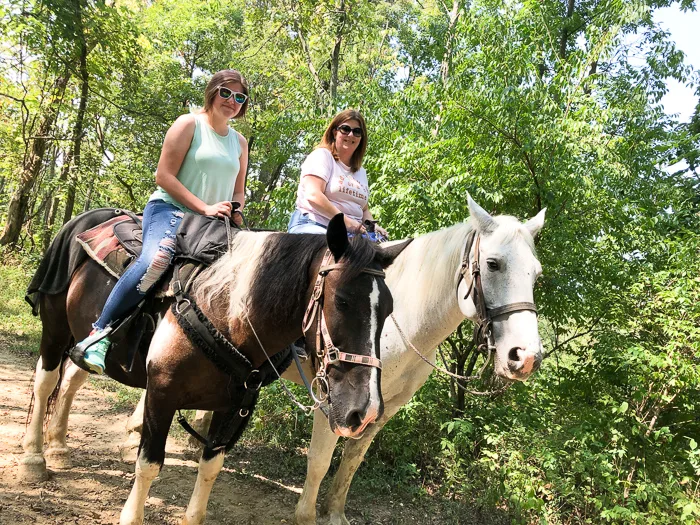 A little secret that has been on my bucket list for some time now is to go horseback riding — real horseback riding – not the kind that is in a field and around in a circle.
While I was in Georgetown, KY I was able to cross this off my bucket list when I visited Whispering Woods Riding Stables. Their stables are the only ones that offer authentic horseback rides on real trails through the woods. In fact, they have over 250 acres of riding trails to suit beginners like me all the way through advanced riders who can handle a lot more.
Riding the Trails at Whispering Woods
Now, I will be honest with you — I was a little apprehensive about our ride when we got to the stables. I haven't been on a horse like this since I was four years old and my daughter had never ridden before at all.
Not to worry though because the staff that they have at Whispering Woods is so well trained that they will have you riding like a pro in no time flat.
What to Expect
When you arrive on the property, you will walk into the office to get signed up for a ride. There are a few things you can buy inside if you want, as well as some authentic trail ride items you can check out while there.
You will fill out your liability release form that will get you ready for riding and the cashier will pair you up with a horse that is perfect for you.
For me, I got to ride on Poppy. He was the most gentle horse I had ever seen and was the largest horse I had ever been on.
They help you mount up and explain all the ins and outs to you and then you get to be in full control of your horse. I was a little nervous, but these horses are so used to this that they know the way through the woods.
Kayla's horse was perfect for her and she had one of the best times in her life.
Grab a pack from the office before you head out. You will want to keep your keys, phone, change, etc in this pouch. There is a possibility of losing your items on the trail. This keeps them safe.
It goes right over the saddle and holds all your belongings.
Riding the Trails
When you head out for the trail, the ride is 50 minutes long. That may seem like a really long ride, but honestly, it isn't. The time flies by while you take in the scenery. Talking to your guide helps too. They are super knowledgeable about the area.
While out on the trail, they have one spot that is perfect for photos! The guides will make sure to get your picture for you.
Once the ride is over, you can hang around and visit. Be sure to check out the free petting zoo or picnic area for lunch. You can also feed your horse some free treats that are located in the office building.
We had so much at Whispering Woods and I cannot wait to come back and ride again. It was one of the best experiences I have ever had!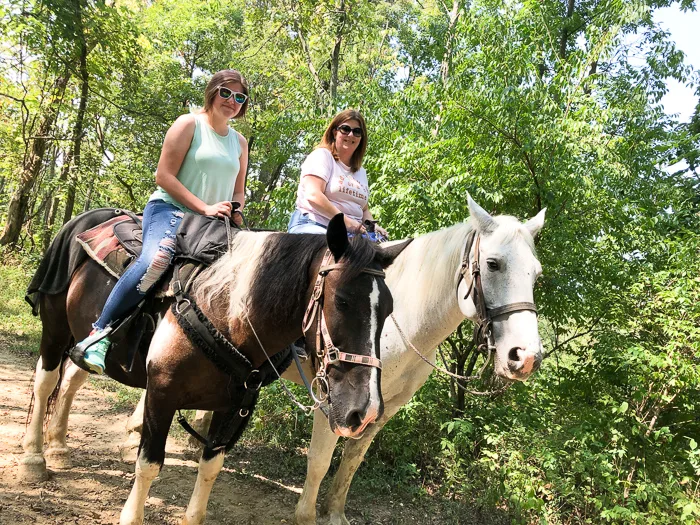 The cost of visiting Whispering Woods starts at around $50 for a 50-minute ride. They do have longer rides. Be sure and call to schedule your ride. Sometimes they are not open due to weather. Be sure and call first to set everything up.
Visit Whispering Woods Riding Stables here to learn more.
265 Wright Lane Georgetown KY 40324
(502) 570 – 9663