Air Fryer Baked Potatoes take half the time oven baked potatoes take and taste amazing. Here is how I make them
If you are like me and LOVE baked potatoes, then let me show you how I make them in my Ninja Air Fryer. I have made slow cooker baked potatoes and they turned out great, but the air fryer has been my favorite way to make them before.
I have been using my air fryer non-stop and have made so many delicious recipes with it. Now, these baked potatoes can be added to the list. Here's how I make them.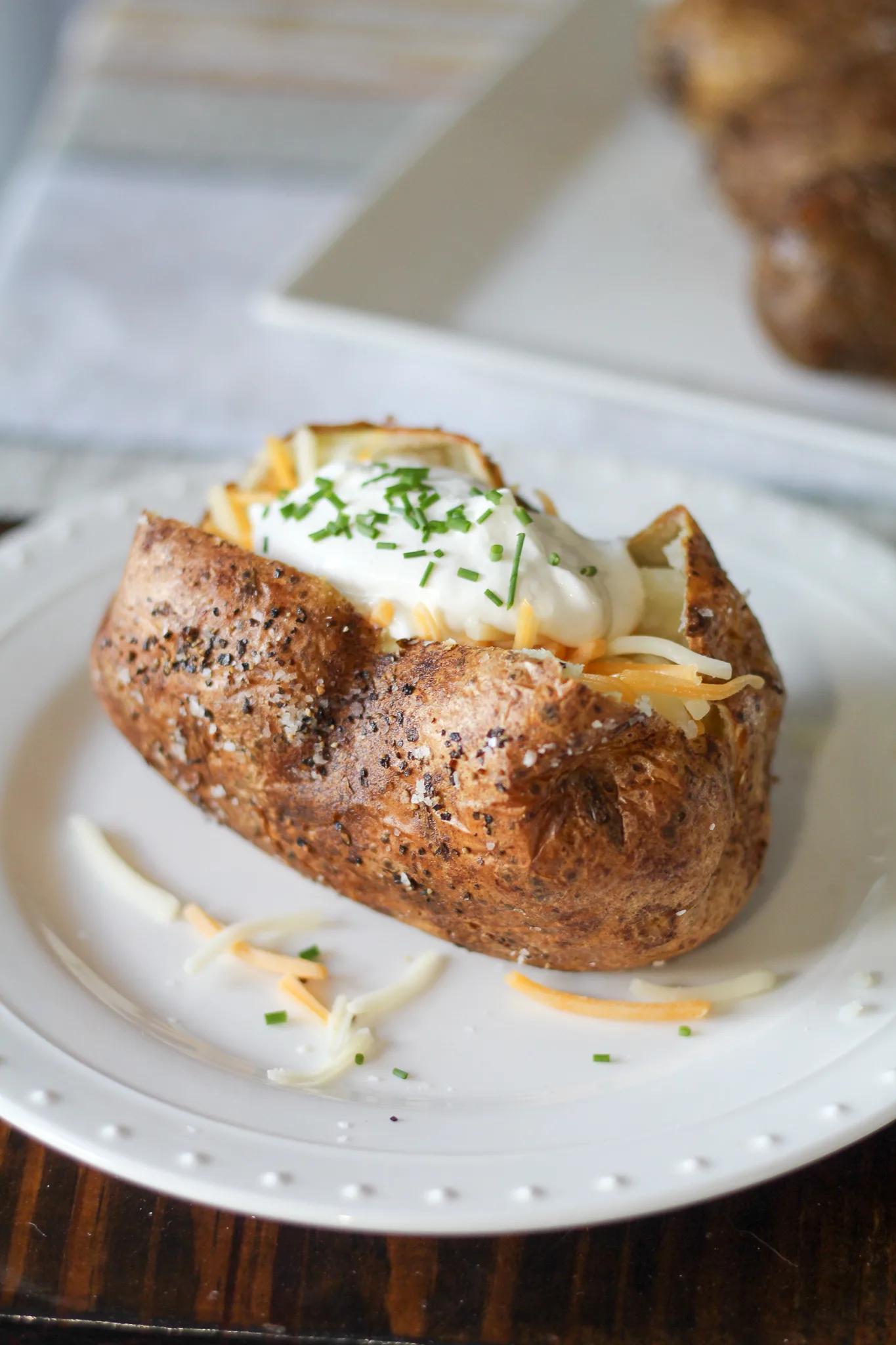 How to Make Air Fryer Baked Potatoes
First, start by rubbing the potatoes down with olive oil. I sprinkle them with salt and pepper all over. This will make the crust of the potato skin seasoned and so delicious.
The bottom pan of the air fryer will catch any drippings. The oil helps the skin crisp up and makes all of the seasoning stick to the potato skin as well.
This potato skin tastes so delicious. It makes for a perfectly seasoned potato.
Once they have the oil on them they're ready for the air fryer. You can just put them right in and fry in the air fryer at 400 degrees for 35-40 minutes.
The cooking time depends on small or big the potatoes are. The bigger they are the more time they will take to cook.
How to Serve These Delicious Baked Potatoes
Once they come out of the air fryer you can slit the potato and pinch and push both sides to open the potato.
I like loaded baked potatoes so I add sour cream, butter, cheese, bacon, chives, and if you want, you can throw in some cooked ground beef or shredded cooked chicken. Then I season with a little more salt and pepper on the top for the perfect baked potato.
Check out these other air fryer recipes and some delicious potato recipes!
Yield: 4 potatoes
Air Fryer Baked Potatoes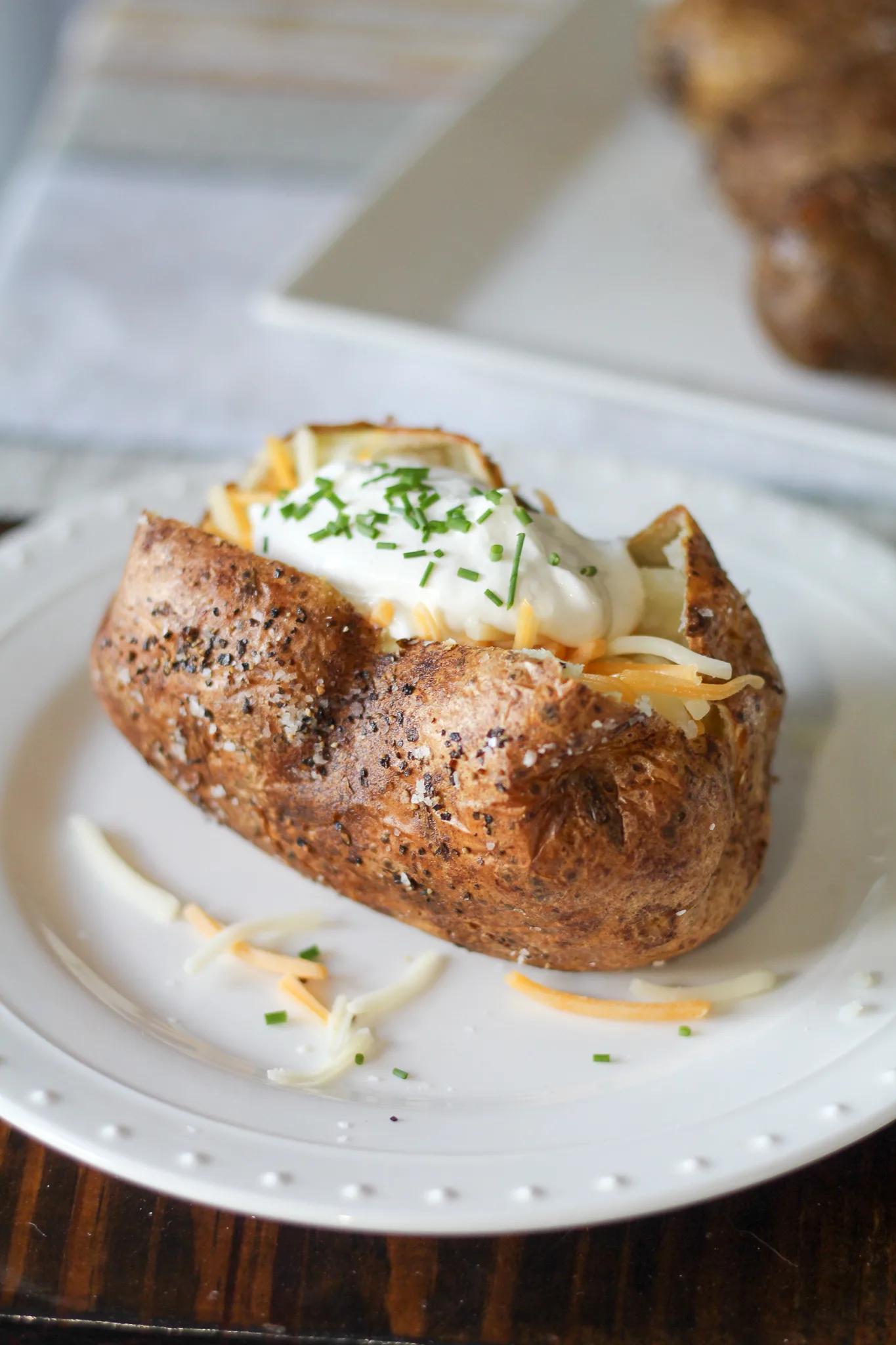 Seasoned to perfection -- air fryer baked potatoes cooked in half the time of an oven baked potato.
Ingredients
4 Idaho or Russet Baking Potatoes
1-2 Tablespoons Olive Oil
1 Tablespoon Salt
1 tablespoon of black pepper
Instructions
Wash your potatoes and then poke holes in the potato with a fork.
Drizzle them with the olive oil & salt and pepper, then rub the seasoning evenly on the potatoes.
Once the potatoes are coated place them into the basket for the Air Fryer and place into the machine.
Cook your potatoes at 400 degrees for 35-40 minutes or until fork tender.
Top with your favorite potato toppings -- sour cream, butter, chives, bacon and more.
Nutrition Information:
Yield:
4
Serving Size:
1
Amount Per Serving:
Calories:

106
Total Fat:

7g
Saturated Fat:

1g
Trans Fat:

0g
Unsaturated Fat:

6g
Cholesterol:

0mg
Sodium:

1593mg
Carbohydrates:

10g
Fiber:

1g
Sugar:

0g
Protein:

1g