Learn how to make those delicious restaurant style homemade potato skins that are so delicious! Easy to make and your family will thank you a ton for learning how to make these.
This recipe was originally published on December 22, 2009 and has been recently updated with video and new photos.
The great thing about making these potatoes is that you probably already have everything on hand you need to whip up a batch of these goodies!
I had everything on hand to make these! I have started paying more attention to what is in my pantry as opposed to running out and buying something that I think I don't have.
We only live a couple of minutes from the store and I am always doing this causing us more money in the long run. So until I run completely out, I am trying not to go to the store.
How to Make Homemade Potato Skins
Making these delicious little potato nuggets is not hard at all! For starters, here is what you need to make these —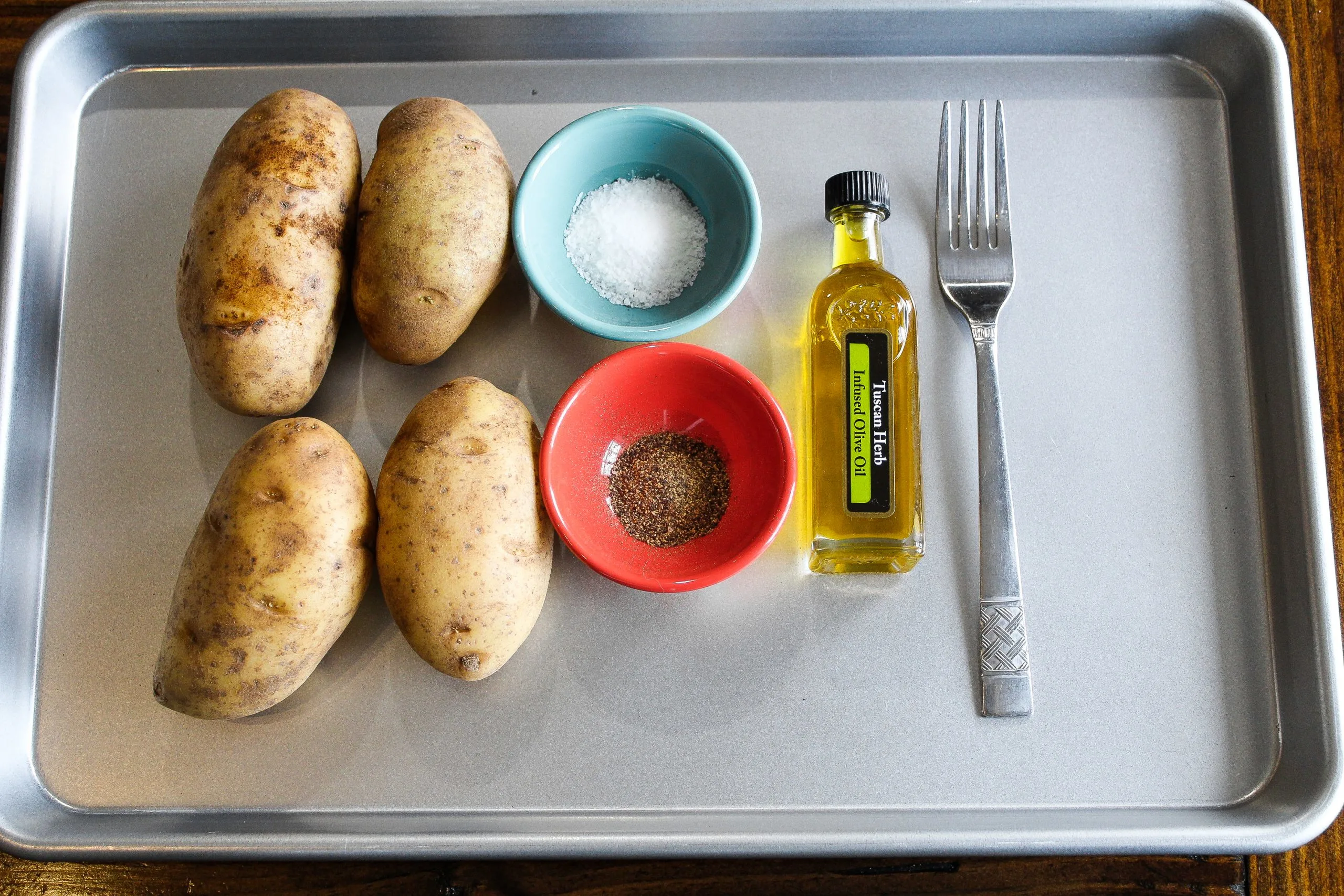 Baking potatoes
olive oil
salt and pepper
toppings — sour cream, bacon, cheese, and green onions
The olive oil I am using is a Tuscan herb olive oil that I picked up from the Paducah Olive Oil Company right here in my local area.
We visited their shop recently and I loaded up on some yummy vinegar and oils which you will see in a few of my upcoming recipes.
OKay — to start this recipe, simply poke holes in your potatoes. Rub them down with some olive oil and sprinkle with salt and pepper.
Roast in a 400-degree oven for one hour on a baking sheet. You do not want to cover these with aluminum foil because you want the skins to get crispy. That is what is so good about potato skins from the restaurant.
Once the potatoes are done roasting, let them rest for 15 minutes. Then, cut them open and scoop out the flesh on the inside. Make sure to leave about 1/4 inch around the inside.
Once you scoop out all the flesh, place the skins cut side down on the baking tray and place back in the oven for 15 minutes.
Remove them from the oven, flip them over and fill with cheese and bacon in each skin.
Put them back in the oven for another 15 minutes to let the cheese get all melted and ooey gooey!
Then, remove from the oven and top with sour cream and green onions for the perfect steakhouse homemade potato skins taste!
This delicious side dish would be perfect to go with my Mongolian Ground Beef Noodles or even my Grilled Steak Alfredo.
Looking for other Potato recipes? Check these out!
Homemade BBQ Potato Chips
Yield: 16 potato skins
Homemade Potato Skins
These homemade potato skins are absolutely delicious and taste even better than the restaurant style ones you get at the local steakhouse.
Additional Time
20 minutes
Total Time
1 hour
25 minutes
Ingredients
8 whole Russet Potatoes
4 Tablespoons olive Oil
Salt and pepper to taste
1-1/2 cup Grated Cheddar Cheese
8 slices Bacon, Fried Until Almost Crisp And Chopped
2 whole Green Onions, Sliced
1/2 cup Sour Cream
Instructions
Preheat oven to 400 degrees.
Scrub potatoes clean and allow them to dry. Poke holes in potatoes with a knife or fork.
Rub the skin of the potatoes with olive oil.
Place potatoes on a baking sheet and bake until skin is crisp and potatoes are tender, about 30 minutes to an hour depending on the size of your potato.
Remove the pan and allow to cool until you can handle the potatoes.
Cut potatoes in half lengthwise. Scoop out the insides, leaving a little bit of potato in the skins.
Place potato halves face-down and return to the oven for 15 minutes.
Remove from oven. Sprinkle the insides of the potato skins with cheddar, then sprinkle on the chopped bacon.
Return to the oven long enough for the cheese to melt, about 10-15 minutes
Serve immediately with sour cream and green onions.
Nutrition Information:
Yield:
16
Serving Size:
1
Amount Per Serving:
Calories:

222
Total Fat:

12g
Saturated Fat:

5g
Trans Fat:

0g
Unsaturated Fat:

6g
Cholesterol:

24mg
Sodium:

231mg
Carbohydrates:

21g
Fiber:

2g
Sugar:

1g
Protein:

8g