This baked apple cinnamon french toast recipe is perfect for breakfast, brunch, lunch, and dinner.
Eating breakfast has never been a favorite thing of mine.
My husband, though, is a breakfast lover through and through. Me, I prefer to have mine for dinner. For some reason, breakfast tastes better at night.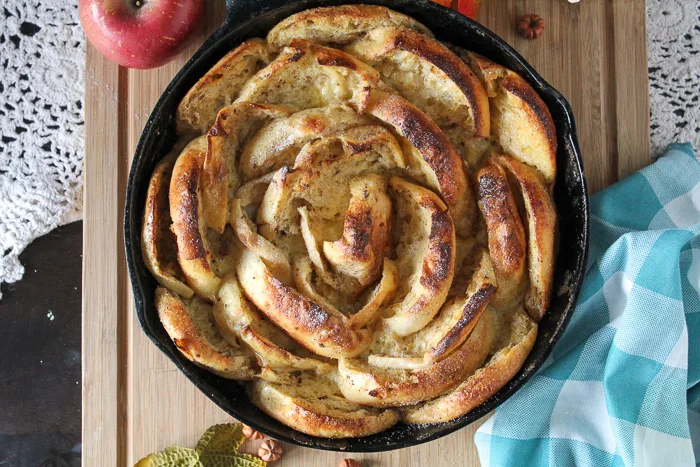 This recipe was originally published in September 2019.
English muffins can be used at any time of day. They are not just for breakfast anymore, and I have the perfect breakfast/brunch recipe, or in my case — we like to call it "brinner" to share with you.
By the way — brinner stands for breakfast/dinner in case you didn't know.
How to Make Baked Apple Cinnamon French Toast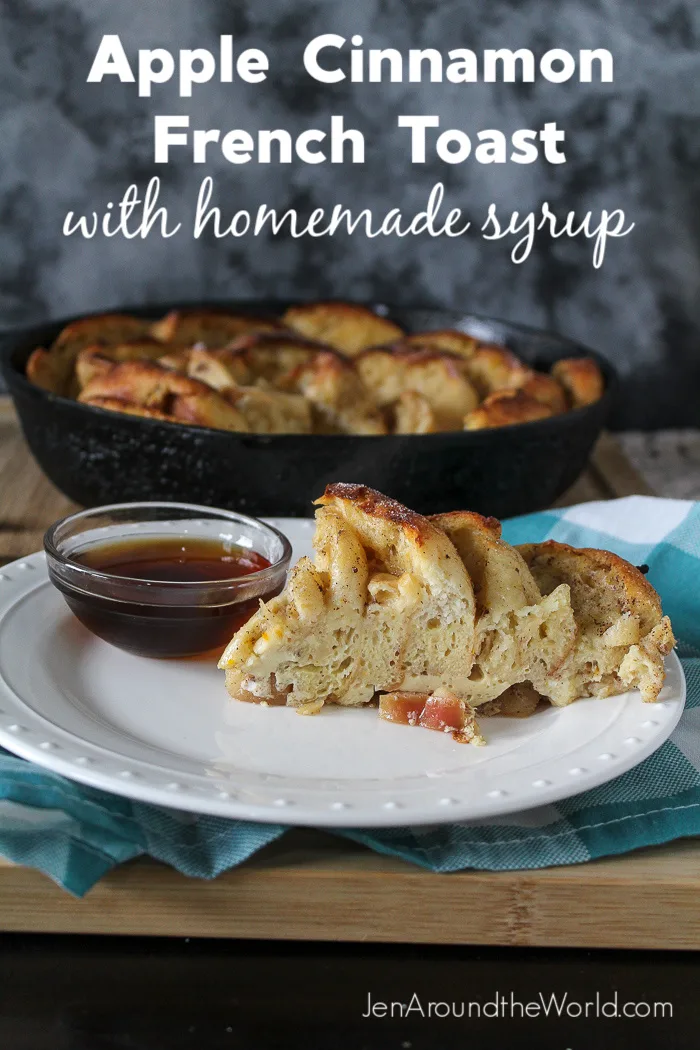 Making this apple cinnamon french toast bake is so easy. Start by taking your English Muffins and splitting them in half. Then each half you are going to split in half.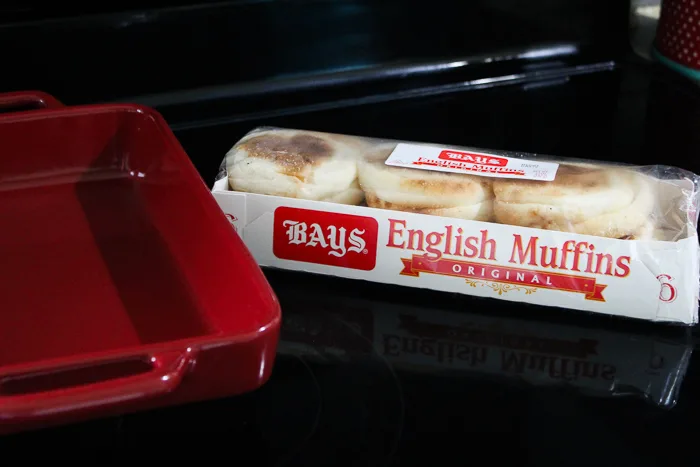 After you split your muffin pieces in half, you are going to make your french toast mixture. This consists of milk, half and half, cinnamon, orange zest, and of course, eggs.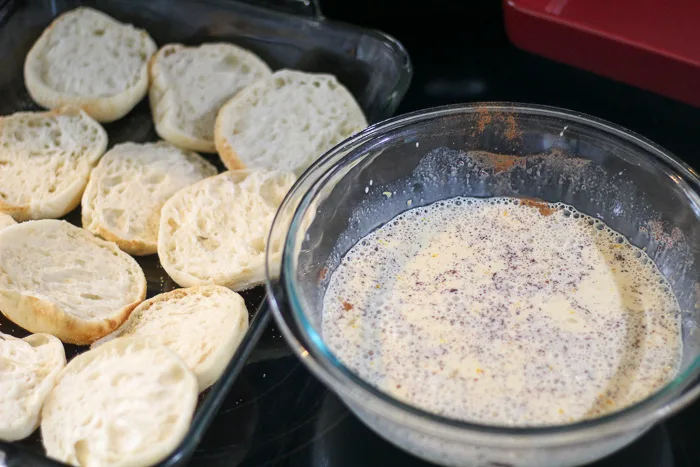 Then you are going to pour this mixture all over the English muffin pieces and let it soak for one hour.
During the last 10 minutes of soaking, you are going to take an apple and dice it up. Yes — you can peel it if you need to, but honestly, I like it better with the peel on it.
Along with butter, cinnamon, and the diced apple, you are going to cook this in a 12" skillet with high sides until the apple has softened a bit — about 9-10 minutes.
Once your apples are done, remove the Bays English Muffin pieces from the egg mixture and place in the pan in a spiral fashion. You are going to create a flower shape with it. You are going to be making the petals of the flower.
Promise me when I say it's easier than it sounds. If I can do it, you can do it.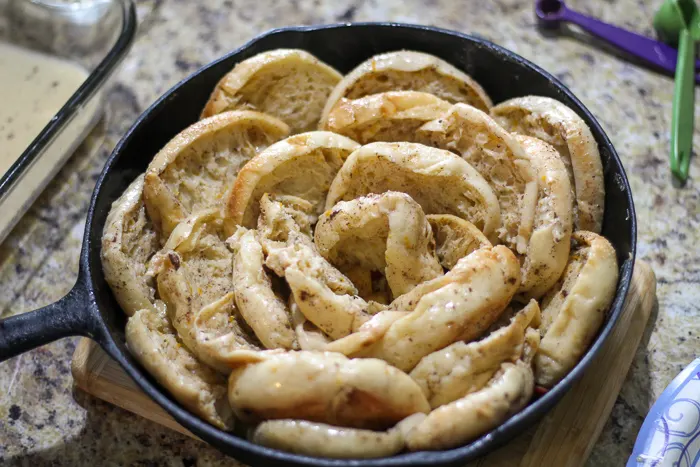 Pour the remaining egg mixture over the top and brush the tops with melted butter. Then bake in the oven for about 25 minutes.
When it is done, it will look just like this.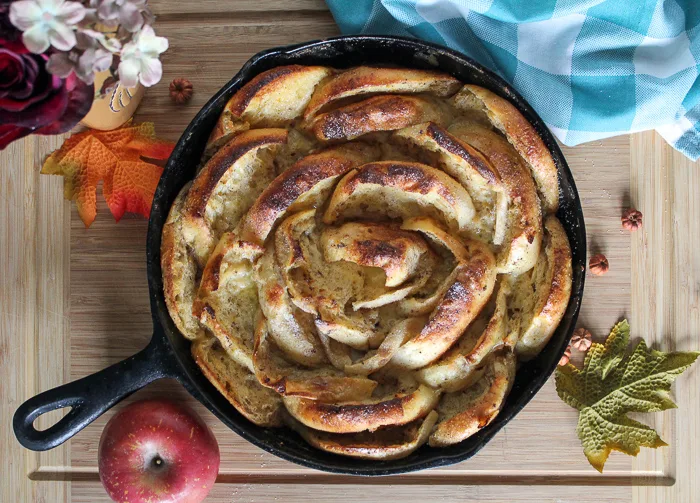 Y'all — I made that! It's so pretty and I was completely impressed with this dish and the flavor components.
Now, when I serve breakfast for dinner, I can make this and get my favorite french toast but with a more fancier feel. It's all thanks to Bays though. They showed me that I can use those delicious English muffins to elevate any meal, and they are for more than just breakfast time.
Want to see how I made this? Watch the video below for a complete tutorial on the whole recipe.
Oh — and my homemade syrup recipe is super simple too! All you need is
½ cup of sugar
½ cup brown sugar
¼ tsp maple extract or vanilla extract
½ cup of water
Pinch of salt
Mix all together and place in a pan on the stove. Let it boil down a bit to create a delicious thick syrup that is so amazing on top of this Apple Cinnamon French Toast Bake.
Check out these other breakfast recipes
Yield: 10 servings
Baked Apple Cinnamon French Toast Bake
This recipe is delicious and easy to make. It's my new favorite way to use up English Muffins and have french toast.
Ingredients
6 English Muffins, halved and split
6 large eggs
1 cup Half and Half
3/4 cup milk
1/4 cup brown sugar
1 tsp orange zest
1 tsp ground cinnamon
1/2 tsp vanilla extract
1/4 tsp salt
1 large Gala apple, cored and cut into 1-inch chunks
3 tbsp butter, divided
1/8 tsp cinnamon
1 tsp brown sugar
1/8 tsp salt
3/4 cup pure maple syrup, heated and garnished with a cinnamon stick
Powdered Sugar (Optional)
Instructions
Place muffin pieces, cut sides up, in a 9×13 baking dish. Set aside
Combine eggs, half-and-half, milk, brown sugar, orange zest, cinnamon, vanilla extract and salt in a blender. Blend until thoroughly combined.
Pour mixture over muffins in baking dish. Lightly press down on muffins with a spoon to help saturate with liquid. Let soak, refrigerated, at least 1 hour.
Melt 1 tablespoon butter in a 12-inch oven-safe skillet (such as stainless steel or a well-seasoned cast iron pan). Saute apple chunks for 2 minutes, stirring occasionally.
Add cinnamon, brown sugar and salt, and cook for 1 minute.
Transfer soaked muffin pieces to the pan with the apple mixture, arranging them in a spiral pattern with the flat cut edges down and the curved edges out. The pattern will resemble flower petals.
Pour the remaining custard over the muffin pieces.
When ready to finish the French toast, preheat oven to 425°F. Bake for 25 minutes, brushing with 2 tablespoons melted butter during last 5 minutes of baking.
Let stand about 10 minutes before serving. Lightly dust with powdered sugar, if desired.
Serve with warm maple syrup.
Nutrition Information:
Yield:
10
Serving Size:
1
Amount Per Serving:
Calories:

335
Total Fat:

10g
Saturated Fat:

5g
Trans Fat:

0g
Unsaturated Fat:

4g
Cholesterol:

131mg
Sodium:

344mg
Carbohydrates:

54g
Fiber:

2g
Sugar:

34g
Protein:

8g