Make your own Southern biscuits and gravy with this simple and easy recipe. I've been making this for years and my family loves it!
Growing up in a Southern family, we ate a lot of biscuits and gravy.
My momma made gravy almost every single morning for my dad and over the years, I have done the same.
We save our big breakfasts for the weekend. I make things like my homemade blueberry muffins, Apple Cinnamon French Toast, and these freezer breakfast sandwiches.
How to Make Southern Biscuits and Gravy
For starters, you cannot have Southern Biscuits and Gravy without a good homemade biscuit recipe. My biscuit recipe has fluffy layers and tastes great, but if you prefer, you can buy frozen biscuits and bake them this way as well.
Once you have your biscuits done, you can start on the gravy.
Most of the time, a good cook will use either bacon grease or sausage grease to make their gravy. I shortcut that and just cook my sausage right in my cast iron skillet.
Cook the sausage until it is fully cooked. Here's my hack — do not pour off the grease. Leave it in the pan. Then, add your all purpose flour to the pan. I usually use 2-3 tablespoons.
Then, mix the flour in with the sausage and let it cook for about 1-2 minutes to cook the flour taste out. Once the flour taste has been cooked out, you will add your milk next. I usually start with 2 cups and then go up from there if I need more liquid.
Turn the heat to medium and stir continuously so that the gravy does not stick to the bottom of your skillet. It will take about 5 minutes for the gravy to start thickening up.
I prefer a thicker gravy, so I use less milk. If you like a thinner gravy, just add more milk once it begins to thicken. Then season with salt and pepper.
Once you get it to the right consistency, break your biscuits apart and place them on a plate. Top with all the delicious sausage gravy you want. I like it a lot on my biscuits — more gravy less biscuits!
Yield: 8 servings
Southern Biscuits and Gravy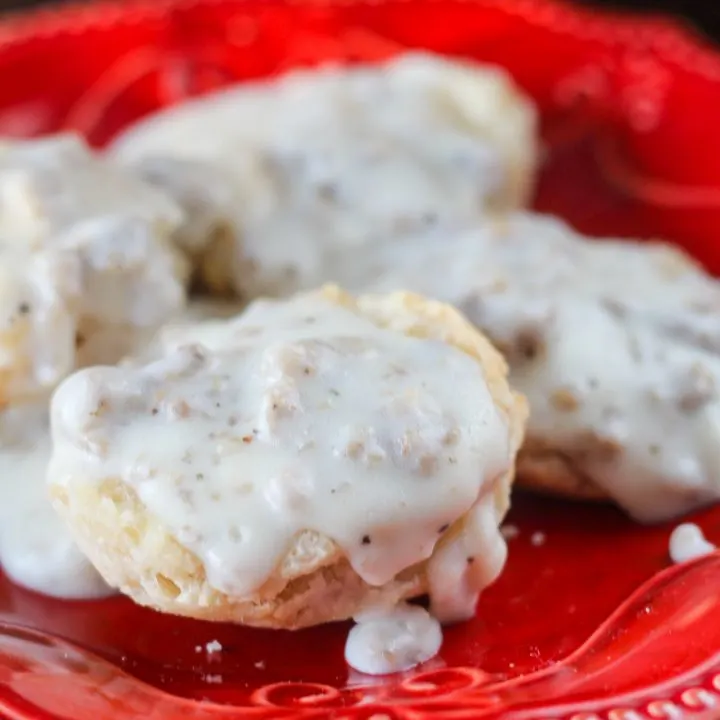 This Southern biscuit and Gravy recipe are simple and easy to make. Perfect dinner or breakfast meal.
Ingredients
1 pound of ground sausage
2-3 tablespoons of all-purpose flour
2-3 cups of milk
Salt and Pepper to taste
Breakfast Biscuits
Instructions
In a cast-iron skillet on medium heat, crumble sausage and brown until completely cooked through.
Add the all-purpose flour and mix together with the sausage. Cook for about 2 minutes to remove the flour taste.
Next, add the milk starting with two cups, and mix well. Keep stirring until the gravy begins to thicken. If it is too thick, add a little more milk until you get the consistency you want.
Season with salt and pepper to taste.
Break apart your biscuits and place them on a plate. Top with gravy and enjoy!
Nutrition Information:
Yield:
8
Serving Size:
1
Amount Per Serving:
Calories:

309
Total Fat:

21g
Saturated Fat:

8g
Trans Fat:

0g
Unsaturated Fat:

11g
Cholesterol:

49mg
Sodium:

620mg
Carbohydrates:

16g
Fiber:

0g
Sugar:

2g
Protein:

14g