This Ground Chicken Stuffed Delicata Squash recipe is roasted to perfection and then stuffed to the brim with ground chicken, broccoli, fresh tomatoes as well as garlic and onions.
This healthy meal makes the perfect fall meal! It is a MUST-try for sure!
Three years ago, I went to Georgetown, KY, and ate at a farm-to-table restaurant called Feed Feed. We had delicious fried chicken, mac and cheese, and delicata squash topped with maple syrup and toasted pepitas. It was fantastic.
Since that time, I have been looking for this beautiful vegetable and no one around here grows them. But — my favorite food subscription box (which is local to me) found some, so I was able to snag a couple and make a delicious and healthy meal.
What Does a Delicata Squash Taste Like?
This squash, which is also known as "sweet potato squash" for its brown sugar flavor, tastes like a cross between fresh corn and pumpkin pie.
It has the perfect sweet flavor. You can roast it, use it for a smash, or stuff it as I did.
Delicata is categorized as winter squash since it has hard flesh and is harvested late in the season. What makes it similar to types of summer squash, though, is its thin skin, meaning preparing and eating delicata is much easier than many other winter squash.
The inside of it has to be scooped out just like pumpkins and other varieties of summer and winter squash.
You can keep whole delicata squash at room temperature, or in a cool, dark spot like the pantry, for about 10 days. Once it is cut open or cooked, the squash will keep in the fridge for 3 to 4 days or in the freezer for up to 3 months.
How to Make Ground Chicken Stuffed Delicata Squash
Preheat the oven to 400 degrees. Slice the squash in half. Scoop out the seeds. Drizzle olive oil on the squash and season with salt and pepper. Place the squash in the oven and bake it for about 20-30 minutes, or until the squash is fork-tender.
In a skillet, combine onion, garlic, and olive oil. Saute until onions are tender.
Now, add in the ground chicken as well as your seasoning salt.
While the chicken is cooking, dice up two large tomatoes and a head of broccoli.
When the chicken is browned, add in the tomatoes and broccoli. Continue cooking for 3-5 minutes.
Remove the squash from the oven and set it aside to cool for a little bit.
With a slotted spoon, scoop the chicken mixture out and place it inside the squash.
Top with feta cheese and then season with salt and pepper.
Check Out these Other Delicious Healthy Recipes
Yield: 8 servings
Ground Chicken Stuffed Delicata Squash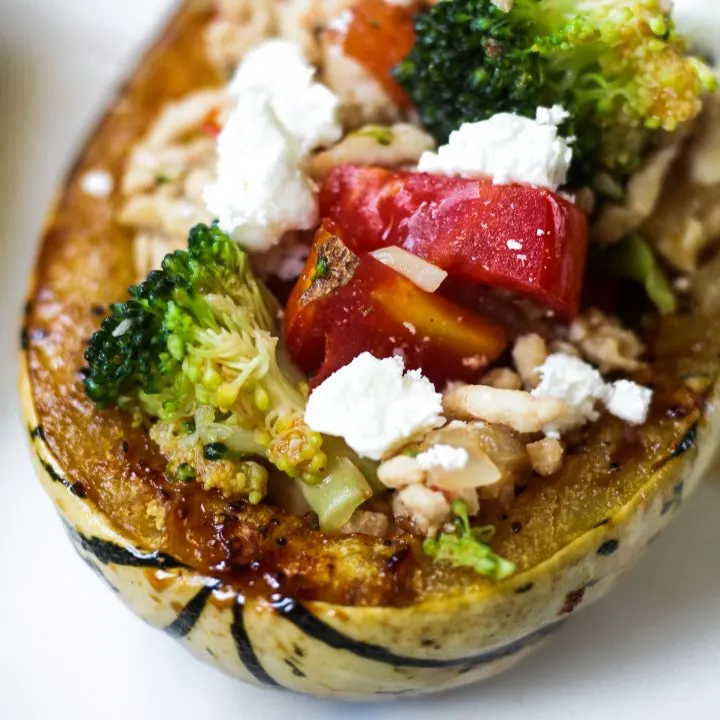 Roasted delicata squash stuffed with ground chicken, broccoli, and tomatoes. It's the perfect fall dinner idea.
Ingredients
4 delicata squash, ends cut off, sliced vertically, and the seeds and pulp removed
1 pound of ground chicken
1 small onion, diced
3 garlic cloves, minced
2 large tomatoes, diced
2 teaspoons of seasoning salt like Lawry's
1 large head of broccoli, chopped
feta cheese (optional)
olive oil
salt and pepper to taste
Instructions
Preheat the oven to 400 degrees
Drizzle the squash with olive oil on the cut side. Season with salt and pepper.
Place on a parchment-lined baking sheet, cut side down, and roast for 20-30 minutes or until the skin is soft to the touch.
While the squash is cooking, make the ground chicken mixture.
In a skillet over medium-high heat, add 2 tablespoons of olive oil and saute the onion and garlic until tender.
Once the onion is tender, add the ground chicken and the seasoning salt. Brown the ground chicken.
Once the chicken is done cooking, add in the tomatoes and broccoli and continue cooking for a couple of minutes.
Using a slotted spoon, scoop the ground chicken mixture into the squash halves.
Top with feta cheese and then season with salt and pepper.
Nutrition Information:
Yield:
8
Serving Size:
1
Amount Per Serving:
Calories:

195
Total Fat:

9g
Saturated Fat:

3g
Trans Fat:

0g
Unsaturated Fat:

6g
Cholesterol:

64mg
Sodium:

510mg
Carbohydrates:

15g
Fiber:

5g
Sugar:

6g
Protein:

16g