This royal icing recipe is the perfect cookie decorating icing. It hardens fast and will make all your cookie decorating ideas come to life.
Y'all it has taken me forever to find an icing recipe that I love and can see myself using all the time. I saw this lady on TikTok recently that was sharing her royal icing recipe and I thought, "Wow — that looks delicious. I am going to have to make this for my cookies."
This recipe is simple and delicious and comes together pretty quickly.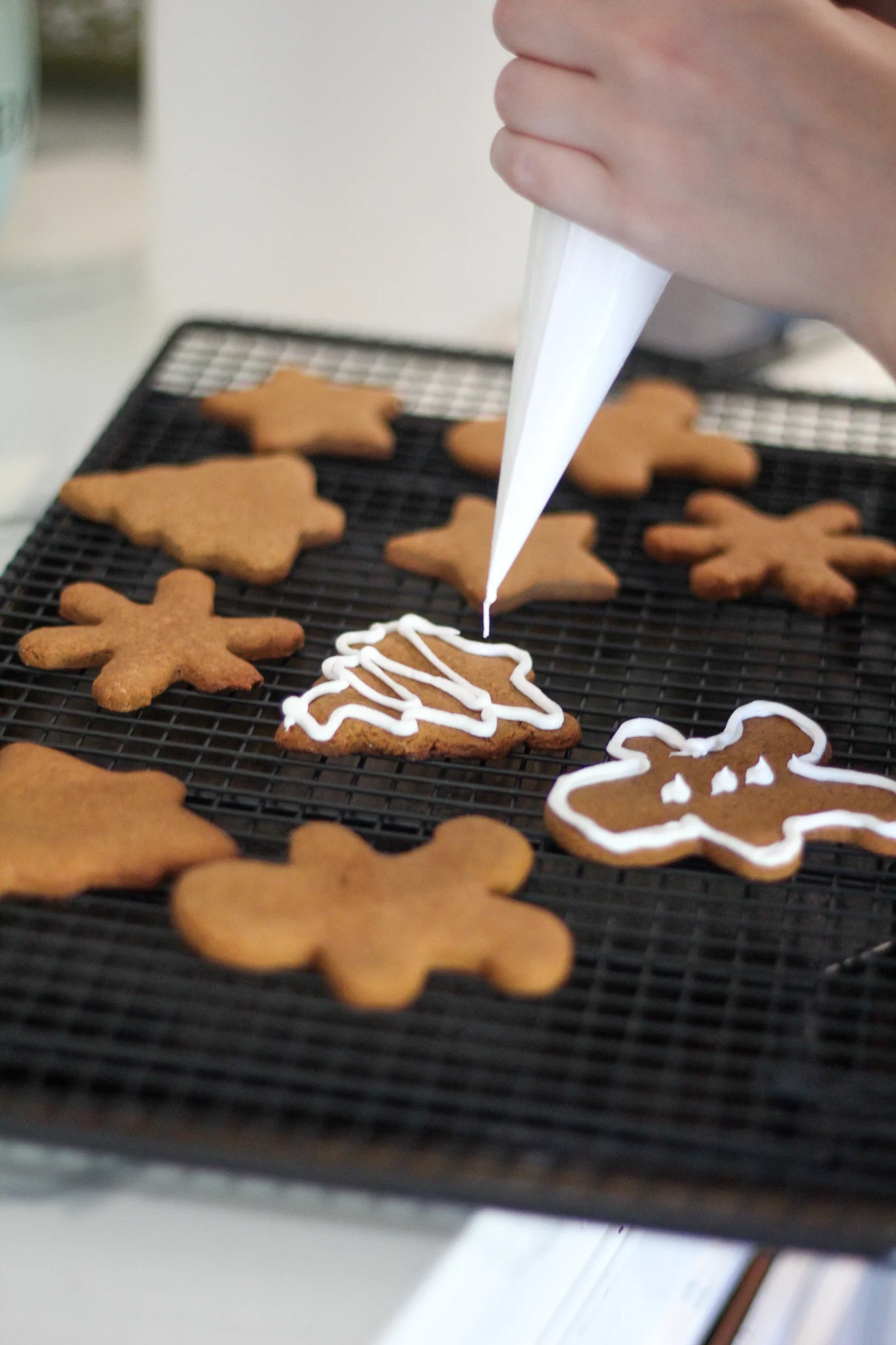 What Is Royal Icing?
Royal icing is a decorative hard white icing made with meringue powder, powdered sugar, and some flavoring and coloring. That's it. It's super easy to make, but there are some pretty specific things you need to know about making it and using it.
How to Make Brilliant White Icing
The base color of this icing after you make it is white. But this white color might be more of an off white than a brilliant white. Because of this I like to use Bright White food coloring. This will help brighten up the icing and it also keeps any colors from bleeding when you color the icing.
How to Color
The best food coloring in my opinion for coloring anything is professional grade gel food coloring. It's more intense in color in gel form and won't dilute the icing much.
You can find the gel coloring at stores like Hobby Lobby or Michaels. It is not available at your local grocery stores.
Yes, you can use the regular liquid food coloring in royal icing, but you will have to use a lot of it to get the same intense color. If this is the case, you will need to make sure your icing is thicker than normal.
The Best Consistency for Piping
Royal icing piping consistency should be thick like toothpaste, but a little runnier. You want it to be thick enough that when you start to pipe it, it doesn't break. If it breaks, you will need to add a little more water to it to get it to pipe smoothly.
The Best Consistency for Flooding
Add some of the royal icing to a seperate bowl. Thin the icing in the bowl down so that you get a flooding consistency.
To do this, you are going to add some water to the icing, a teaspoon at a time, until the icing resembles glue.
Spoon some icing up and and see if it drizzles easily into the bowl. The drizzle should stay on top and then melt back into the surface after two or three seconds. If it immediately disappears, your icing is too thin.
Can You Store Royal Icing?
If you have any leftover royal icing, store in an airtight container at room temperature for up to two weeks.
Use This Royal Icing on These Cookies
Yield: 4 cups
How to Make the Best Royal Icing Recipe
The best and easiest recipe for royal icing.
Ingredients
2 pound bag of powdered sugar
1/3 cup of meringue powder
1/2 cup of warm water
2 tablespoons of corn syrup
white food coloring
Instructions
In a stand mixer, mix together the meringue powder and the powdered sugar.
Add in the warm water and continue to mix on low. If the icing seems too thick, add a little bit more water until you get a toothpaste consistency.
Now add in the corn syrup. While this is mixing, add a few drops of food coloring.
Mix on medium speed for 4 1/2 to 5 minutes.
Pipe onto cookies.
Nutrition Information:
Yield:
60
Serving Size:
1
Amount Per Serving:
Calories:

13
Total Fat:

0g
Saturated Fat:

0g
Trans Fat:

0g
Unsaturated Fat:

0g
Cholesterol:

0mg
Sodium:

1mg
Carbohydrates:

3g
Fiber:

0g
Sugar:

3g
Protein:

0g