This brie apple and honey crostini appetizer looks so elegant but takes less than 15 minutes to prepare.
With the holidays here and many parties on your calendar, I figured I would share with you some of my all-time favorite appetizers.
This is a brand new one to me that I discovered this year, but has quickly become a favorite for two reasons. It takes less than 15 minutes to make this Brie Apple and Honey Crostini.
And the second is because it is made with brie cheese — one of my favorite cheeses.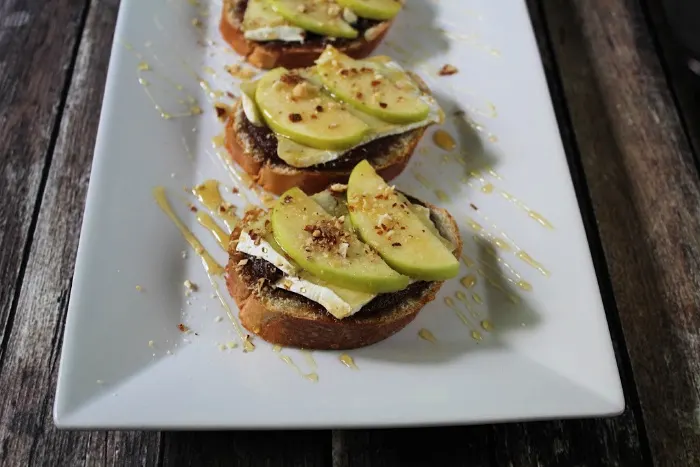 This appetizer is so easy to make and I can promise you that with your first bite, you will have a very hard time eating just one. 15-minute recipes are my jam. You can find more of my favorites by clicking here.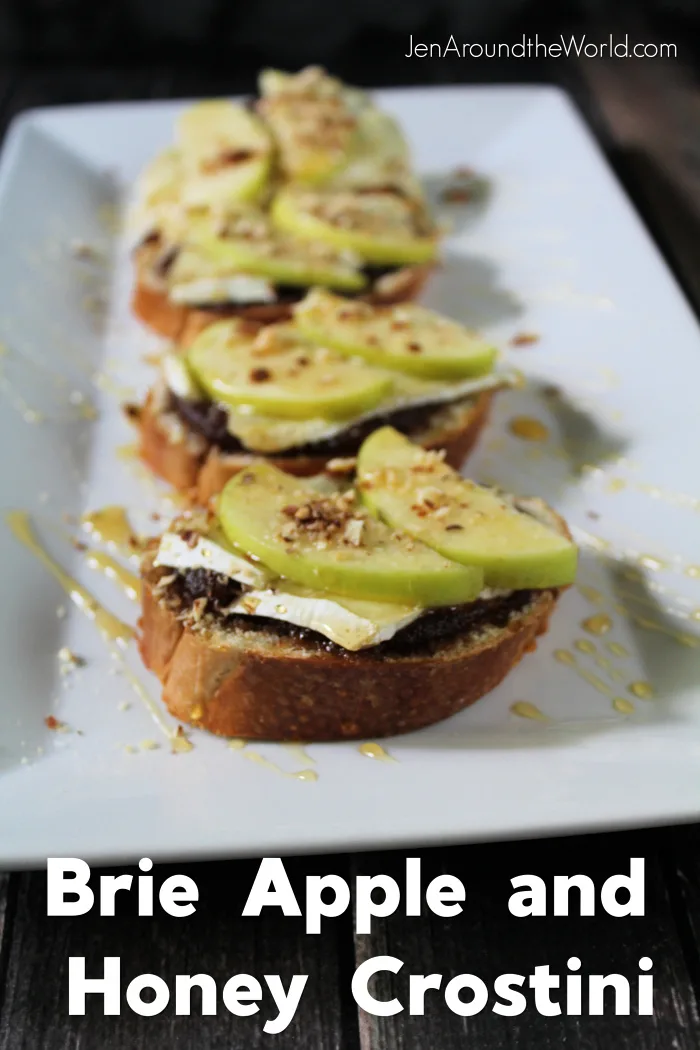 If you have never had a bite of warm brie cheese, you are totally missing out. It is super creamy and when mixed with apples, apple butter, and toasted almonds on a crunchy piece of bread. I am telling you it is simply pure heaven.
My daughter and I are huge fans of this appetizer and I plan on taking it to a few parties this year. The cool thing is that you can change this up in so many different ways.
You can choose a different jelly or jam. I used what I had on hand — apple butter– but you can totally use something different like blackberry, fig, pumpkin, etc.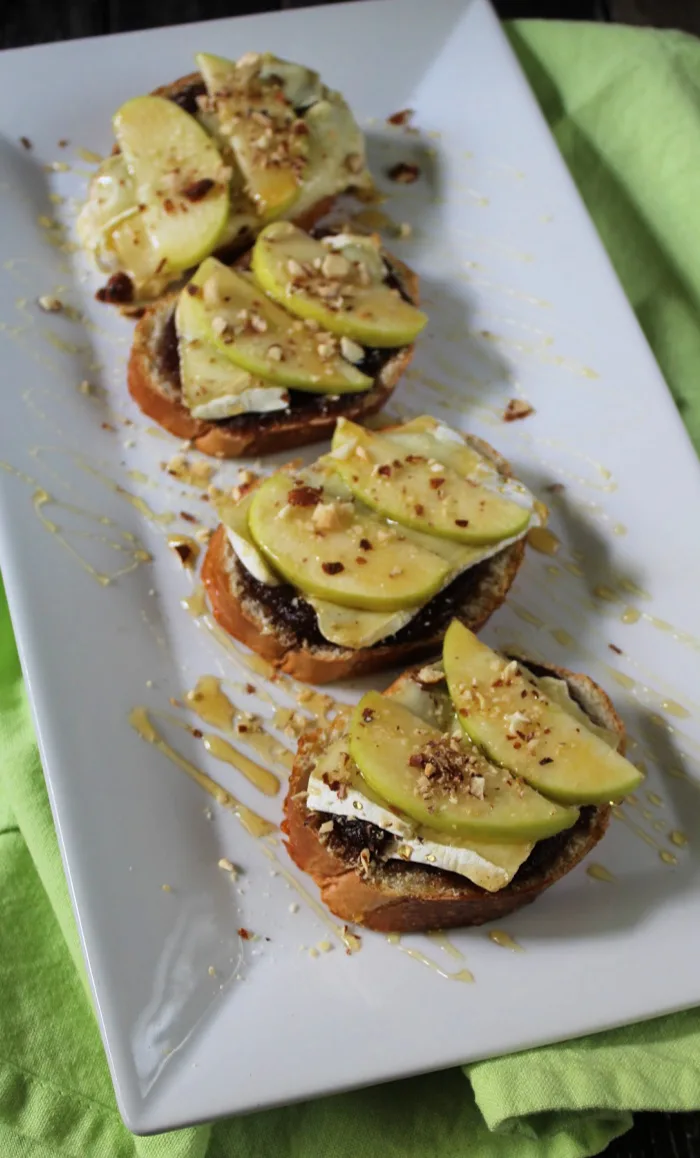 We used Granny Smith apples, but I bet Gala or Honeycrisp would taste good too. I've also seen this made with different nuts, but we chose to crush almonds to use on top.
Honestly – I will be making this all season long — and not just for sharing with friends and family. I will be making this just to have for myself at home! It's THAT good!
Check out these other delicious brie recipes
Crostini Recipes

We share Recipes From Our Dinner Table! Join our group and share your recipes, too! While you're at it, join our Pinterest board, too!
Yield: 10 people
Brie Apple Honey Crostini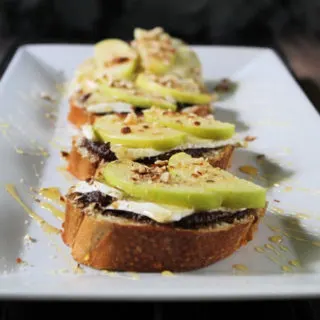 This easy appetizer only takes 15 minutes to make and will be a hit at any party you attend this year!
Ingredients
1 loaf baguette, cut into 1/2 inch slices
1 jar apple butter
6 ounces brie cheese
2 large apples, sliced thinly (I used Granny Smith)
1/2 cup crushed almonds
Honey for drizzling
Instructions
Preheat the oven to 350 degrees
Spread apple butter on one side of the baguette slices, about 1 tablespoon per slice. Place the baguette slices on a large baking sheet.
Slice brie into thin slices and place on top of each crostini. Place baking sheet in the oven and bake for 5-7 minutes or until brie is melted.
While the brie is getting all warm and gooey in the oven, slice your apples very thin, about 1/4" thick and then slice each half into half.
Remove the crostini from the oven and top with apple slices. Sprinkle crushed almonds evenly over the crostini and then drizzle lightly with the honey.
Serve immediately to your friends and family. This also tastes great at room temperature as well.
Nutrition Information:
Yield:
10
Serving Size:
1
Amount Per Serving:
Calories:

258
Total Fat:

10g
Saturated Fat:

4g
Trans Fat:

0g
Unsaturated Fat:

5g
Cholesterol:

17mg
Sodium:

425mg
Carbohydrates:

35g
Fiber:

3g
Sugar:

10g
Protein:

10g