Butternut Squash Risotto is a very creamy and delicious Italian dish. Butternut Squash roasted and pureed to perfection.
I have fallen head over heels in love with risotto. It is my most favorite rice dish, simply because it is so creamy and you can do SO many things with it.
When we first started making risotto, the only way I would eat it is with lemon, Parmesan, and garlic. Now, I have made so many different versions and each one gets better and better.
September is National Rice and National Whole Grains Month. The fourth week of September is National Wild Rice Week. Whole grains are nutritious and are great to make delicious food right from appetizers, salads, breads, and main courses to desserts. In our #FestiveFoodies, we are celebrating the grains this month by sharing our favorite recipes showcasing any grains and Radha of
Magical Ingredients
is hosting this event. We are sharing 30 different recipes using whole grains and join us in the celebration.
What is risotto?
Risotto is a creamy Italian rice dish made using arborio rice because it's very starchy.
The starch in the rice is what makes this dish so creamy and delicious. The starch gets released into the dish when you slowly add in liquid – which is usually a white wine and chicken stock.
How hard is it to make risotto?
If you have ever watched anything on tv where they make risotto, they make it look labor intensive and super complicated. I am here to tell you that if my 23-year-old daughter can make it, you can make it too and it's not hard at all!
How to Make Butternut Squash Risotto
I think the reason I love risotto so much is that it feels like a fancy restaurant meal to me, but it is super easy to make.
You're basically stirring the rice in a pan and pouring in some good chicken stock or broth over and over. From start to finish it takes about 25 minutes and the liquid is absorbed and the rice is fully cooked.
Really, that's it. I told you that it's so easy and simple, really. Don't be scared y'all, because risotto is a piece of cake.
For this specific recipe, I used my homemade butternut squash pasta sauce, which I think made this risotto taste amazing.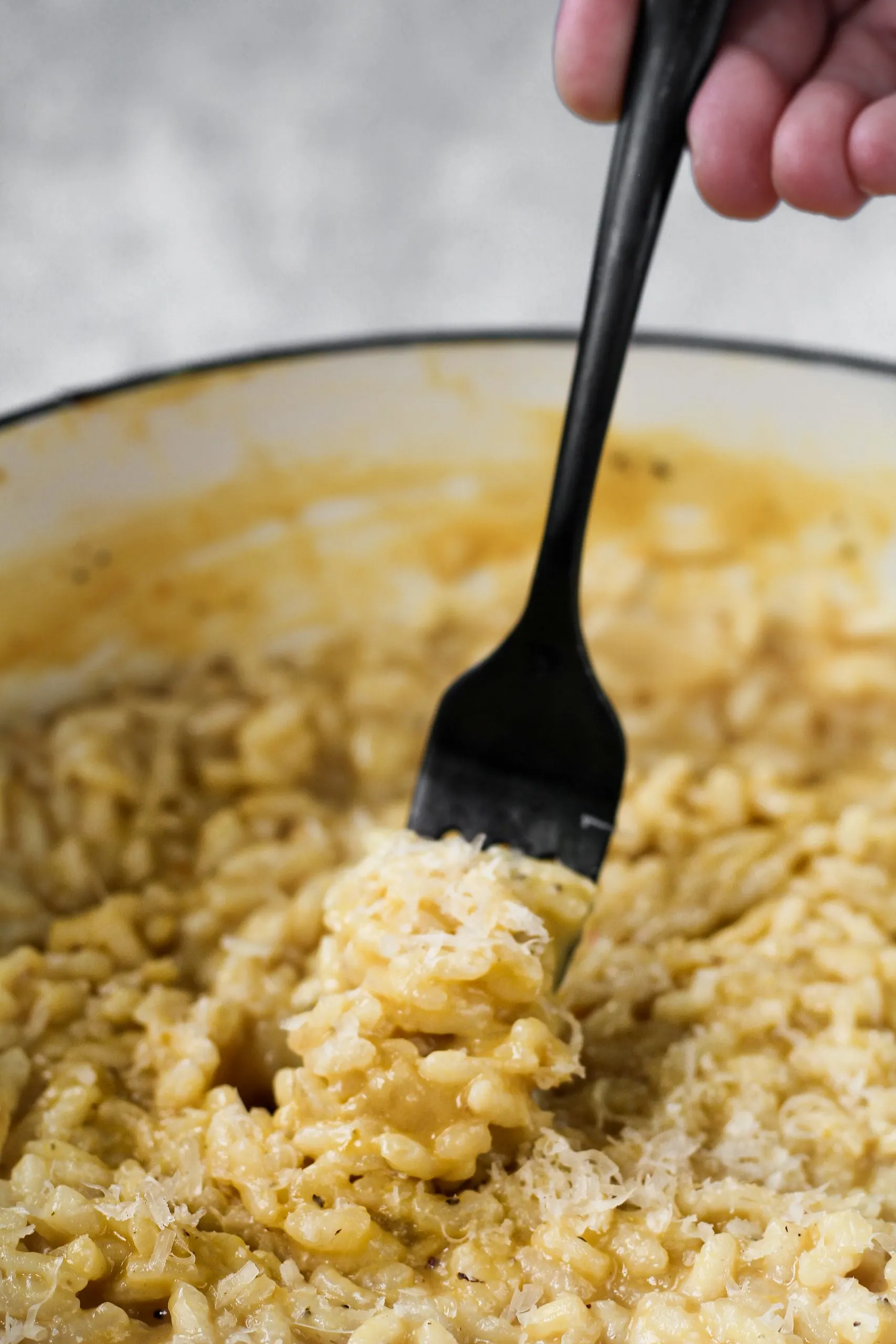 For this recipe, you want to make sure to use a good cheese like fresh Pecorino Romano or Parmigiano-Reggiano. I keep it on hand so that when I serve dishes like this, I can grate it myself when I need it.
The flavor you get from this cheese you just won't find that from the grated parmesan cheese sold on the shelves of the supermarket.
You will love how fantastic Butternut Squash Risotto is.
Check out these other bloggers whole grain recipes
Yield: 6 servings
Butternut Squash Risotto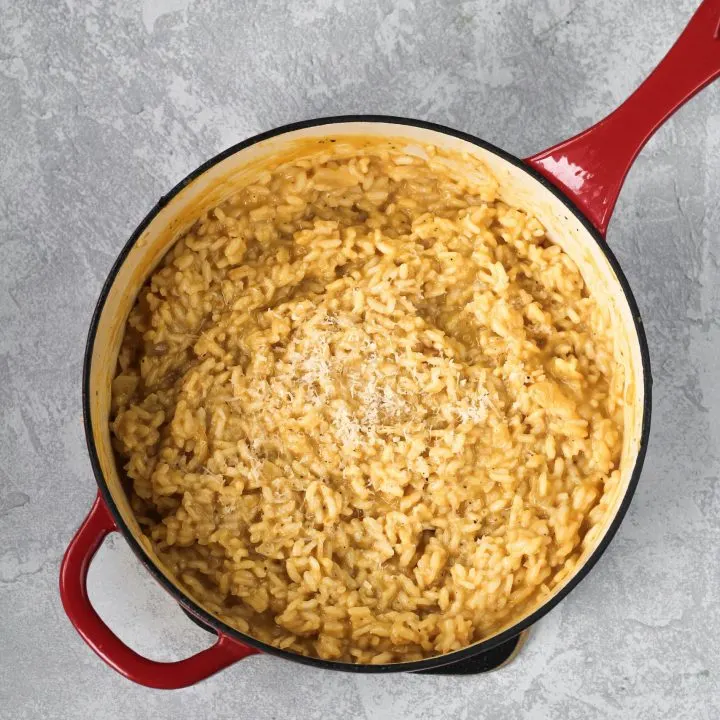 This creamy rice dish is perfect for the fall.
Ingredients
6 cups chicken broth
1 1/2 cups butternut squash puree
1 tsp butter or olive oil
3 cloves garlic, chopped
1 medium onion, chopped
2 cups of arborio rice
1 cup of dry white wine
1 lemon, juiced
34 cup freshly grated Parmigiano-Reggiano
salt and fresh cracked pepper, to taste
Instructions
In a large saucepan, heat the chicken broth over medium-high heat. When it boils, reduce heat to a simmer and maintain over low heat, taste for salt and adjust as needed.
In a large heavy pan over medium heat, heat olive oil until melted. Add onions, garlic, and rice; saute until the rice is well coated with oil, about 3 minutes. Add the wine and stir until it is absorbed.
Add a ladleful of the warms tock; wait until it is absorbed before adding another ladleful stirring gently and almost constantly.
Continue this process until the rice is creamy, tender to the bite, but slightly firm in the center, about 25-30 minutes from the time you started. You may not use all the stock.
When all the liquid is absorbed, stir in the grated cheese and the lemon juice. Now, remove from heat. Serve immediately with extra grated cheese if desired.
Nutrition Information:
Yield:
24
Serving Size:
1
Amount Per Serving:
Calories:

641
Total Fat:

40g
Saturated Fat:

22g
Trans Fat:

1g
Unsaturated Fat:

13g
Cholesterol:

123mg
Sodium:

2813mg
Carbohydrates:

27g
Fiber:

1g
Sugar:

1g
Protein:

41g