Tomato Basil Risotto is a delicious creamy Italian rice dish that is perfect for #NationalRiceMonth.
I have fallen head over heels in love with risotto. It is my most favorite rice dish, simply because it is so creamy and you can do SO many things with it.
When we first started making risotto, the only way I would eat it is with lemon, Parmesan, and garlic. Now, I have made so many different versions and each one gets better and better. I recently made Butternut Squash Risotto and it was phenomenal.
This version features the last of my cherry tomatoes from my garden and fresh basil leaves.
September is National Rice and National Whole Grains Month. The fourth week of September is National Wild Rice Week. Whole grains are nutritious and are great to make delicious food right from appetizers, salads, bread, and main courses to desserts.
In our #FestiveFoodies, we are celebrating the grains this month by sharing our favorite recipes showcasing any grains, and Radha of Magical Ingredients is hosting this event. We are sharing 30 different recipes using whole grains and join us in the celebration.
What is risotto?
Risotto is a creamy Italian rice dish made using arborio rice because it's very starchy.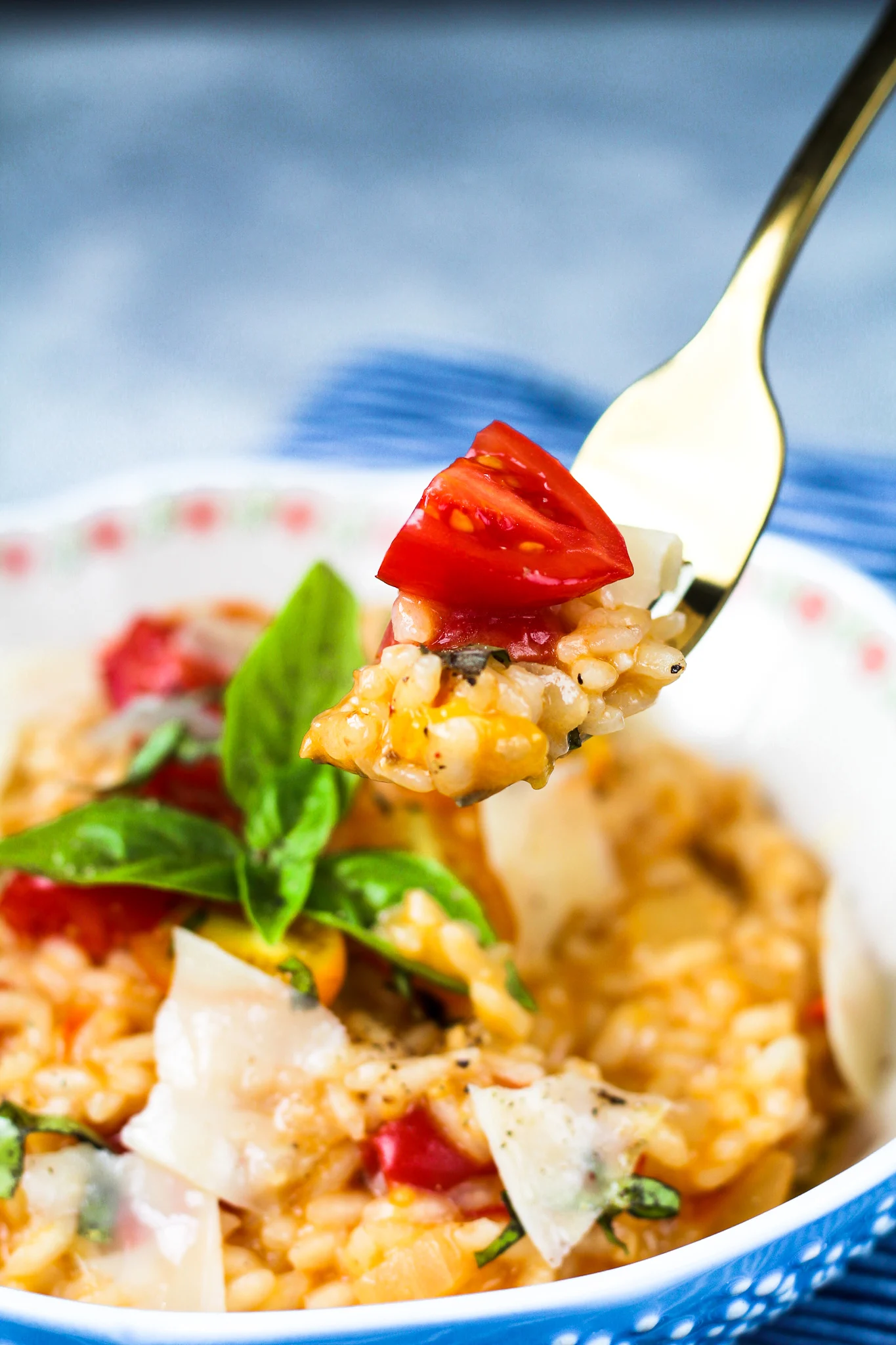 The starch in the rice is what makes this dish so creamy and delicious. The starch gets released into the dish when you slowly add in liquid – which is usually a white wine and chicken stock.
How hard is it to make risotto?
If you have ever watched anything on tv where they make risotto, they make it look labor intensive and super complicated. I am here to tell you that if my 23-year-old daughter can make it, you can make it too and it's not hard at all!
How to Make Tomato Basil Risotto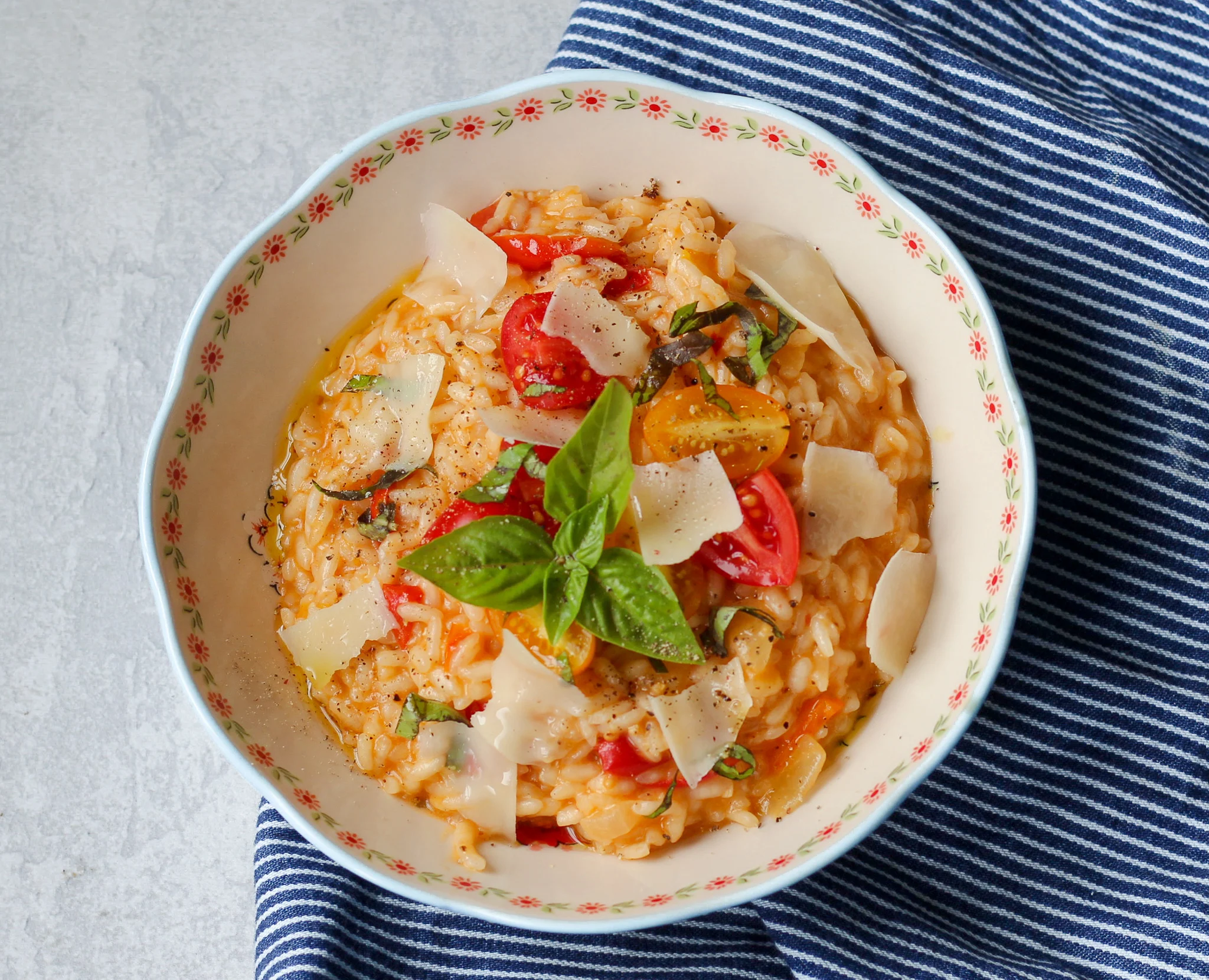 I think the reason I love risotto so much is that it feels like a fancy restaurant meal to me, but it is super easy to make.
You're basically stirring the rice in a pan and pouring in some good chicken stock or broth over and over. From start to finish it takes about 25 minutes and the liquid is absorbed and the rice is fully cooked.
Really, that's it. I told you that it's so easy and simple, really. Don't be scared y'all, because risotto is a piece of cake.
Begin with olive oil, onions, and rice and cook until the rice is bright white and toasty and the onions are soft.
Add in your cup of wine and your chopped tomatoes and let it cook until the rice has soaked in all the wine.
Then, you will start ladling in your chicken broth 1-2 ladles at a time, giving the rice time to soak the broth up.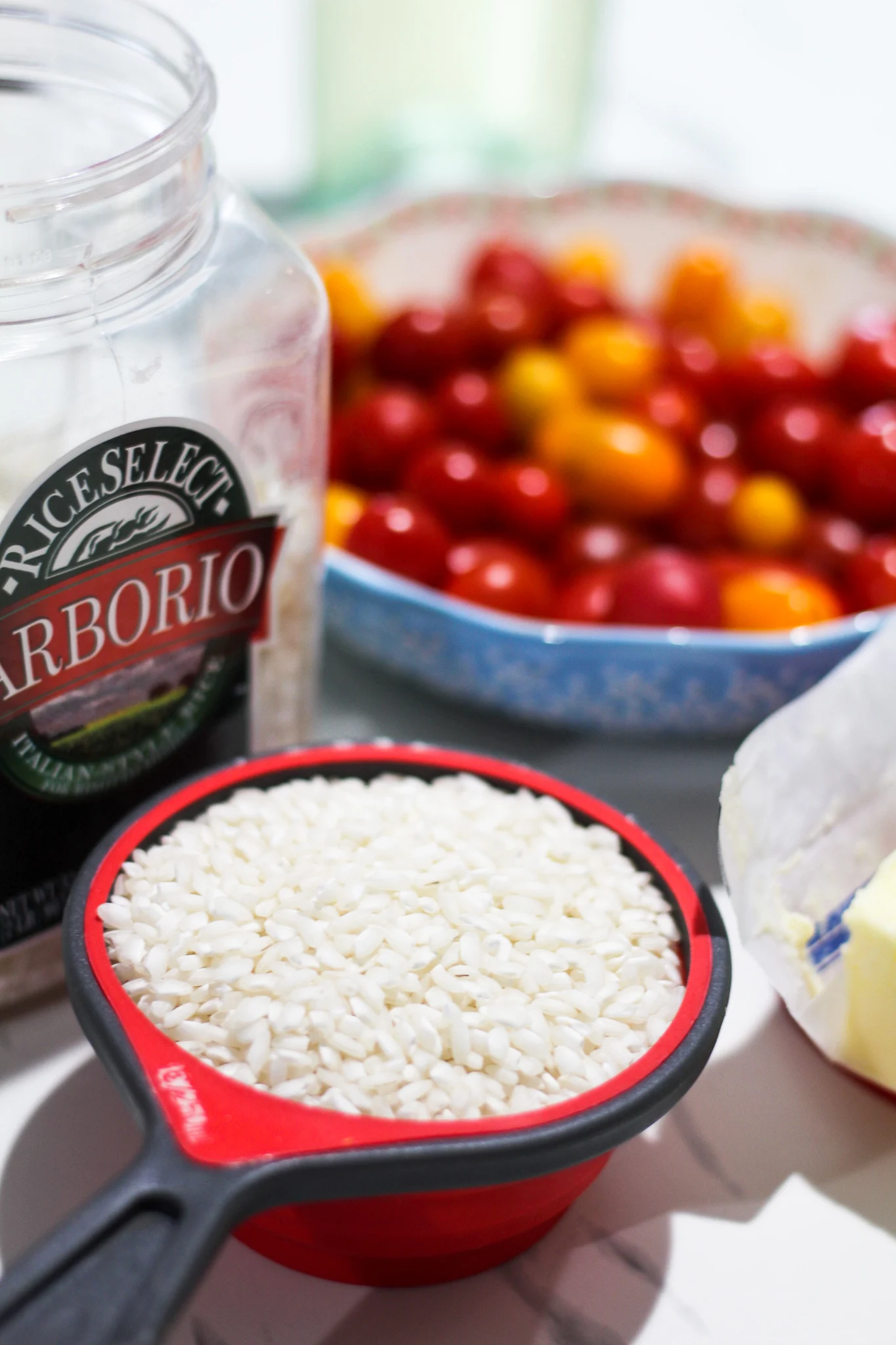 Also for this recipe, you will want to use a good cheese like fresh Pecorino Romano or Parmigiano-Reggiano. I keep it on hand so that when I serve dishes like this, I can grate it myself when I need it.
The flavor you get from this cheese you just won't find that from the grated parmesan cheese sold on the shelves of the supermarket.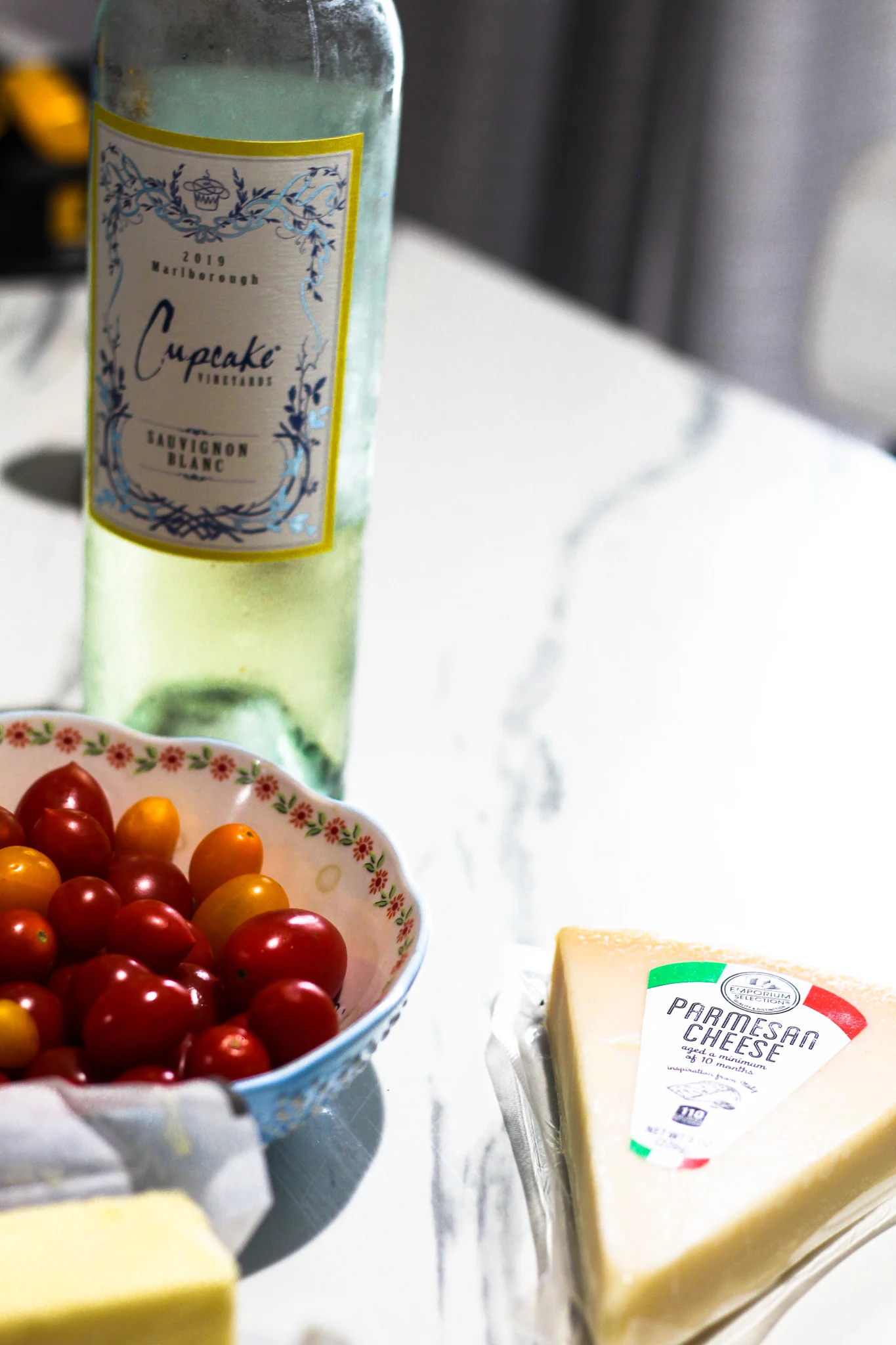 This risotto recipe features white wine, Parmesan cheese fresh cherry tomatoes, and big fresh basil leaves. It is creamy and cheesy, with just a hint of white wine.
Then I topped the dish with some fresh cut cherry tomatoes and more basil for the perfect fall dinner.
Check Out these Other Blog Recipes
Yield: 6 servings
Tomato Basil Risotto
This creamy risotto dish is filled to the brim with tomato and basil flavor. Get dinner on the table in 30 minutes or less.
Ingredients
1/2 an onion, finely chopped
2 cloves garlic, finely chopped
3 tablespoons butter
2 cups arborio rice
1 cup dry white wine (I used sauvignon blanc)
6 cups chicken broth
1 cup parmesan cheese, shredded
1 teaspoon salt
1/2 teaspoon black pepper
juice and zest of one lemon
fresh basil
1 1/2 cups of cherry tomatoes
Instructions
Bring the 6 cups of chicken broth to a boil, then reduce heat and let simmer.
Chop the tomatoes in half. Set aside.
In a large high-sided skillet over medium heat, add the butter and onion.
Saute for 6 to 8 minutes, stirring occasionally with a wooden spoon until soft and golden.
Add in the garlic, stirring to ensure the garlic doesn't burn, cooking until fragrant for about 1 minute.
Add the rice to the onion and garlic mixture, tossing to coat.
Toast the rice for about 3-5 minutes.
Now, add in 1 cup of the chopped tomatoes, 4 basil leaves, julienned, and lemon zest then add the wine.
Simmer over medium-low heat until the wine is almost evaporated.
Add the hot stock 1 ladle at a time, stirring continuously, until the stock is almost completely absorbed and the rice is creamy and translucent (the center is no longer white) and no longer crunchy when tasted (around 25-30 minutes).
Stir in the Parmesan and lemon juice. Season with salt and pepper to taste.
Garnish with extra chopped tomatoes, extra basil, and parmesan. Serve immediately.
Nutrition Information:
Yield:
8
Serving Size:
1
Amount Per Serving:
Calories:

204
Total Fat:

8g
Saturated Fat:

5g
Trans Fat:

0g
Unsaturated Fat:

2g
Cholesterol:

22mg
Sodium:

1183mg
Carbohydrates:

22g
Fiber:

1g
Sugar:

6g
Protein:

7g