This Creamy Lemon Risotto recipe is so super easy to make and will squash your fears of trying to make risotto at home. With each bite, your tastebuds will scream thank you at the top of their lungs!
Have you ever eaten risotto before? If not, you are totally missing out on this iconic rice dish.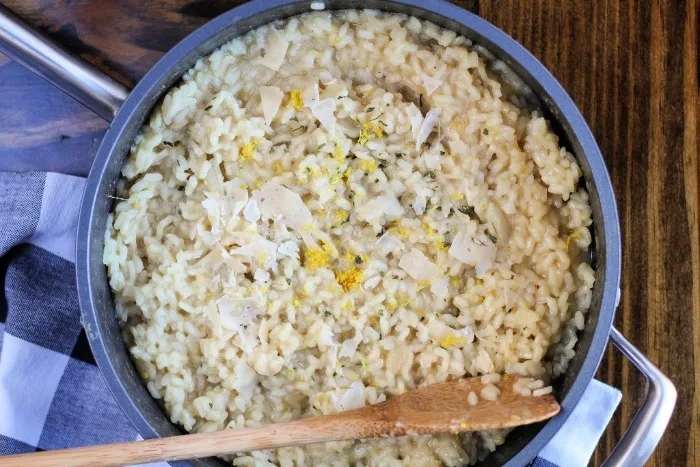 Recently, Kayla has been wanting to teach herself how to make new dishes and the first one she practiced was making this Creamy Lemon Risotto recipe.
She researched and read quite a bit and couldn't find just the right recipe for her taste buds, so she decided to put a few together and come up with her own.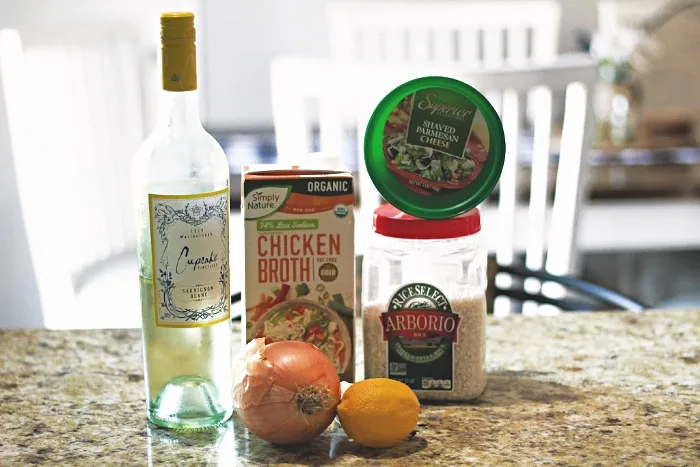 This risotto recipe features white wine, Parmesan cheese and lots of lemon flavor. It is creamy and cheesy, with just a hint of white wine.
This was our first time really experimenting with white wine in food and we found we really like the taste of it.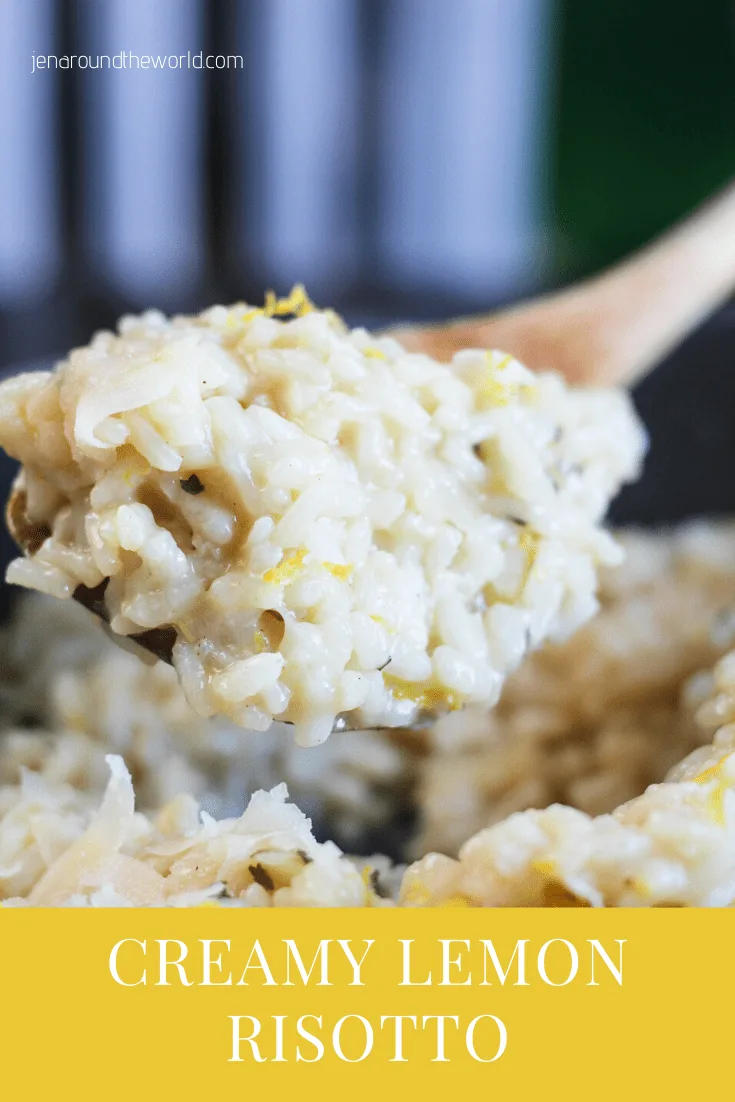 What is risotto?
Risotto is a creamy Italian rice dish made using arborio rice because it's very starchy.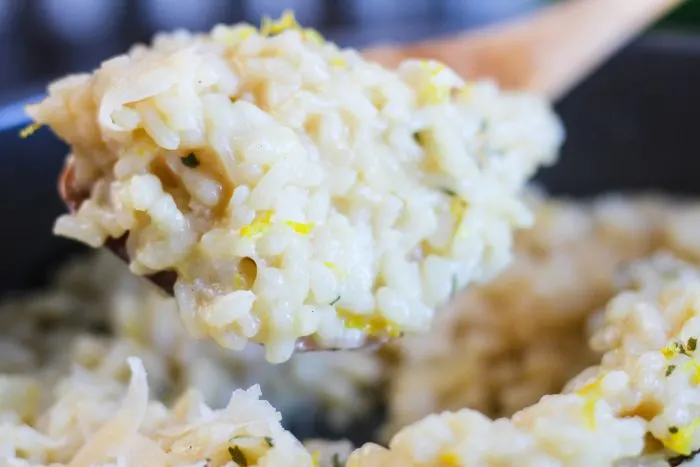 The starch in the rice is what makes this dish so creamy and delicious. The starch gets released into the dish when you slowly add in liquid – which is usually white wine and chicken stock.
How hard is it to make risotto?
If you have ever watched anything on tv where they make risotto, they make it look labor intensive and super complicated. I am here to tell you that if my 21-year-old daughter can make it, you can make it too and it's not hard at all!
You're basically stirring the rice in a pan and pouring in some good chicken stock or broth over and over. From start to finish it takes about 25 minutes and the liquid is absorbed and the rice is fully cooked.
Really, that's it. I told you that it's so easy and simple, really. Don't be scared y'all, because risotto is a piece of cake.
Let's Make Some Risotto
For starters, you are going to heat 4 cups of chicken broth in a saucepan on the stove. You want to keep this at a warm temperature.
In a skillet, you are going to cook until tender in a few pats of butter some onion and garlic. Any dish that begins with onion and garlic has to be good, right?
Add the rice to the onion and garlic mixture, tossing to coat. Toast the rice for about 3-5 minutes, as this will deepen the flavor of the dish.
Once you toast the rice, next you are going to add in your wine. I used a sauvignon blanc but any dry white wine will do. Simmer over medium-low heat until the wine is almost evaporated.
Add the broth one cup at a time, continuing to stir until all the liquid is almost absorbed before adding more.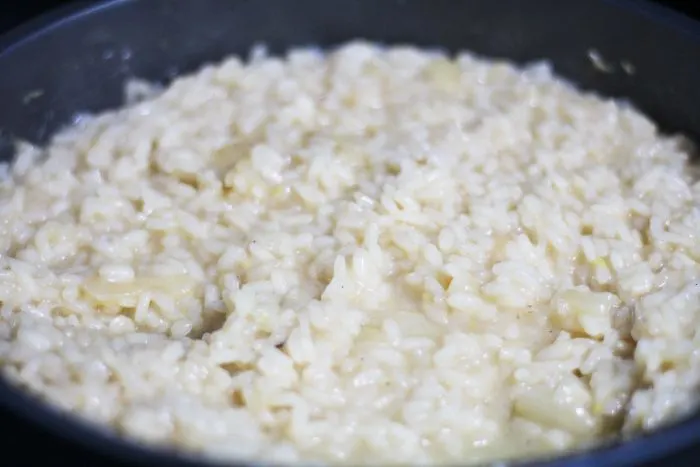 Once all the broth has been added and cooked into the rice, remove the pan from heat and stir in parmesan, lemon, salt, and pepper. Serve hot.
Looking for Other Rice Dishes? Check these out
Yield: 8 servings
Creamy Lemon Risotto
This creamy lemon risotto will have you going back for seconds and thirds!
Ingredients
1/2 an onion, finely chopped
2 cloves garlic, finely chopped
3 tablespoons butter
1 1/2 cups arborio rice
1 cup dry white wine (I used sauvignon blanc)
4 cups chicken broth
1 cup parmesan cheese, shredded
1 teaspoon salt
1/2 teaspoon black pepper
juice and zest of one lemon
Lemon zest, parsley, extra parmesan, for garnish
Instructions
Bring the 4 cups of chicken broth to a boil, then reduce heat and let simmer.
In a large high sided skillet over medium heat, add the butter and onion. Saute for 6 to 8 minutes, stirring occasionally with a wooden spoon until soft and golden.
Add in the garlic, stirring to ensure the garlic doesn't burn, cooking until fragrant for about 1 minute.
Add the rice and lemon zest to the onion and garlic mixture, tossing to coat.
Toast the rice for about 3-5 minutes, then add wine.
Simmer over medium-low heat until the wine is almost evaporated.
Add the hot stock 1/2 cup at a time, stirring continuously, until the stock is almost completely absorbed and the rice is creamy and translucent (the center is no longer white) and no longer crunchy when tasted (around 25-30 minutes).
Stir in the Parmesan and lemon juice. Season with salt and pepper to taste.
Garnish with extra lemon zest, chopped parsley, and parmesan. Serve immediately.
Nutrition Information:
Yield:
8
Serving Size:
1
Amount Per Serving:
Calories:

183
Total Fat:

8g
Saturated Fat:

5g
Trans Fat:

0g
Unsaturated Fat:

2g
Cholesterol:

22mg
Sodium:

962mg
Carbohydrates:

18g
Fiber:

1g
Sugar:

5g
Protein:

6g