If you grew up on Hamburger Helper, you are going to LOVE this recipe for Cheeseburger Pasta. Everything is cooked right in one pan!
When my kids were growing up and money was tight, one of their favorite meals happened to be Hamburger Helper.
Being on a tight grocery budget, it usually only costs about $3 to make this meal. When the little red box came out, the kids would squeal with delight. Me? Not so much.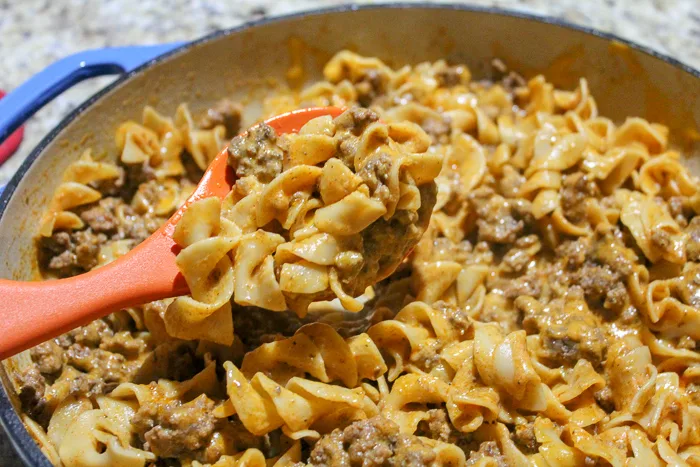 This recipe was originally posted on December 10, 2018.
I didn't like the taste of the sauce, so I set out to try my hardest to recreate this dish, making the sauce homemade — and I finally accomplished it!
If you love the taste of a good cheesy cheeseburger, you are going to FLIP over the taste of this Cheeseburger Pasta. The best part is that everything can be made in one pan. These types of recipes are my favorite for this very reason.
I have written a lot about one pan recipes here on the blog —
The possibilities for one pan dinners are endless!
You can't use just any skillet either. You need something that can go from stove to oven to table (which is why I love my Lodge Cast Iron Deep Skillet).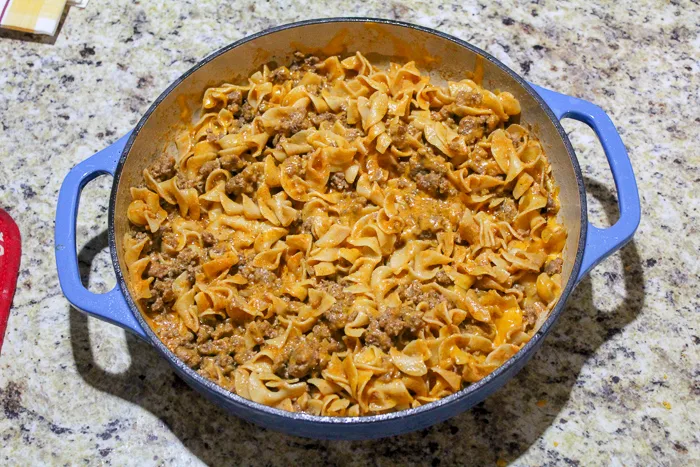 I finally broke down earlier this year and bought this cast iron skillet for myself. I am a sucker for anything cast iron these days, and this one has quickly become my favorite.
You can purchase them on Amazon for around $60, but this time of year, you might be able to find a deal on them. There are some cheaper brands on there, but I am not really sure how well they hold up.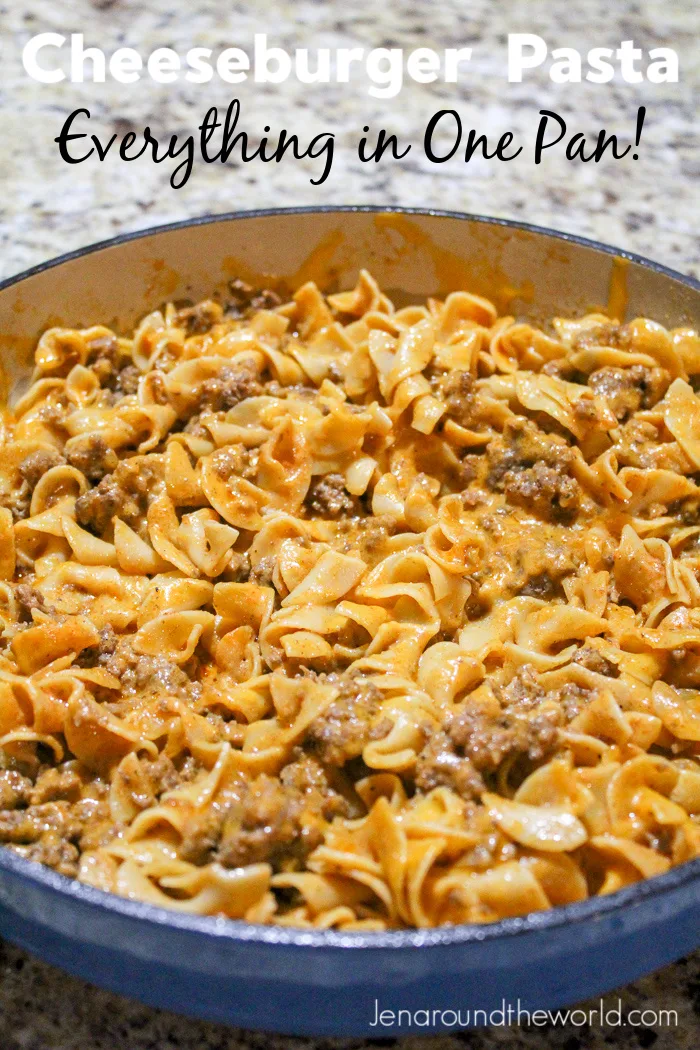 How to Make Cheeseburger Pasta
To make this dish, you should have everything on hand in the pantry (that's my secret — a well-stocked pantry!)
I used everything I had on hand –
1/2 bag of wide egg noodles
1 pound of ground beef from my Butcher Box Sample Pack
1 cup of sharp shredded cheddar cheese
Cornstarch, paprika, salt, pepper, onion powder, garlic powder, sugar, water, and milk
Brown your ground beef and then drain. Now, add all your liquids and spices into the mix and then top it off with your noodles.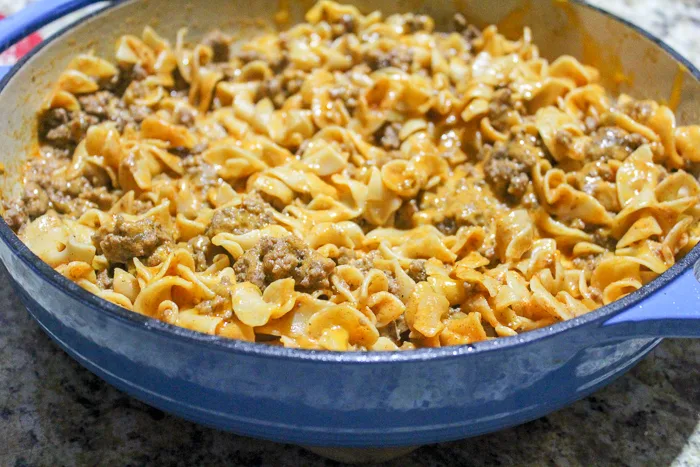 If you do not have egg noodles, you can use whatever noodle you have on hand — elbow macaroni, bow tie pasta, spaghetti noodles, etc.
Turn it on high until it starts to boil. Then turn on low and let it cook for about 12 minutes.
When it gets done, you have this delicious pasta! Remove from heat and then top with the cheddar cheese. Place the lid back on and let it sit for a couple of minutes so the cheese can melt. When it is done, it looks and tastes better than any Hamburger Helper I have ever had.
If a more traditional cheeseburger is your thing, then check out this double bacon cheeseburger recipe which I am sure would be a hit.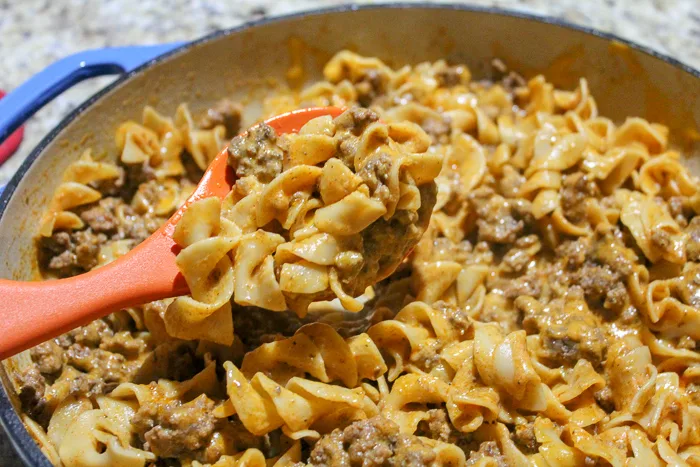 Yield: 8 servings
One Pan Cheeseburger Pasta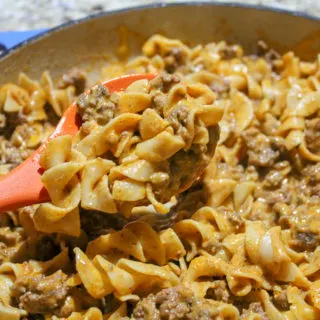 If you love Hamburger Helper, you will love this pasta dish! Everything can be made in one pan and takes about 20 minutes to prepare.
Cook Time
13 minutes
12 seconds
Total Time
15 minutes
12 seconds
Ingredients
1 lb ground beef
1 tbsp cornstarch
2 tsp paprika
1 tsp onion powder
1 tsp garlic powder
1 tsp sugar
salt and pepper to taste
1 cup hot water
2 cups milk
1/2 bag wide egg noodles(or your noodle of choice)
1 cup sharp cheddar cheese
Instructions
On medium-high heat, brown your ground beef in a deep skillet.
Drain the fat off the meat and put it back in the pan/pot. Add the hot water and milk and then all of your spices, cornstarch, and pasta. Mix everything together. Bring to a boil.
Lower the heat to simmer and put the lid on. Cook for about 12 minutes. Remove the lid. Add the cheese and place the lid back on for two minutes.
Remove lid and mix everything together. Season with salt and pepper and then enjoy!
Recommended Products
As an Amazon Associate and member of other affiliate programs, I earn from qualifying purchases.
Nutrition Information:
Yield:
8
Serving Size:
1
Amount Per Serving:
Calories:

341
Total Fat:

21g
Saturated Fat:

10g
Trans Fat:

1g
Unsaturated Fat:

8g
Cholesterol:

95mg
Sodium:

310mg
Carbohydrates:

11g
Fiber:

1g
Sugar:

1g
Protein:

26g