I love homemade muffins. My favorite are blueberry, but my kids LOVE chocolate chip muffins. I used to buy the pouches of mix at the store until I found out just how easy it is to make them homemade and they taste even better!
Chocolate Chip Muffins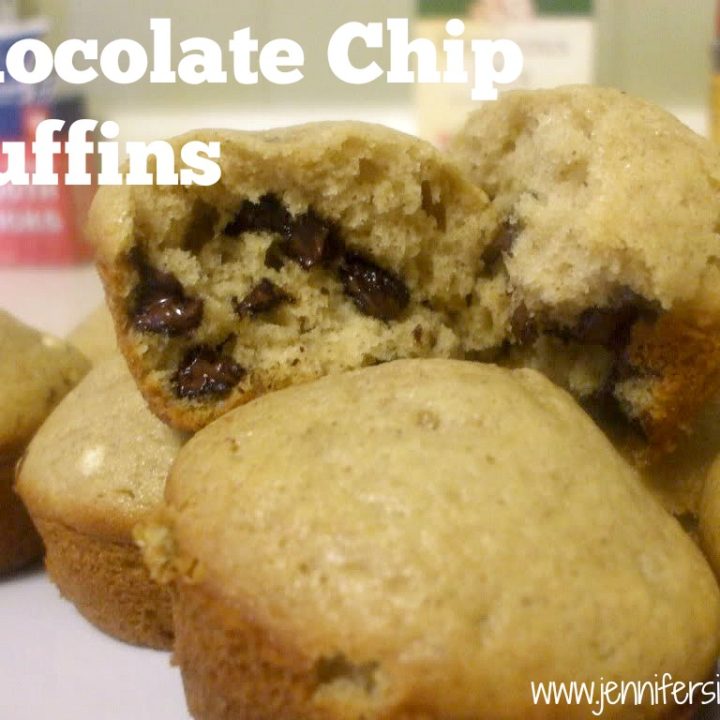 Ingredients
1 1/2 cups of all purpose flour
1/3 cup granulated sugar
1/4 cup packed brown sugar
1/2 teaspoon baking powder
1/2 teaspoon ground cinnamon
1/2 teaspoon salt
2 eggs
1/2 cup butter, melted then cooled
1/2 cup milk
1 teaspoon vanilla extract
1 cup of semi-sweet chocolate chips
Instructions
Preheat oven to 375 degrees. Lightly grease a 12-cup muffin tin.
In a large bowl, mix flour, sugar, brown sugar, baking powder, baking soda, cinnamon, and salt. Set aside.
In a separate bowl, beat the eggs. Stir in melted butter, milk, and vanilla. Add to flour mixture, stirring just until dry ingredients are moistened. Stir in chocolate chips. Spoon batter into muffin tins, filling each about 2/3 cup full.
Bake for 20-22 minutes, or until a wooden toothpick inserted comes out clean.
When I made these muffins for my son, he gladly ate every single one of them. He slathered them in homemade butter and had them for breakfast every day.
If you want to make up an extra batch of these, they freeze really well. When you need them, just lay them out to thaw, then nuke them in the microwave to reheat them.
What is your favorite muffin recipe?