This recipe for my easy homemade blueberry muffins has been a staple in our home since the kids were little. Now that they are all grown, I have passed the recipe down to my daughter and now, at 19 — she's making them!
If you want to watch your kids do a happy dance on hectic school mornings, then you definitely need to make my delicious easy homemade blueberry muffins.
When my kids were little and we homeschooled, nothing made me happier than creating easy homemade recipes for us to enjoy while we did school.
The kids would still be sleeping, and I would be in the kitchen experimenting with recipes until I got it right. That is how I learned to make my easy homemade blueberry muffins. They are so soft and delicious — and they freeze well.
Having these on hand for those hectic school mornings is a great way to send your kid off with some breakfast.
We slather ours with fresh butter and enjoy with a glass of milk or orange juice.
The batter is as simple as flour, butter, milk, eggs, vegetable oil, and sugar  with fresh blueberries. I used the leftover Ranier Blueberries I had to make these. From there, you wind up with the most amazing and delicious muffins on the planet.
Trust me — you will not even be able to eat just one.
You bake them just like you would a cupcake — in cupcake liners. Be sure to fill your liners almost all the way to the top. This ensures that you get that really puffy top and that it bakes to a golden brown.
Those fresh blueberries oozing out of a hot fresh muffin will make any mouth water.
This recipe is so easy to make that you will never buy those packages of blueberry muffins ever again. They are super delicious!
If you love this muffin recipe, be sure to check out my other muffin recipes below —
Easy Homemade Blueberry Muffins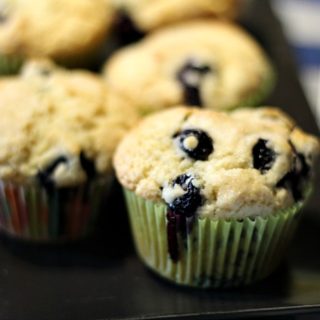 Ingredients
1 1/2 cups all-purpose flour
3/4 cup granulated sugar, plus 1 tablespoon for muffin tops
1/2 teaspoon kosher salt
2 teaspoons baking powder
1/3 cup vegetable oil
1 large egg
1/3 – 1/2 cup milk
1 1/2 teaspoons vanilla extract
6 to 8 ounces fresh or frozen blueberries
Instructions
Heat oven to 400 degrees F. line muffin cups with cupcake liners.
Whisk the flour, sugar, baking powder, and salt in a large bowl. Add oil to a measuring cup that holds at least 1 cup. Add the egg then fill the cup to the 1-cup line with milk (1/3 to 1/2 cup milk). Add vanilla and whisk to combine.
Add milk mixture to the bowl with dry ingredients then use a fork to combine. Do not over mix. (The muffin batter will be quite thick). Fold in the blueberries.
Divide the batter between muffin cups. Sprinkle a little sugar on top of each muffin.
Bake muffins 15 to 20 minutes or until tops are no longer wet and a toothpick inserted into the middle of a muffin comes out with crumbs, not wet batter. Transfer to a cooling rack.
To store, place them in a plastic bag, seal, and store at room temperature for 2 to 3 days. To freeze, wrap them tightly in aluminum foil or place them in freezer bags. Freeze for up to 3 months.