The other night when I fixed a delicious Mexican meal for my family, I was in the mood for some rice. I didn't want just plain rice — I wanted something that had flavor and I think I discovered it when I found a recipe on Martha Stewart's website for Cilantro Lime Rice. OH MY GOSH. This stuff is incredibly "smack yo momma in the mouth" good! Two of my favorite flavors, lime and cilantro, combined with rice — I knew it was going to be a win-win recipe.
Looking for more easy recipes? Check out my huge database of delicious, homemade goodies.
I will definitely be making this dish again very, very soon! I did make one slight adjustment to Martha's recipe, simply because I love lime juice. Instead of using 2 tablespoons, I just juiced 2 whole limes and added all of their juice. It gave it a delicious acidity taste like I was hoping for.
Yield: 4
Cilantro Lime Rice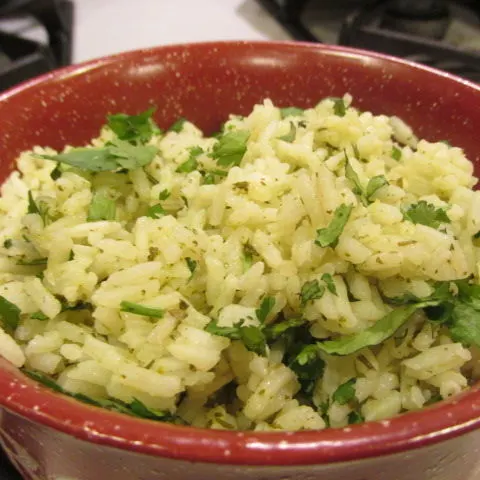 Ingredients
1 cup long-grain white rice
Coarse salt
1/2 cup fresh cilantro
2 whole limes, juiced
1 tablespoon olive oil
1 garlic clove
Instructions
In a medium saucepan, bring 1 1/2 cups water to a boil. Add rice and 1/4 teaspoon salt; cover, and reduce to a simmer. Cook until water is absorbed and rice is just tender, 16 to 18 minutes.
Meanwhile, in a blender, combine cilantro, lime juice, oil, garlic, and 2 tablespoons water; blend until smooth. Stir into cooked rice, and fluff with a fork.
This rice would go good with Mexican, a big old fat steak, or even grilled chicken for that matter.
What have you been fixing in the kitchen lately?