Coleman House Bed and Breakfast is located in Harrodsburg, KY and is the perfect place to stay when you are driving through. Read about my experience below!
Thank you to the Harrodsburg/Mercer County Tourist Commission for hosting me for a trip to Harrodsburg KY. I cannot wait to go back and visit again!
A few weeks ago, I had the privilege of visiting Harrodsburg, KY where I spent a couple of days touring the city.
While there, I was able to experience my first B&B stay at the Coleman House Bed and Breakfast. Just click here to visit their website.
Let me just start off by saying that Cala and Jack Coleman are two of the nicest B&B owners you will ever meet.
Not only did they make my very first stay at a bed and breakfast memorable, but she talked to me endlessly about the ins and outs of owning your own B&B — which just happens to be a dream of mine.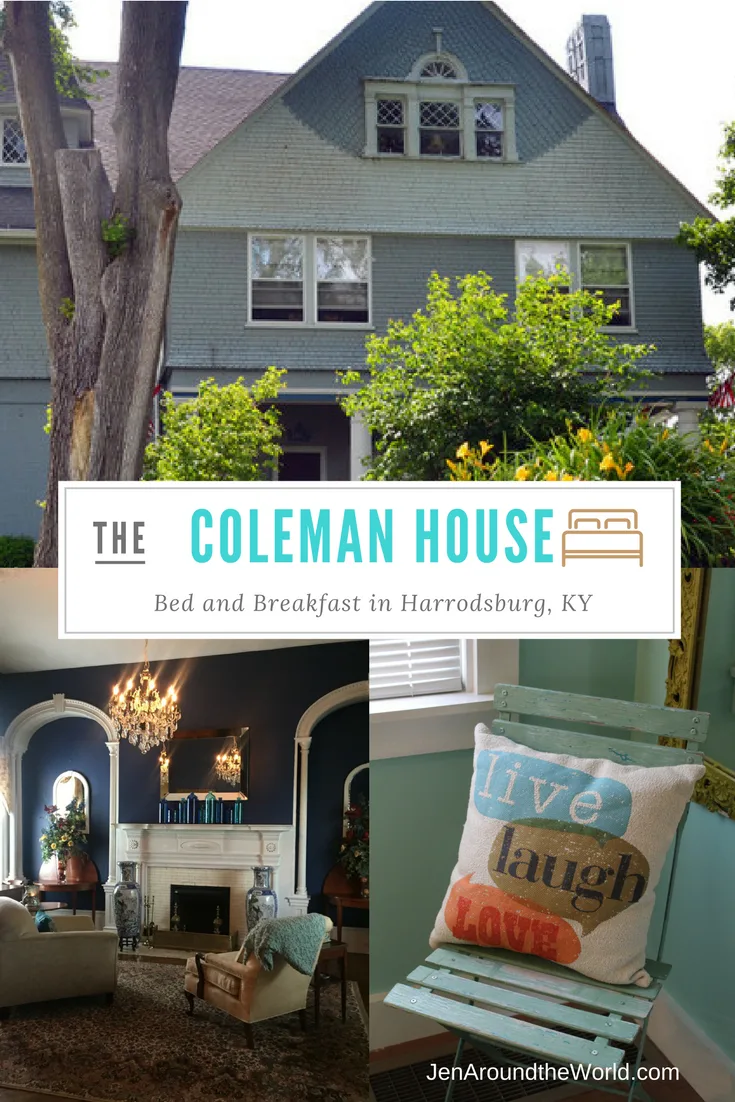 Coleman House Bed and Breakfast
The Coleman House Bed and Breakfast is located just minutes from everything in Harrodsburg. I loved the location so much because we literally only drove for 5 minutes and we were at our destinations. Even when we drove out to the Shaker Village, it was about a 7-minute drive — and let me just tell you — that lemon pie at the Trustee's Table is worth that 7-minute drive.
The house is simply amazing. It has all these gorgeous and intricate artifacts from over the years, and one of my favorite parts is that all the wood — like the mantle and the fireplace is all hand carved.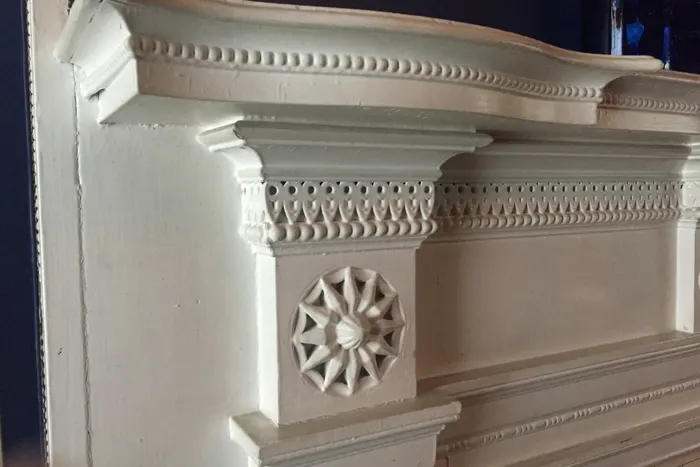 Rooms Available
There are 3 rooms available at the Coleman House. You can stay in Uncle Zeke's room — which has this beautiful high boy bed and fabulous furniture.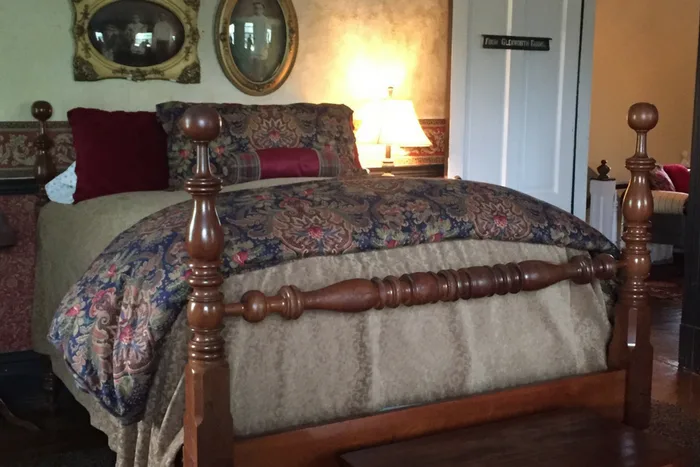 You will also discover some old toys in here that were actual toys played with during the era long, long ago (be sure to check out the photograph above the bed of the little boy– you will see the toys!
Then there is the Coleman Room — it is the perfect getaway for anyone wanting to just experience a slower pace of life. Everything from the bedspread to the art on the wall will remind you of nature and the serene feeling of just breathing in the outdoors.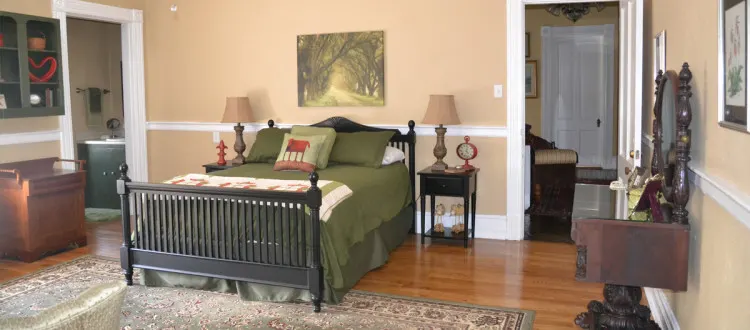 But my favorite? The Serenity House — which is an additional property above the garage that is perfect for a girlfriend's getaway which is what we experienced, or a romantic getaway — or even for me, I plan on visiting again and renting it for a writer's retreat because it is perfect for that.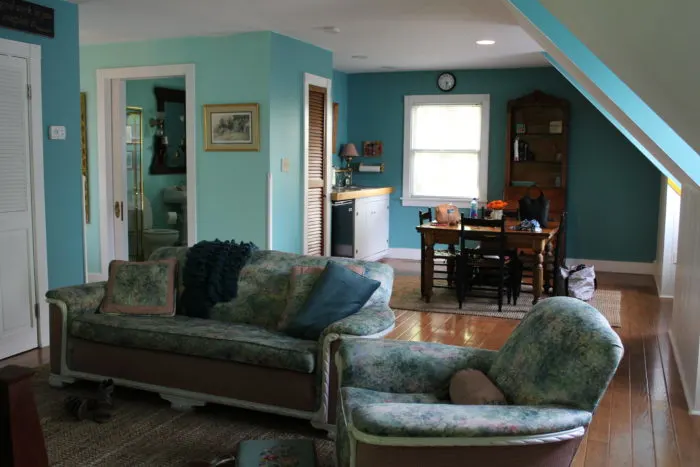 The colors are vibrant and just speak peace to me. You feel peaceful from the minute you walk on to this property. You have everything you could ever want or need in the Serenity House.
And be sure to check out the clawfoot tub in the bathroom. This was definitely worth it as the bath is a whirlpool clawfoot tub.
Breakfast is a Must
If you stay at the Coleman House, you will get to experience Cala's delicious cooking. She makes breakfast every day during your stay here.
We started out with these amazing yogurt parfaits (which she told me how she made them) and let me just tell you — her recipe is simply amazing.
She served us breakfast casserole, roasted breakfast potatoes and all the orange juice and coffee we could drink (which was awesome for this girl who lives on coffee).
Then, we spent the morning chatting with Cala over breakfast about her family and her love for this beautiful house she uses as her bed and breakfast.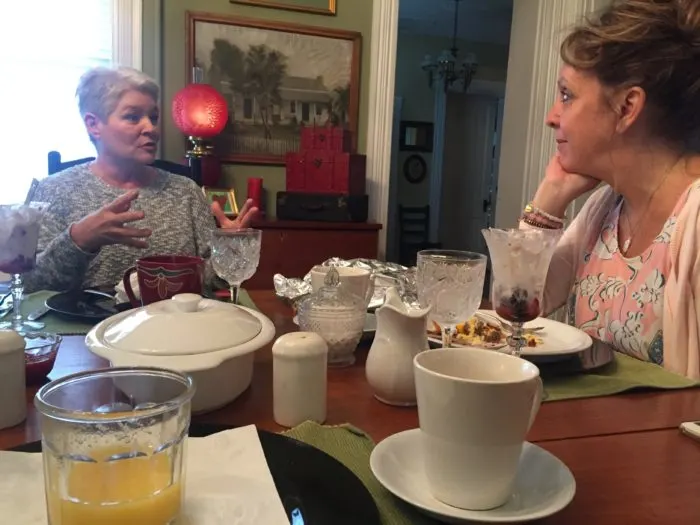 The Front Porch Will Call to You
One of my favorite things about old homes is the front porch. If you have ever had a front porch before, when you don't have one you miss it terribly. When I discovered that The Coleman House had a HUGE front porch complete with swing, Michele and I had to try it out.
Nothing suits me better than sipping tea and coffee on the front porch and catching up with my best friend.
You Can't Forget About Ballard's
Upstairs on the 3rd floor of the home, you will find Ballard's — their Outlaw bar area for fun and entertaining. Cala told us that they had originally planned on using this floor as a place for more rooms, but because of not having an adequate place to escape if there were a fire, then they could not do that. So — they did the next best thing — turned it into a bar area.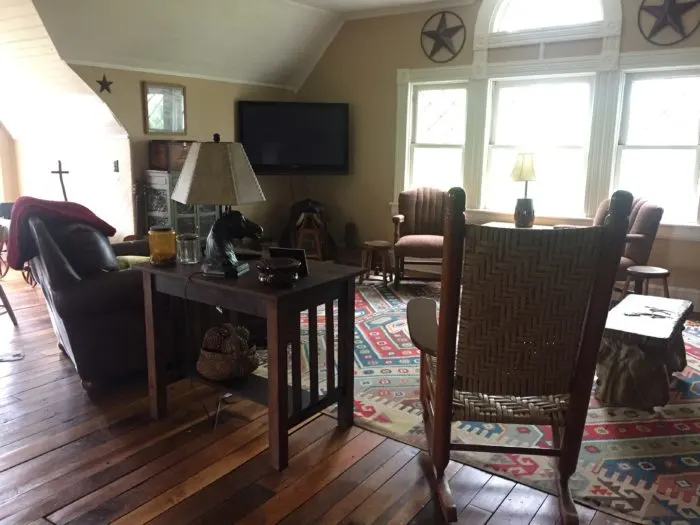 It is the perfect place for entertaining. Be sure to check out the old mail room furniture behind the bar.
If you are planning a visit to Harrodsburg, KY anytime soon, be sure and book a room at The Coleman House. You will definitely NOT be disappointed. Cala and Jack Coleman are some of the finest people I have met and will make you feel right at home in their home.
Have you ever stayed at a bed and breakfast? What was your initial thoughts?