This summer berry fruit parfait is the perfect way to start a summer day!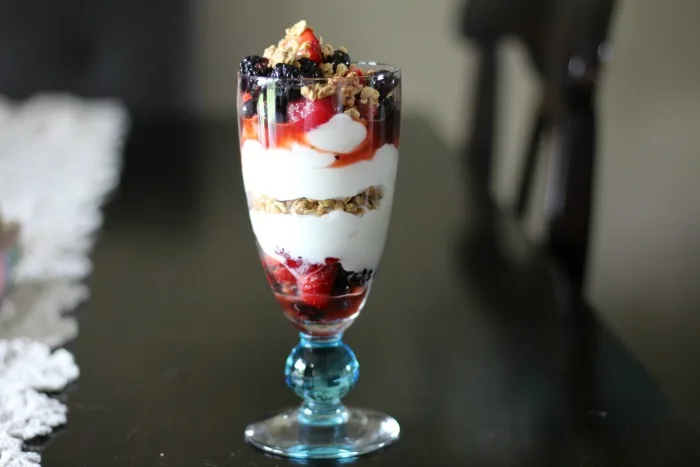 A couple of months ago, when I visited Harrodsburg KY and stayed at the gorgeous Coleman House Bed and Breakfast, Cala served up an amazing Summer Berry Fruit Parfait for breakfast as a starter. As I was exclaiming how delicious it was, she gave me the recipe of how she did it.
I couldn't believe she would just share it with me! I did make a couple of adaptions to it so that I could make it my own 🙂
Everything I got to make this delicious Summer Berry Fruit parfait I picked up at Aldi. I don't know about you, but 85% of my groceries come from Aldi. They always help me to save money and offer me super delicious and healthier choices.
So — for this dish you need —
Greek yogurt
Granola
Limes
Brown Sugar
Assorted Fruit — blackberries, blueberries, strawberries, raspberries
In a bowl, combine all your fruit. You will want to chop your your strawberries, but the other berries you can leave whole.
Then, take your lime, zest it and put that in the bowl. Now, slice the lime and squeeze the juice into the bowl. Top it with 1-2 tablespoons of brown sugar and then mix to taste.
Taste it. If it tastes too much like lime, simply add in a bit more of brown sugar. The fruit will create this delicious juice that mixes with the lime and brown sugar for this sweet taste.
Now, you are going to take your parfait glass and start to layer. Start with a little bit of fruit. Then top it with some non fat Plain Greek Yogurt.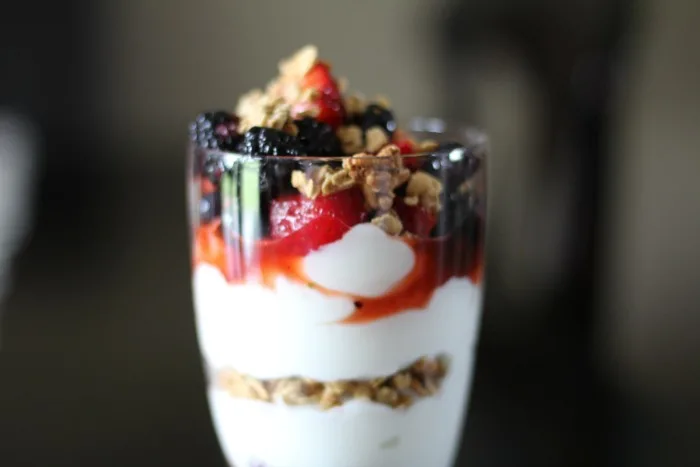 Then add in a little granola and then repeat the layers. End the glass with a topping of fruit and granola. This Summer Berry Fruit Parfait is just what you need to beat the summer heat.
When you dig into this parfait, you will be wanting it more and more — in fact you will want to make it every single morning.
Summer Berry Fruit Parfait
Ingredients
1 tub of Greek Non Fat Plain Yogurt
Assorted fruit -- strawberries, blackberries, blueberries, raspberries
1 lime, zested and juiced
2 tablespoons of brown sugar
1 bag of your favorite granola
Instructions
In a bowl combine berries, lime zest, juice, and brown sugar. Mix together and set aside for about 10 minutes.
In a parfait glass, layer your berries, then yogurt, and top with granola. Repeat the layers until you end with fruit and granola.
Enjoy!