My husband and I recently went on an overnight trip to Shaker Village in Harrodsburg, KY.
We love to learn about history in our state, so when I was asked if I would like to visit and check it out, we said yes.
If you live in the Western, KY area as I do, the drive is about 3 and 1/2 hours, but if you live closer to the Eastern Ky side, then you can visit everything all in a day here.
It is called Shaker Village of Pleasant Hill, but it is located in Harrodsburg, KY.
We decided to get the full experience and spend the night there. Before we arrived, I had people telling me that because it was a Shaker village, we wouldn't be allowed to sleep together, but no worries! Even though it is a Shaker village, they don't make guests follow their rules.
It is not an active Shaker Village. It is just a historical site, so all the dwelling houses have been turned into hotel accommodations.
The Inn at the Shaker Village
Each room in the family dwelling houses have been equipped with a mixture of hotel accommodations and older artifacts.
In our room, we had the most amazing King sized bed that slept great. In our room, there was also rocking chairs, a work table, and a high boy dresser — all simpler pieces of furniture from that era possibly.
If you visit in February, they have a special going on during your stay. In your room, you will be showered with roses, chocolate covered strawberries and rose petals to scatter on the bed. It makes for a very romantic night away.
One of the cool things about the dwelling houses is that each one is equipped with community rooms, which is a place where you can sit and hang out, watch a little television, or even play some old fashioned board games.
While they do offer television in every room and in the community room, there are only about 5 channels on the television. Wifi is offered at the Trustee's building and a couple of other places, so don't think you are going to spend hours on the Internet.
The best way to enjoy your time at the Shaker Village is to get out and explore which is exactly what we did. We donned our jackets because it was a very brisk cold day and headed out to check out the village and all that it had to offer.
The Village Grounds
The grounds surrounding the village were just absolutely beautiful. I even posted on Instagram about the beauty that can be found in aged buildings.
East Family Dwelling House
My husband had a wonderful time taking photos of all the surrounding buildings, lakes, farm, and more. He has a great eye for capturing the stillness that seems to encapsulate what you feel when you visit here.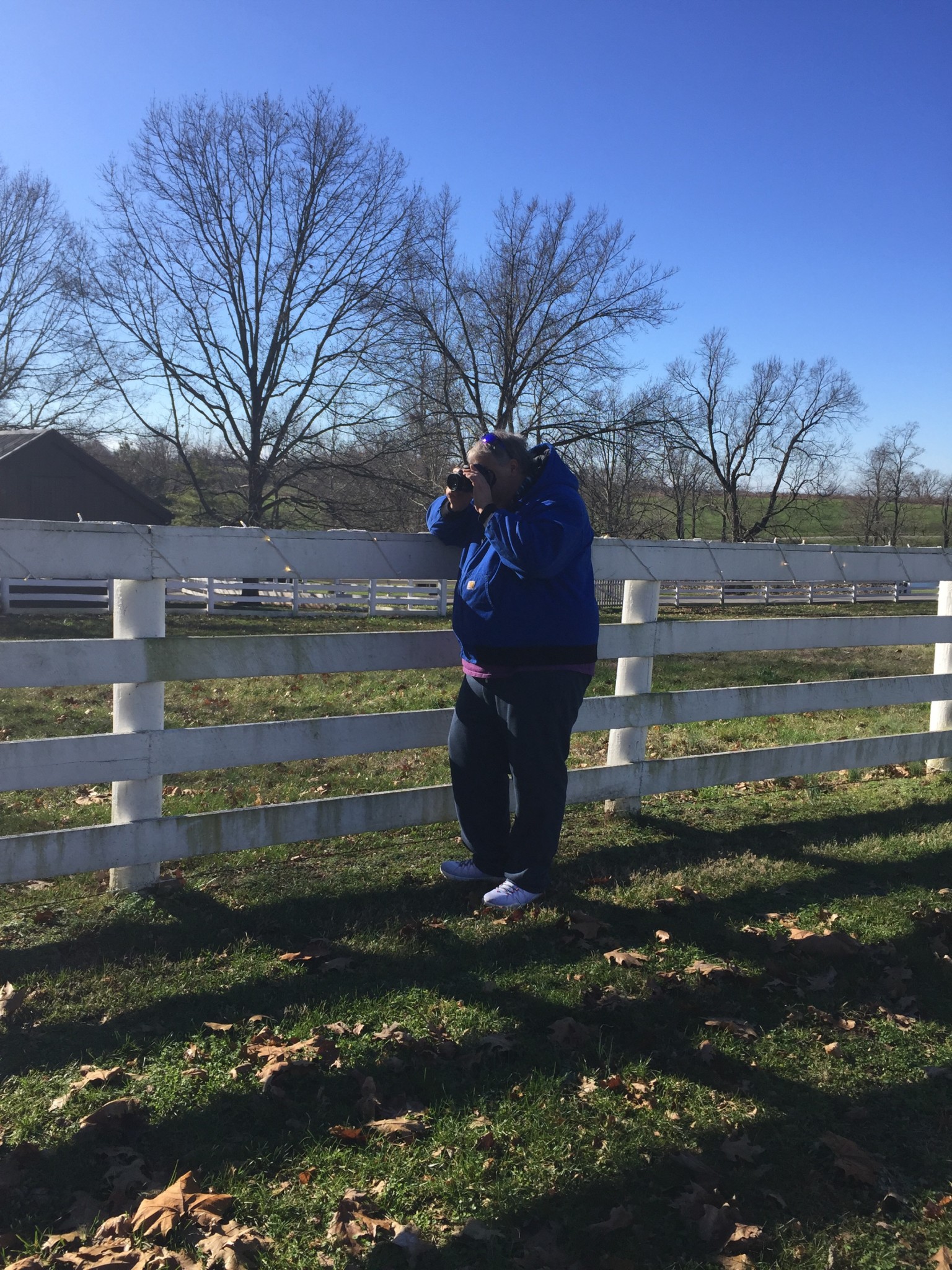 I think that is what I really loved about walking around at the Village. It was quiet. There were tons of people there, but we were all in awe of the artifacts and just learning about the rich history of the Shaker people.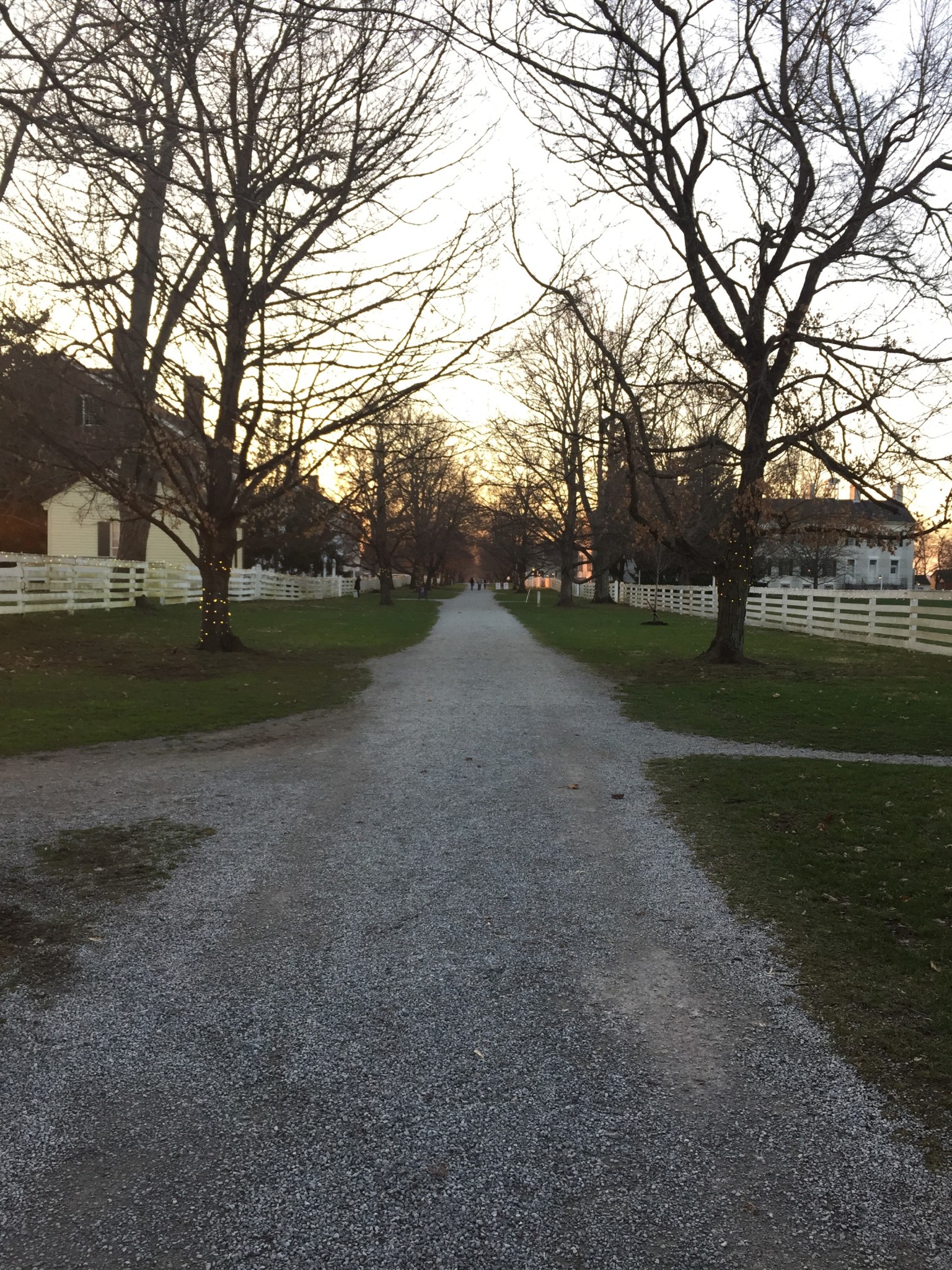 As we walked, you could hear the crunch of the rocks against our shoes, you could hear your breathing and it was exquisite to just step back from the hustle and bustle of my normal life to take in this era of time that I knew very little about before visiting here.
In fact, that night after dinner as we walked back to our dwelling house, I looked up and for the first time in a very long time, I saw the stars — a beautiful clear night sky full of twinkling beautiful stars.
The Food at the Shaker Village
If you visit Shaker Village at Pleasant Hill, then you MUST stop and take a moment to enjoy a meal at the Trustee's Table.
The thing that intrigued me the most about the food that they served, is that basically everything is grown or harvested right on the farm.
They boast and talk proudly about their seed to table menu options and I will be the first to tell you that they did not disappoint at all.
We ate three full meals here to get the whole effect. We had lunch while we waited for our room to be prepared and let me just tell you that the coleslaw they offer at the table with cheesy cornbread? It is something you need to taste. I almost ate the whole entire bowl myself.
The tomato soup was warm and soothing to my soul since I was cold from walking about the grounds.
Dinner was equally exquisite. I chose the pork chop with herb butter. At night, they serve you table side with 3 vegetables for the day.
We had Garlic and Ginger green beans, squash casserole, and Smashed potatoes. For dessert, I had the old-fashioned Shaker Lemon Pie. This has been served in the community since the beginning.
Then the next morning, we ate the breakfast buffet with comes with complimentary pumpkin muffins and biscuits. With a hot cup of coffee, you will be in total breakfast heaven.
The Artifacts and Tours
I am not a big fan of listening to people talk about the history of a place I visit. I am more a fan of self-led tours and that is what you get when you visit Shaker Village.
We went to the fireside chat to listen to Johnathan talk about the history there. I asked a few questions and then we toured the Center Family Dwelling house. This is where they have all the artifacts set up.
The artifacts were SO cool and there was SO much history there. Some of my favorite pieces I have listed below.
Original journal page from 1856
Broom Making Station
Medicine Bottles from that time period
I really enjoyed learning about the Shakers and the time period with which they were active. They were not as simple of a group as you might have thought ( I know I learned quite a bit).
If you are a true lover of history, if you like good food, and want to just take a step back from all the hustle and bustle, then take a day or two and go visit the Shaker Village at Pleasant Hill.
For more info on Harrodsburg, KY, check out these posts