Do you love cream cheese danish recipes? I fell in love with them and today I am sharing my recipe with you!
A couple of years ago when our family took a trip to Dauphin Island, we stopped at the Litehouse bakery to get coffee and doughnuts.
While I was looking through the case trying to decide what I wanted, my eyes fell upon the most delectable cream cheese danish I had ever seen. We bought it and I literally melted out of my seat with that first bite.
I knew when I came home, I was going to do my best to try and make the same ones.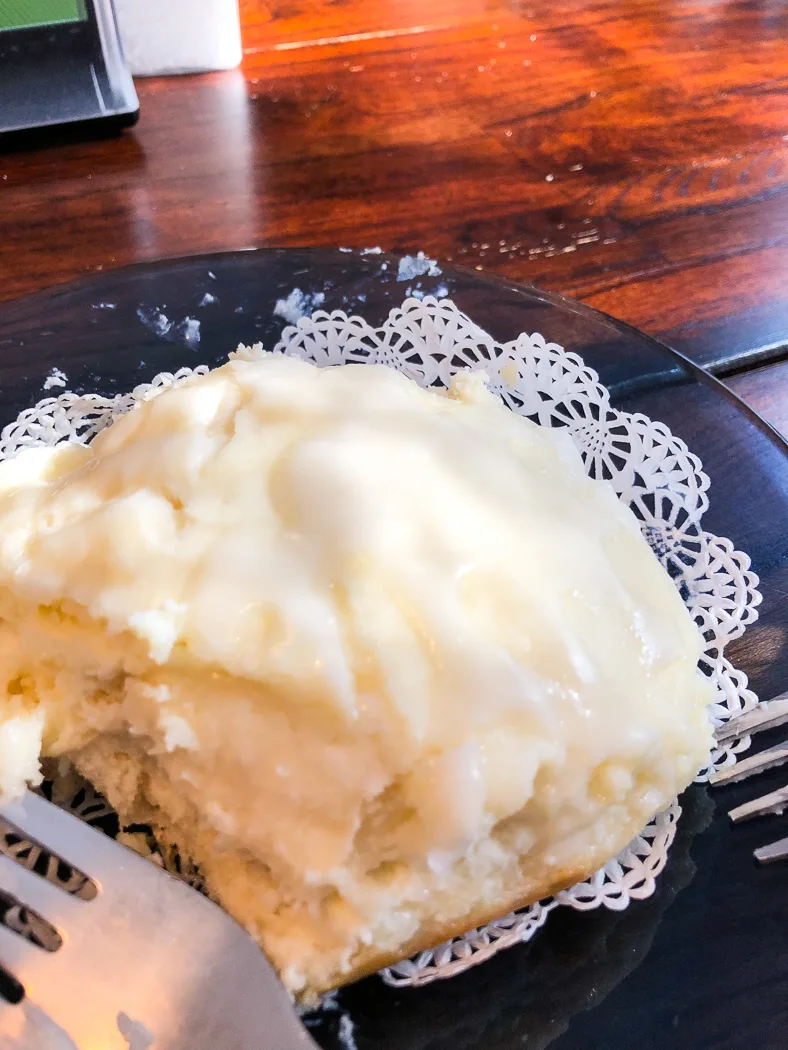 I still have not perfected this beautiful cream cheese danish, but I have learned how to make one that I feel is even better than the ones you get at Starbucks.
How to Make a Cream Cheese Danish
There are several ways that you can make a cream cheese danish. The center is pretty much the same across the board, but the dough that it is on is where the difference lies.
You will find these danishes made on things like —
Crescent rolls
Puff Pastry
Doughnut Dough
I have had these danishes in all 3 forms. Today, I am going to show you how to make these using puff pastry.
Start by thawing the pastry dough until it is flexible.
Then, cut each sheet into fours and fold the corners down.
Fill the centers with the cream and then bake in the oven until the pastry dough has browned.
Top with a delicious cream sauce and enjoy!
The flaky layers of puff pastry dough and a sweet, cream cheese filling in the center make this Danish a natural to pair with hot coffee.
I have eaten this for breakfast as well as a late-night snack. This recipe is easy to make, too, thanks to frozen puff pastry dough that you can find at the store.
How to store leftovers
If you have any leftover danishes, place them in an airtight container, such as a Ziplock bag, and keep them in the fridge. They will stay fresh for 3 days.
Can I freeze cream cheese danishes?
You can! Allow them to cool completely on the cookie sheet and then flash freeze them by placing them in the freezer.
Once they have frozen, place them in a Ziplock bag and remove the air. Seal the bag and place back in the freezer.
They will keep for up to 3 months in the freezer. To reheat, thaw in the fridge and warm in the microwave for 30 seconds.
Looking for other Breakfast Treats to try? Check these out
Perfectly Puffed Pastry

We share Recipes From Our Dinner Table! Join our group and share your recipes, too! While you're at it, join our Pinterest board, too!
Yield: 9 danishes
Better Than Starbucks Cream Cheese Danish
These easy cream cheese danishes taste even better than the ones at Starbucks.
Ingredients
1 package of frozen puff pastry sheets, thawed
1 package (8 oz) of cream cheese, softened
1 cup sugar
1 teaspoon vanilla extract
1 teaspoon lemon juice
1 teaspoon lemon zest
For the glaze
2 1/2 cups of confectioners sugar
2 tablespoons soft butter
1/4 cup of milk
1 tsp. of vanilla extract
Instructions
Preheat the oven to 400 and line a cookie sheet with a silicone baking sheet or parchment paper.
Unfold the puff pastry and slice it into small rectangles. Cut along the folds and then in half to create 9 rectangles.
Fold each corner up to create a diamond looking shape.
In another bowl, whip together the cream cheese, sugar, vanilla extract, lemon juice and zest.
Spoon two tablespoons into the center and place in the oven for 20 minutes.
Allow to cook until the edges of the pastry are golden brown.
Mix together the glaze ingredients and then top each danish with the cream glaze.
Allow to cool and enjoy!