Ever since I have discovered essential oils, I love making my own homemade cleaning and health products. Today I am sharing with you an easy recipe for making your own DIY Foaming Hand Soap.
We love having hand soap at every sink in our home. I used to keep a ton of Bath and Body Works on hand because I love the smell of it, and when I can buy 7 bottles for like $15 it's a great buy.
But when I started trying to remove toxins from our home and go to an all-natural way of living, I chose to make my own hand soaps in the process.
Speaking of all-natural, if you are looking for hand sanitizer, here's my recipe for making your own homemade hand sanitizer with 3 simple ingredients.
How to Make DIY Foaming Hand Soap
This DIY foaming hand soap only uses 3 simple ingredients — essential oils, Castille Soap and water. Seriously — that is it.
For this recipe, I did not keep my empty hand soap bottles. If I did, that would be an expense I would not have had to create, but since I needed bottles, I found these on Amazon super cheap.
It came in a pack of 3. I also purchased my Castille Soap on Amazon as well. I have made soap 3 times already and I have barely made a dent in the Castille Soap.
Why I Love Essential Oils
I never would have thought it was possible that something like essential oils could change our lives so dramatically, but it's true. They have been game-changers in our home.
I have experienced such a difference in our home, quality of life, emotional/hormonal well-being, sleep, and overall wellness since we began incorporating Young Living Essential Oils into our daily routines.
Rocky Mountain Oils (or Young Living) support body systems so they can function as they should.
How to Make DIY Foaming Hand Soap
So — now that you know why I LOVE essential oils, let me tell you how to make this fun essential oils foaming hand soap.
12-ounces of Water (distilled or boiled is best but not needed if it will be used within a few weeks)
2 Tablespoons Liquid Castille Soap
Essential oils of choice
Fill the soap dispenser to about 1 inch of the top (leaving room for the bulky foaming pump and the soap to be added). I always add the water first and then add in everything else with it.
Add at least 2 tablespoons of liquid Castille soap to the water mixture.
15 drops of your favorite essential oil. For the citrus, I did 10 orange and 10 lemon drops.
Close and lightly swish to mix. Use as you would any regular foaming soap.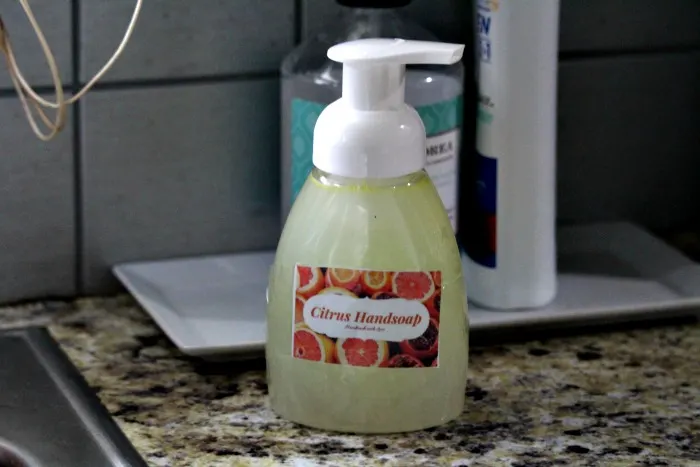 That's it! You will never have to buy a handsoap again if you do this. Not only do they smell amazing, but you will notice an overall change in your health.