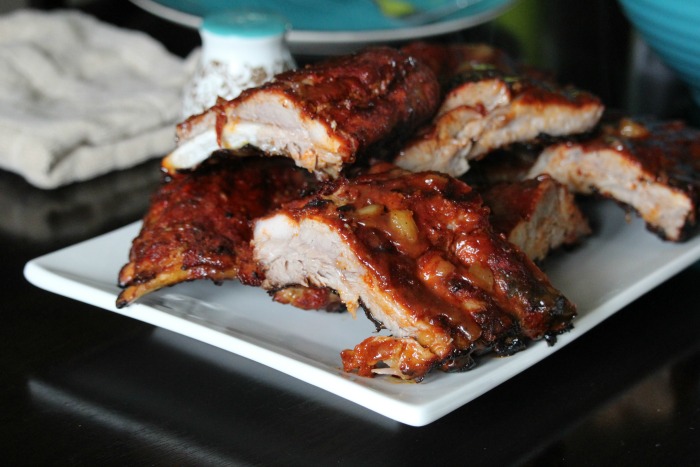 This shop has been compensated by Collective Bias, Inc. and its advertiser. All opinions are mine alone. #GetGrillingAmerica #CollectiveBias
Y'all my love of ribs knows no bounds. Our family are big meat eaters so anytime I can buy some delicious Smithfield Extra Tender Pork Back Ribs and create a recipe like my Easy Grilled Hawaiian Pork Ribs, I am all about it — no joke! These ribs are super flavorful and extremely tender — and the best part? They are easy peasy to make!
We wanted to do something different this year for our Easter meal, so the family and I loaded up and headed to Walmart to grab a few things. Now — while everyone else does ham on Easter, we wanted to kick it up a notch, so I suggested ribs.
Of course — everyone else was on board so I made a beeline to the meat counter to grab a couple of packs of the Smithfield Extra Tender Pork Back Ribs. You can find them right where the pork is.
I love these packs of ribs because they are so easy to make and the cost super low! One rack of ribs which usually feeds my family of 5 costs me around $8 or $9. I can fix a delicious and low budget meal that my family will love and adore.
And the best part is that there is an Ibotta offer for $1 making them even lower in price.
How to Make Easy Grilled Hawaiian Pork Ribs
With my ribs purchase, I also bought a regular bottle of barbecue sauce and a small can of crushed pineapple  — which gives this recipe the Hawaiian flare I was going for.
One of the things I really and truly love about Smithfield® ribs is that there is no prep I really need to do to them before putting them on the grill. They are already super tender, so I just have to grill them until they are done for the perfect taste and flavor.
The way that I have always started my ribs before putting them on the grill is by adding my special dry rub seasoning on them.
Then I put them in the oven for an hour on 300. This just gets them going before putting them on the grill.
While they are in the oven getting that first initial cook process going, I get my barbecue sauce made up. I add 1 small can of crushed pineapple with juice to 1 bottle of regular smoke barbecue sauce and mix together.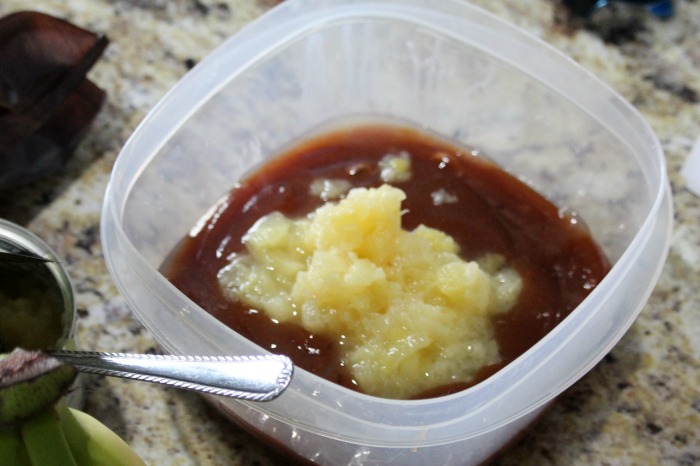 Then hubby heads outside to get our Weber Charcoal grill going. Seriously — there is no better grill on the market than a wonderful old style Weber Charcoal Grill.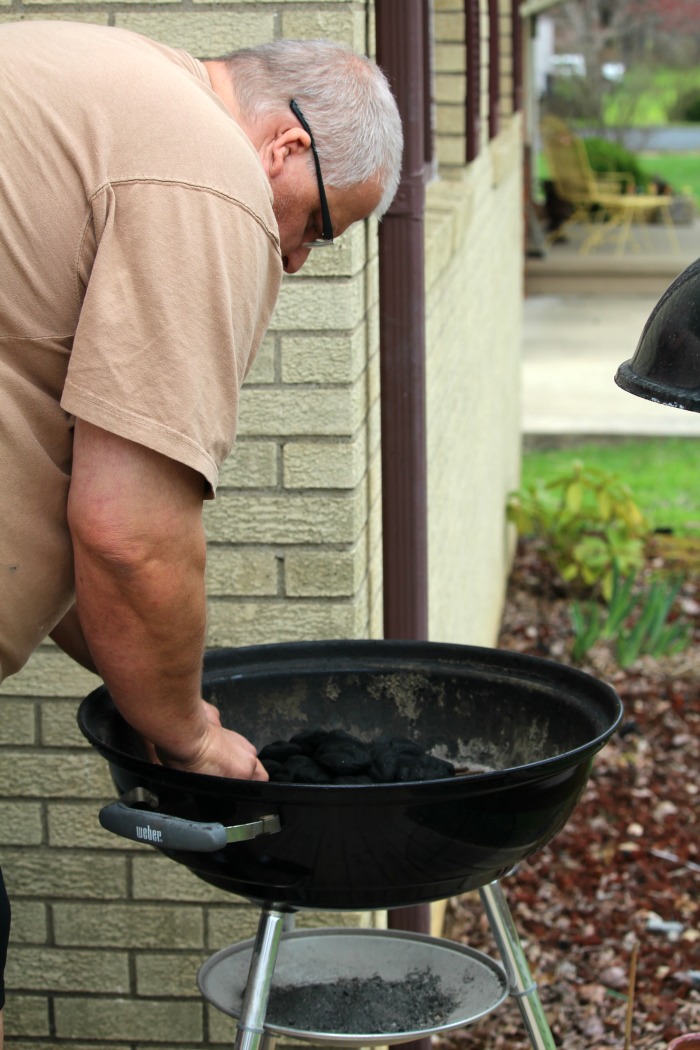 Once the fire gets going good, I remove the ribs from the oven and get them on the grill. Since they've already slow cooked a bit in the oven, it won't take real long to get them finished on the grill.
For us, we like the black crusty edges of a rib. That sauce gets all caramelized on there and is just packed full of flavor.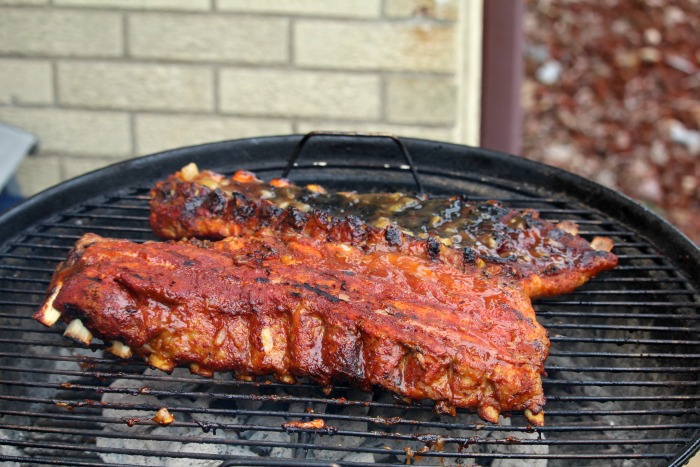 After putting them on the grill, I start slathering them down with my Hawaiian style bbq sauce. Those little crushed pineapple pieces get grilled on there and the sugars start getting crispy and delicious and before long you have the most amazing grilled ribs that you will ever put in your mouth.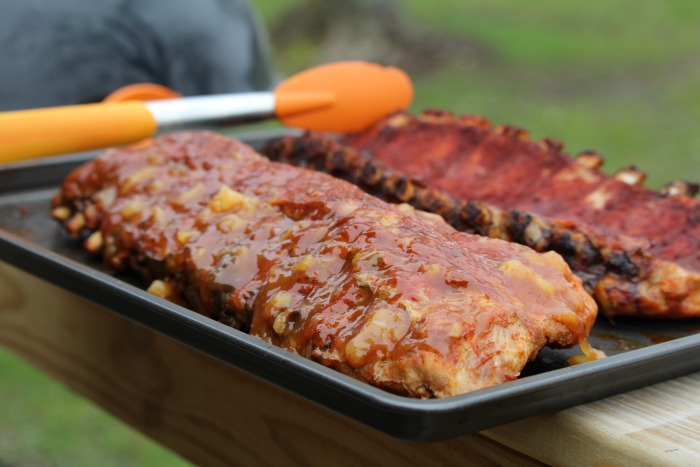 Smithfield® Ribs are the Way to Go
The cool thing about making these delicious ribs is that Smithfield Extra Tender fresh pork is more tender and juicy, so no matter if you are a newbie rib griller or you have been doing this for ages, Smithfield® pork is sure to impress.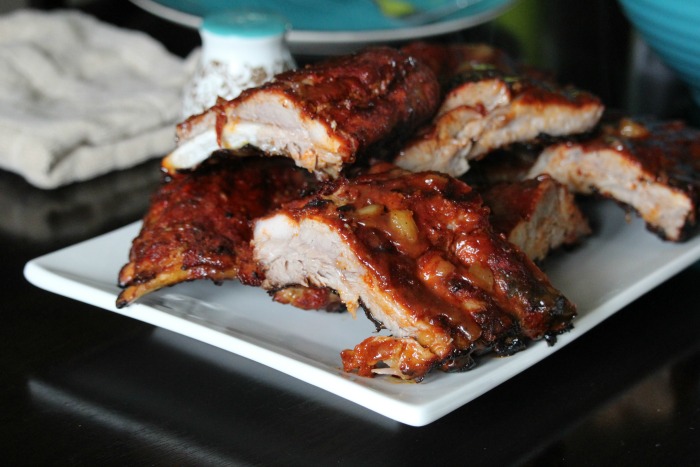 Yield: 4
Easy Grilled Hawaiian Pork Ribs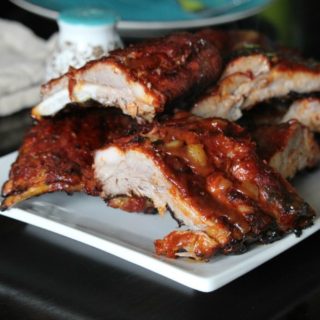 These ribs are pure perfection and are some of the easiest grilled ribs you will ever make
Total Time
1 hour
30 minutes
Ingredients
bottle Hickory Smoke BBQ Sauce
1 small can Crushed Pineapple with Juices
1 rack Smithfield Extra Tender Pork Back Ribs
1/2 cup dry rub seasoning
Instructions
Mix together the pineapple and bbq sauce and set aside.
Remove ribs from package and pat dry with paper towel. Sprinkle on the 1/2 cup of dry rub seasoning and wrap in aluminum foil.
Place in 300 degree oven for one hour. Remove from the oven and remove aluminum foil
Prepare grill with charcoal. Once the coals are white, place your ribs on the grill and start slathering them down with the Hawaiian BBQ Sauce.
Continue grilling until your edges get charred and bbq sauce has caramelized on ribs -- about 15 minutes.
Allow ribs to rest for 15 minutes to redistribute juices. Then slice up and serve with favorite bbq sides.
If you want a simple and easy recipe to make your family, these ribs are where it's at! Be sure and grab the Ibotta offer for $1 off.
For more grilling inspiration, be sure and visit the Smithfield Facebook Page.